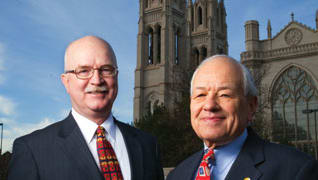 Photo by: Ray Ng
Faithful Practice
L. Martin Nussbaum and Charles Goldberg represent churches, mosques, temples
Published in 2011 Colorado Super Lawyers magazine
By Martin Kuz on March 4, 2011
For Francis Maier, chancellor of the Archdiocese of Denver, the 2006 session of the Colorado General Assembly was a teeth-grinding time. Literally.
That January, lawmakers introduced a bill to create a two-year window that would retroactively suspend the statute of limitations for childhood sexual abuse litigation. The measure had one principal target: the Catholic Church.
Catholic leaders statewide opposed what they regarded as "look-back" legislation. Early on, at a meeting to discuss strategies to oppose the bill, a handful of top church officials listened to five options laid out by L. Martin Nussbaum, a partner with Denver-based Rothgerber Johnson & Lyons. Maier had little confidence that any of the first four would sway legislators or public opinion. Then Nussbaum, representing the Colorado Catholic Conference, suggested the fifth option: placing the problem of child sexual abuse in a broader context.
Credible research, he explained, suggested the incidence of abuse in public institutions nationwide—notably schools and juvenile detention facilities—dwarfed the rate within the Catholic Church. A 2004 study issued by the U.S. Department of Education estimated that almost 300,000 students a year, from 1991 to 2000, had endured some form of sexual abuse by a public school employee. By comparison, from 1950 to 2002, there were a total of 10,667 incidents of abuse in the Catholic Church. The disparity led the author of the report, Hofstra University professor Charol Shakeshaft, to assert that "the physical, sexual abuse of students in schools is likely more than 100 times the abuse by priests." Another 2004 study, conducted by the John Jay College of Criminal Justice in New York, showed that the average number of allegations against Catholic clergy had dropped from more than 500 a year between 1968 and 1980 to fewer than 50 by the mid-1990s.
The Colorado bill was characterized by Democratic lawmakers as an attempt to redress victims of Catholic clergy abuse. Some of the victims testified on the proposal, which had its roots in similar legislation passed in California in 2002. That measure—drafted with the help of Jeffrey Anderson, a prominent plaintiff's lawyer based in St. Paul, Minn., who has filed hundreds of child-sex abuse suits against the church—suspended the statute of limitations for a year and targeted public and private entities alike.
Nussbaum and church officials, appearing before legislative panels and armed with the statistics on abuse in public schools, argued that the Colorado bill unfairly singled out the Catholic Church at a time when internal reforms had reduced the rate of abuse. (Democrats responded by amending the legislation to include public institutions.) Debate spilled into the press, with Gov. Bill Owens, a Republican, saying he was "very concerned" that trial lawyers were driving the legislation. Denver Archbishop Charles Chaput accused the measure's backers of seeking "the systematic dismantling and pillaging of the Catholic community." In the end, the bill died, though not before Maier lost two teeth from grinding his jaw in frustration and anxiety. "Up until that point," he says, "no one really believed within the Catholic community you could make a case that was persuasive on look-back legislation. Martin helped articulate a very sensible message why this was bad, unjust legislation."
The result fortified the high-profile reputation of RJ&L's Religious Institutions Group, co-founded by Nussbaum and fellow partner Charles Goldberg in 1997.
The two men are widely considered among the country's foremost attorneys in representing faith-based organizations. They take on cases that range from First Amendment freedoms, civil rights and intellectual property to bankruptcy, employment and land use. Their dozens of clients have included the Catholic archdioceses of Denver, Boston, Los Angeles and Portland, the National Association of Evangelicals, the Church of Jesus Christ of Latter-day Saints and assorted Episcopalian, Jewish, Methodist and Muslim institutions.
No matter the institution or its place of worship—church, mosque, temple—Nussbaum and Goldberg have a mission.
"The philosophy of our practice is to let a church act like a church, not like a defendant," Nussbaum says.
"As advocates for an institution, we will work hard to resolve issues [outside court]," he continues. "However, if the claimant insists that the church be a defendant, or if there are efforts to pass laws that are unjust or target a religious institution for particular burdens, I like to think our advocacy is second to none."
It often needs to be. In 2003, Nussbaum served as First Amendment counsel in hundreds of cases brought against Boston's Catholic Archdiocese regarding claims of child molestation—litigation at the heart of the global scandal that continues to buffet the Catholic Church. In 2006, New Life Church in Colorado Springs turned to Nussbaum to handle the departure of Rev. Ted Haggard, then the head of the National Association of Evangelicals, after evidence surfaced that the married preacher and prominent gay-marriage foe had hired a male prostitute.
So both attorneys, who emphasize that RJ&L is a secular firm, eschew a holier-than-thou attitude about their clients.
"We do see the failures of the church," says Nussbaum, 59, who in 1997 moved from the Colorado Springs firm Sparks Dix, where he had built a robust religious institutions practice, to RJ&L's office there. "And when you see that, someone might think, 'Well, how can you not lose faith?'"
For reasons beyond the headlines.
"Without exception, every religious leader who I've ever come in contact with is always seeking to do the right thing," says Goldberg, 71, the longtime general counsel for Denver's Catholic Archdiocese, who landed at RJ&L in 1978 after a nearly five-year stint as a district court judge. "That's much different from a client in the business world, where it's all about expediency—how do I get from point A to point B expeditiously and legally? But the attitude of church leaders is a little bit different. It's always, 'What is the right thing to do?' That, at bottom, is inherent in every question."
The Religious Institutions Group has grown to more than a dozen attorneys since Goldberg lured Nussbaum to the firm 14 years ago. The two lawyers, who knew one another from attending national legal seminars for faith-based organizations, recognized that across the country the institutions faced similar problems related to religious freedom, property, employment and other matters. They discussed the potential for a coast-to-coast practice expressly devoted to religious institutions. Since joining forces, they have proven a formidable tandem in asserting the constitutional right of their clients to heed divine authority over man's.
"The application of secular law on religious entities can be painful," says Goldberg, who last fall received the Benemerenti Medal, conferred by Pope Benedict XVI, and one of the highest honors in the Catholic Church, for his work on behalf of the Denver Archdiocese. "Our job is to kind of push government back a bit so that religious institutions can do what they do best," Goldberg says.
In the Town of Foxfield, Goldberg helped Our Lady of Loreto Catholic Parish hold its ground, litigating a case viewed as a critical early test of the federal Religious Land Use and Institutionalized Persons Act (RLUIPA) established in 2000. The church arrived around that time in the rural outpost of fewer than 1,000 residents about 20 miles southeast of Denver. During construction of the parish chapel, Monsignor Edward Buelt held services in his home that doubled as a rectory, and neighbors complained the increase in car traffic diminished "our country lifestyle," as one told the Rocky Mountain News.
Town officials responded by adopting an ordinance in 2001 that prohibited more than five vehicles from parking within 1,000 feet of a private residence for longer than 15 minutes on more than two occasions during any 30-day period. Enforcement of the ordinance spawned dueling lawsuits, with the parish and the Denver Archdiocese, led by Goldberg, claiming the town had violated the church's religious freedom as defined by RLUIPA and the Constitution. After a trial judge ruled in favor of Foxfield, the church and archdiocese prevailed on appeal in 2006. A year later the Colorado Supreme Court rejected Foxfield's petition to hear the case.
"What I really appreciated," Buelt says, "was Chuck and his team attempting in every way to talk through the problem between the two sides and seeing if there was some way to resolve these issues without going to court." Even after lawsuits were filed, he adds, "Chuck never personalized the dispute and never portrayed it as anti-Catholicism. He argued the principles of religious freedom and expression."
Goldberg and Nussbaum traveled different paths to their common destination of representing religious institutions.
A native of Denver, Goldberg earned a bachelor's degree in English from the University of Colorado in 1961, and three years later graduated from the University of Denver College of Law. In 1965, he joined Schmidt and Van Cise, a firm whose stable of media clients included the city's two daily newspapers and several radio stations, providing the young attorney an initiation in First Amendment issues. That constitutional law background came in handy after he joined RJ&L in 1978 and was asked by a former law school classmate, R. Paul Horan, to assist on a case involving the Denver Archdiocese.
Horan, a partner in another firm, served as the archdiocese's general counsel, and following his unexpected death in 1985, church officials tapped Goldberg for the post.
If it appears incongruous for Goldberg, an attorney of Jewish faith, to represent a Catholic archdiocese, the relationship befits Goldberg and Nussbaum's shared ethos. "If one institution is threatened, every institution is threatened," says Goldberg, who with his wife, Honey, has three adult children and lives in Denver. "So we represent everyone from Buddhists to Muslims to Jews to Catholics."
Translation: In their professional work, their own faith matters less than their client's.
"They've really learned how to think Catholic," says Maier, the chancellor of the archdiocese, who has worked with Goldberg, Nussbaum and other attorneys with the firm. "All of them conform their spirit to understanding how the church and the Catholic community think about issues. They've done an extraordinary job of grasping that and assisting us in intelligent fashion."
Nussbaum, a lifelong Catholic, grew up in Amarillo, Texas, and his experiences as a theology major at the University of Notre Dame—his senior thesis examined facets of civil religion—deepened his interest in the legal aspects of faith. "The church is a source of passion for me," he says, "because the story of faith through church history is a wonderful, terrible, exciting, gracious story filled with human foibles and great sanctity."
After graduating in 1974, he deferred his plan to study law and returned to Texas to run his family's multistate chain of tire stores for several years. "I was a pretty good tire man—we increased the sales sevenfold when I was there—but I was born to be an advocate," he says. So he enrolled in the University of Texas School of Law in 1983 and, two years later, J.D. in hand, migrated north to Colorado Springs to join Sparks Dix, intent on building a religious institutions practice.
"Religious institutions have a higher calling," says Nussbaum, who lives in Colorado Springs with his wife, Melissa Musick Nussbaum, a theologian and author of several books on religion; the couple has five grown children. "We would be remiss if we tried to apply the law to those institutions to form them in the image and likeness of society because they are often called to be countercultural, to serve a prophetic role."
He argued as much in an amicus brief filed in support of World Vision, an international relief group based in Washington state that distributes more than $1 billion a year in public and private aid. Three former employees sued the Christian organization in 2006 after being fired for admitting they didn't believe in the Holy Trinity, a central tenet of the statement of faith that World Vision requires its workers to uphold. The trio claimed they were protected under Title VII of the Civil Rights Act of 1964, which proscribes employers from hiring or firing workers for their religious beliefs. World Vision won the case in federal court last year, citing a 1972 amendment to Title VII that permits religious groups to consider a person's faith in making employment decisions.
Nussbaum submitted his brief on behalf of six faith-based groups, including the Association of Gospel Rescue Missions and the Union of Orthodox Jewish Congregations of America.
"Religious freedom for individuals means little unless they conform to religious societies that enjoy substantial freedom as well," says Nussbaum, the steward of Churchstatelaw.com, RJ&L's public repository of information on laws germane to religious freedom. "A guiding principle for our practice is to apply the religious freedoms to the broadest lawful extent so that our religious institution clients can follow their calling."
Then there are the internecine conflicts—as when Rev. Donald Armstrong and hundreds of members of Grace Church and St. Stephen's in Colorado Springs voted to leave the Episcopal Church in 2007. The break, triggered in part by an internal investigation into Armstrong's alleged embezzlement of parish funds, set in motion a two-year legal fracas as Armstrong's group sought possession of the church. Represented by Nussbaum, the diocese retained the property following a 2009 trial that lasted more than a month—the longest court proceeding in Colorado history over a religious dispute.
"Disagreements within the family are always the most difficult," Nussbaum says. "There were members of the congregation where the husband went with the secessionists and the wife stayed with the Episcopalians. There were deep wounds."
No religious institution has suffered more damage—externally and internally—during the last decade than the Catholic Church. The sex abuse scandal has tarnished its image and drained hundreds of millions of dollars from dioceses across the country to settle victims' claims. But Nussbaum and Goldberg contend most of the media coverage unfairly portrays the problem of pedophilia as endemic to the church while ignoring its policy reforms and efforts to atone.
"I want to be very clear: Anytime any clergy member is inappropriate with a child—anytime—that is a grievous wrong," Nussbaum says. "The church knows that." In opposing legislative proposals to lift the statute of limitations in abuse cases, Goldberg says, the church isn't attempting to avoid accountability. "There are legitimate, sound public policy reasons behind statutes of limitations, and what we as counsel have attempted to do is to simply ask that the statute of limitations be enforced. Why? Because the reasons behind statutes of limitations are this: memories fade, people die, people become unavailable for health reasons or other reasons."
Moreover, Goldberg adds, "The vast majority of these cases, if legitimate, are resolved because the church operates generally with this philosophy: 'If anyone has been harmed by any member of the clergy, address the needs of the victim.' And it's not simply by delivering a large sum of money to them. It's by helping them get healthy again and get past the trauma of the past"—which can be done by providing or paying for counseling, support groups and other services.
The two attorneys have counseled Catholic as well as Protestant churches across the country in quietly removing "scores and scores and scores of ministers," Nussbaum says. "Those things never make the press because of the investigations we assist churches in doing.
"The Catholic Church is going to survive," he adds. "It's one of the few clients you can ever represent and know it will be here when the United States is no longer here. It will survive the republic itself."
Search attorney feature articles