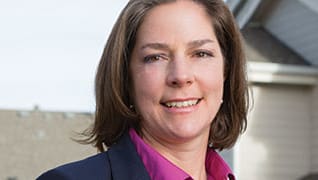 Photo by: Paul Wedlake
Homeowners' Guide
When the walls crack, folks call on construction litigation attorney Heidi Storz
Published in 2014 Colorado Super Lawyers magazine
By Bruce Barcott on March 14, 2014
A good portion of Heidi E. Storz's law practice arises from the meeting of three elements along the front range of the Rocky Mountains: water, soil and negligence.
Over the past 15 years Storz, a 45-year-old partner with Boulder-based Benson, Kerrane, Storz & Nelson, has emerged as one of Colorado's premier construction-defect attorneys, guiding homeowners through the bewildering process of resolving construction failures.
"For most people, their home is their biggest investment," Storz says. "It's a scary proposition to take on a big national builder to protect that investment. … It's critical for them to feel they have an ally in the fight."
Over the past 20 years, population along Colorado's Front Range, where the Rocky Mountains give way to the Great Plains, has grown at a rate nearly twice the national average. New residents are lured by abundant jobs and the region's attractive lifestyle. Tens of millions visit every year, and some decide to buy vacation condos in one of the state's many ski resort towns. That's fueled a long-term boom in housing construction, with massive expanses of farmland and mountainside converted into subdivisions and condominium complexes.
Any construction boom is going to result in a certain amount of contractor negligence. Bids come in too low, timelines get strained, corners get cut. But Colorado's unique soil conditions add another degree of complexity to the situation. Much of the state's foundations are built on soils that contain bentonite, an absorbent clay that expands as it soaks up water and shrinks as it dries. For housing foundations, that can spell big trouble.
"If these houses and condominium complexes aren't built properly, that expanding soil will put pressure on the foundation," Storz says. "If the foundation's stiff and sturdy, it can rise and fall—float—on the soil as it expands and contracts."
But too often an inaccurate engineering report, or shoddy construction methods, can lead to differential movement of the foundation. "All of a sudden the homeowner sees cracks running diagonally across the walls, or support columns thrusting up," Storz says. "Doors suddenly refuse to close. Drywall, tile and brickwork start to crack."
That's when homeowners call Benson, Kerrane, Storz & Nelson. When it's a big, complicated case, says partner Jeff Kerrane, "Those are often the ones that go to Heidi."
Take the case of Blue Sky at Vista Ridge.
An upscale master-planned community in Erie, 25 miles north of Denver, Vista Ridge boasts a 232-acre golf course, two swimming pools, a community center and expansive views of the Rocky Mountains. The project contains a mix of houses and condominiums.
Residents began moving into the first of 408 units around the end of 2004. The defects started showing up about 2007.
"A lot of cracks were appearing in people's walls," recalls Pamela Malsch, a retired music teacher and president of the Blue Sky homeowners association. "Doors and windows wouldn't open and close properly."
The more Malsch and others investigated, the more problems they uncovered. Incorrectly prepared siding and stonework led to leaks during rainstorms. "The soil problems weren't in every unit," Malsch recalled. "With these soil issues, it's sort of like a snake in the ground, a hit-and-miss thing. The drywall cracks and you repair it and it comes back. I've had a door that doesn't latch correctly. I've had it fixed twice, and it's recently 'adjusted itself' again."
So Malsch called in Storz, who had the complex inspected by a team of engineers. They found that much of the damage was caused by inadequate site grading and drainage, and defective foundation work done on top of expansive, clay-rich soil. It was a classic Colorado soil upthrust situation, and the remedy would not come cheap. The repair estimates ranged from $7 million to $50 million.
The homeowners meeting is often one of the most challenging parts of Storz's job. In a condominium complex with 408 units, every owner has a story, questions and frustrations about shoddy workmanship. Storz often has to explain that construction-defect lawsuits do not find resolution overnight. They typically go on for two to four years. "I think the fastest I've ever settled one is 18 months," Storz says.
"She calmed things down, told us what our legal situation was and what we could do about it," recalls Malsch.
"Heidi brings a rare combination: She's a determined litigator and has a real compassion for people, especially people who have been wronged or taken advantage of," says Doug Benson, the firm's founder. "She has a gift for putting people at ease and reassuring them that their cares are being addressed."
In the case of the Blue Sky condos, Storz had to coordinate between hundreds of unit owners, 26 subcontractors, a lead contractor and two different development entities. At one point, the lawsuit had to wait 12 months in order to find a date when all parties could appear in court at the same time.
"Heidi doesn't just know the law," says Malsch, "she knows engineering, contracting, soils and construction. She has to know the difference between flashing and flanges, how it fits with Colorado law and [homeowner's association] law, and then be able to translate it into words that someone like me, a music teacher, is able to understand."
After years of delays and two mediations, a jury trial was set for February 2013; then, according to Storz, a confidential deal was reached in which the developer and the builder confessed judgment to the district court. "Now the association is involved in a separate lawsuit to try to collect on that judgment against the insurance company," Storz says. "They've got some small monies in terms of settlement funds, but not enough to start major repairs at the project."
Storz's vocation involves house repair but her avocation is helping families thrive within their homes.
"I'm a person who believes in service," she says over coffee at Boulder's historic Hotel Boulderado. "It helps you think of the world in a much more multidimensional way."
The ethic formed early. After growing up in Fort Collins and attending the University of Colorado Boulder, Storz spent a few years working with the developmentally disabled. "We helped people move from institutions into the larger community," she says.
But it was a stint in the Peace Corps that opened her eyes to how the law could change lives. From 1993 to 1995 she worked for the National Organization for the Prevention of Child Abuse in Belize City. "I realized there that, with an issue like child abuse, if you want to make some change you need to make institutional changes," she says.
So she enrolled at Northern Illinois University College of Law—"It had a strong program in public interest law," she says—but found Chicago wasn't the ideal place to start her new career. "My husband was from Belize," she says, "and he came up to visit me in the middle of a Midwestern blizzard."
Colorado became a happy compromise. After taking a maternity year she applied at Burdman & Benson, a construction law firm based in Arvada. "Heidi had little legal experience and little understanding of construction," recalls Benson. "What touched me about her is that Heidi was a person who didn't just talk the talk. She had already served the poor in Central America in the Peace Corps."
With Benson as mentor, Storz plunged into the world of construction law, working late nights to master theories of recovery and the differences between builder-vendors, general contractors, subcontractors and design professionals. Eventually, the firm became Benson & Associates in 2003. Storz continued working with Benson, and within two years he promoted her to partner.
"Almost every firm in town has offered Heidi a job at different times," says Benson, "and she was loyal to stick it out with a small firm like ours. She helped make us what we are today."
The urge to serve continues in work that connects Storz to her first job out of college. As a board member of Imagine!, a Colorado nonprofit organization that offers services to people with developmental disabilities, Storz continues to improve the lives of others in her community.
In the coming year, Colorado's long-running battle over construction defect law and the rights of homeowners may move from the courtrooms to the state Capitol. Leaders of the Colorado Association of Home Builders are expected to push legislation in the 2014 session aimed at making it more difficult to sue homebuilders for defective work.
Colorado builders have long complained about construction defect lawsuits, especially in the condominium market. "If it's a multifamily project and it hasn't been sued," Colorado Association of Home Builders CEO Arnie Mayhew told Builder magazine, "it will be."
In 2008, townhouses, duplexes and condominiums represented 46 percent of all Denver-area housing starts, according to Builder magazine. By 2012, that figure had fallen to 17 percent, and homebuilders blame the decline on the fear of lawsuits.
Storz and other attorneys point out that the entire housing industry tanked at the end of 2008 due to the nationwide mortgage crisis. Prior to that collapse, builders were hammering up condos at breakneck speed. "They built up an oversupply and are only now just starting to create demand for that product," Storz says.
Most companies in the construction industry, Storz adds, are good actors. "There are a lot of builders we never see in court. But there are some we see over and over: production builders who have a reputation for creating 'blow-and-go' developments."
With the slow return of the housing market, demand is picking up again in Boulder and Denver, and some condos and houses are being bid above their asking price. But a good sign in the housing market may be a bad sign for future homes.
"Now things are starting to go great guns again," Storz says. "Builders are starting to have a hard time finding experienced workers for their projects." Inexperienced workers with poor supervision often lead to invisible construction defects. "Those mistakes will have an afterlife that the homeowners will experience for years to come."
It doesn't have to be that way, she adds. "If you build it correctly, you can avoid litigation altogether."
Search attorney feature articles