King of the Mountain
Jim Chalat has built his career in a Rocky Mountain niche
Published in 2006 Colorado Super Lawyers magazine on March 9, 2006
Updated on October 19, 2015
Skiing can seem like the very essence of the great outdoors. The mountain views, crisp air and deep powder all provide a high-adrenaline communion with nature. But Jim Chalat sees a ski mountain a little differently than the version in the resort brochure. To him, a resort ski slope, with its chairlifts, snow makers and grooming equipment, isn't a naturally occurring phenomenon, but something closer to a man-made amusement park.
"Some people see a ski area as a natural mountain environment. I see it as a manufactured environment where safety precautions can be taken," says Chalat, who has built a career out of representing skiers who've been injured or killed by a resort's negligence or by the dangerous actions of other skiers.
Those opposing views are illustrated in the case of Barry Brandenburg. The 11-year-old boy was injured when he was skiing through the trees at the Keystone ski area and struck a fence that appeared to serve no purpose in an area that seemed open and skiable, Chalat says. The fence was not visible from 100 feet, as required by the skier safety statute. The collision fractured the boy's femur and resulted in one shortened leg, leaving him with a limp. "The jury was out for a day and a half," Chalat says. "They awarded the kid a modest amount. We started at $100,000, but there was a reduction for comparative negligence. One young guy [on the jury] just thought that it was a risk you assumed [when skiing]. It was a powerful lesson about how people perceive [risk and responsibility]."
He and his Denver firm, Chalat Hatten Law Offices, have earned a reputation as top-notch plaintiff's attorneys in negligence, wrongful death and malpractice cases. This firm with only four attorneys — Chalat, his wife Linda, Russ Hatten and Chris Koupal — is considered a local giant, with Jim nationally known for his representation in snow sports injury cases. He makes many key cases accessible to lawyers and lay people alike on his www.skilaw.com Web site.
Chalat's career as an advocate has its roots in his family tree. He grew up in a "progressive, liberal household" in which President Franklin Roosevelt was an icon. His grandfather, an immigrant doctor born in czarist Russia, was drafted during World War I because the Army needed doctors who could speak European languages to better treat POWs. American public education and opportunity were revered. The family credo was that they all owe something and had to give back to the society that opened doors and provided opportunities to all to meet their potential. "There was a lot of discussion around the dinner table about history and politics," Chalat recalls. It was, in short, the kind of family that epitomized the fulfillment of the American dream.
In addition to FDR, Chalat's office walls are adorned with photographs of Abraham Lincoln, Winston Churchill and John F. Kennedy, plus dramatic and poignant World War II images. One relative who landed at Normandy Beach was later killed in action, leaving a legacy of thoughtfully written daily letters chronicling his observations about war and about what matters in life. Jim and Linda found them so moving that they named their son, Harris, after him.
Chalat's unique specialty can also be traced to his youth. His was a skiing family in Detroit, regulars at what, by Rocky Mountain standards, is a small ski hill called Boyne Mountain. As an undergraduate, he joined a racing-oriented ski club at the University of Michigan. After graduation in 1974, he says, "Denver was booming, and the University of Denver College of Law offered me a scholarship." And, of course, real soaring, snow-kissed mountains were just a short drive away. Jim Chalat and Colorado were made for each other.
He and two other students started a business called The Law Clerks to research cases in the Denver and Colorado law libraries and write briefs. The entrepreneurial students "took advantage of the relaxed rules for advertising by lawyers" and advertised in Colorado Lawyer magazine, whose offices were next door. "We would get a phone call from [lawyers] in smaller communities, do the research and mail the briefs to far-off places," he recalls. That business became obsolete when the World Wide Web made research from anywhere possible.
After graduation, Chalat and another recent graduate started their own small firm doing mostly trial work and collections. He also worked as a court-appointed public defender, handling mostly misdemeanor and DUI cases for $23 an hour. "We were trying cases left and right," he says, crediting that experience for his current effectiveness in the courtroom.
Chalat had his first successful ski case in 1979 when he defended a man who had been accused of initiating an in-bounds avalanche while skiing out of bounds (that is, beyond a ski area's permit area). "We pled him out and he's now a practicing physician," says Chalat.
In his next ski case in 1981, Chalat and Walter L. Gerash represented Dr. Jane Gray, a Denver physician who was badly injured at Steamboat after John Houlton took a blind jump and collided with her. "We sued Houlton and Steamboat, as we believed Steamboat had contributed to the accident by failing to mark the terrain change," Chalat says. "The young man was uninsured and unemployed. We lost that one," he says, to White & Steele, the firm representing the resort.
Through that and other cases, Chalat has concluded that the ski industry presents itself in two ways: to the legislature as a sport and to the public as providing a resort experience. Ski areas, he feels, have evolved from "mom-and-pop operations to big corporations, but the ski industry goes to the legislature and wants immunity [from liability] as if it were still just a sport."
Along the way, Chalat has earned the respect of frequent adversaries. Peter W. Rietz of Rietz Law Firm in Dillon, Colo., whose clients include Vail Resorts Inc., says that Chalat, who has been on the other side in scores of cases, is a "good, straightforward attorney." He adds, "After five years of butting heads, we developed a mutually respectful relationship, which is unusual between the plaintiff's and defense attorneys. We cut to the chase quickly and either agree to agree or agree to disagree. Our evaluations of cases are similar — not identical, but similar. We are honest with each other. If we can settle, we usually do so in three or four phone calls, which is expedient for both parties."
Of course, while natives may think otherwise, Colorado isn't the only place for skiing. Chalat's expertise in ski law takes him across the country, such as when he was brought in by Bruce Rasmussen, a Virginia attorney representing Thomas Hoar. The 35-year-old firefighter skied off a 30-foot drop-off beside a newly constructed ski run at Virginia's Massanutten resort. He landed among felled trees and rocks, and suffered a debilitating brain injury. The resort had purchased but not yet installed protective fencing to forestall just such an incident. The Virginia Supreme Court upheld Hoar's $6.17 million award, the greatest in a ski-related case in the state at the time.
In another Virginia incident in 2003, 17-year-old Jessica Grigg was skiing over a transition as a snow maker roaring nearby masked the noise of oncoming machinery. When she saw a snowmobile coming uphill toward her, she turned to avoid it, fell and slid into the blade of the large snow groomer it was escorting. The slope had not been closed to the public. Her skull was fractured in the collision and she was left with permanent brain damage. The $8.3 million award set a new record for ski-related cases. It was appealed to the Virginia Supreme Court, which refused to hear the case in 2005. Chalat represented Grigg with M. Bryan Slaughter of Michie, Hamlett, Lowry, Rasmussen & Tweel of Charlottesville, Va. — and it became and still remains the largest award for a ski injury. Such seven-figure sums, perhaps minor in the Fortune 500 world, are huge in the ski industry.
Despite ski areas' ever-increasing safety awareness and practices, risk managers on the payroll and cautionary markings all over the slopes, accidents continue to happen. Too often, Chalat believes, the ski industry is exonerated from liability in accidents for which they are responsible. He attributes this to the willingness of legislatures — not just in Colorado but across the nation — to support the industry over individuals.
"Waivers [signed by customers] are sought by ski area operators at every opportunity — buying or renting equipment, buying lift tickets and so forth," Chalat says. "The operators want to be exempt from responsibility, even from having safe lifts. That's reprehensible."
Some of the toughest cases for Chalat are the skier-to-skier and snowboarder-to-skier collisions. The out-of-control skier who caused the injury sometimes cannot be found, and if he (and it's usually a he) is found, the penalties are sometimes trivial.
One of the most famous reckless skier cases involved an offduty Vail employee, Nathan Hall. In the spring of 1997, the 18-year-old ski lift operator was leaving work, taking the last run of the last day of the season and reportedly bombing straight down the mountain, even though other people on the trail were shouting at him to slow down. A mogul toward the bottom of the slope sent Hall airborne and crashing into Alan Cobb, 33, who had the bad luck to ski across Hall's path. Hall's ski fractured Cobb's skull and caused a massive brain injury. Cobb died just hours later. Hall was sentenced to just 90 days for being criminally negligent. The modest sentence was nevertheless the first criminal conviction handed down by a jury in a Colorado ski accident. Chalat was amicus curiae for the people in that case when it went before the state Supreme Court.
But Hall's landmark sentence hasn't seemed to slow down irresponsible skiers. In 2003, Robert Wills was visiting Breckenridge from his native Britain and reportedly skiing at high speed when he caused the collision that killed Richard Henrichs. Chalat represented his widow, Sandra Henrichs, who filed a wrongful death suit. Chalat won what he calls a "substantial settlement" out of court.
Lift tickets held the key to his client's case. Chalat subpoenaed the computer records of when and for which lifts Wills' bar-coded lift tickets had been scanned. "We determined that they got on the lift almost simultaneously." The defendant's companion testified that they had spent about 10 minutes having coffee at the top of the lift. "How did Wills catch up?" Chalat asks rhetorically. "We determined that he was going very fast [when he hit Henrichs]."
One of the most obnoxious displays of reckless skiing happened the same year. Michael Wolff, 20, a Texas snowboarder visiting Colorado's Sunlight Mountain Resort, got drunk and smashed through a ski school class of 5- and 6-year-olds. Wolff pleaded guilty to one felony count of child abuse causing serious bodily injury and one misdemeanor count of reckless injury involving a child. Chalat represented the child with the worst injuries, 5-year-old Riley Malone, whose leg was broken severely enough to require surgery.
Denver Deputy District Attorney Tricia Lacey was quoted as saying that Wolff was severely intoxicated and "flying downhill, uncaring, with no effort to avoid it. Then he didn't stop to help. He said things like the children got in his way. He was uncooperative and not remorseful."
Wolff atoned publicly for his drinking problem, and the county district judge sentenced him to 240 days, with credit for the 152 days he had by then spent behind bars and the remaining 88 days to be suspended if space opened up in a local alcohol-abuse treatment center. Wolff had no resources, little education and no family support, and he eventually violated probation. The parents of the most severely injured child, whom Chalat represented in a civil suit, supported the sentence. Chalat noted at the time that his client was unlikely to collect anything because of Wolff's situation. "You didn't see his family here, right?" Chalat said. "What a heartbreak."
But Chalat sees more in his practice than heartbreak and horrible injuries. "The Supreme Court says you have to be an attorney and a counselor at law," he says. "I take that seriously. I am proud of some things we've done. We've helped people in wheelchairs have some dignity. We've helped widows retain their standard of living, and we've put kids through college. All of that's important."
Glendon Laird is the principal trial lawyer at White & Steele, the Denver firm that Chalat first encountered early in his practice. "Jim and I are always on opposite sides," Laird says. "He is adversarial but not contentious. He exemplifies all that is good about being a plaintiff's lawyer. He is realistic about cases and doesn't 'sell' clients, only to disappoint them at the end. Jim believes that being a lawyer is a privilege. His ethics are beyond reproach, and he exudes what's best about lawyers. He is candid with his clients, the court, and his adversaries. So many lawyers take for granted their skill and power to affect people's lives. Jim has never abused that, and I can count on one hand the lawyers about whom I can say that."
Other Featured Articles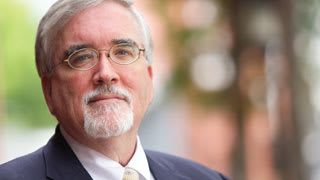 Great Privilege, Great Responsibility
Litigator and deacon Christopher Malone is committed to using the law to do good works Featuring Christopher M. Malone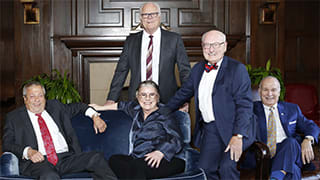 Law & Practice
Six pillars of the legal community look back on three decades of law Featuring Nancy Zalusky Berg, Michael V. Ciresi, Joseph S. Friedberg, Earl P. Gray, Kathleen M. Newman, Lewis A. Remele, Jr.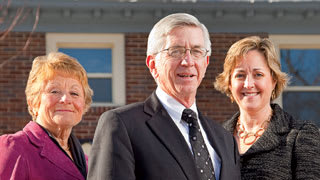 Family Law
After following in the footsteps of her parents, Ann and Ed, Kathleen DeLaney now leads the way Featuring Ann M. DeLaney, Kathleen A. DeLaney,