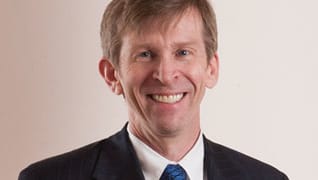 Photo by: Susan Goddard
Marathon Man
Everyone thought Walter Sargent was crazy to open a solo practice focusing on appellate law; no one thinks that now
Published in 2013 Colorado Super Lawyers magazine
By Joel Warner on March 15, 2013
Walter Sargent is in his own world.
Oral arguments will soon begin before the Colorado Supreme Court on Northstar Project Management v. DLR Group Inc., a lawsuit involving a construction contract for a big-name government operation, the National Renewable Energy Laboratory. On the respondent's side, representing DLR Group, there are lawyers from big-name firms. At the petitioner's table, representing Northstar, and arguing that the Colorado Court of Appeals erred when it found there wasn't sufficient evidence to support the $40,000 in damages Northstar won in the original case, sits Walter Sargent. He's a one-man operation from Colorado Springs who does nothing but appellate work. While the lawyers from the big-name firm have been with this case every step of the way, Sargent has never before worked on it—not at trial level, not at the Court of Appeals. Now Sargent is about to confront the seven justices who'll decide its fate. And he's in his own little world.
Sargent, his rail-thin frame draped in a pinstripe suit and his shaggy hair tamed as well as possible, stares into space, frowning in concentration as he swivels back and forth in his chair. He doesn't smile, doesn't say hello to anyone. It's as though the other people in this hearing room—the lawyers chuckling amongst themselves across the way, the bailiffs in the back whispering about something on Twitter—don't exist. At one point, Sargent walks to the lectern where he'll be arguing his case. He flicks a button to adjust its height, making it a few centimeters taller. Then he returns to his seat.
The lawyers from the other side exchange a glance. It's as if they're asking, "Who is this guy?"
He's the guy that Lt. Gov. Joe Garcia calls "the best at making legal arguments of anybody I have met in my career," the guy Garcia would recommend for solicitor general to anyone who was governor. He's the guy Robert Carey, who was Arizona's chief deputy attorney general and now handles big class-action lawsuits, calls "probably the most value-added lawyer I've worked with."
Sargent is also a little different, Garcia says. He used to eat a dozen plain rice cakes for breakfast to fuel his running career. When colleagues recently took him to a Mexican restaurant, he pointed at a burrito and said, "What's this?" He once played concurrent chess games with Garcia and another lawyer while facing away from the boards the entire time; he checkmated them both.
Once the court is in session, the lawyer representing DLR Group takes the podium. He has a nice Abraham Lincoln quote ready to go. "How many legs does a dog have if you call the tail a leg?" he asks. "Four. Calling a tail a leg doesn't make it a leg." The other side is chasing its own tail in this matter, the lawyer tells the justices, and Sargent "doesn't have a leg to stand on."
Maybe he has a point. Maybe Sargent doesn't have a leg to stand on. Once again, who is this guy?
When electricians, plumbers or other workers stop by Sargent's house, a Craftsman bungalow on North Cascade Avenue in Colorado Springs, they usually take one look at the nearly empty walls and wide expanses of carpet and ask, "Did you just move in?"
He didn't. He's been here for years, living alone save for his cat. He also uses the bungalow as his office. "One of the great things about appellate work is you don't need a lot," he explains as he offers a quick tour, shuffling along in jeans, fleece and sneakers. "Just a relatively clear head and access to legal resources."
The Spartan aesthetic reflects the all-or-nothing way Sargent operates. What he's interested in, he commits to 100 percent. Everything else, the bric-a-brac that tends to accumulate in life, it doesn't exist for Sargent. His walls are nearly empty, for example, except in the living room. At some point he decided he liked the paintings of Edvard Munch. There was something about the artist's tendency to paint one individual, he says, "lost in their own world," which appealed to him. So he decorated his living room with Munch reproductions. Lots of them: "The Dance of Life," "Snow Falling in the Lane," "Girl on a Bridge," a version of "The Scream." For a while he even owned two blow-up doll versions of "The Scream" until his cat ripped them to shreds.
The walls of his office, on the other hand, are nearly naked, with nary a diploma or plaque in sight. "I guess I'm not very sentimental," Sargent says with a shrug. So there's no indication that, after growing up the peripatetic son of a naval officer, he attended MIT, majoring in both philosophy and computer science. There's no sign he worked in the Pentagon as an Air Force officer from 1980 to 1984, the highlight of which, he says, was placing third in the Air Force chess championships. There's no suggestion that through it all, he was training to become a top distance runner: someone who, in the fall of 1988, would run three official marathons in the span of 10 weeks, finishing each with a 2:20 time or better.
Sargent could have become a successful computer programmer or government spook—except, in his all-or-nothing way, he wasn't interested. "There's a difference between having a basic talent for something and having a passion for it," he says. He found his passion in the practice of law. He liked the strategy involved, the fact that he could do it on his own. "I liked the logic of it," he says. "I thought of law like a secular priesthood. You are sort of the guardians of the rules of society."
So he attended Harvard Law School and became articles editor of the Harvard Journal of Law & Public Policy. When he graduated in 1987, he took a job with the Colorado Springs office of Holme Roberts & Owen—less because of the firm's prestige and more because it was a great area to train as a runner. As an introvert, he felt ill-suited for trial work. But living a few hundred yards from the office, he could focus on what was important: working and running, running and working. Three times he came in second in the Pikes Peak Ascent, the grueling 13.3-mile race up the legendary fourteener. "Looking back, that was a little crazy," Sargent says. "I think it's just what I needed to do, who and where I was at the time." He even ran a 2:18 at the 1990 national marathon championships, qualifying him for the 1992 Olympic marathon trials.
Then everything changed. He suffered a stress fracture in his foot and suddenly his elite running career was over. But by this point he'd gotten interested in appellate work, which is where he began to concentrate his practice. He did well for himself. In Keystone Sanitation Co. v. Arcata Graphics Fairfield, Inc., he went up against future chief justice of the U.S. Supreme Court John Roberts and won. "That's like discovering you're now playing in the All-Star game," he says of the experience, although he's quick to add, "That's not saying I'm a better lawyer than Roberts; he just had a really bad case."
In 1996, Sargent left Holme Roberts & Owen to start his own practice focused on appeals. This was somewhat unprecedented. A senior lawyer at the firm told him he'd starve within the first six months.
He was nearly right.
What's the value of an appellate lawyer? Why would lawyers on a case want to hand their client to someone else for the appeal? Why would clients want to pay for another lawyer? At the time, most states didn't recognize appellate work as a practice area, including Colorado, which still has only a handful of attorneys focusing on appeals. What could Sargent bring to the table?
"The Court of Appeals has its own culture," says Eric Bentley, a Colorado Springs lawyer who's relied on Sargent's expertise in the past. "To really provide insight into how the Court of Appeals might look at an issue, it's necessary to sink a whole lot of time being part of that culture."
It's the same at the Supreme Court. "Basically you tell your case in a 30-page, 40-page brief," says Sargent. "A case you worked on for years, and that took weeks of trial, now you have 10 pages to tell its story, and 20 more to explain why the law should go your way." Oral arguments are similarly compressed. "You have 15 minutes per side at the Court of Appeals, and 30 minutes at the Supreme Court," he says. "I compared it once to a Japanese haiku or a Shakespearean sonnet, where there are certain rules for those particular forms of expression." Making the right moves within limited bounds—that was Sargent. And as a one-man show, he could offer his services at a reasonable price. That helped make his practice a success—that, and the money Sargent had stashed away that kept him afloat during the first lean year of business.
Other lawyers began seeing him not as a threat but as someone who'd bring the expertise they lacked. Sargent could craft a persuasive tale from the trial's mass of information, respecting the trial court's decision but demonstrating why it was wrong in the eyes of the law.
In Estate of Maurer v. Hill, for example, Sargent represented Steve and Renata Hill after a Jefferson County judge ruled they owed the widow of Mike Maurer hundreds of thousands of dollars for convincing Maurer to purchase their custom automobile business right before he committed suicide. Yes, Sargent told the Court of Appeals, he could understand how the judge could sympathize with Maurer's widow; she'd suffered a terrible tragedy. But Maurer, despite his troubles, was a sophisticated businessman; he knew what he was getting himself into when he purchased the company. The Court of Appeals agreed. "The shining star was Walter and his capabilities," says Renata Hill. "He turned something that was completely preposterous into something that was sensible and logical."
Sargent, ever the marathon runner, is good at deciding which cases are worth pushing all the way to the finish line. Take Giampapa v. American Family Mutual Insurance Company, for example, in which Jack Giampapa sued his insurance company for refusing to pay for a hot tub prescribed by his doctor. At the trial-court level, he won nearly $1 million. The Court of Appeals tossed out the award, and, initially, the Supreme Court refused to even review it. When it was up for a second appeal, Sargent took the case. He believed the Court of Appeals had misinterpreted the law regarding noneconomic damages for breach of contract. Even after the Court of Appeals again ruled against Giampapa, he took it back to the Supreme Court, where, this time, the justices ruled 6-1 in his favor. The potential ramifications were so wide-ranging it led the Colorado Legislature to pass new limitations on damages for noneconomic loss or injury.
"Walter really did a remarkable lawyering job," says Jean Dubofsky, the first female justice of the Colorado Supreme Court and a fellow appellate lawyer. "To go back to the appellate courts several times like that, you have to be able to put forward your arguments in a way that is forceful but also very respectful."
Sargent has another strength, says Dubofsky. "When you first meet him, you wouldn't think he would be that good at oral arguments. But he is very successful."
That's because to Sargent, the 15 or 30 minutes he gets to argue a case is the ultimate verbal chess match. "Like chess, you have to put yourself in the other person's shoes," says Sargent. "You have to do a full analysis: 'If the other side plays this right, I will lose.' Suppose the other side does make the best move, suppose the court does ask the question I am afraid of. So you either take your best shot, or resign."
So who is Walter Sargent? He's the guy who thinks he's about to win Northstar Project Management v. DLR Group Inc.
"I believe there's been an important misapprehension by the Court of Appeals," he tells the justices during his turn at the podium. He says it almost reluctantly, as if he feels guilty bringing it up. He says that by arguing there was insufficient evidence, the lawyers for DLR Group only filed part of the original trial's transcript for consideration. The Colorado Supreme Court, Sargent says, has ruled the full trial transcript should be filed for sufficiency-of-evidence challenges. How else could an appellate court determine whether there was sufficient evidence if it doesn't have access to all of it?
Sargent speaks quietly but forcefully, like a teacher leading a class through a complicated lesson. He's ready when the justices interject; he knows the questions before they ask them. By the end of his 30 minutes, the justices are nodding in agreement. Several months later, on February 11, 2013, they issue their ruling in favor of Sargent and his client.
What lies in Sargent's future? Could he become solicitor general like his friend Joe Garcia suggests? Could he end up a judge or justice himself? Sitting in the "Munch" room of his house, Sargent can't say he's never thought about it before; he's never applied for a judgeship. His hesitation might reflect a desire to expand his horizons, a shift from his days of working and running, running and working. "I don't think I've lived a full life," he says. "There are other things I want to do, too."
He pauses and smiles. "It might be a really good fit," he says. His voice trails off as he stares into space, pondering the potential moves. "Maybe, maybe … "
Search attorney feature articles