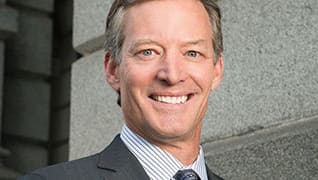 Photo by: Paul Wedlake
Patent Office No Longer Pending
How John Posthumus helped grow Colorado
Published in 2015 Colorado Super Lawyers magazine
By Steve Knopper on March 13, 2015
Most summer weekdays, John Posthumus gets up at 5 a.m. and runs 6 or 7 miles to prepare for the New York City Marathon; or he grabs his bike and rides 30 miles around the Cherry Creek Reservoir. But no matter the exercise routine, he's always at his desk at Sheridan Ross in downtown Denver by 9 a.m.
"I think John doesn't sleep much," says Michael Drapkin, a partner at Holland & Hart in Boulder. "People who get this kind of stuff done don't sleep a lot."
Posthumus, a 51-year-old intellectual property attorney, is tall and slim, with wide, intense eyes and a habit of drumming on his desk. In a 90-minute interview, he talks a bit about his ancestry (his parents are Dutch, which he says helps explain his cycling propensity) and how he got into law (after earning a degree in electrical engineering and computer science, and another in business administration, a chain-smoking University of Colorado professor inspired him to switch). But mostly he talks about one thing, his obsession, on which he has spent close to 1,500 pro bono hours during the past six years.
The U.S. Patent and Trademark Office at 1961 Stout Street in Denver exists in large part because of him. He began pushing for it in 2008 while volunteering with Drapkin at the Colorado Bar Association, and thought it would be a perfect fit for Denver. The state is full of high-tech companies—from venerable giants IBM and Lockheed Martin to tiny startups such as Modular Robotics—as well as engineering-heavy colleges. A study from CU's business school predicted that the patent office would boost Colorado's economy $439 million in its first five years. As Posthumus says, still pitching, "Instead of traveling to D.C., come here and interview your patent applications. And while you're here, go ski."
Colleagues had been working on the project for a few years. "We'd gotten a little bit of traction," recalls Thomas Franklin, a partner with Kilpatrick Townsend & Stockton in Denver. Once Posthumus joined the cause, however, the discussion changed from starry-eyed dreaming to a concrete goal that was going to happen no matter what.
"All of us believed in it, but John was certainly the driving force once he got involved," Franklin says. "The day job is rather overwhelming—we have client demands and so forth—but John absolutely showed a level of effort that was just incredible. … He is unrelenting," says Franklin.
Adds Drapkin: "When someone would tell John, 'This was not going to happen'—which we got a lot—Tom and I might've just said, 'You know, we gave it a good shot, and if it doesn't happen, it doesn't happen.' John was like, 'I don't think so.'"
"He is high-energy," adds Pam Reichert, vice president of the Metro Denver Economic Development Corporation, which helped with the patent office project. "You can tell that from his schedule. That's the kind of leadership we really needed."
At one point, on the last day of the 2008 Democratic National Convention, Posthumus and Drapkin helped organize a debate about patent reform and copyright law among law scholars representing the Obama and McCain campaigns. Some 300 people showed up, and the debate was a big success in the intellectual property community. More importantly, Posthumus made crucial connections in the future Obama administration—"people we could talk with to provide us guidance," Posthumus says.
What they were asking was basically unprecedented. During its entire 200-year existence, the U.S. Patent Office had never opened a satellite branch; but Posthumus, Franklin and Drapkin argued that the Washington, D.C., model was archaic and needed to be changed. Why couldn't patent examiners, in the age of email, work anywhere they pleased? Specifically, in a smaller, more livable city that happens to be not far from excellent skiing? Posthumus' team met with economic officials in Gov. Bill Ritter's cabinet. They met with Denver city officials. They drew up road maps. They went to Washington several times to meet with key officials in the Commerce Department and elsewhere in President Obama's new administration. And finally, in 2010, the government opened a satellite patent office in … Detroit.
"That was the low point for the Denver effort," Posthumus recalls. "It's not as if they were even asking for it."
The Denver crew regrouped. Through meetings with Sen. Michael Bennet, they learned that Congress was working on reforming national patent statutes, and Bennet added an amendment to the 2011 America Invents Act calling for three more satellite offices over the next three years. Five hundred submissions from more than 50 cities were sent; and on July 2, 2012, satellites were awarded to Dallas, San Jose … and Denver.
"This absolutely puts us on the map," Franklin says. "It means that every national firm that has [an IP] practice wants to have a Denver office."
So far, the U.S. Patent Office in Denver has hired 75 examiners—each making $100,000 to $200,000—and Posthumus expects the number to grow to 100, plus 20 patent law judges. Those new residents, by themselves, will help grow the state's economy in the direction of CU's $439 million estimate over the next five years.
In addition, Posthumus predicts an influx of international companies, particularly from Asia, moving staff to Colorado for convenience. (The first-ever Denver International Airport nonstop flight to Tokyo, launched in 2013, doesn't hurt.)
"We want it to be a tsunami effect," he says.
Posthumus grew up in Niwot, 10 miles northeast of Boulder, watching riders Greg LeMond and Bernard Hinault grind out victories in the local Coors Classic race; but he attributes his competitive spirit to a biological fact. "I have an identical twin," he says. "And we were really kind of ferocious competitors with each other. We pushed each other pretty hard." (Robert Posthumus now works for the U.S. Navy in Japan.)
A tennis and basketball player in high school, Posthumus discovered personal computers during the age of Radio Shack TRS-80s and Apple IIs in the early '80s. His father was an IBM toolmaker who got a discount on the company's exalted PC in 1982; Posthumus was able to buy a computer with two floppy-disk drives, a dot-matrix printer and a ridiculously slow clock for the bargain price of $3,300. As an engineering student in college, he and his classmates built a rudimentary computer from scratch—"wrapping wires on boards, that type of thing," he says. One night a week, he'd skip sleep entirely, spending 10 hours in the lab before attending class at 8 a.m.
Working in the lab, though, became a drag—all those hours per week for just one credit. A constitutional law course not only inspired him but pointed to a path where he could use his engineering degree without all the lab time. "I figured out that I could become a patent lawyer and do both," he says.
Adds Drapkin: "He was like, 'I want to do IP, so I'm going to go to the best IP program in the country. He gets this dogged sense of 'I need to accomplish this,' and he does it."
At the Franklin Pierce Law Center, in Concord, N.H., Posthumus worked on a moot-court case involving Bonito Boats Inc. v. Thunder Craft Boats Inc.—a 1989 U.S. Supreme Court precedent preventing a Florida boating company from copying a rival's hull design. He also clerked at what was then called Sheridan, Ross & McIntosh in Denver before landing a job there as an IP attorney, and some of his early cases were in the same realm as Bonito Boats. He dealt with architectural rights, representing homebuilders who believed rivals had copied their original designs.
Then the Internet happened, creating unprecedented intellectual property issues. "One of the reasons I liked intellectual property law as a career," he says, "was it was something that was going to constantly change. Property law doesn't change too much."
Starting in the mid-'90s, Posthumus worked with digital-rights-management companies to protect movies and music from online piracy. Back then, media companies were contending with their file-sharing crises by tinkering with early versions of DRM. At first, infamously, major record labels released CDs with crude digital locks, which hackers immediately circumvented by drawing on the discs with Magic Marker. But over time, the locks became more sophisticated. Apple came up with a standard DRM for its iTunes store, and (mostly) piracy-proof, Netflix-style streaming took over the online-movie business.
Movies, though, still contend with viewers who haul cameras into theaters and plug recorders into the hearing-impaired audio slots, then distribute bootlegs via YouTube. Sometimes, as with X-Men Origins: Wolverine in 2009 and The Expendables 3 last year, the entire movie is leaked online. "That is still a major issue," he says. "How do you handle that? There's a real worry from a creative perspective."
Posthumus' 12th-floor office overlooking downtown Denver, with the Rocky Mountains to the west, is mostly what you'd expect: books and binders on shelves, a computer on the desk. And then there's the bulletin board. It includes photos of his wife, Jeanne, and their kids, Olivia, 10, and Nate, 8. Olivia has developmental disabilities, prompting Posthumus to aim his relentless energy in that direction: He chairs the board for the Legal Center for People with Disabilities and Older People.
"When you're in a situation like that, life becomes more precious," Franklin says. "Overcoming that adversity, and dealing with that curveball that life throws you, gives you a stronger backbone to accomplish anything."
The bulletin board also includes photos of family members in bike helmets. Posthumus' bike ride in July, for which he trains much of the year, is called the "Triple Bypass," and it's as grueling as the name implies. It's 120 miles, from Evergreen, outside Denver, to Avon, near Vail. Riders climb more than 10,000 feet in overall elevation, up and down Juniper, Loveland and Vail passes. The Triple Bypass doesn't time its riders, and it isn't a race, but Posthumus nonetheless notes he finished in 10 hours and 39 minutes.
In early November, he ran the New York City Marathon, raising $2,500 for the National Blood Clot Alliance, in 5 hours and 45 minutes. "A little slower than planned," he says.
Search attorney feature articles