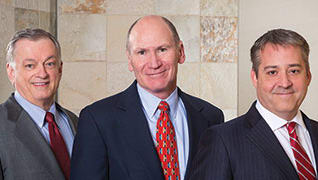 Photo by: Paul Wedlake
The Adjusters
Roberts Levin Rosenberg is the insurance when insurance isn't
Published in 2015 Colorado Super Lawyers magazine
By Joel Warner on March 13, 2015
Insurance policies are supposed to provide peace of mind. Sometimes they do the opposite.
In July 2000, Jennifer Radil, a 19-year-old assistant counselor at a girls summer camp in western Colorado, was riding in a Jeep Cherokee on the way to a white-water rafting trip as part of Assistant Counselor Appreciation Day when the driver lost control. The Jeep rolled and Radil was thrown from it. She was left quadriplegic.
Radil applied for workers' compensation to cover her extensive expenses, but was told by the camp's insurer that she wasn't entitled to benefits because she wasn't on the job at the time of the accident. When she sued in federal court, arguing that the camp was negligent in planning the trip and liable for her injuries, the camp's liability insurers argued the opposite: that Radil was on the job, meaning that a workers' comp claim was her only option. The court agreed and threw out her case.
In 2004, the U.S. Court of Appeals reversed that ruling, and the camp's primary liability insurer and the driver's insurance company agreed to pay Radil their policy limits rather than take the case to trial. Done and done, right? No. The resulting $1.5 million wasn't enough to cover the lifelong costs of Radil's disability. When Radil sued the camp's excess insurer National Union in state court, arguing that the Jeep's driver was underinsured and she was entitled to the camp's $25 million underinsured motorist coverage, National Union refused to offer anything to make up the difference.
This case, too, dragged through arbitration proceedings and the courts. "Beyond exasperating," Radil calls it.
Thankfully, she had a good team on her side from the start. "A family friend referred my parents and me to the firm of Roberts Levin Rosenberg. We have often remarked what a stroke of good fortune this was amidst a bleak and bewildering situation. While some might have walked away or discouraged us from persevering, our team of attorneys only dug in further."
That tenacity paid off: In 2011, National Union settled for a confidential amount. "It's difficult to put my gratitude into words," Radil says.
If an insurance case in Colorado is big or thorny, chances are Roberts Levin Rosenberg, based in Denver's historic Writer Square, will get the call. While 20 percent of its caseload involves personal injury, appellate and other cases, the firm specializes in representing corporate and individual policyholders in every kind of insurance matter.
"I don't think there is anybody better in the business when it comes to representing insureds who are trying to make sure they get the benefit of the insurance policies they bought," says client Miles Cortez, executive vice president for Aimco, a major U.S. apartment owner and operator based in Denver.
Who are they? Thomas Roberts has been specializing in insurance cases for more than three decades. "I would characterize his knowledge of insurance as encyclopedic," says Second Judicial District Judge Ross Buchanan, who worked at the firm before his judicial appointment. Second Judicial District Judge Ed Bronfin, who worked with Roberts at Pryor, Carney & Johnson, adds that he's as ethical as they come. "As a younger lawyer and a mentor to me, Tom just seemed to have a strong sense of right and wrong, and he would never compromise on that," says Bronfin. "He would never let us take shortcuts or do anything that wasn't the right approach."
Bradley A. Levin, who spent his early career representing insurance companies, gravitated toward working with policyholders, and joined forces with Roberts in 2000. He oversees various aspects of the firm, speaks at CLE seminars and helps bring in business. He's often the first guy at the office each day, the last one out at night.
The youngest of the three, Michael J. Rosenberg, joined in March 2002 and became partner three years later. Like Levin, Rosenberg started his career working with insurance companies before realizing it wasn't for him. "It felt constraining," he says. "You can't do everything you want to defend a case. Insurance companies don't want to see defense costs on a $50,000 policy end up at $200,000." Plus, adds Levin, "Michael is a guy who is as passionate as can be. He wears his heart on his sleeve and is always fighting."
The three differ in age and personality but have a lot in common: 60-hour workweeks, for starters. "We don't claim to be the smartest guys in the room, we just claim to be the hardest-working," says Roberts.
They're also adamant that defending policyholders is a tricky specialty often best left to experts like them. This isn't merely self-serving. "Insurance policies aren't written to be understood," says Roberts. Levin says he attended a seminar for insurance lawyers two years ago where nearly everyone in attendance conceded to not reading their homeowners policy. (The good news is that, as Roberts notes, "There's an old common law rule that says if you sign a contract, you're bound by it whether you read it or not. Insurance policies aren't signed; they just get delivered to you.")
Even so, they say, the deck is stacked in favor of the insurance companies. "Insurance is an ancient concept," says Roberts. "It was all about sharing risk, the law of big numbers. In ancient China, when farmers took their goods down to market and there were 10 farmers and 10 boats, one-tenth of each farmer's produce was in a boat. So nobody would lose everything."
Modern-day insurance is supposed to work the same way: You pay a premium upfront to ensure you're safeguarded if disaster strikes. But increasingly, that safeguard isn't a sure thing. "Insurance companies used to make money through sound underwriting," says Rosenberg. "Then, sometime in the 1960s, someone got the idea, 'What if we save money on the claim side?' It used to be, 'How much can we pay for this claim?' Now it's 'How little can we pay?'"
"It's not like insurance companies are evildoers," says Levin. "It's not like they are out to avoid all of their coverage responsibilities. But they are behemoths. Helping policyholders take on insurance companies, it does become a David-versus-Goliath type situation."
Meanwhile, government agencies like the Colorado Division of Insurance are often too underfunded and understaffed to do much to help, says Rosenberg, adding, "We are really the only check in terms of stopping this behavior."
Roberts, Levin and Rosenberg don't just know Colorado insurance law; they've helped make it.
Take the concept of insurance bad faith. According to most liability policies, the insurance company has full control over the defense and settlement of relevant lawsuits filed by third parties against their policyholders. But if the insurance company doesn't follow through on its end of the bargain, such as by not settling a claim within policy limits when it has a chance to do so, the policyholder could end up in dire straits if the matter doesn't go his or her way in court. Policyholders had no say but much at stake.
Then Roberts had his say. In 1984, he was the plaintiff's attorney before the Supreme Court of Colorado in the landmark Farmers Group, Inc. v. Trimble decision, in which the court ruled that a liability insurance company might be responsible for the resulting costs to a policyholder if it failed to properly defend or settle a case—essentially establishing the legal concept of third-party insurance bad faith in Colorado. In 2004, in filing an amicus brief for Goodson v. American Standard Ins. Co. of Wisconsin, Roberts and Levin helped expand this concept. "Goodson held that denial of benefits can cause anxiety, fear, etc., even when the benefits are eventually paid," says Roberts.
Prosecuting bad-faith cases against insurance companies is tricky business, says Roberts. After all, in many cases, the policyholder might have done something wrong. "You don't buy insurance for good behavior," he says. "Often you have a client in these cases who has engaged in wrongful conduct." The point, he adds, is not to focus on the policyholder but the insurance company. "In personal injury cases, the case depends on how likeable the client is—is he going to have jury appeal? In bad-faith cases, the focus is on the insurance company—what it did."
And in dozens of cases in the appellate courts, including two recent Colorado Supreme Court decisions, the firm helped develop a way for policyholders to avoid the financial repercussions of insurance companies' bad-faith conduct to begin with.
Now, says Levin, "the law in Colorado is about as policyholder-friendly as anywhere."
Roberts, Levin and Rosenberg aren't just expert attorneys; they're expert witnesses in insurance cases. They also regularly file amicus briefs on relevant Supreme Court cases.
The firm boasts an impressive tally of legal victories against daunting insurance behemoths: million-dollar jury verdicts, $8 million and $10 million settlements. More than once, they've gotten health insurance companies to green-light medical procedures that clients desperately needed.
No matter the final payout, each victory is big. Shirley Mondragon let her ex-husband borrow money using her house as collateral on the condition that he obtain an insurance policy to secure the loan. After he died, the insurance company informed her he'd stopped paying his premiums, which meant she was on the hook for the $89,000 he owed or her house would be foreclosed. Rosenberg took the case pro bono and got the bank and insurance company to settle the matter. She kept her home.
"I can't express how I feel about Michael," Mondragon says. "If I didn't have him, I could have seen myself paying the full loan back, or foreclosing on the house. And he was so caring the whole time, not just concerned about the case, but also my well-being."
Then there are the pyrrhic victories—like the case involving a rural Colorado man who bought supplemental cancer insurance from a door-to-door salesman, then was diagnosed with stage 4 cancer nine months later. The insurance company denied payment based on an obscure loophole buried in the contract, so Roberts Levin Rosenberg took the company to court. "We tried to settle—I didn't want to see him go through this," says Rosenberg. "But he was the one who said, 'I don't want this to happen to anyone else.'" So the case moved forward, and last July a Pueblo jury awarded a $4.8 million verdict to the policyholder—but he never got to see a cent of it. "He didn't get to sit through the trial, because he was in hospice," says Rosenberg. "He passed away nine days after the decision." Now, says Rosenberg, the insurance company is suggesting it may appeal the decision, arguing the man's claim died when he did.
It can be tough working with people who are besieged by financial, medical and emotional catastrophes. "It's hard to go through the trauma," Roberts says. "You just have to focus on what you do."
"When you buy an insurance policy, all you are buying is security and peace of mind," says Levin. "You are buying the knowledge that you are going to be protected. If you are not protected when a claim comes along, then there is something wrong with the system."
Search attorney feature articles