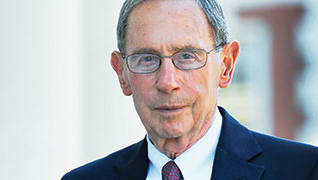 Photo by: Michael Paras
Communicating in Ways No One Else Can
After helping his daughter gain access to education, Howard M. Klebanoff vowed to do the same for other Connecticut children
Published in 2014 New England Super Lawyers magazine
By Nick DiUlio on October 17, 2014
Sometimes legal success comes by way of aggressive litigation. Sometimes it comes from deft negotiation. And in the case of Howard M. Klebanoff—one of the country's most respected advocates for children with special education needs—success is often achieved by understanding the mind of a child.
Consider a case he handled about 15 to 20 years ago. One afternoon, Klebanoff met with parents who said their 5-year-old daughter was being treated unfairly by her suburban Connecticut school district, which had declared the young girl autistic and placed her in a self-contained classroom along with several children with severe disabilities.
The girl's parents were convinced their daughter was not autistic and instead suffered from apraxia, a neurological disorder that affects a child's ability to speak. As a result, she wasn't being understood by her teachers and would throw tantrums out of frustration. "Her parents wanted her placed in a program that encouraged the development of language and speech, but the school district refused to provide those services," recalls Klebanoff. "They continued to insist that she was autistic."
Klebanoff had the girl evaluated by several leading neuropsychologists, who confirmed the parents' suspicions. However, school officials weren't budging, so Klebanoff arranged for a formal hearing with the district. Then he did something unexpected.
"I decided to call the child in as a witness," says Klebanoff. "I hardly ever do that, but I knew, from talking to the child and seeing her interact with others, that she was not autistic. I thought it would be best to let the hearing officer actually see this child and judge for himself."
When the young girl entered the room, she began looking around, curiously observing the stenographer and her new surroundings. Klebanoff called her name, but she paid no attention to him. And that's when he got a novel idea.
"I have an ability to talk like Donald Duck," says Klebanoff. "So I knelt in front of her and said her name again, this time in the voice of Donald Duck. She immediately turned around and made eye contact with me."
So Klebanoff said, "Did you like that?"
The young girl nodded her head and smiled.
"Do you want me to do it again?" he asked.
She nodded, and Klebanoff spoke her name again in his best Donald Duck. Now she was thoroughly engaged, nodding her head enthusiastically for Klebanoff to do it another time.
"So I said, 'Okay, I'll do it again if you come over here and give me a hug,'" recalls Klebanoff.
The young girl got off the stand, walked over to Klebanoff, and hugged him. Klebanoff said he had no further questions. The hearing officer turned to the school district's attorney and said, "So, do you still want your client maintaining that this child is autistic?" The attorney silently shook his head. The young girl would begin receiving the education she needed and went on to successfully develop speech.
"There is no question that Howard is the best of the best when it comes to representing families in situations like this," says Marisa Halm, who worked for Klebanoff between 2008 and 2012 before becoming director of the TeamChild/Juvenile Justice Project at Connecticut's Center for Children's Advocacy. "Not only is he an expert negotiator with an in-depth command of the law, he has a great deal of empathy and understanding for his clients, and that allows him to communicate in ways no one else can."
Nationally recognized as a pioneer in special education law, Klebanoff has spent nearly four decades representing families of children with a wide range of physical and intellectual disabilities as well as students with other educational needs, such as those who have experienced bullying, sexual harassment or suspension and expulsion. He's also authored key legislation aimed at protecting the rights of children with special needs in Connecticut while playing an instrumental role in the evolution of special education law on the federal level. At the center of this lifelong crusade is a deeply personal experience.
In 1966, when she was 6 years old, Klebanoff's oldest daughter developed a rare medical problem that often caused her to run fevers above 106 degrees. She eventually underwent surgeries that corrected the problem, but she also suffered substantial hearing loss. School officials told Klebanoff and his wife that their daughter had to be enrolled in the American School for the Deaf. But that, says Klebanoff, was unacceptable.
Klebanoff and his wife fought for many years to keep her enrolled in the local public school. They outfitted her with hearing aids and arranged for her to sit in the front of the classroom so teachers could make sure she was fully engaged in the lessons.
She would go on to earn her master's degree from the University of Connecticut's School of Education and eventually start a private practice dedicated to helping children with special needs overcome disabilities through the use of advanced technology. But back in the 1960s, her future was uncertain, and the struggle to get her a proper education was not an easy one.
"We asked teachers for some minor accommodations, but we received pushback all the time," says Klebanoff. "I could have ended up angry and bitter, but our daughter made me realize that change was possible, and she gave my wife and I a great deal of understanding and empathy for people who faced a similar situation. From early on I knew I would do whatever I could to help."
After graduating from the University of Connecticut School of Law in 1962, Klebanoff moved with his wife and daughter to a suburb of Washington, D.C., where he began working for the Department of Labor during the Kennedy administration. A year later he received a call from a friend who said his Hartford-based firm was looking for a new attorney. Klebanoff, drawn to the firm's shared interest in civil rights, took the job.
His family settled in the Blue Hills area of Hartford, which was becoming heavily integrated as white flight to the suburbs occurred. Within six months, Klebanoff was elected president of the Blue Hills Civic Association, which is where he became involved in the intricacies of school district law and politics. "It was felt that the area did not have a lot of political strength and that improving the schools and making sure the school provided a top education would break the myth that an integrated school is a deteriorating school," he says.
By 1968, Klebanoff was asked to run in the state Legislature's upcoming primary against the powerful—and previously unchallenged—Democrat incumbent. Campaigning on a "fairly liberal" platform that stressed more money for education, Klebanoff narrowly won and went on to serve as a state representative from 1969 to 1977, eventually becoming House chairman of the Connecticut General Assembly's Education Committee.
In that role, he was responsible for drafting the majority of disability and special education law that governs the state's schools to this day. He also served on the legislative section that worked on drafting the regulations for the federal Individuals with Disabilities Education Act, which went into effect in 1977.
During that time Klebanoff also formed a new practice with fellow attorney and state Rep. Jim Kennelly. He and a client co-founded the Corporation for Independent Living in 1979, a nonprofit that, among other work, develops housing for thousands of Connecticut's citizens with physical and mental disabilities.
Shortly after leaving the Legislature, Klebanoff became the first chairman of the Connecticut Board of Higher Education while building a reputation as the state's go-to attorney for families struggling to get their children the proper education.
"By that time, I made it clear that I wanted to help as many families as I could," recalls Klebanoff. "I knew what these people were going through. It's emotionally and financially draining. But I also saw what our daughter was able to eventually achieve, and I knew someone had to step up and advocate for these children."
Despite advances in state law—and a growing awareness of the importance of special education—Klebanoff still faced a largely uphill battle that was often fueled by insufficient funding and emotional contention between parents and district officials.
"There's a constant tension between what children need and what a school district is willing to pay for, but Howard's skills as a litigator have allowed him to successfully advocate despite these challenges," says Martha Stone, executive director and founder of the Center for Children's Advocacy. "As a result, he's garnered immense respect from both the advocacy community as well as local school districts."
Susan Freedman has sat across the negotiating table from Klebanoff on many occasions. As a partner at the Hartford office of Shipman & Goodwin, Freedman often represents school districts in special education disputes.
"Howard always comes to the table with a great deal of trust from both sides of the discussion," says Freedman. "He has a very calming demeanor and he always tries to see if he can resolve a case before resorting to a formal hearing. That's important because it helps to preserve the relationship between the school and the parents moving forward. And that is not an easy task."
Today, at age 77, Klebanoff has been retired once, but returned to his practice a few years later, after the attorney he sold his practice to closed the firm. "I couldn't stand the thought that some of these people were now unemployed," he says. "My wife started laughing and said she knew I wasn't ready for retirement."
Klebanoff rehired many of his old employees, using his home as an office and seeing clients in his old office building. "What I thought would be part-time work has been much, much more than part time," he says.
He is also actively involved in the University of Connecticut's Klebanoff Institute of Special Education, which was created in 1978 to provide training and research in the area of special education and disability services, and to bring parents and educators together.
While Klebanoff says he's extremely proud of the legacy he hopes to leave behind, it's the "emotionally rewarding moments" that are most gratifying.
One of those moments came several years ago, when Klebanoff's secretary came into his office and said there was a young woman outside who wanted to see him. When Klebanoff stepped into the office lobby, he couldn't believe his eyes.
Four years prior, as a freshman in high school, the young woman had been expelled for engaging in "inappropriate behavior" with members of the school's football team. Suffering from severe depression and alienated from her family, she became hooked on drugs and eventually resorted to prostitution to support her habit. Less than a year after her expulsion, she was arrested. Her parents, desperate to find some way to help their daughter, hired Klebanoff.
Through negotiations with the state prosecutor, Klebanoff was able to get the charges dropped. He also helped the teen enroll in individual therapy as well as family counseling that eventually restored her relationship with her parents. Klebanoff knew there was no way she could return to her original high school, so he negotiated with the district and got it to pay for her to attend a different public school.
Now she was standing in his office. "I wanted you to be the first person to see this," she said, handing him an acceptance letter from an Ivy League university. They hugged. The tears, says Klebanoff, "were substantial."
"Many years ago I realized that mine was not a money-making practice, but I also discovered that there is an emotional satisfaction to this area of law that money can never buy," says Klebanoff. "You are not only helping children get the programs and services they deserve, but you are potentially changing someone's life entirely."
Search attorney feature articles
Helpful links
Other featured articles
Family attorney Justin Crozier was an Army mental health specialist
How Matt Menzer found his 'ohana'
Greg Westfall repurposes photos into bold pops of color
View more articles featuring lawyers
Find top lawyers with confidence
The Super Lawyers patented selection process is peer influenced and research driven, selecting the top 5% of attorneys to the Super Lawyers lists each year. We know lawyers and make it easy to connect with them.
Find a lawyer near you