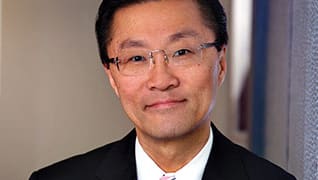 Photo by: Luigi Ciuffeteli
Diversity, not Divinity
Rotating careers and keeping true to self launched Don H. Liu
Published in 2014 Super Lawyers Business Edition magazine
By Timothy Harper on November 21, 2014
Sitting at a conference table at Xerox headquarters in Norwalk, Connecticut, Don H. Liu grabs a pen and pad and draws a box with a large block "W" in the middle. The general counsel, executive vice president and secretary of Xerox Corporation has a lesson to impart. The box is a room full of executives, he explains. The "W" is a problem they are working on. If the room is full of white males, all with similar backgrounds and viewpoints, one of them says, "That's a 'W.'" The imaginary men adjust their ties and nod in agreement. But if there are minority executives in the room, the problem might not look so clear-cut.
"Different groups of people have different perspectives," Liu says. "We need those people because they might actually come up with solutions that other people can't solve."
Rotating the pad 180 degrees, Liu says, "Look, it's actually an 'M.'" Rotating the paper once more, the letter could possibly be an "E," or maybe even the number three.
Liu doesn't just talk diversity. He lives it. In 1999 when Liu got his first general counsel job, for IKON Office Solutions, he had to build a new 13-lawyer in-house legal team. Liu hired an executive recruiter and told him he wanted diversity. Initially the recruiter kept insisting that he couldn't find qualified women or minority lawyers. Liu said: "You are talking to one, and I can't be the only one out there. Find me diverse candidates, or I will find another headhunter."
Liu, 53, was born in Seoul, Korea, the eldest of three children. His father was a mid-level city bureaucrat in Seoul, and his mother, a nurse, dreamed of sending her three children to American universities. When she got a job with a hospital in Philadelphia in 1972, the family moved to the U.S. with $5,000 in their pockets. None of them spoke English. Growing up in various communities in Pennsylvania and New Jersey, Liu was the ultimate outsider—always the new kid, always the foreign kid, always the smallest kid.
But no one picked on him. "They thought I was Bruce Lee," Liu says. "I told everyone I was a fourth-degree black belt, and I had a couple moves I could fake. It was enough."
As the family member who picked up English the quickest, he became the voice of the series of businesses his father built up and then sold: a grocery, a beer distributor, a gift shop, restaurants. Liu placed orders with suppliers, took customers' calls, made deliveries on his bicycle.
"I learned how to operate a business," Liu says. "I believe the fundamentals of what we do here at Xerox are no different from running a corner grocery store." The most important thing he learned was customer focus. "You can do all the branding you want, which is important, but if your customers aren't happy, the marketing doesn't work."
As a star winger on Cherry Hill High School West's championship soccer teams, he didn't have to pretend to be Bruce Lee anymore. "[Sports] gave me tremendous social confidence," he recalls. Liu transformed from a shy kid afraid to make mistakes or even speak in class—"a nerd, the stereotypical Asian kid," he says—to an honors student and all-state athlete.
That's why, to his parents' dismay, Liu turned down the University of Pennsylvania to attend Haverford College: He thought he'd be able to play soccer there.
Didn't happen. After two years riding the Haverford bench, he gave up soccer to concentrate on his studies—religion and philosophy—and campus activism. He organized a student walkout that led the college to reverse plans to shutter the Latino center, and he arranged a controversial campus appearance by a representative of the Palestine Liberation Organization. "The thinking of Martin Luther King's movement—and the issues of civil rights and the challenges of the oppressed—heavily influenced my larger-life thinking," Liu says. "Diversity came very consistently with that."
For a time, thinking of modeling his career on Dr. King's, Liu thought less about diversity and more about divinity. After graduation, he planned on going to divinity school to serve the poor and oppressed in society. Then after a night of partying, a friend made an offhand comment: "Don, you can't be a minister. You like sinning too much."
"I realized it was true," Liu admits. He liked to party, he liked women, he liked gambling. He had started sneaking away to Atlantic City to play blackjack as soon as he got his driver's license. To this day, he has standing poker dates at his home and goes to the casinos when he can.
At Columbia Law School, he met Jin Hwang, an NYU law student—they've been married 26 years—and took courses aimed at practicing civil rights law. But after graduating in 1982 with a six-figure student loan debt, he joined Simpson Thacher & Bartlett, a large Wall Street firm specializing in corporate litigation and deal making. Liu was assigned to work on leveraged buyouts. "I had no idea what an LBO was," he says. "I had never taken securities law at school, or any class that would have prepared me for corporate law. I just wanted to pay off some debt so that I could go be a civil rights lawyer."
Nonetheless, he became intrigued by the corporate world, and what he might accomplish as an in-house lawyer. He was invited to serve on the board of the Asian American Legal Defense and Education Fund, where the executive director argued that his then-current corporate role could make him more effective in supporting Asian civil rights. So he again changed his career path, and in 1992 joined Aetna U.S. Healthcare as deputy chief legal officer and vice president. In 2005 he interviewed at Toll Brothers, the nation's largest luxury-home builder. Toward the end of a nearly three-hour conversation, co-founder and chairman Robert Toll asked, "So, Don, what do you do for fun?"
"I like sports, but I can't run around as much as I used to," Liu replied. "And I like to gamble."
"Oh, really?" Toll responded. "What's your game?"
"Well," Liu said, "poker is the most fun game."
The strategy. The odds. Reading people. Knowing when to bluff and when not to—useful not only in poker, but in business negotiations.
"Right answer," Toll said.
Liu was at Toll Brothers for only a couple of years before Xerox came calling. He saw it as a remarkable opportunity to help revitalize one of the great American brands.
Xerox was trying to avoid the fate of other iconic American corporations that were shriveling and dying, notably Eastman Kodak Co., as their once-dominant technology became outdated in the digital age. Liu appreciated that a successful female CEO, Anne Mulcahy, led the Xerox turnaround. Mulcahy was succeeded in 2009 by Ursula Burns, which marked two firsts among Fortune 500 companies: the first time one female CEO succeeded another, and the first black female CEO. 
Liu has helped Burns continue to shepherd Xerox, which was once almost totally reliant on photocopying, into new areas such as business services. He was a critical player within Xerox in the $6.4 billion acquisition in 2009 of Dallas-based Affiliated Computer Services, Inc., the world's largest diversified business process outsourcing firm. In the acquisition of ACS, which has become a bedrock of Xerox's strategy, Liu not only led Xerox's legal team but was a critical tactical adviser to Burns in the negotiations, in structuring the transaction, in integrating ACS's management and operations, and in developing the message Xerox imparted both internally and externally.
Liu says a general counsel should have a full seat at the executive leadership table; it's his or her duty not to merely execute a CEO's strategy, but to help create and guide it. Burns rewarded Liu this summer with a promotion from senior vice president to executive vice president.
He says the stereotypical traits assigned to Asian-Americans—hard-working, diligent, detail-oriented—are both a blessing and a curse: Asian-Americans claim more than their proportionate share of the jobs in lower and middle management, but often stall below the upper echelons because they are seen as not creative or aggressive enough for the C-suite. You know the glass ceiling? Liu puts significant time and effort into helping other Asian-Americans break through what he terms the bamboo ceiling.
As general counsel, he says, his work is divided: one-third as a lawyer, one-third as a corporate executive, and one-third as the supervisor of 150 in-house lawyers and working relationships with dozens of outside firms.
Sandra Goldstein, head of litigation at Cravath Swaine & Moore, one of those outside firms, says, "When the rubber meets the road, there is no one better than Don Liu at weighing risk and reward and recommending the tough judgment call. For example, in securities litigations, companies often opt to negotiate a settlement if they can't knock out the case early on a motion to dismiss. Not Don." She cites a recent case in which Liu dug in his heels for years to ride out a significant securities litigation; in the end, Xerox won a summary judgment.
"We've also seen Don's good judgment on the corporate side, including his decision to walk away from a billion-dollar acquisition because he didn't get the deal protection terms he wanted," Goldstein says. "He read the situation perfectly, and the other side ended up caving and giving him even more than he had originally asked for."
In-house, Liu's style of management can be blunt. "Working for me can be tough," he says. "I will say in a very inopportune manner, 'This was not good. I am not happy with it. We need to do a better job.' I am not calling you stupid. In fact, there is an underhanded compliment that comes along with that: You are capable."
Liu is a listener, and tends to give his lawyers considerable leeway. He recently disagreed with Paul Webber, one of his lawyers, over a multimillion-dollar billing dispute with a Xerox subcontractor. Liu saw potential serious liabilities, and urged Webber to develop a settlement strategy. Webber warned that Liu was misreading the threat, and that Xerox should not give in. Liu finally told Webber to put together a presentation and a request for information, which Liu reviewed and then forwarded to the other side. Later, Liu got a call not from an opposing lawyer but from the subcontractor. "We looked at the evidence that you asked us to review," the subcontractor said, "and we don't think we have a case. I want to apologize for bothering you."
Even though it was 8:30 a.m. and Webber was on vacation, Liu immediately called him and offered a mea culpa. "I was wrong," Liu said. "You did everything I could ever ask one of my attorneys to do. When you are right, tell me I am wrong. Because of that you saved millions for the company."
"This was definitely one of the more challenging experiences I've had in working with a boss, but ultimately one of the more gratifying as well," Webber says. "Don Liu presses his lawyers hard, and makes them defend their positions. This is his method for gauging both the quality of our analysis and our level of conviction regarding the advice and counsel we are providing the company."
One day a month, he reports for duty on Xerox's 1-800 complaint line. If a Xerox customer keeps saying, "I want to talk to your supervisor," the telephone eventually rings on Liu's desk. Sometimes it's a corner print shop, akin to something his dad might have built up; sometimes it's a big corporation. Many calls are about malfunctioning printers and copiers. Liu listens, takes notes, and makes the connections within Xerox to help the customer. "That's very fulfilling, because they are so thankful," Liu says.
Sometimes the customer assumes that, like many customer service jobs, this one has been outsourced, and asks what country he's in. He happily tells them they're talking with corporate headquarters in Connecticut.
When considering the future, Liu feels pretty good about sticking around at Xerox for the long haul. He and Jin—who stayed home for 15 years with their kids Jessica, a sophomore at Haverford College, and Alexander, a senior in high school, before returning to law practice in 2013—have a house they built in Westport, Connecticut, a few years ago, but they are thinking about downsizing. They spend a lot of time for both business and pleasure in Manhattan, where they have a place in Midtown, near the apartment where Liu's mother moved after his father passed away three years ago. Only half-joking, Liu says he would like to write a book someday—but not about law or business. An unabashed softie as a parent, he'd like to write a reply to Battle Hymn of the Tiger Mother, the tough-love book by his friend Amy Chua, a Yale law professor. Liu says he would call his book Confessional Ode of the Pussycat Father.
Driving into Manhattan for dinner with friends in Koreatown after a long day at work, Liu pushes his BMW 650 convertible well past the speed limit. "I like to drive fast," he says. A quick risk/reward analysis follows. The reward is that the trip takes 10 minutes less than the digital maps predict. And the risk of a speeding ticket is acceptable—for Liu, only a minor gamble.
Search attorney feature articles
Helpful links
Other featured articles
Carl Poplar is still tougher than anyone else
Abou Amara brings capitol experience to his practice
Mark Reichel's argument before the U.S. Supreme Court
View more articles featuring lawyers
Find top lawyers with confidence
The Super Lawyers patented selection process is peer influenced and research driven, selecting the top 5% of attorneys to the Super Lawyers lists each year. We know lawyers and make it easy to connect with them.
Find a lawyer near you