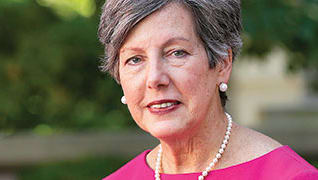 Photo by: Michael Paras
Practicality Over Profundity
Land use lawyer Diane Whitney is all about common-sense solutions
Published in 2015 Connecticut Super Lawyers magazine
By Timothy Harper on October 13, 2015
Diane Whitney's name gets things done. Lee Hoffman, a member at the Hartford office of Pullman & Comley, tells of failing to persuade an uncooperative court clerk to provide a document. "I then uttered the magic phrase, 'It's for Diane Whitney,' and instantly the woman's face was transformed," Hoffman remembers. The clerk not only gave him the document, she spent the next 45 minutes recounting tales of Whitney's knowledge, tact and kindness.
As a partner at Pullman & Comley, Whitney practices land use and environmental law—helping improve the quality of life where people live and work. Away from her law practice, Whitney has been involved with various government and non-government institutions and agencies promoting sensible land use, supporting the arts and more.
"Diane epitomizes what we should all strive to be in this proud profession—individuals who solve our clients' problems with integrity and faithfulness to the laws we are sworn to uphold, while at the same time bettering society through advancing the rule of law," says Tim Shearin, the firm's chairman.
Whitney was raised in Port Jefferson on Long Island. Her father ran Woodfield's Menswear and her mother stayed home with Whitney and her younger brother, Gary, now an attorney in Florida. It was, she says, an idyllic childhood—kids walked home from school every day along the harbor and spent summers on the beach swimming, waterskiing and organizing clambakes. She was active in school government, played field hockey and sang in choral groups. Growing up, she didn't know any lawyers, much less female ones. "When I went to college, girls didn't go to law school," she recalls. "Nobody said, 'You can't do it.' We just didn't."
After William Smith College in Geneva, New York, Whitney got a master's degree from Colgate University and then taught English, first in Ilion, New York, and later in Hartford. She and her husband, Gary Whitney, a former laser physicist for United Technologies, settled in Windsor, a Hartford suburb, and she stayed home with their sons. David, 46, is an architect and Matthew, 42, is a financial consultant; both are in the Boston suburbs.
She was a busy mom, volunteering for school and civic groups and serving as a docent at Hartford's renowned Wadsworth Atheneum Museum of Art. When she considered returning to work after the boys were old enough, she pondered the law. Her husband provided the nudge. He said, "It would be sort of stupid to be 80 years old and still wondering if you should have gone to law school."
Her 1982 class at the University of Connecticut School of Law had nearly as many women as men. More than half the women were over 30, and several had kids. But when her class graduated in 1985, the best jobs were still going to the younger men. Interviewing, Whitney was asked:
"Is your husband comfortable with you working as a lawyer?"
"How can you possibly manage with children at home?"
She bit her tongue. "They didn't get a rise out of me the way they would if I heard those questions today," Whitney says. "I wanted the job."
She got it. At her first firm, Danaher, O'Connell, Attmore, Tedford & Flaherty in Hartford, she did real estate closings, probate, general commercial litigation and a lot of asbestos defense work. When the firm broke up in 1987, she went to the Connecticut Attorney General's Office, representing the state in child welfare trials for four years. In 1991, she practiced land-use law at Pepe & Hazard, then moved to LeBoeuf, Lamb, Greene & MacRae's Hartford office in '94. In 2003 she left. "I didn't like where the firm was heading," she says. (Nine years later, after a merger with Dewey Ballantine, Dewey & LeBoeuf went bankrupt.)
Her paralegal and several LeBoeuf colleagues followed Whitney to Pullman & Comley. Several clients came, too, including Alcoa, for whom she handled major environmental cases, including toxic torts, across the country.
Whitney tells stories of meeting thrilled law students who assume she's a tree-hugging environmental lawyer, and shrink away upon realizing she mostly represents defendants in environmental matters. Then she explains that for many of her clients, environmental damage is often done by a subsidiary before it was acquired, and often when harmful practices were more acceptable. She cites a client whose waste sludge was prized fertilizer—people took it home and spread it on their gardens—until it was deemed a contaminant years later.
"The vast majority of my cases are exceptionally good companies that have a problem that was not caused by any malicious intent, but that can be really difficult to overcome," Whitney says. (In fact, Whitney has only once discovered that a client was an intentional polluter. Her reaction: "I fired the client.") She cites brownfields and Superfund sites that are in prime locations for redevelopment but are costly to remediate. She works with everyone—property owners, health officials, planning and zoning boards, private developers—to reclaim and repurpose land.
She'll go to trial, especially if she thinks a plaintiff is making a bogus claim, but prefers to bring the sides together. "I want a good settlement: compensation for people who were injured, and for injured, contaminated soil," she says. "I am not a profound thinker. I am a practical thinker. I am good at finding practical solutions to problems."
Brian Armet, former executive director of the regional sewer authority in Cromwell, credits Whitney with resolving a state versus local government conflict over wastewater regulations: "Her knowledge and ability to tone down tense negotiations was what enabled her to develop a fair and equitable settlement."
Whitney has been crucial to the development of Great Pond Village, a 670-acre brownfield being turned into a sustainable planned community along the Farmington River north of Hartford. The onetime manufacturing site was polluted with a variety of toxic chemicals, but will be decontaminated and revitalized as a community with 4,000 apartments and homes as well as shops, a pedestrian-friendly downtown and leisure facilities. "My fear was that the property would be chopped up into warehouse distribution facilities," Whitney says.
Whitney has served as president of Greater Hartford Legal Aid, and is known for embracing the most complicated cases. In one Hague Convention-related international custody matter, a young Albanian mother was accused of kidnapping after she fled to the U.S. from Europe to save her three children from her allegedly abusive Italian husband.
For six years, Whitney fought in federal court to keep the case from being returned to Italy, where the courts almost surely would have ruled in favor of the husband. In 2013, Whitney succeeded in keeping the family in America. Since then, she has helped the mother and kids settle near Hartford, handled the woman's divorce, paved the family's path to citizenship and guided the woman through the University of Connecticut School of Law's international program.
"The matter took hundreds of hours of pro bono time devoted entirely by Diane without any fanfare," says Francis Brady, an attorney with the Hartford office of Murtha Cullina.
She's also become a touchstone for women in Connecticut law, both in formal bar committees and as a longtime leader of Pullman & Comley's Women's Leadership Initiative, which has helped young mothers at the firm balance work and family life.
Whitney, a soothing, savvy listener and adviser, insists her counseling is "nothing dramatic." But one woman recently told Whitney that was the point: She is a no-drama mentor whose advice helps "stiffen the backbone" of younger women. "I wouldn't have thought of that," Whitney says, "but I liked hearing it."
She often shares from her own life-work balancing experience: Her husband was a full parenting partner, and she tried to focus on work in the office and family at home: "I found out that if you're pretty diligent working hard all day, for the most part you can get home for dinner."
Women aren't the only beneficiaries of her pragmatic wisdom. "Diane's door is always open, from office service personnel to the highest ranking partner," says her longtime paralegal, Kurt Sheathelm. "She will always listen and try to help if there is an issue. If she can't, she will tell you why—or, in no uncertain terms, she will tell you why something should not be an issue."
Whitney has given up some of her committee commitments but loves coming to work every day. She stitches quilts, takes banjo lessons, throws open her home for firm celebrations and travels extensively with her husband.
Her mentorship reaches out to more than just young attorneys, particularly in connection with her Poem of the Month Club. Its members? Her five grandchildren. Each month she sends them a poem—recently, "Seashore" by Jacqueline Kennedy Onassis, and several by Langston Hughes and Maya Angelou.
"Sometimes the kids come across the poems in school and say, 'Hey, I know that poem,'" Whitney says. "I love that."
Search attorney feature articles