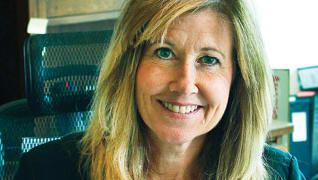 Photo by: Michael Paras
the Walt Disney Approach
How PI heavyweight Kathleen Nastri learned to simplify her trial arguments
Published in 2013 New England Super Lawyers magazine
By Nick DiUlio on October 21, 2013
Months before she made history by winning the largest medical malpractice verdict ever awarded in the state of Connecticut, Kathleen Nastri had to figure out what went wrong the first time around.
It was the winter of 2011, and for more than seven years Nastri had been representing the family of Daniel D'Attilo, a child born on February 2, 2003 with severe cerebral palsy. Working alongside law partner James Horowitz, it was Nastri's job to convince the jury that Stamford physician Richard Viscarello had been negligent when he failed to start a cesarean section in time and made critical errors during D'Attilo's birth, resulting in the baby's life-altering disability.
Three years prior, Nastri and Horowitz had represented the D'Attilo family in the same case before a Waterbury jury and Superior Court Judge Jane Scholl. In the end the jury was deadlocked, resulting in a mistrial.
"What we learned from the first trial was that certain issues were just distracting to the jury," says Nastri, a personal injury and medical malpractice lawyer who's worked at Koskoff Koskoff & Bieder since 2003. "Sometimes it's easy to become enamored with the complexities of the medicine; because when you understand it, you think it's so incredibly interesting. And you want the jury to understand the intricacies as well. But that first jury didn't care so much about the scientific details. In fact, they got bogged down in them."
So Nastri and Horowitz came up with an entirely different approach. "We were not going to ask a single question or address the defense's position at all unless it advanced our story," says Nastri. "I call it the Walt Disney approach."
Nastri explains that in the early days of Disney feature films, composers would provide the animation pioneer with dozens of potential musical numbers. But Disney had a hard and fast rule: No matter how good the song, it would only be included if it moved the story forward.
"And that's the same rule we had for this case," she says. "We weren't going to partake in anything unless it advanced our story."
That story, as Nastri describes it, was straightforward and tragic. On January 31, 2003, in the middle of her 39th week of pregnancy, Cathy D'Attilo had only half the normal volume of amniotic fluid her baby required. It was a condition that should have prompted Viscarello to perform an immediate cesarean delivery, but instead he sent Cathy home from his office. Two days later, she went into labor.
When he was born, Daniel wasn't breathing. He was pale, immobile and virtually lifeless, with the exception of a faint heartbeat. And while he was eventually resuscitated, the infant's trauma had already taken its toll, resulting in cerebral palsy.
"If the doctor had delivered the baby when he first realized something was wrong, all indications were that things would have been fine," says Nastri. "The facts were staring him right in the face, but he decided to take a risk. And you don't take risks with babies."
The defense made a case that Daniel's brain damage was the result of an entirely different condition, but Nastri and Horowitz, using the Walt Disney approach, spent almost no time countering that theory. Their strategy worked. The jury awarded $58 million to the D'Attilo family, making it the largest medical malpractice verdict in Connecticut history.
"When I first met them, Daniel's mother and father were on the verge of losing their home. Their son couldn't speak. He will never be able to walk. He needs a feeding tube. And he has profound cognitive disabilities that will be with him forever," says Nastri. "We changed their lives, and that's why I got into this type of law in the first place."
It almost didn't happen. After graduating from the University of Connecticut in 1983 with a business degree, Nastri imagined she'd work for a large corporation.
But she had a hard time finding compelling job opportunities. So she decided to go back to school and eventually graduated from the University of Connecticut School of Law in 1986 with the intention of becoming a corporate attorney. While in school, she discovered a nearby personal injury firm was looking for a clerk, and Nastri's career path took a permanent turn.
"At first I thought there was no way I'd be interested in personal injury law. But I went to the interview anyway, got the job, and loved it," she says. "That's where I caught the trial lawyer bug."
After graduating in 1986, Nastri went on to work for Carmody & Torrance in Waterbury, splitting her time between defense litigation and personal injury plaintiff litigation. She worked there for 17 years until she got a call in 2003 from nationally acclaimed trial attorney Michael Koskoff, who asked her if she had ever considered making a change.
"And I said no," Nastri recalls. "I was very happy at Torrance. But when I went home and told my husband he said, 'Are you crazy? This is exactly the type of work you want to do.' And he was right."
Since making the move to Koskoff Koskoff & Bieder, Nastri has garnered a reputation as one of the state's most tenacious and successful attorneys, bringing to trial several precedent-setting cases, including a $3.49 million verdict she won for a 4-year-old boy who suffered from Erb's palsy due to medical negligence—the largest award in state history for that type of case.
In 2003 she was the first woman elected president of the Connecticut Trial Lawyers Association. And in July 2013, Nastri was elected treasurer of the American Association for Justice.
"I honestly can't think of a tougher, more well-prepared adversary," says Tom Anderson, a defense attorney with Morrison Mahoney who has squared off against Nastri several times.
"One thing I've learned about Kathleen over the years is that she's really good at distilling complicated material down to simple, straightforward arguments. It's a gift," says Anderson. "And even though we battle, I've been a fan of hers for many years."
The D'Attilo case certainly wasn't the first time Nastri had to simplify the nuanced complexities of medical science. Consider a case she tried a few years ago involving a baby girl with a condition called persistent pulmonary hypertension of the newborn. PPHN develops when a fetal blood vessel to the heart doesn't close off after birth, depriving the infant of vital oxygen and resulting in a host of potential complications.
Representing the girl's parents, Nastri claimed the hospital not only failed to diagnose PPHN but also never took the proper steps to treat it. As a result, the newborn had a stroke and suffered severe brain damage.
"This was a very complicated, esoteric space of the law," says Nastri. "And when we took the case to trial I was perplexed about how I was going to explain it to the jury."
So Nastri got creative. One night she gathered her four daughters—then between the ages of 7 and 17—and tried explaining the condition to them. At first the science was too difficult to grasp, so Nastri refined her approach and tried explaining it to her daughters again. She repeated the process several times until all four of them thoroughly understood the issue.
"We eventually settled for a very good number," Nastri recalls.
"We malpractice attorneys can often get caught in the weeds of medical details. But not Kathleen. That may be her most extraordinary talent as a litigator," says M. Karen Noble, a Hartford defense attorney with DanaherLagnese and a longtime legal adversary of Nastri's.
"Not only does it help her make her case, but it also makes it that much harder for the defense," says Noble. "When she's able to simplify an issue so well, the defense then has the burden of showing a jury why it's not that simple. And then I wind up coming across as much more convoluted in the process. It's brilliant."
Shortly after settling the PPHN case, Nastri took one of her daughters to visit the baby's family in Providence. When they got there, the baby's mother took Nastri's daughter by the hand and said, "God sent your mother to us."
"My daughter was blown away by that," Nastri recalls. "She couldn't believe I had made such a difference in these people's lives. It was one of those moments you live for because you deal with such horrific tragedy all the time in this job. And while you can't rewrite history or bring someone back to life, you can try to make sure that these people are taken care of. That they'll be OK. Nothing is more important to me than that."
Search attorney feature articles
Helpful links
Other featured articles
Three Vegas attorneys on bringing women into gaming law
Streaming has replaced theatrical but what will replace streaming? Schuyler Moore on the state of film financing
Martha Hofmeister is the guiding hand behind the Dallas Bar's comedic variety show
View more articles featuring lawyers
Find top lawyers with confidence
The Super Lawyers patented selection process is peer influenced and research driven, selecting the top 5% of attorneys to the Super Lawyers lists each year. We know lawyers and make it easy to connect with them.
Find a lawyer near you