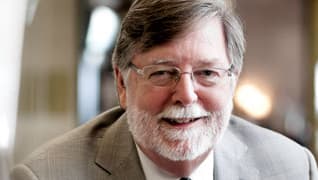 Photo by: Scott Cook
Against the Odds
J. Cheney Mason wasn't looking to represent arguably the most reviled woman in the U.S., but once on Casey Anthony's case, he wouldn't back down
Published in 2012 Florida Super Lawyers magazine
By G.K. Sharman on May 23, 2012
The crowds would gather every day, often before dawn, cups of coffee or bottles of energy drinks in their hands. The mood was quiet, for the most part—at least early on. The media were there too: a virtual village of satellite vans and microphones and personalities with perfectly coiffed hair.
As sunrise chased the shadows from the Orange County Courthouse, the volume rose. Reporters checked their notes; photographers got into position. Then a door would open in the Bank of America tower across the street and all hell would break loose.
"It was like running a gauntlet every day," says attorney J. Cheney Mason. "We practically needed a SWAT team to get to work. The only things they didn't have were torches and pitchforks."
The target of the animosity was his client, Casey Anthony, possibly the most reviled woman on the planet.
A vocal contingent of trial followers considered Anthony evil personified—a mother who seemed not to grieve for her missing child. They labeled her a hard-drinking, tattooed party girl who didn't report 2-year-old Caylee missing for a month; who allegedly used chloroform and duct tape to kill her baby and dumped her body in the woods, then smirked her way through the trial.
Orange-Osceola Assistant State Attorney Jeff Ashton considered Casey the most skilled liar he'd ever seen.
It seemed that only Mason and co-counsel Jose Baez, a Kissimmee criminal defense attorney, and their team believed in her innocence. "I was convinced that she did not kill her child," Mason says, "and I had no problem defending her. She was being railroaded. Crucified by the media without facts."
Mason refused to give up hope that he and Baez and Anthony would walk out of Courtroom 23 with a not-guilty verdict.
Which is what happened on July 5, 2011, after nearly three years of investigation and media scrutiny, more than six weeks of trial and 11 hours of jury deliberation.
"I did my job," Mason says. "We tried the case and won."
Part Shakespeare, part soap opera, part Greek tragedy, the Anthony trial was perhaps the biggest legal sensation to hit the Internet. It was trial by Twitter and 24-hour news cycle. People followed the trial online and through text messages on their cell phones.
On verdict day, the Orlando Sentinel recorded a record 22 million page views. Some 55,000 people signed up for Sentinel text alerts during the trial and more than 75,500 people got the alert on July 5. "Casey Anthony" was the fourth most searched term in 2011, according to Google.
Mason didn't ask to be part of this firestorm, which was already under way when he got involved at Baez's request. But he's not the type to back down from a fight.
Born in 1943 and named for his uncle, James S. Cheney, an Air Force pilot and judge advocate general, Mason was scrappy from a young age. By 15, his parents had split up and he was essentially homeless and supporting himself. In his senior year of high school, he dropped out, he explains, "because I was bored to tears—and hungry."
Mason being young and cocky, and this being the 1960s, he enlisted in the military. "I could not allow them to have a war without inviting me," he says.
Three years in Southeast Asia convinced him that the military was not his calling.
Back home, he opted for higher education at the University of Florida. Entering law school in March 1968, he met fellow attorney-to-be Donald Lykkebak, and thus began one of his most enduring friendships.
Still colleagues, they share a suite of offices with a few other attorneys in downtown Orlando. In addition to criminal defense work, Mason practices marital and family law, with a focus on complex contested divorce litigation, especially for high-income clients.
"He's one of a small handful of people to get a call when important people get in trouble," Lykkebak says.
Mason is a frequent guest lecturer at bar and legal association meetings and—despite his antipathy for some members of the media—is often asked to provide commentary on legal issues. He also is a member of the National Association of Criminal Defense Lawyers and in 2004 received the organization's most prestigious honor, the Robert C. Heeney Memorial Award.
Mason, Lykkebak says, has become a sought-after defense attorney for three reasons: reputation, preparation and personality.
"If he's in town and it's a workday, he's in the office," Lykkebak says. On Monday holidays, when everyone else is off, he's at his desk, as is Lykkebak.
In the courtroom, Mason has a strong personal presence.
"If you have points to make, having a big personality means you're more likely to be successful," Lykkebak says. "Presence is what we are talking about, an outgoing charm … while at the same commanding respect."
Then there was the finger seen around the world.
After the verdict was announced, Mason, Baez, the legal team and other supporters went across the street to celebrate at an Orlando restaurant. A crowd gathered outside, yelling their displeasure.
Mason turned and, through the window, gave a middle-finger salute. The moment was captured by an Associated Press photographer.
Here's the back story, according to Mason: He and his associates were repeatedly harassed by a stalker as they made their way to and from the courthouse. One day, about three weeks before the end of the trial, the stalker made rude, sexual remarks to the female members of the legal team.
"I had to be restrained from beating his ass in the middle of Orange Avenue," Mason says.
Come verdict day, the stalker was part of the crowd outside. Mason looked over, saw the guy and expressed himself.
The gesture was intended for the stalker, Mason says. The slightly grainy photo, with or without pixilation of the offending digit, showed up in newspapers and on websites everywhere.
Would he do the same again? Probably. One thing he'd do differently: "I should have copyrighted [the photo] and sold it on eBay and made a lot of money."
Orlando attorney Tom Equels calls Mason "the consummate trial lawyer. … In talking to a jury, no one's better than Cheney. He has a great sense of what people listen to and how they respond."
The two Vietnam vets met nearly 20 years ago when they were on opposing sides of a civil case involving insurance fraud and civil racketeering. Mason later hired Equels to handle his suit against music mogul Lou Pearlman over a legal fee. Mason had represented Pearlman's label, Transcontinental Records, in litigation with the Backstreet Boys and *NSYNC. Mason and Equels won a judgment of approximately $15 million against Pearlman, and they have been co-counsels on several cases since.
Mason's other skill, Equels says, "is that he looks at a case and, no matter how complex it is, he can break it down to components and key areas and see how to win."
In the Anthony trial, Equels says, "Cheney kept his focus and established that the elements of the first-degree murder charge couldn't be proven."
Indeed, Anthony was found not guilty of first-degree murder, aggravated child abuse and aggravated manslaughter; but found guilty on four misdemeanor charges of providing false information to police. She was sentenced to four years in county jail but was released on July 17, 2011, for good behavior and credit for time served.
Nothing gets Mason going like a death-penalty case, and Anthony could have faced execution.
"The highest calling any lawyer can have," Mason thunders, "is to be willing to fight the government to save someone's life."
That's an actual person the state is trying to kill, he maintains, not an abstraction. "Premeditated murder of that person in the name of the state is the ultimate outrage," he says.
Just three years into his law career, he defended a client accused of first-degree murder and got a conviction for manslaughter. In the late 1970s, he tried to stop the execution of John Spenkelink, a convicted murderer who became the first person executed in Florida after capital punishment was reinstated. Mason submitted an appeal and called the clerk of the state Supreme Court, resulting in a short stay of execution while the issues in his brief were considered. Ultimately, the execution was carried out.
In the Anthony case, it was already a three-ring circus when Baez, a relatively inexperienced attorney, started calling and dropping by, asking Mason for advice. Baez eventually admitted his goal: to get Mason on the case.
Mason knew he'd have to take it pro bono and needed to talk to his wife first.
"Remember John Spenkelink?" he asked her, referring to the time and effort he put into trying to get the stay of execution.
"Oh, no," she replied.
As Anthony's lawyer, he became a target of vitriol as well. Some of it became personal and, at one point, his wife called 911 to report death threats.
But blunt-talking Mason can dish it out as well, especially to the media. It infuriates him that local TV news outlets continued to use their "Case against Casey" banners in their coverage. Many talking heads, both locally and nationally, are too ignorant and lazy, according to Mason, to get at the truth. "I have never seen that more glaringly than this case," he says.
The media circus didn't abate after the decision was handed down. A vocal contingent of people remains convinced that Anthony is guilty and that only Mason and Baez kept her from getting the lethal injection they believe she deserved.
Mason has no patience with people who jump to conclusions, or with those who pontificate on subjects they don't understand.
One of his favorite words for the talking heads is "moron." The others are best left unprinted. He reserves special ire for the CNN legal commentator he calls Nancy Dis-Grace.
His fellow attorneys, he maintains, have a duty to educate the public and "should know what the hell they're talking about before they talk."
He also has no patience for people who disrespect the American justice system, or impugn the integrity of the jurors.
"I question whether they [the detractors] wish to remain Americans," he says.
The jurors in the Anthony case showed incredible courage, Mason says. They spent nine hours a day in court, plus Saturdays, and were away from their families. They faced down protestors and sat in the courtroom while people made faces at them. They endured financial hardships because they were away from their jobs.
They could have convicted Casey Anthony and walked out as heroes, Mason says. Instead, they listened to the evidence and reached a different verdict.
It's a matter of constitutional rights for Mason. After the Anthony verdict, he made his standard toast after winning a case: "My friends, to the Constitution of the United States. We just proved it worked."
Search attorney feature articles