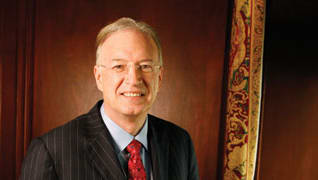 Photo by: Larry Marcus
Basic Black
If the town has to burn down for justice to be done, that's a risk Roy Black is willing to take
Published in 2007 Florida Super Lawyers magazine
By Stan Sinberg on June 18, 2007
The first thing you see when you enter Roy Black's office, aside from Roy Black, is a large Lladro bust of Don Quixote. 
Just as the Man of La Mancha sought justice fighting dragons far larger than himself, Black has made a career out of defending, as he proudly puts it, "the unpopular, the politically incorrect, and even the despised" against powerful foes.
Past clients include a Florida attorney charged with soliciting sex online with a 13-year-old girl (actually an undercover detective) and a man accused of chopping up a federal informant. He got an imminent death sentence vacated—on the grounds of incompetent representation—for a mentally ill man who committed a cold-blooded double homicide: a man whom, even Black acknowledges, "everyone wanted dead."
And then there was Luis Alvarez. In 1982, Alvarez, a Hispanic Miami policeman, shot dead a young black man playing a video game. Alvarez claimed it was self-defense, but there were protests and widespread predictions that, were the cop acquitted, Miami would go up in flames. Black recalls defiantly telling a newspaper reporter, "I'm going to do whatever I can to see justice is done in the courtroom. If the town burns down because of it, so be it."
Work Ethic
It's safe to say that Roy Black didn't become a lawyer in order to be liked.
Yet, sitting in his modestly sized downtown Miami office, Black, 62, is eminently likeable. He resembles more the amiable low-key TV legal analyst, a role he played in the O.J. Simpson trial, than a burn-down-the-city, take-no-prisoners defense lawyer. Still, it was Black who successfully defended William Kennedy Smith against rape charges and who defended both Dennis Rodman and Carmen Electra on mutual domestic-abuse charges. He counts among his clients Rush Limbaugh and Marv Alpert.
His office "furniture" consists almost entirely of books, both in bookcases and piled high atop his desk, along with a computer that regularly "pings" incoming e-mail—which he reads immediately—and a high-speed printer that continuously pours out reams of daily criminal federal and state judicial opinions, all of which he reads. 
Managing partner Scott Kornspan says, only half-joking, "Roy goes through a cartridge [of printer ink] a week."
"Half of our cases are against the federal government," Black says. "I'm of the belief that, unless you are three times more prepared than they are, you have no chance. You can't outspend them, or match their resources, so you have to outwork them."
As an example, he cites a recent case with a genuine Perry Mason "gotcha" moment. IRS agents engaged in a sting operation against a Miami jewelry supplier and his sales manager for six months, leading to a charge that they laundered more than $8 million in cocaine profits for Colombian drug lords. Going through the six months of taped phone calls, Black conducted an audio-spectrum analysis of the CDs and discovered sound waves on one of the tapes long after the undercover conversation ended, when an agent forgot to turn off the recorder. The recovered audio revealed that the agents discussed how to entrap the jeweler. Under cross-examination, the agent, not knowing Black had this tape, repeatedly denied a set-up until Black played back the recorded conversation.
It's then that you begin to understand why the bust of Don Quixote in Black's office is not of the knight errant in his armor, astride his gallant Rocinante, but rather of the fictional hero quietly reading a book. This encapsulates Black's image of himself as an idealistic iconoclast. Black's greatest weapon? Knowledge.
Hard Lessons
When Black was 15, his stepfather (Black's father disappeared before he was born) a British automotive executive, uprooted the family from Stamford, Conn., to live high atop a mountain overlooking Kingston, Jamaica. Overnight, Black's "average white, middle-class existence" was transformed into a world with no TV and no friends.
Even more jarring, he attended an English prep school that emphasized memorizing vast quantities of geographical trivia, most as vital to day-to-day living as the chief imports and annual rainfall of the Seychelle Islands. Corporal punishment was routine. The stern headmaster kept his office walls lined with bamboo canes, which he used to whip the students. "If you got called there, you knew things were going to shit really quickly," Black recalls.
Only later did Black appreciate how the rigorous schooling trained his now-prodigious memory, and the lack of TV turned him into a speedy and voracious reader—both key instruments in his later success.
But the most traumatic of all was math class, where the teacher—who Black claims "hated me"—humiliated him daily by summoning Black to the front of the class to solve arcane questions about unfamiliar British currency.
 Black contributed an essay on what inspired him to become a lawyer in Leapholes, a 2006 children's book by James Grippando. There Black wrote, concerning his sadistic math teacher, "By showing me injustice, he taught me to love justice. By teaching me what pain and humiliation were all about, he awakened my heart to mercy."
Black says, "To this day, I hate the petty abuse of power.  That's why I like practicing law. I can take on bureaucracy and power one day at a time."
Chance Meeting
Soon after graduating from University of Miami Law School in 1970, Black had another experience that, he says, "changed my life."
On election day that year, driving north to Miami to interview with law firms, Black passed Phil Hubbart, his old criminal-evidence professor, standing on a street corner, campaigning for the office of public defender. He stopped to chat, and Hubbart promised to offer him a job if he got elected. He was, and he did.
Black likens the 18-hour/7-day-a-week job as an assistant public defender to working in a hospital ER. "Like a doctor would see every disease; we saw every possible problem people could have. [We saw] addicts, dealers, rapists, killers and psychotics." Hubbart assigned him to defend Vernal Walford, a Jamaican man whose psychotic behavior landed him in a mental hospital, from which he was released after just five days. Two days later, he killed an 8-year-old boy waiting for his dad in a hotel hallway. This led to Black's first national TV appearance, on 60 Minutes. Walford ended up committed to a Florida mental institution.
Black is proud that, during his five-year stint, the public defender's office went from routinely waiving jury trials to demanding one for every defendant who requested it. "We believed people had a right to trial," he says.
He sums up those five years simply: "I learned all about how to be a lawyer and a human being."
Career Move
In 1976, Black and fellow assistant public defender Jack Denaro opened up their own practice in downtown Miami. In 1983, what's now Black, Srebnick, Kornspan & Stumpf moved two blocks, and grew to its current size of 14 attorneys. 
Alvarez quickly followed. During the 1984 trial, Black was alerted that a militant group was threatening violence. Not wanting to make a martyr of Alvarez, its members had decided to kill his lawyer.
Toward the end of the nine-week trial, SWAT teams and bomb-sniffing dogs were part of the defense team. When Alvarez was acquitted after only two hours of jury deliberations, Miami rioted for three days.
Then there are the cases, often involving professional athletes, that the public never hears about because Black acts quickly and persuades prosecutors not to file charges. "There are attorneys who could make a living from the NBA alone," he observes with a laugh.
Analyze This
Speaking of sports figures, it was this thoroughness, and his ability to present ideas succinctly, that made Black a popular TV legal analyst during the O.J. Simpson trial. 
When, after just one day of deliberation, the Simpson jury announced it had reached a verdict, Black says he was alone among his fellow panelists in predicting "not guilty."
"A quick verdict almost always goes for the defendant."
Like many, he was critical of the prosecution, particularly when former Los Angeles prosecutor Christopher Darden had Simpson try on the glove. "The most dangerous thing to do in a courtroom is an experiment. Especially with a hostile witness."
He says the problem was that the prosecution had a plan, but not a strategy.
 "You have an enemy. Strategy is doing something knowing your opponent is going to rebut it, and then you have to rebut the rebuttal."
In the criminal-evidence workshop he conducts at the University of Miami School of Law, the same class he took from Phil Hubbart, Black cites a favorite example of a courtroom experience.  In a case some 50 years ago, an attorney—defending a murder suspect in a case in which no body was found—announced to the jury that the supposed victim was walking through the courtroom door at that very moment. When jurors turned to look, the attorney announced that their turning proved reasonable doubt existed that indeed there was a victim. Without missing a beat, the prosecutor, Black says, stood up and replied: "That was a cute trick, but while everyone turned to look at the door, I turned to look at the defendant, and he never turned around, because he knew she was dead.
"That's strategy, and the power of rebuttal. We're counter-punchers. The prosecution puts on the case, and we're there to punch holes in it.  You have two seconds to make an objection, so you have to try to anticipate everything. Once the witness answers the question, it's too late."
A major part of counter-punching is cross-examination. Black prides himself on being a master.  "Think of cross-examination as a series of statements by the lawyer, only occasionally interrupted by a 'yes' from the witness," he wrote in his book, Black's Law.
In the book, in which he details his strategy in four controversial cases, Black wrote of his public defender days, "I loved the image of being a single crusader representing the dispossessed riffraff of society against the state with its well-funded, popular prosecutors." 
These days, the raff have decidedly less riff, and a lot more rich.  Black readily admits that the auspices of his practice now largely require him to defend the despised who are of means.
One of them, Scott Sullivan, the CFO of WorldCom, was charged with orchestrating an $11 billion fraud. After pleading guilty and agreeing to testify against CEO Bernie Ebbers, Sullivan received just five years in prison.
A major frustration for Black in that case was not being able to read all 1.2 billion e-mails generated over the course of five years. "Normally, I try to read everything," he laments.
Answering critics who say that wiping out the life savings of working families calls for harsher punishment, Black bristles. "The criminal justice system is not there for revenge. Putting someone like that in prison beyond five or 10 years, there's no point.  Seize their assets. Who's going to hire them again? They're ruined.            
"Besides, we already have too many people behind bars. Of all the people in the world in prison today, 25 percent are in the U.S.
 "We're creating more and more laws, destroying more lives, costing us enormous amounts of money, for no reason."
And, Black insists, it's getting worse. "Prosecutors now make most of the sentencing decisions by deciding what kinds of charges to bring.
"There's less discretionary sentencing, so defendants are more likely to negotiate with the prosecutor, who holds out the only chance of mitigation and leniency. So we have a system of sentencing by prosecutor rather than a system of trial by jury. Nobody knows or cares until they or someone they know is caught up in the system. Then they ask me, 'Where are my rights?'  And I say, 'Half of them have disappeared in the last 20 years.'"
Black reserves his fiercest scorn for the Military Commissions Act of 2006, which abolished non-citizens' right of habeas corpus. "We've had habeas corpus for 800 years. We got it by fighting King John on the fields of Runnymeade in 1215. Out of that came the Magna Carta, and habeas corpus. In 2006, it was taken away for a certain segment of our population with the stroke of a pen."
Black goes on: "Before that, in France, anyone in the aristocracy could have you arrested and thrown in prison and you would just lay there. The king would just say, 'These are the terrorists of our day.' That's why, in the French Revolution, the first thing they did was tear down the Bastille. Now our president can say, 'These are the terrorists of our day,' and throw them in Guantanamo.
"Whether they're good or bad, every human being should have a way of contesting their imprisonment."
For 10 years, until the mid-'90s, Black worked pro bono to commute the sentences of death row inmates. For the past decade, he and his wife, Lea, have conducted fundraising for ICARE Bay Point Schools, which take select kids ages 13 to 16 out of the criminal justice system to educate and socialize them. 
Standing over the Quixote sculpture, Black says, "I love tilting at windmills."  One is reminded that Don Quixote charged his windmills with a lance, which resembles nothing so much as an elongated cane. With a sharp, lethal point.
Search attorney feature articles