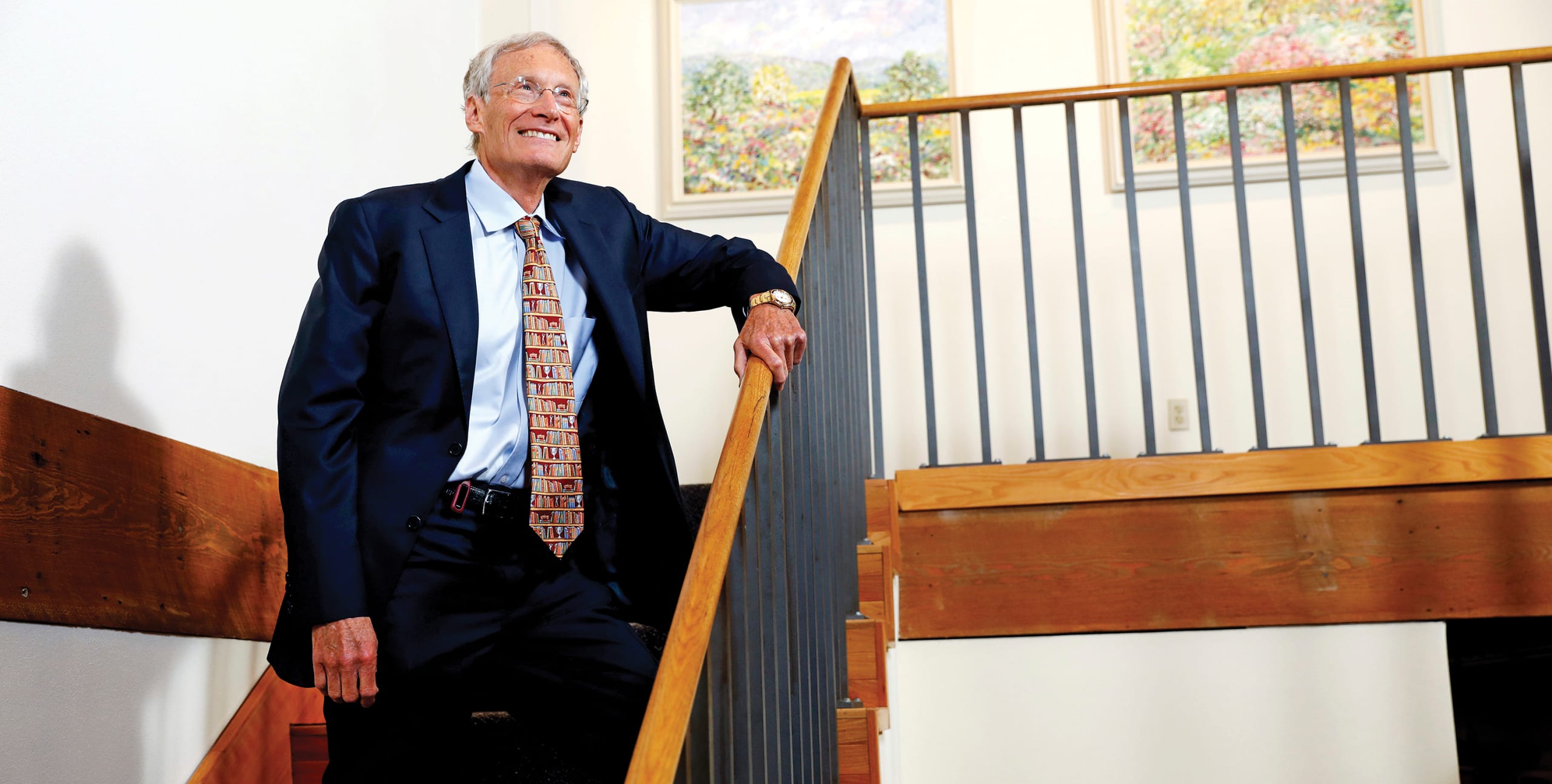 Harley Riedel's Move
The Tampa attorney is a master at keeping bankrupt companies in the game
Published in 2018 Florida Super Lawyers magazine
By Carlos Harrison on June 18, 2018
Harley Riedel's brick-lined office sits in the third-floor corner of a historic downtown Tampa building. It is, in many ways, a reflection of the man.
Some might have thought to tear down the dilapidated former warehouse and marine-supply business with its century-old roots into Tampa's past. Instead, when Riedel's firm purchased it in 1992, he led the effort to do just the opposite—take what was there, strip away what was broken and rebuild what was usable into a showpiece.
That's a pretty good description of how Riedel handles his bankruptcy practice: Save what can be salvaged and, whenever possible, build something better and longer-lasting.
"I think all of us feel good about taking a case that has hundreds of employees if you're going to save jobs," says Riedel, co-managing shareholder at bankruptcy firm Stichter, Riedel, Blain & Postler, where he represents mostly debtors. "If the company fails, there are going to be 100 people without paychecks, without the ability to put food on the table, without the ability to make mortgage payments."
Riedel has high regard for the worth of history and tradition, while also looking toward the future. One wall in his office showcases a diorama by his sister, complete with a milk bottle bearing the name of the dairy once owned by their father's family, a 1950s-era milk truck—and a cow. There are also two acrylic paintings by his mother. An etched-metal chess board with porcelain pieces—handmade by his late wife of nearly 40 years, Posey—sits on a table by the window.
Folks who know Riedel say his nice-guy persona is the real thing.
Tampa bankruptcy lawyer Robert Soriano has dealt with Riedel, almost always as an adversary, for more than 30 years.
"I mean, if he's put to the wall, he'll litigate and litigate well," Soriano says. "But he's almost always a consensus-builder. A deal-doer. Always a gentleman. Always well-prepared. And you know, most importantly, you can trust what he says."
Born in Cedar Rapids, Iowa, Riedel moved to Tampa when he was 2. His dad, a third-generation dairy farmer, had contracted polio, and doctors suggested he seek warmth and water. He brought his entrepreneurial spirit with him, buying a small chain of a dozen Li'l General convenience stores.
Riedel's father recovered and the family moved back to Iowa for a time, then returned to Tampa, because his dad saw more growth opportunity with the Li'l General stores.
The chain expanded dramatically. He went a step further.
"There was going to be a merger between Li'l General stores—his company—and Hardee's," Riedel says. "I think, 30 years ahead of the time, he was envisioning what you see at every convenience store now. … I think he thought, 'We have people coming in. Let's sell hamburgers when they're buying their milk and bread. And if they come in for a hamburger, well, maybe we can sell some milk and bread.'"
The merger was two weeks away the night Riedel's father came home for dinner and invited his son to play some chess.
"We played five games," Riedel says. "I won two. He won two. And we tied one. And he went back to the office to finish up the paperwork for the merger and I never saw him again alive."
Riedel's father suffered a fatal heart attack at the office.
"But, you know, if you're going to script a final memory," Riedel says, "that was the right way for him to go, and certainly with the right memory that I had. I mean, how do you say goodbye to somebody not knowing you'll never see him again? That would be the way."
Riedel was just 16. By this time, his maternal grandfather, a retired lawyer, had moved to Tampa to be near his daughter and grandchildren. He lived about a mile from Riedel, up the street from a young attorney named Don Stichter, whose kids had their own entrepreneurial bent. They would stop Riedel's grandfather as he drove by and demand a 10-cent toll.
When Riedel's father died, his grandfather turned to Stichter to handle the estate. He made sure Riedel was involved, learning the family's finances.
At the time, Riedel wasn't thinking of becoming a lawyer. He headed west after graduation to Baylor University, where he majored in history and minored in English literature. He still devours historical biographies and quotes long passages of poetry from memory.
Nearing graduation, he realized there weren't a lot of options awaiting history majors. He started applying to law school, choosing the University of Florida because of something his grandfather told him: "He said, 'Go to school where you're going to practice law. You're going to know all the people who are practicing law.'"
Riedel made editor-in-chief of the law review and Order of the Coif, and got lots of job offers when he graduated. A few years earlier, Stichter had launched his own firm, which Riedel says handled "everything from automobile cases to divorces." When his old neighbor offered him a job, Riedel accepted, starting July 1, 1974.
They quickly realized they were perfect partners. On the Fourth of July weekend, Riedel went in to prepare for a bankruptcy assignment, since he had only touched on that area briefly in school. He found Stichter there, putting in his regular hours. On weekdays, Stichter would go home for dinner, then come back to work a few extra hours. On weekends, he worked a half day on Saturday. Riedel soon did the same.
It was, as Humphrey Bogart once famously said, the beginning of a beautiful friendship.
"He's my closest friend, besides being my law partner," says Stichter. "We've been together 45 years and I've never had an unpleasant moment. Never had an argument except for the relative merits of our favorite football and basketball teams." They each root for several, with no overlap.
Riedel's cases have involved a lengthy and varied array of companies, ranging from mom-and-pops with a handful of employees to local enterprises and multinational corporations.
But when he first teamed up with his law partner, Stichter was one of only two lawyers in the area who handled Chapter 11 debtor work. Bigger firms would send bankruptcies to Stichter. Then came the late '70s, with stagflation and soaring interest rates. "We were, all of a sudden, swamped with Chapter 11s," says Riedel.
It wasn't too long before bankruptcies became the core of the firm's business. It was a perfect fit for Riedel—matching his chess player's affinity for moving methodically toward an outcome.
The first time Karen Giannelli—with Gibbons in Newark, New Jersey—met Riedel, she represented the debtors in a challenging case involving American Family Publishers. The company's direct-mail ad made people think they had actually won $11 million. Lawsuits poured in, and the case became a class-action multidistrict litigation, which wound up as a Chapter 11 using a channeling injunction—a strategy that prevents additional claims against a reorganized debtor.
"It was a very unique concept," Riedel says. "Not quite the very first open-heart surgery, but, you know, it was sort of new."
The case landed before a federal judge in New Jersey.
Riedel was called in by another Tampa attorney who told him they'd fly up and be back the same day, so he didn't pack. The judge had other ideas. Nobody was leaving until they got it resolved.
"So I went to Kmart, got some blue jeans and a fresh shirt," Riedel recalls. "And we spent all of the rest of that day and night and the next day hammering out the framework of a deal."
What really impressed Giannelli was Riedel's quick understanding and cooperation.
"We explained what the game plan was going to be, and Harley said, 'I see that that could work,'" Giannelli says. Then he went back and explained it to the class members and told them why it was a good offer. They ended up getting about 90 cents on the dollar of their claims.
"I think he had two things going for him," she says. "Number one, he had the intelligence and he was able to see the creativity of the solution to this problem. And number two, he was just a very nice man."
So nice that, in addition to his heavy caseload, he devotes many hours to pro bono work. In 2014, Riedel and Stichter accepted the 2014 Chief Justice's Law Firm Commendation, awarded annually by the Florida Supreme Court to a firm that has made significant contributions in providing pro bono legal services. Riedel has also participated in community service such as picking oranges for the Salvation Army to donate to the needy.
He also helps a lot of people in his regular line of work.
"I say, only half joking, that we on the debtor's side, we're doing God's work. We're saving jobs. And, you know, we [also] represent creditors, and their job is to get paid so their stockholders can get paid," says Riedel. "But it's not as much fun to put a company out of business as it is to save it."
Call of the Wild
After law school, Riedel went on a monthlong camping trip with a friend.
"In Yosemite," he says, "I saw two guys starting up the path, and they had fishing rods tied to their packs and a frying pan hanging out the back. And it was sort of a romantic thing. So I decided to try backpacking."
Four decades later, he's still taking the roads less traveled.
He's been back to Yosemite, down to New Mexico, over to Colorado, up to New Hampshire. Over the rocks of Zion National Park in Utah and through the thick pine woods of Glacier National Park in Montana.
And, of course, he's tackled the holy grail of trails, the Appalachian, a piece at a time—"for many, many years now, in weeklong, two-week long stretches," he says. "I love it. Although anyone who hikes the Appalachian Trail is going to, at several points—maybe several points a day—say, 'Why am I doing this? I could be doing something [else] and not be carrying this 40- or 50-pound pack up mountains sweating bullets.'
"You have nothing to do but think. It also restores, I think, an appreciation. For soft beds, cooked food. We take so much for granted, the luxuries that we have."
Search attorney feature articles