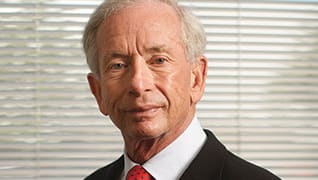 Photo by: Scott Wiseman
How Theodore Babbitt Turned His Life Around
A stint in the Marines lit a fire under the onetime underachiever
Published in 2014 Florida Super Lawyers magazine
By G.K. Sharman on June 10, 2014
The admissions counselor at Palm Beach Junior College probably thought, "This will be a short meeting."
The kid standing before him had a lousy high school transcript: straight Ds in his senior year, even though all he took were shop classes. Best not to give the young man false hope. "Maybe you'd be better off going to a trade school," he recalls the counselor saying. "We really don't think you'd do very well here."
That's when Theodore Babbitt realized what motivated him. Wouldn't do well, you say? We'll see about that.
"I've always responded to a challenge," says Babbitt, founder of West Palm Beach personal injury firm Babbitt, Johnson, Osborne & LeClainche.
He finished junior college early, even though he had to take remedial courses in math and English. Then it was on to the University of Florida, where he majored in psychology. In law school, at age 23, he graduated fifth in his class. Part of his motivation was personal. He had married young—at 20—and his wife, Adrianne, was working as a keypunch operator for $40 a week.
"Getting out [of school] got higher on my list," says Babbitt.
He passed the state Bar and began practicing in 1965.
Babbitt won his first $1 million medical malpractice case in Palm Beach County when he was only 31, back when few people sued their doctors and even fewer lawyers were willing to take on malpractice fights.
The case landed his client on the cover of Time magazine and earned Babbitt entrée, in 1973, to the exclusive Inner Circle of Advocates. As far as he knows, he was the youngest member ever elected to the group.
Today, trim and toned at 72, Babbitt is a vegan and an avid exerciser. He runs, he works out on exercise machines, and on Thanksgiving, after a veggie-focused feast for a houseful of guests, he leads his team to victory in touch football. Babbitt also learned to fly early in his career, got a pilot's license and bought his own plane. He owns three homes—one in Jupiter; one in the Bahamas, where he likes to fish; and one in Steamboat Springs, Colo., where he skis the diamond slopes. Because otherwise, why bother?
"He's the poster child for Type A personality," says Sidney Stubbs, a shareholder at Jones Foster Johnson & Stubbs in West Palm Beach, who used to fish the Bahamas with Babbitt on a boat they owned together. "To go like he goes, you have to be in top physical condition." Stubbs notes that his friend celebrated his 70th birthday by doing 70 pushups.
Never mind that his first experience in a courtroom was as a defendant, not an attorney.
As a teen, he hung out with a bad crowd, one that liked to sneak into the pools of luxury hotels on Miami Beach such as the Eden Roc and the Fontainebleau.
"We'd go over the seawall," Babbitt said. "You can't do that anymore, but you could then."
One night after the group snuck into the Eden Roc, Babbitt remembers the guys running and sliding along the hotel's highly polished dance floor.
"We took some stuff," Babbitt admits. "Flatware; nothing big."
The party came to a screeching halt when the cops showed up. On Babbitt's day in juvenile court, he faced a judge who gave him a choice: detention or the Marines.
So it was off to boot camp at Parris Island, S.C. After that, he served six months' active duty, received an honorable discharge, then spent six years in the Reserves. He calls the Marines the best thing that ever happened to him, but the experience also sparked a revelation about his future.
The drill instructor "probably couldn't spell 'cat,'" Babbitt recalls, "yet he could make me do anything he wanted me to. He literally owned me. I didn't want to go through life that way, so I turned myself around."
The only way out of grunt status was education, he realized, which is how he came to be in the junior college counselor's office.
His first job as an attorney was with Farish and Farish (now Farish, Farish & Romani), where he handled family matters and personal injury cases, as well as the first medical malpractice case in Palm Beach County.
Then the late Sam D. Phillips hired Babbitt as an associate, and several years later Babbitt started handling medical malpractice cases. Thorough preparation became one of his trademarks.
"I don't think I've ever met someone as well prepared in representing his clients as Ted Babbitt," says friend and former law partner Fred Hazouri, a retired district appeals court judge and now a civil mediator in West Palm Beach.
Hazouri and Babbitt grew up working class. Nothing was handed to them, Hazouri says: "Everything [Ted's] accomplished, he's earned."
Babbitt's mother was a teacher; his father, who dropped out of high school, worked at manufacturing jobs. When Babbitt was a teen, they moved from New York to Florida, where his dad worked his way up to plant manager at a company that made jalousie windows. His parents never had much money, but they saved and managed to put four kids through college. Babbitt has a brother and sister who are teachers in South Florida, and another brother who's a retired attorney in Maryland.
His family was proud—and surprised—when Babbitt got his act together and went to college.
For Babbitt, every case is a story of someone who needs him. His sense of fair play often leads him to take on cases other attorneys have declined.
The list goes back a long way. Babbitt sued Good Samaritan Hospital in 1970 on behalf of a woman who, after having her tonsils out, went into respiratory failure and suffered brain damage. She was a maid, and African-American. Babbitt doesn't think she got the best of care. He fought the hospital to a verdict of $120,000 for his client.
In another case, a construction worker at the county government center in West Palm Beach was hit on the head by a falling piece of rebar. He suffered a subdural hematoma, went into a coma and had permanent brain damage.
Other attorneys considered it a tragic accident. But Babbitt's research convinced him the man's hard hat was poorly designed. The chin strap, he says, was attached in an unusual way. Had it not been flawed, Babbitt says, it would have protected the man's head. He won a multimillion-dollar settlement for the man and his family in 1980.
As for that first million-dollar case, it involved a Lantana dentist who Babbitt says was left a quadriplegic after a botched diagnosis and surgery on his spine.
Babbitt had already earned the enmity of doctors and says he was warned by one physician "never to fall asleep on an operating table in Palm Beach County." Fellow attorneys wouldn't take a med-mal case like that at the time, and local experts wouldn't help. When the case went to trial, he said, the hospital's expert witnesses were from Harvard.
Babbitt won anyway, persuading a jury to award $250,000 more than the doctor's malpractice policy covered. The doctor chose to go out of business.
That's when he got the invitation to join the Inner Circle of Advocates.
"That made a huge difference in my practice," Babbitt said. "The Inner Circle is like a band of brothers and sisters. It's like having 99 partners who are the best lawyers in the United States."
Once, when Babbitt needed information about an opponent's witnesses, he put out a call to the group. It was answered by "a guy in Kansas City who was on vacation," Babbitt recalls. In just a few days, he had two boxes of legal information. Which was good news for Babbitt; bad for his opposing counsel.
"I destroyed the guy," Babbitt recalls.
Babbitt has done more than rack up wins.
He has written more than 100 articles that have appeared everywhere from the Palm Beach County Bar's publication to national magazines. Babbitt also served a term as president of the Palm Beach County Bar Association and was vice president of the Legal Aid Society of Palm Beach County. He was a founding board member of Florida's Children First, an advocacy nonprofit, and was instrumental in 1997 in opening doctors' disciplinary records to the public.
As a pilot, he has flown "angel" flights to help seriously ill people get to medical treatment, and also is signed up with Pilots N Paws to provide the same care for injured animals.
And he's a lifetime member of Mensa.
Few people have needed Babbitt's skills more than the special-needs victims in a case involving adoptive mother Judith Leekin. The New York Times called the case, filed in Brooklyn federal court, "one of the most brazen and disturbing child-welfare schemes in recent memory." Babbitt calls it "the worst case of child abuse in the history of the world."
Eleven disabled children and young adults were placed in Leekin's care. They were beaten, chained together, starved and sexually molested for years—while she collected $1.68 million in adoption subsidies from the city. She was living in Florida with the children when the situation finally came to light in 2007. She is now in prison.
Though the case is ongoing, Babbitt, lead plaintiff's attorney in the case, has already won a $9.7 million settlement against New York City, claiming child-welfare officials failed to properly oversee the children's care.
Another case that some attorneys opted not to touch involves the Church of Scientology. A California couple claims they invested $420,000 in church projects and services they say were never carried out, and accuses the church of nine counts of fraud and breach of contract. Babbitt and co-counsel Ronald P. Weil of Weil Quaranta McGovern of Miami filed the suit in Tampa, in U.S. District Court in the Middle District of Florida.
Babbitt isn't worried about provoking the wrath of the church—or any other legal opponent. If anyone wanted to get revenge, they would have done it by now, he says.
"I've sued every major corporation and every insurance company," he notes. "I've sued Citigroup."
Babbitt's competitiveness doesn't stop at the courthouse door.
"Everything he does, he likes to be the best at it," says Hazouri, who met Babbitt in college on the handball court. "I'm a much better handball player. He probably wouldn't admit it, but he should know it."
"I plead the Fifth," Babbitt says.
Even on vacation, he's intense. "The same as he is all the time," Stubbs says. "He's busy every minute. He never rests."
After a lifetime of taking on corporations and insurance companies, however, Babbitt has recently turned his considerable talent and passion to a new cause: fighting ALS.
Some 5,600 people in the U.S. are diagnosed every year with amyotrophic lateral sclerosis, also called Lou Gehrig's disease. Victims waste away, becoming gradually weaker, losing their muscles and eventually the ability to swallow and even breathe.
His wife, Adrianne, succumbed to the disease in November 2012. The couple had been married for more than 50 years and have two children and five grandchildren.
"He was truly remarkable in support of his wife when she was ill," Stubbs says.
Babbitt took her everywhere, from medical appointments to visits with friends. For about a year, the hard-charging attorney cut back on his practice to be with her.
It was the only time he ever slowed down his caseload, Stubbs recalls.
There's currently no treatment for ALS, and the disease is fatal within two to five years. Babbitt, who raises money for the ALS Foundation, says a cure might be on the horizon. He wants to make sure the funding is available to find it.
You have to like his track record when it comes to a challenge.
Search attorney feature articles