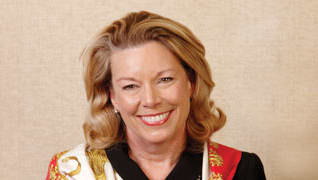 Photo by: Scott Wiseman
Jane Kreusler-Walsh's Secret to Appellate Success
Edits, edits, edits … then more edits
Published in 2011 Florida Super Lawyers magazine
By Stan Sinberg on June 10, 2011
There was a time when Jane Kreusler-Walsh's boss worried about whether he would have enough business to keep her employed, even part time. As a perk, he moved the copy machine out of a windowless storeroom and replaced it with a desk so the fledgling attorney wouldn't have to keep working out of the courthouse library.
She got a case representing an insurance company in one of the least appealing appeals imaginable: arguing that a woman who had been beaten and robbed—then run over and killed after crawling to the highway for help—was partly negligent because her blood-alcohol level exceeded the legal limit. Kreusler-Walsh had to argue that the original verdict for the woman's family was excessive.
She barely got her own name out of her mouth before the presiding judge on the panel said, "Mrs. Walsh, I really don't think much of your position."
Despite her snappy and bravura comeback—"That's fine, Your Honor, I'll just talk to the other judges"—she was handed a PCA (per curiam affirmed without opinion), the legal equivalent of "don't let the door hit you on the way out."
Kreusler-Walsh felt dreadful, and vowed never again to take a case that she didn't believe in. From there, her career went in the only direction it could—up—literally and figuratively. Today, she owns that same law firm, now Kreusler-Walsh, Compiani & Vargas, three floors above the offices where she worked out of the copy room.
Looking out her West Palm Beach office window at the panoramic view of Florida's Intracoastal Waterway, Kreusler-Walsh, 57, is content with what she's built. A personable woman with a hearty laugh, she takes her work seriously. Herself, not too much.
The firm handles pretty much everything in the civil arena, representing both plaintiffs and defendants. That includes complex commercial cases, products liability, divorce, medical malpractice, insurance defense, torts and law firm representation, in addition to regularly representing companies such as DuPont, Hospital Corporation of America and BellSouth.
One type of case Kreusler-Walsh doesn't handle is disputed child custody. When she was still a "baby lawyer," she unsuccessfully represented a woman who had lost custody of her children. The woman told Kreusler-Walsh that she was going to kill the judge, her husband and the children. It freaked out the young lawyer, and after a couple more custody cases, she decided it wasn't for her.
Kreusler-Walsh's career has been marked by a number of breakthrough cases. Thompson v. Thompson established that the good will of a business is a marital asset that can be divided in a divorce. Wransky v. Dalfo reaffirmed, among other things, that punitive damage awards must be in proportion to a defendant's net worth.
The oldest of six children, Kreusler-Walsh moved around continually with her family, following her father's work, until she was 12, when he opened a successful business in Palm Beach County. She finally put down roots—until college, when she went to three schools in four years. "Every time I changed boyfriends, I changed colleges. I majored in English and boyfriends," she quips. After graduating cum laude from the University of Florida, she was accepted into Loyola University law school in New Orleans.  Her father told her, "Stick to the same boyfriend, because we're not changing law schools."
Then tragedy struck. A week after she returned to school for her second semester, a man came to the family's house in Palm Beach County and shot and killed her father. A suspect was convicted—the prosecution theorized that the man had gone to the wrong house and shot the wrong person—but Gov. Lawton Chiles granted the man clemency, citing, in part, the recantations of several jailhouse witnesses. Partly as a result of this life-changing experience, Kreusler-Walsh does not do criminal cases.
During her second year at Loyola, she met her husband, Michael Walsh, whom she married during his last year at law school. They settled in New Orleans after she graduated, but the clerking job she had lined up disappeared.
Returning to Palm Beach for Christmas, Kreusler-Walsh was offered a clerking position beginning in February by the chief judge at the 4th District Court of Appeal. Michael joined her after he graduated. While pregnant with her first child, she was offered a part-time attorney position by Larry Klein, a solo appellate practitioner. That began a long partnership that lasted until 1993, when Klein became an appellate judge and Kreusler-Walsh took over the firm. While it was happenstance that Kreusler-Walsh landed in appellate law, she says, "It's the perfect combination of what I like to do and do best—read and write." She says one of her proudest achievements is that the firm didn't lose a single client when Klein left, and over time grew in size.
But her burgeoning career was slowed considerably by another near-tragedy. Within two weeks of giving birth to her first son, Brian, Kreusler-Walsh noticed that he was turning blue around the mouth. He became one of the first babies diagnosed with sudden infant death syndrome while still alive, and survived with no damage. But as a precaution, Kreusler-Walsh worked only part time till the youngest of her three children reached 9 months of age.
Kreusler-Walsh credits Klein with impressing upon her the importance of pro bono work. One case that remains close to her heart took place in the early '90s, when she represented foster parents who had adopted a child and wanted to foster the sibling, but were told by a judge that they had no standing. She got the decision reversed, allowing the siblings to live under one roof, and for the second child to later be adopted by the family.
Kreusler-Walsh is widely recognized for her pro bono work, much of which involves children.
"Jane is one of our strongest advocates for the existence of legal aid," says Harreen Bertisch, director of development at the Legal Aid Society of Palm Beach County. "She has a very strong commitment to taking care of low-income people and [seeking] justice for all in our community, and helped us create the Educational Advocacy [Law] Project." Kreusler-Walsh served as president of the organization's board from 1999 to 2001, and Bertisch notes that its budget doubled during her tenure.
Klein, her onetime boss, is not surprised by her success. "She's smart, writes well, and when we worked together, I had full confidence that she could do things as well as I. She's an excellent appellate lawyer."
Part of what makes an appellate lawyer shine is knowing what the judges want. Appellate lawyers, notes Kreusler-Walsh, never want to be arguing facts, because judges tend to be skeptical that a verdict came down without any supporting evidence. Rather, she looks for things like legal errors, problems with evidence, and issues involving jury instructions.
To prepare for a case, she reads and re-reads the trial transcripts—which typically run between 1,000 and 3,000 pages—annotates them on her computer and analyzes the issues. When it's time to write her brief, she says, "I edit and edit and edit, and then I edit some more," writing dozens of drafts before she feels it's tight enough to present. "Appellate courts have so much to read that the best way to make your case is as succinctly and interestingly as possible."
Bruce Rogow, an appellate lawyer with Alters Law Firm in Miami who has opposed Kreusler-Walsh many times, attests to her preparedness. "The key to a good presentation is oral argument and an ability to think on one's feet, and Jane can do both. Jane sticks to the facts and the law, and tries to find the hole in the needle in order to prevail." He cites a case involving DuPont—and a great deal of complicated science—and says Kreusler-Walsh impressed him with her command of the subject. "She's always a formidable opponent."
Unlike some districts in Florida, 4th District attorneys know which judges will preside over their cases. She tailors her arguments to the panel, paying particular attention to whether any of the judges have previously ruled in a similar case.
"I still get nervous before every oral argument," she says. "I want to walk out the door and say I did the best I could, win or lose."
Search attorney feature articles