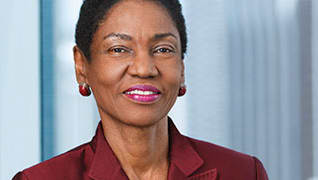 Photo by: Scott Wiseman
Marilyn Holifield on Changing the World
The Miami lawyer's accomplishments range from spurring prison reform in Georgia to tenaciously defending employers
Published in 2016 Florida Super Lawyers magazine
By Harris Meyer on June 9, 2016
When Marilyn Holifield takes people to art exhibits, she advises them to look at each work without reading the plaque. Otherwise, she says, they're "reacting to sociology" rather than to the piece itself.
She prefers that people look at her legal career in the same way—without thinking first about the minefield of race relations she's navigated since she started working in 1972, straight out of Harvard Law School. But skipping over her "plaque" is hard to do, because Holifield's life and career say a lot about what has—and hasn't—changed in America.
"Until recently, a lot of my friends didn't know this history," she says during an interview in her corner office at Holland & Knight in Miami. It features a spectacular view of Biscayne Bay and a striking portrait/collage of African-American social reformer, abolitionist and writer Frederick Douglass. "I like to move forward."
Holifield started her career in civil rights law, litigating prison reform and employment cases in the Deep South for the NAACP Legal Defense Fund. Since then, she's made her mark handling corporate defense work in the fields of employment law, noncompete clauses, intellectual property rights, corporate governance and commercial litigation.
She says she melds her past legal efforts fighting discrimination and her more recent work defending corporations by pushing for better diversity policies. "Being on this side of the line gives me credibility and a unique opportunity to assist clients in complying with the law," she says.
There have been many firsts along the way: first black lawyer hired by Holland & Knight, first black partner at the firm, and first black female partner at any major firm in Florida. Her many national honors include awards from the National Bar Association and the Anti-Defamation League. And she's widely admired for mentoring minority youth.
Asked if she now considers herself a senior stateswoman at Holland, she seems taken by surprise, and laughs. "I guess I am senior," says Holifield. "Where did all the years go?"
Colleagues say legal opponents once underestimated Holifield, who speaks in a subdued, no-nonsense manner. No more.
"She's a spectacular lawyer," says Joe Matthews, an attorney with Colson Hicks Eidson in Coral Gables who heads the International Academy of Trial Lawyers. He handled a case against her 10 years ago involving allegations that her insurance-company client had breached an agreement with an agent.
"The amount the jury awarded was significantly less than the damage claim we thought we proved," Matthews says. "I attributed that to her keeping the jury from being as angry as I felt it should have been. She's very even-tempered."
Prominent plaintiff's lawyer Willie Gary, with Gary, Williams, Parenti, Watson & Gary, had a similar experience in 2013. When he brought a highly publicized sexual harassment case against a top Miami-Dade County official, he ended up settling with Holifield's side for significantly less than he'd hoped.
"Ninety-nine percent of the lawyers I know probably would have backed down to get the case resolved," says the Stuart-based attorney. "She stood toe-to-toe. She's one heckuva lawyer, and I've been in battles with the best of them."
Sitting in her spacious Coral Gables condominium, surrounded by museum-quality paintings by African-American and Afro-Caribbean artists, Holifield, an avid art patron and collector, talks about some of her favorite legal victories. One came in 2008, after a hard-fought battle involving her insurance brokerage client and a broker accused of selling his agency to the brokerage firm, then taking clients with him.
Her team obtained a favorable appellate decision overruling the trial court, reversing the denial of a request for temporary injunction and holding that the noncompete agreement could be enforced against non-signatories to the contract. Then she won an unusual injunction ordering the broker to return the clients he had poached.
Christopher Bellows, a Holland & Knight partner who worked with her on the case, says Broward Circuit Judge Jeffrey Streitfeld was tough on Holifield.
"She's very elegant, graceful and proper, and no one would ever yell at her," Bellows says. "But she'd get in front of Judge Streitfeld and he'd hammer her. She'd stand there with her back rigid. Maybe he was testing her to see if she would break."
But she got her injunction. "She's one of those special trial lawyers that keeps her composure," says Streitfeld, now retired from the bench and working as a private mediator. "I challenged the best lawyers and they challenged me, and I put her in that category. You could say part of that is testing how prepared somebody is. She's a good one."
Another favorite was a pro bono housing-discrimination case that Holifield handled with the Lawyers Committee for Civil Rights in the 1980s. It involved allegations that people of color weren't allowed to rent at a Miami apartment complex. The key to the case was finding the management office's record of codes indicating the race of rental applicants, which a fired employee said the owners maintained.
Using an innovative interpretation of the Lanham Act's provision for recovering counterfeit goods, she persuaded the judge to issue an unusual ex parte order to confiscate the coding records. Then she and another lawyer went to get the documents, which the office staff said did not exist. Her colleague finally found the box of documents with the racial codes in a closet. The case settled for $3.4 million.
"It moved the ball forward in Miami to decrease housing discrimination," she says.
Holifield grew up in a black middle-class community on the edge of the historically black Florida A&M University campus in Tallahassee, one of three children of a federal soil conservationist and a nurse educator. She attended the university's segregated demonstration school, studying piano and swimming competitively. Her career aspirations were to become a writer, poet or concert pianist.
Though she was shielded from some forms of overt racism, she was highly aware that she was living in the Jim Crow South, and she and her older brothers, Bishop and Edward, took part in successful demonstrations to open the city swimming pool to all races.
Then, after a black attorney named Constance Baker Motley—who later became a federal judge—won a case ordering the desegregation of Tallahassee's schools, Holifield decided in 1963 to attend the previously all-white Leon High School. Children of the state's political elite went there. She was inspired by the Rev. Martin Luther King Jr.'s "Letter from Birmingham Jail."
"I was a teen doing my thing, and I wanted to see why Leon High School was supposedly better," she says. "I did not fully anticipate … that there would be up-close and personal racial hostility. They called me the N-word every day."
After graduating, she attended the highly regarded Swarthmore College, which had been admitting a small number of black students for several years. She currently serves on Swarthmore's board of managers.
After Holifield graduated with a major in economics, her brother, who was attending Harvard Law, encouraged her to apply there, too.
She spent about five years after law school with the NAACP Legal Defense Fund in New York, where she worked on two big class-action cases. One was a multiyear employment-discrimination case against rail-car manufacturer Pullman Standard, with a trial in Birmingham, Alabama. The other was a landmark prison-reform case in the 1970s involving the Georgia State Prison.
In the Pullman case, black workers claimed they were relegated to the dirtiest, most dangerous and lowest-paying jobs at the plant.
"It was a time when segregation by law was just being dismantled, and segregation by practice and tradition was still entrenched," says Holifield. After participating in a two-week federal court trial and one of several appeals, she left for another job. "Today, I would like to think that most publicly held corporations try to comply with laws against discrimination and harassment."
The Pullman Standard case opened up good jobs for African-Americans. "Marilyn did great work on the case," says retired U.S. District Judge U.W. Clemon, who was the senior plaintiff's attorney. "I was so sorry to see her leave the Defense Fund, because I needed her badly."
In the Georgia State Prison case in the 1970s, Holifield remembers her initial nervousness driving with her African-American colleagues down two-lane highways through the white rural heart of South Georgia. That case ultimately led to improvements in inmate safety, health, discipline, education and privileges, as well as the hiring of black correctional officers. "We thought we could change the world," she says, "and we achieved some measure of change."
While she loved living in New York City, she wanted to return to Florida to be closer to her parents. In 1981, she was hired by Holland & Knight for a job in Tampa, where she scored a big victory in a case involving press access to public records. But Tampa still had, by her discreet description, an "antebellum" culture.
Holland's legendary leader Chesterfield Smith took her under his wing. Holifield occasionally does a fond impression of Smith, a giant personality with a commanding voice and a Southern drawl. He would call her up to his office and boom, "Mer rah lund, I think we ought to have an African-American partner in every one of our offices," she recounted in a 2003 article in The Florida Bar Journal. "Mer rah lund, do you agree with me?"
In 1984, Smith moved her to the firm's office in Miami, a much more diverse city. She gradually began to focus on employment law. Holifield thrived, becoming the firm's first African-American partner in 1986. "It was a great moment," she recalls.
Holifield played a leading role in a three-year boycott of Miami-area tourism and convention facilities. It was prompted by the snubbing of South African anti-apartheid leader Nelson Mandela by local elected officials on his 1990 visit to Miami. Holifield helped negotiate an agreement ending the boycott. It involved a loan from the city of Miami Beach enabling a black developer to build the city's first majority-black-owned Miami Beach hotel, plus measures to provide management opportunities for African-Americans in the hospitality industry.
"I was extremely impressed that, by being a leader of the 'Boycott Miami' campaign, Marilyn Holifield … risked her reputation in the Florida legal community," says Miami trial attorney H. T. Smith, who was a co-spokesperson with Holifield for the  "Boycott Miami" campaign and is now a law professor at Florida International University. "She was tenacious and courageous."
Holifield says that campaign produced major new economic opportunities for African-Americans. "It became the engine for more participation of blacks as owners. Now there are scores of black hotel owners that didn't exist before."
Sitting in her office the day after Martin Luther King Jr. Day, she reflects on the nation's journey toward racial justice and the current struggle to narrow inequality, including the Black Lives Matter movement.
"We've come a long way, and we have so much longer to go," she says. "The long view is more realistic. But the shorter, impatient view of young people is necessary. We as a society can do better."
---
Art Matters
Marilyn Holifield has passionately supported African-American and Afro-Caribbean artists, collected their art, and worked with museums to feature their work for many years. But her current goal is to establish a new art museum in the heart of Miami's black community.
The proposed Miami Museum of Contemporary Art of the African Diaspora would provide a platform for black artists around the world to reach the international audience that comes to Miami and Miami Beach every December for the renowned Art Basel fair. It would include an artist-in-residence program and exchanges among local, national and international artists, as well as involve students at local schools.
Holifield is also involved with the Pérez Art Museum Miami as co-chair of its Ambassadors of African-American Art.
"Marilyn is advocating for the arts in communities that have traditionally not been courted by museums," says Franklin Sirmans, the Pérez museum's new director, who met Holifield when he curated a "Neo-HooDoo" exhibit in 2009. "She's advocating for having art reach into the minds of children in those communities."
Jill Deupi, chief curator at the University of Miami's Lowe Art Museum, says she was delighted that Holifield funded 500 free passes to her museum for those in underserved communities, including minority schoolchildren.
"It's about expanding participation," Holifield says. Her museum working group has received a planning grant from the Knight Foundation, engaged a museum consulting group to do a feasibility study, and held community workshops. The group is in talks to locate the facility on a college campus in northwest Miami-Dade County, where she says art is not easily accessible to the community.
Search attorney feature articles