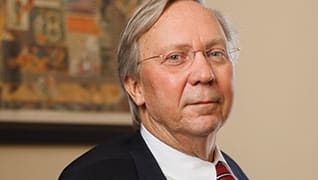 Photo by: Scott Wiseman
No Excuses
How Robert Wayne Pearce stared down personal disaster
Published in 2014 Florida Super Lawyers magazine
By Harris Meyer on June 10, 2014
Robert Wayne Pearce, a Boca Raton securities attorney with a long string of wins for his investor and stockbroker clients, doesn't let much get in his way. But mediator Jeff Grubman recalls one time Pearce strategically called attention to his disability—he's quadriplegic—to intimidate a young and inexperienced opponent.
Grubman opened that mediation with his usual statement: that it makes sense to settle every case. Pearce took issue with that. "I get my kicks by trying cases," Grubman recalls him saying with dramatic emphasis. "I don't play basketball or baseball. This is how I have fun."
"It was classic Bob, very well-delivered," Grubman, based in Miami, says with a chuckle. "The young lawyer was shaking in his boots." The case settled on advantageous terms for Pearce's client.
By all accounts, Pearce's reference to his disability was uncharacteristic. "I'm not a complainer; I'm busy doing my thing," says Pearce, 62, an unpretentious man who moved to South Florida to practice law in 1982 but still speaks with a native Long Island, N.Y., accent. "I have a harder time putting my socks on in the morning than doing my work."
Pearce plays to win. He revels in courtroom battles and beating organizations that he thinks have committed abuses but refused to offer any settlement. "In all my best-publicized cases, the broker-dealers offered nothing," he says. "That made those victories sweeter."
Pearce moved to Florida for the weather six years after suffering a catastrophic fall from a horse in 1976. At the time, he was attending dental school at Emory University. For more than 30 years, Pearce has built a reputation as one of the top Florida attorneys handling a wide range of securities cases. He married in 1993 and has two sons he likes to take on sailfishing trips to the Keys.
"Bob is one of the best," says Kathy Klock, a partner at Akerman LLP in West Palm Beach, who represents brokerage firms and has litigated against Pearce. "If he files a case, you can be pretty sure the case has got something to it. And you can have confidence that he's being truthful."
Pearce has won awards against major brokerage houses, including Merrill Lynch, Wells Fargo Advisors and Citigroup, in cases involving allegations of negligence, misrepresentation, mismanagement and failure to disclose conflicts of interest. In a rare federal court award of attorney fees against the government, Pearce landed more than $500,000 in fees in 2009 from the Securities and Exchange Commission for a broker he defended against allegations of conspiring to manipulate the market.
Colleagues marvel at how Pearce is able to do it all, given that he has only one partly functioning hand, his right, to use in wheeling his chair (he uses a manual wheelchair for exercise), driving his van to arbitrations, and carrying files. On top of that, many state and federal courthouses in South Florida are not easily accessible, with parking a long distance away; uneven sidewalks; and steep, winding ramps. Pearce broke his leg in 2009 when he lost control descending the ramp at the Miami-Dade Circuit Courthouse. He had to wear a cast for more than two years.
"You don't see a handicap," says Gary Alan Friedman, a Coral Gables medical malpractice attorney for whom Pearce won a $1 million-plus award, including $300,000 in punitive damages, against Merrill Lynch, alleging the company did not disclose that its analysts had conflicts of interest in recommending stocks. "He was as mobile as an Olympian in presenting my case."
In the 1990s, before she rose to the bench, Miami-Dade 11th Circuit Judge Gill Freeman traveled with Pearce when they represented opposing sides of cases in New York and Savannah. "I saw how difficult doing ordinary things was for him. He struggled but never complained," Freeman says. When she later led a Florida Supreme Court committee survey of disability access at courthouses, "Bob was always in the back of my head."
In 2011, Pearce was late to a hearing before U.S. District Judge Daniel T. K. Hurley, who asked why. Pearce explained that when he tried to park near the West Palm Beach federal courthouse in the disabled spaces, police swarmed his vehicle and told him to park across a major street and down a hill far from the courthouse. It turns out the nearby spots had been changed to a restricted-employee lot. An angry Judge Hurley contacted Chief U.S. District Judge Federico A. Moreno, who issued an order allowing two of the employee spots to be used for disabled access.
Pearce tells his story while driving his custom-made gray van to the federal courthouse in Fort Lauderdale, steering with his right hand and accelerating and braking with a lever he pushes with his weakened left arm. He makes it look easy. But it's gotten harder. He developed bursitis in his shoulders from getting in and out of his beloved Cadillac Eldorado, and recently had to switch to the van. "Now I feel like a bus driver," he laments.
He credits his legal career to his teenage buddies who went swimming, surfing and lifeguarding with him. They pulled him out of his depression after the accident and persuaded him to apply for the joint law and business degree program at Hofstra University. His mother had died of cancer two years earlier; his father, a construction worker, was overwhelmed by the recent deaths of his wife, mother and brother; and now his only son's devastating accident.
Pearce's friends raised $10,000 through a marathon rowing event and bought him a van to get to school. His friends pointed to the example of Ironside, the wheelchair-bound detective played by Raymond Burr in the 1970s TV show. He recalls that one of his buddies, Frank Garcia, told him the accident "could be your story—or your excuse."
Pearce and Garcia are still close friends. Last December they got together with two other childhood friends to go to a football game to root for Florida State University, where Pearce's older son, Jonathan, is a freshman. "He's been an inspiration to me," says Garcia, a retired school principal still living in Long Island. "I don't think I could have shown the strength he did. He sees [the disability] as more of an inconvenience than anything else."
After graduating from Hofstra, Pearce had a tough time persuading law firms to hire him: about 30 interviews, no offers. So he went job-hunting at the Manhattan center that housed all the federal agencies, starting on the first floor and working his way up. A staffer at the SEC introduced him to the head of the agency's regional office, who offered him a job. The only other offer he got was from then-Dade County District Attorney Janet Reno, who grilled him about his views on capital punishment. But with his disability, he says, "I wasn't brave enough to leave my friends and family yet and move to Miami."
He accepted the SEC job in Manhattan but asked to delay his start date for six weeks so he could take a cross-country trip in his van, "to prove myself." He grins while thinking back on his adventures on that solo journey, including nearly killing himself skidding off the road in Louisiana.
In three years at the SEC, he learned the basics of securities enforcement actions. But coping with the cold, snow and ice was hard; and sometimes taxi drivers refused to pick him up because of his wheelchair. So he took a job with two former SEC attorneys, Allan Lerner and Michael Harris, at their South Florida securities law practice, "the best move I ever made."
In the early '80s , representing investors against brokerages was a new field. The securities industry had recently been deregulated and brokers were using abusive practices. Investors had limited avenues for redress. The National Association of Securities Dealers had launched an arbitration program, but no lawyers wanted to take cases there—until 1988 when the U.S. Supreme Court required all securities cases to go to arbitration.
In 1985, Pearce was one of a handful of attorneys in Florida doing that sort of work. He represented nearly 100 investors in cases involving municipal arbitrage products known as ASTA/MAT, which crashed in 2008. The hurdle was that they involved wealthy investors who defendant brokers argued were sophisticated enough to know what they were getting into. Pearce decided to present the cases as mismanagement rather than misrepresentation, thinking Financial Industry Regulatory Authority arbitrators would find that more convincing.
"Arbitrations are not like bench trials," he explains. "Many arbitrators are moved by emotions and make very human decisions like juries."
Then, Pearce says, he obtained a trove of internal Citigroup emails in which the company's private bankers and financial advisers expressed anger at being misled by colleagues about investment risks. Pearce won a $1.8 million arbitration award in 2010, alleging Citigroup mismanaged and negligently supervised employees who managed two funds, wiping out his clients' $4 million investment. "People bare their souls in emails," he says with a gleam in his blue eyes.
That led to lucrative settlements in other similar cases:"You get tested on a couple of cases, and then they settle the rest."
Another big win came last July against Wells Fargo Advisors. Pearce scored a $2.8 million arbitration award for a partnership that claimed Wachovia Securities—which Wells Fargo had purchased—failed to detect theft and fraudulent transactions when a secretary allegedly transferred the partnership's money out of its account for her own use. Pearce says the case lasted more than three years because defense lawyers wanted so many depositions and subpoenas. "The firm was thumbing their nose at me and my clients, but we kicked their butts," he says matter-of-factly.
That case could have been lost during opening statements, when the opposing attorneys argued that a provision of the Uniform Commercial Code pre-empted any securities arbitration claims against Wachovia Securities because it was a bank.
"Our client turned to me and asked, 'Do we have an argument to counter that?' recalls Adam Kara-Lopez, Pearce's associate. "That's when I saw the genius coming from Bob. He was thinking past that."
Pearce neutralized that attack with a closing memo arguing that Wachovia Securities was not a bank but an affiliate that did not actually process the trades and transfers. "We caught them off guard," Kara-Lopez says. "I was wowed by that."
Pearce hired Kara-Lopez, a former stockbroker, two years ago. "I pinch myself when I think about the opportunity to work with a lawyer like him," Kara-Lopez says.
The two are busy working on investor claims against UBS Financial Services Inc. of Puerto Rico, which sold many residents funds that have plummeted in value due to Puerto Rico's economic woes. Pearce recently visited the island and conducted a seminar on bringing claims against UBS. Working with San Juan attorney Julio Cayere-Quidgley, Pearce hopes to find 20 solid cases from among the 200 potential clients who have contacted him.
At this point in his career, Pearce says he wants to take only good cases where he's on "the right side," including occasional small-dollar cases representing investors with limited means. If he doesn't think a case is righteous, he'd rather go fishing.
"Wall Street is all about transferring small amounts of money from a large number of people to a small number of people in large amounts," he says. "My job is to transfer that money back."
Search attorney feature articles