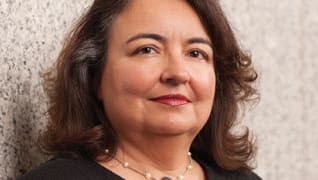 Photo by: Scott Wiseman
Power Puncher
'Rocky' Rodriguez was on the front lines of the 2000 presidential recount and the Terri Schiavo controversy
Published in 2013 Florida Super Lawyers magazine
By Carlos Harrison on May 28, 2013
They call her "Rocky." Much like the fictional boxer, Raquel Rodriguez is used to stepping into tough situations and going the distance. 
She got the nickname from a classmate at law school. "I think it was my willingness to get in the ring with the professors and not be intimidated," she says.
It's been that way throughout Rodriguez's career.
"Whenever there was something that didn't quite fit into a neat box, I got it," she says. "Then I just got this reputation for working on things that no one else either wanted or could figure out."
Diminutive with a cheerful, round face, a nearly perpetual smile and penetrating eyes, Rodriguez has been called on to handle some intensely debated, historic cases. Among them: the aftermath of the Blackwater/Fallujah ambush; the Terri Schiavo right-to-die fight; and the infamous Bush-Gore Florida recount battle, which helped decide the outcome of the 2000 presidential race. She also worked as general counsel for former Gov. Jeb Bush.
"She was creative, innovative, relentless and loyal," recalls Alia Faraj-Johnson, who was communications director for the governor when Rodriguez served as his attorney. "She was committed to the law and to doing things the right way, but also was creative and would challenge people on their observations and their beliefs on things that were of great importance of the governor. … She moved heaven and earth for the governor.
"She had a strong sense of what was right and wrong. And she wasn't afraid to say, 'We can't do this; it's wrong' or 'We can do this, it's right.'"
Rodriguez's drive and creativity—along with her multinational experience—have proven valuable in her role as the managing member of McDonald Hopkins' Miami office.
It's not the first time she has been asked to envision the future and build something lasting where it didn't exist. She was the quiet force behind an earlier growth effort: structuring Florida's $300 million investment to establish the Scripps Research Institute in Jupiter, the largest economic development project the state had ever seen.
It came as a surprise, on her birthday in 2003. She had dinner plans with friends, but had to break away early to come up with a funding structure for the governor.
"I found out 24 hours before the project was going to be announced that it was coming," she recalls, "and I had to figure out the structure of how to get $300 million to Scripps—without being subject to subsequent decisions by the Legislature to reduce the amount, because otherwise they wouldn't come—but also having sufficient accountability and milestones that would protect the state's investment."
She keeps a souvenir of the feat: "I still have the pad where I worked out the structure."
Her solution involved creating a nonprofit to receive the funds from the Legislature, with a board of directors to oversee it. Rodriguez worked out a way for the state to make the money back, and more.
"What we came up with was: The state would get a percentage of any money that was donated to Scripps for naming rights, like building names or lab names or anything like that," she says. The state also gets a share of inventions developed by or in conjuction with Scripps.
As she talks about driving by the research complex recently, tears trickle down her cheeks. "Seeing how far it had come in 10 years, I think that was one of the proudest moments of my life," she says. "It felt like, 'Wow, we did it!'"
Tears well again as she talks about another case with a lasting impact, but a completely different outcome. Rodriguez stops speaking momentarily, then begins to recount the headline-grabbing Terri Schiavo case.
The severely brain-damaged St. Petersburg woman had lain in what was called a "persistent vegetative state" for more than a decade—and had her life-sustaining feeding tube removed and ordered reinserted once—as her parents and husband wrangled over her "right to die." Removal of the tube had been ordered a second time when the governor's office stepped in.
"We had assistance from a Mayo Clinic neurologist who believed she might be in a minimally conscious state, which is a medical diagnosis, and from which people had actually awoken," Rodriguez says.
Gov. Jeb Bush filed a brief supporting the lawsuit—filed by Schiavo's parents—to block the removal, but a judge ruled the governor didn't have jurisdiction to intervene.
Faraj-Johnson says Rodriguez was "thrown into that spotlight. We were heading to a news conference and Terri Schiavo's family drove to meet the governor at one of our events. It was at a Catholic Charities camp for immigrant workers. They kind of cornered the governor. And the governor said, 'I'm going to do this.' So I had to call Rocky and say, 'The governor just committed to doing this.' And she was like, 'What!?'—knowing that the laws were pretty clear on the end-of-life issues."
The fight became a race against time on Oct. 15, 2003, when doctors removed Schiavo's feeding tube, following a judge's order. Florida's Legislature quickly approved Terri's Law on Oct. 21, granting the governor the right to order the tube reinserted. Within hours, the feeding tube was reattached and then began the next phase of the legal battle: over the constitutionality of Terri's Law.
Rodriguez directed the litigation strategy of the governor's defense, calling upon outside counsel from Ken Connor. The battle would last nearly a year and a half, and would end on the steps of the U.S. Supreme Court, where justices refused to hear the case. The feeding tube was removed for the third time on March 18, 2005. Schiavo died March 31, 2005. Nearly eight years later, Rodriguez's voice cracks.
"Having been in a situation with my mother's illness from Alzheimer's, I understood very well the dilemma that they all faced—when your loved one is in a position where they cannot really interact with you and you really don't have that much hope," she says. "I also understood very well that this is a decision for the family to make. But I've always, as long as I can remember … felt that it is extremely important to provide the absolute highest level of protection for the person who is in that state or in any kind of perceived terminal illness to make sure that the people who are claiming to be speaking for them are acting in the best interest of the patient, expressing the will of the patient."
She counts it as one of her two most challenging cases. The other one had greater historical consequences.
"Litigation in that particular circumstance, where the leader of the free world is going to be one person or the other—it could be your client or it may not—is obviously the highest pressure that I can imagine being under, other than possibly defending someone in a death penalty situation."
Rodriguez grew up in Miami, attending Catholic school. Her father had been a lawyer and a congressman in Cuba.
"His cause—from day one—was Cuba; freedom for Cuba," she says. "So I, probably from infancy, was going to meetings of different exile groups plotting the overthrow of Castro and pushing for a strong U.S. policy on Cuba."
Rodriguez met with a Foreign Service recruiter while she was an undergraduate at the University of Miami. He told her she was too young and suggested she do something else for a while.
"It coincided with my [having volunteered] to sit as a juror in a mock trial at the University of Miami Law School," she says. "I got hooked on the law."
Greenberg Traurig hired her out of law school. That's where she met a mentor and friend who went on to become Florida's secretary of state: Sue M. Cobb. Cobb says she would turn to Rodriguez "when I had a critical issue to resolve." Cobb connected Rodriguez with Lawyers for George W. Bush, which led to Rodriguez's involvement in Bush v. Gore.
As co-chair of Lawyers for George W. Bush, Rodriguez helped Cobb coordinate 400 lawyers statewide as a rapid-response team on questions regarding the Florida ballot. She became co-lead counsel of the team in Miami-Dade County, and established much of the strategy used by the Bush campaign all the way to the U.S. Supreme Court.
Meanwhile, Cobb turned to her with a crisis of a different nature.
"I was the only person in Florida that had all the contact information for every Republican attorney in every county in the state," Cobb says. In the midst of the election recount litigation, Cobb lost the cell phone with all the numbers in it. "I had never panicked over anything in my life. But when I lost that phone, I did. … My first thought was, 'Rocky's going to solve this for me.'"
Rodriguez stopped what she was doing, and found the phone through one of the cab companies Cobb had used during the day. That wasn't necessarily what made Rodriguez the person Cobb would recommend for the governor's counsel job. But it surely didn't hurt.
"When I knew that Jeb Bush needed to fill the role of general counsel," Cobb says, "I just could not think of anyone who would be more dedicated, or more intellectually capable to handle the variety of issues that come up in a governor's situation, than Rocky."
Rodriguez has been a Republican "as long as I can remember." She recalls keeping tabs on the 1968 presidential election, and rooting for Richard Nixon. She was 7.
She met Jeb Bush long before he was governor, while she was a college student volunteering in his father's presidential run against Ronald Reagan. "We were in a phone bank on Dixie Highway making calls before the March primary, to Spanish-speaking homes," she says.
They met again when she helped Jeb Bush in his gubernatorial campaign. Then came her involvement in the recount battle, which ultimately helped his brother get into the White House.
She took the job as Jeb Bush's counsel in 2002. As Bush's term came to an end, McDonald Hopkins' managing member in West Palm Beach, John Metzger, asked if she would be interested in launching a Miami office for the firm.
"I thought it was a great opportunity, but I wanted to go with a bigger firm with an international platform," she says.
She spent four years with McDermott Will & Emery, handling matters including the court-ordered arbitration, for which she was co-counsel, in the Fallujah ambush lawsuit. The case involved four private Blackwater Security Consulting contractors—including Ocala native Stephen "Scott" Helvenston—accompanying a convoy in Iraq when they were attacked by insurgents and killed. The men's families sued Blackwater, claiming wrongful death. The case dragged on for seven years, with Rodriguez as co-counsel for Blackwater during arbitration. The suit was dismissed in 2011 by a federal judge. According to a Reuters report, the families filed an appeal, then reached an undisclosed settlement.
At about the same time as the lawsuit against Blackwater was thrown out, Rodriguez saw Metzger at a dinner party.
"I said, 'What did you guys ever do about Miami?'" Rodriguez recalls. "He said, 'We're still waiting for you. The door is open.'"
In April 2011, the firm announced the opening of the Miami office, with Rodriguez at the helm. She expanded the office from a two-person to a six-attorney operation in six months, and expects to have two or three times as many within the next two years.
"She not only has the necessary technical legal expertise, but, just as important, if not more, she possesses the common sense and political savvy to find business solutions that work for all sides," Metzger says. "She is one of the great problem-solvers in the Florida legal community."
Search attorney feature articles