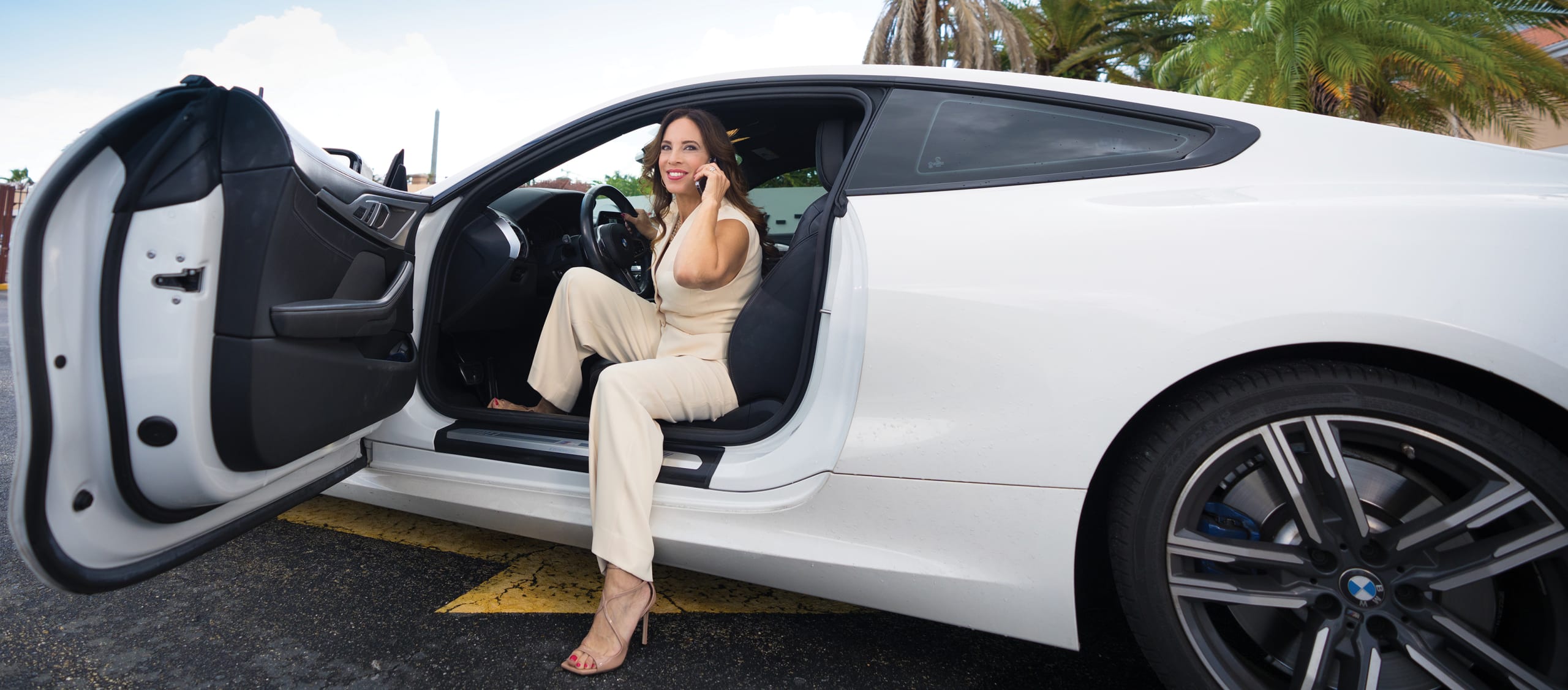 Relentless
Michelle Suskauer relies on persistence—and niceness—to bring people around
Published in 2023 Florida Super Lawyers magazine
By Harris Meyer on June 21, 2023
"Hi, detective, I thought this case was going away."
Michelle Suskauer conducts much of her criminal defense practice while navigating South Florida traffic jams in her low-slung BMW 840i coupe. She's often on one phone call after another with cops, prosecutors, defense co-counsel, clients current and potential, and staff assistants. Sometimes her two daughters interrupt this succession of calls to discuss their adventures as actress-singers in New York.
"It's like being the BMW lawyer, not the Lincoln lawyer," jokes Suskauer, a partner at Dimond Kaplan & Rothstein's West Palm Beach office.
On this sunny, warm afternoon in mid-January, as she is driving to the WPTV studios to tape one of her regular TV news interviews analyzing criminal cases, her assistant, Kelly, patches her through to a police detective to discuss a case. A client has been charged with grand theft for allegedly stealing supplies from a doctor's office. The detective says he just received video footage of her client taking the supplies, putting them in garbage bags, and exiting through the back door. That's why the case isn't going away yet. But Suskauer gets him to agree that the doctor's practice closed under suspicious circumstances, and that her client could simply have been trying to procure the supplies for patients who had already paid.
"I'm going to call you Monday, then we'll come to a landing, OK?" she says, as if to an old friend. "Cool beans. You're a good guy, I really appreciate it. Enjoy your week off."
To her assistant, she says, "The detective was a doll."
Over three decades, first as a public defender in West Palm Beach and then in private practice, Suskauer, 56, has honed the art of negotiating and cajoling to win acquittals, reduced charges and favorable sentencing deals—or, even better, get charges dropped entirely. At times, she also represents the interests of crime victims and their families.
"Some of her best successes no one will ever know about," says Scott Dimond, whose predominantly civil litigation firm brought Michelle in as a partner in 2018, at a time when she was in solo practice and running for Florida Bar president. "When you are a high-level corporate officer or a well-off individual and you have very sensitive criminal issues, that's really where she shines. She resolves problems you wouldn't believe she's able to resolve."
While providing 24/7 representation for clients, Suskauer has served as a leader in local, state and women's Bar organizations since the 1990s. That culminated in her election as Florida Bar president-elect in 2017—the first-ever former public defender elevated to that position. She has championed women's equity issues, juvenile diversion programs, expansion of specialty courts for people with drug and mental health issues, and higher pay for public defenders and prosecutors to improve retention.
In her current role as president of the Palm Beach County Legal Aid Society, the largest such county organization in the state, she emcees and helps organize the society's annual pro bono recognition event. She has pushed for expanding its domestic violence project and children's advocacy programs. Robert Bertisch, the society's executive director, recalls how Suskauer, at a Bar meeting, wouldn't let anyone leave until lawyers volunteered to take on several pro bono cases he presented.
"She's a very vibrant and creative leader who thinks outside the box," he says. "She's very hands-on, and has a real passion for what we do at legal aid."
As a female leader in a predominantly male practice area, she has worked hard to support other women in law. One of her first actions as Bar president was to organize the first-ever criminal justice summit, bringing together state Supreme Court justices, prosecutors, public defenders, legislators and practitioners. The event featured a panel of women leaders in Florida law discussing gender equity in the legal workplace.
She frequently lunches with what she calls her legal "girl gangs" throughout South Florida, thinking nothing of driving 75 miles from West Palm Beach to Coconut Grove to get together with lawyers and judges. "We talk about everything," she says. "'I have this terrible court hearing.' 'Do you have a cardiologist?' 'Who wants to see this show?' So many of them came to my daughter Talia's opening [as lead] in Wicked on Broadway. I am a girl's girl. I support them and they support me." An enthusiastic home baker, she often brings breads and pastries to share with friends.
Katherine Fernandez Rundle, longtime state attorney in Miami-Dade County, says Suskauer, like herself, at first had to overcome stubborn myths about men being more capable of practicing criminal law. "A lot of people thought fighters were men with big muscles," says Fernandez Rundle, a friend of Suskauer's. "Clients, particularly male clients, would ask, 'Do I have a strong person who will fight for me?' She's proven that she's a fighter."
In one case, Suskauer and her husband, Scott, her law partner for many years and now a Palm Beach circuit judge, represented a male obstetrician accused of inappropriately touching a patient. Deposing the woman was a delicate task. But Suskauer says her questioning poked holes in the story. In the middle of the deposition, the assistant state attorney asked her to step outside and told her she was dropping the case.
Suskauer combines aggressive advocacy with tender loving care of clients. In April of last year, Houston energy executive John Hehr was driving a golf cart with friends on a Port St. Lucie golf course when he swerved to avoid a raised manhole cover; one of his friends fell off and died. Another friend, a lawyer, contacted Suskauer, who worked through the night to get the executive released from jail on bond. She negotiated a plea deal that reduced the charge from DUI manslaughter to DUI, heading off a possible prison sentence for the 54-year-old father of two.
Hehr says he appreciated that Suskauer was in constant communication, immediately returning his emails and calls from Texas and answering all his questions. "She said, 'John, you've got so much anguish, you are heartbroken, your friend passed away. You just worry about your family. I'll take care of everything.' She had an open heart from the beginning and listened to my needs."
Suskauer grew up on Long Island, and says she got her gregariousness from her late father, a pharmaceutical industry salesman. Her husband says she could sell anything to anyone.
As a girl, she loved producing made-up newscasts on her tape recorder—and she went on to major in communications in college. It was her mother who suggested law school; Suskauer fell in love with classes in criminal law and trial advocacy.
She interned at a commercial litigation firm in Miami but "wasn't feeling it," she says. One of the partners, noting her interest in litigation, recommended that she get a job as a public defender or prosecutor to gain trial experience. "That five-minute conversation changed my life," she says. "I met my husband on my first day at the Palm Beach County Public Defender's Office. I'm a multitasker, and I loved the challenge of handling many cases at once. It was the greatest classroom for me."
After leaving the PD's office, she opened a criminal defense firm with her husband in 1997. "It was divide and conquer," she says. "He did a lot of the motion work, and I loved picking juries."
In a memorable case from the mid-2000s, they represented a 17-year-old boy who was charged with vehicular homicide after crashing his car while speeding, killing a teenage passenger who was the daughter of a politically influential police officer. At a trial attended by many officers, the boy was convicted and sentenced to 66 months in prison.
Shortly after the trial, Suskauer found out that a juror had written the judge a letter saying some of the jurors may have voted to convict out of fear of police retaliation.
The judge hadn't disclosed that letter to the parties, and she questioned the court's decision, one of the few acrimonious exchanges she's had with a judge. An appellate court sent the case back to let the attorneys conduct jury interviews. The case went back and forth between the trial and appellate courts, and ultimately the sentence was upheld, which still upsets her.
"When you have represented someone for years, they become part of your family and you become part of theirs," she says.
She maintains positive relationships with many prosecutors in the small local legal community, and she believes this can lead to better outcomes for clients.
In January, she meets with Reid Scott, chief of homicide in the Palm Beach County State Attorney's Office, in his office to discuss a possible plea deal for a young client who's charged with murder. They discuss his age and how his history of substance abuse may have affected his behavior.
"What do you think would be fair?" asks Scott, stroking his beard.
"Given his age, I was hoping for 10."
"I don't know if that's going to work."
"This is so completely out of character. He's just not a violent kid. He has to take responsibility. But I want him to have a life outside."
"But he took a life. I've gotta do what's right and make sure I can put my head on the pillow. The victims have lost a family member. Let me take a look at everything. We're a little far apart."
Scott says he's known Suskauer his whole career, and even though they sometimes disagree on sentences, they have a great relationship. "There are some attorneys I work against who are abrasive and contentious," he says. "I would much rather work with attorneys like Michelle. We both have a job to do. It's not personal."
Dimond says warmth and persistence are keys to her success. "She takes the approach of killing them with kindness," he says. "Even the toughest person is worn down by her being nice to them relentlessly, and that ultimately brings a lot of people around. And she doesn't take no for an answer."
That style also has gotten her far in Bar politics. Observers say it was unprecedented for a solo practitioner to build a large enough network to win the Florida Bar presidency, especially in a hotly contested race. "She makes you feel you are the most important person," Fernandez Rundle says. "For her to have gotten all that support, everyone clearly thought this young woman from the criminal defense world was a superstar."
During her widely praised year as Bar president, Suskauer suffered a setback when a judge lodged a Bar complaint against her in 2019, alleging she had hired a disbarred attorney to assist in the representation of a client. A Bar grievance committee did not find probable cause. "The rule on hiring disbarred attorneys was widely misunderstood by lawyers and subsequently amended by the Supreme Court," says Suskauer, who previously had served as chair of the Florida Bar's Disciplinary Review Committee. "It was a very challenging time, but I had unwavering support from my husband, my partners and the entire legal community."
Retired state Supreme Court Justice Barbara Pariente has known her for three decades, since Suskauer was an undergrad at Boston University, which Pariente had also attended. "She puts her energy into anything she sets out to accomplish," says Pariente. "It's not just one thing, it's the whole package."
Pariente praises Suskauer's efforts, while she served as president of the Palm Beach County chapter of the Florida Association for Women Lawyers in 2002-2003, to get members more involved in pro bono work. During meetings and luncheons, Suskauer urged them in person to adopt a case in need of a lawyer. "It's something that has had a long-lasting impact on so many individuals," Pariente says. "That's a great example of her thinking outside the box, being able to take an idea and transforming it into action."
---
Suskauer says the definition of success for a criminal defense attorney is very different than for attorneys in other practice areas, where a whopping monetary judgment or big commercial transaction may be the measure. "Sometimes a victory is probation instead of life imprisonment, or not getting a label as a sex offender, or keeping a jury out for three hours instead of five minutes," she says. "And part of the job is to make the court pause and think—to humanize your client and paint a picture of who your client is." The job comes with its share of misunderstanding on the part of the public. "People ask me all the time, 'How can you defend someone you know is guilty?'" she says. "I answer that I'm not the judge, jury and executioner. I'm there to help the individual and family negotiate the criminal justice system as best I can. I'm not there to pre-judge."
---
Suskauer's Superpower
In 2004, Michelle Suskauer was interviewed by a West Palm Beach station about a DUI manslaughter case she was handling. "I told the reporter, 'If you ever want to use me on any other stories, I'd love to work with you,''' she says.
Since then, she's appeared on national network and cable news shows, including on CNN and Fox, to discuss high-profile criminal cases such as those against Rush Limbaugh, Casey Anthony and Derek Chauvin. For almost 20 years, she has provided commentary exclusively for WPTV News in West Palm Beach. No payment involved.
"I just love doing radio and TV," she says. "I love breaking down stories and trials to assist people in getting a better understanding of the criminal and civil justice systems."
One afternoon in mid-January, wearing a black jacket, knee-length black skirt and high black suede boots, she arrives at the WPTV studios to tape an interview with veteran anchor-reporter Shannon Cake about a rape case in Fort Lauderdale against a youth camp counselor. Cake hands her a new motion in the case to read.
The prosecutors seek to admit evidence that the counselor might have previously assaulted another girl in 2016. Suskauer's task: Explain the state's "Williams Rule," which governs admission of evidence of an alleged collateral crime.
The camera rolls and Suskauer becomes animated and intense. "If the state has information about another victim, they need to bring that to light, and there will be an evidentiary hearing before the judge makes the decision to let in this type of evidence, which is very powerful."
"When you read it, it's damning," Cake says.
"The police report is not written to make the person look good," Suskauer replies. "We need to fairly judge this case based on evidence from both sides."
Later, Cake says Suskauer's knowledge is "tremendously valuable" to her viewers. "Her superpower is to take complex issues and make them simple to understand," she says.
In addition, Cake adds, she helps viewers understand both sides of a case. For instance, when a non-unanimous jury last October returned a verdict of life in prison against Nikolas Cruz, who killed 17 people at Douglas High School in Parkland in 2018, she and many viewers felt anger that Cruz didn't get the death penalty. She brought Suskauer in for commentary.
"Michelle very gently brought our audience and myself from our outrage and complete disgust with the system to understanding that those defense attorneys had a job to do and they accomplished their mission that day," Cake recalls. "She said, 'I understand your pain, but these are the laws we have, and if you don't like that, this is why you vote.' It was an important conversation, and we needed to hear it."
Suskauer acknowledges that she tries to counter the tendency of newscasters to convey judgments of guilt by trying to be as even-handed as she can. "But," she says with a smile, "I try not to sound too much like a defense lawyer."
Search attorney feature articles