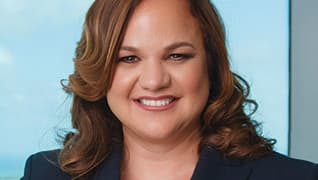 Photo by: Scott Wiseman
Senator Silva
Miami litigator Effie Silva focuses on business and health care law, but maybe someday …
Published in 2015 Florida Super Lawyers magazine
By G.K. Sharman on June 15, 2015
The whole "leaning in" thing that Facebook COO Sheryl Sandberg advocates for women? Not an issue for Effie Silva. She could probably give Sandberg pointers. Silva not only excels in the male-dominated field of commercial litigation, she's pulling as many women as she can up the ladder behind her. Luckily, multitasking has never been a problem.
"You can shoot four words at her and it's like she's Radar from M.A.S.H. She gets it right away," says Marcia Rabinowitz, director of development and special events at Legal Services of Greater Miami, where Silva spends many hours on the board and executive committee, strategizing and raising funds to provide legal representation for the needy. "Her comprehension skills are legendary."
Silva, a partner at McDermott, Will & Emery's 36-attorney Miami office, says she had great role models.
"I come from a very matriarchal family of strong women who had careers," says Silva. "They also had supportive husbands or partners.
"Women lead, and that's the way it goes," she says. "I never learned anything else."
Her role models: her mom, a journalist and news director at Telemundo, the predominant Spanish-language network in Miami; one grandmother who was an author and poet; and another who left Cuba with little more than she could carry when Fidel Castro came to power, then ran the family real estate-investment business from home once they settled in Miami.
Silva attended Wellesley College for her undergrad degree—and played three sports while she was at it, including captaining the varsity soccer team.
"You learn how to lose," she says of her days on the soccer, lacrosse and basketball teams. "You learn how to shake off failure and move forward. It builds self-esteem, especially in women."
She also learned a lot about leadership—and mentorship—by serving as a senator in student government. The college motto is Non Ministrari sed Ministrare—or, as Silva paraphrases it, serve, not be served.
"It's only by serving people that you can lead people," she adds.
After law school at the University of Florida, Silva came back south and worked as a clerk at the 15th Judicial Circuit in West Palm Beach. She spent two years at the now-defunct Adorno & Yoss, doing a lot of appellate work and commercial litigation, then went to Baker & McKenzie in 2005. After eight years of commercial litigation and international arbitration there, she moved on to MWE.
"It was a better platform for me to practice international law," says Silva, who is bilingual. MWE has offices from Boston to Brussels, Seoul to Silicon Valley and, via a strategic alignment, in Shanghai.
"She's full of energy, smart as a whip and brings a lot of different things to the table," says Ira J. Coleman, the partner-in-charge at MWE's Miami office and head of the Miami health industry advisory practice. "She's one of the people out there working it," he says. "Everyone has something positive to say about Effie."
She makes clients feel like she understands their business and their concerns, Coleman says, and makes it look easy while she's at it. One case he recalls involved a non-compete issue. Her client was worried that an important employee who had left the business would use confidential information against the business owner. "Effie found a way to handle it that made the client comfortable," Coleman says. She also defused the client's anger and even helped the two retain a professional relationship.
Lee Stapleton, who practices complex commercial litigation and white-collar criminal defense at Baker & McKenzie, was among the partners who interviewed the young Silva and helped her advance in her career.
"I was struck by her energy and intellect," Stapleton says. "I relied on her and her good judgment daily."
Silva, a petite Cuban-American woman, sometimes feels like she's "a unicorn" in the legal world. "There are so few of us," she says, "and there really should be more, because oftentimes there are a lot more GCs that are women."
According to the National Association for Law Placement, minorities hold only 7.3 percent of partner positions at U.S. law firms. The numbers are even more disturbing for minority women, who hold only 2.45 percent of partner positions. For Hispanic women, the figure is 0.5 percent nationwide.
Few attorneys—and almost no women—do what Silva does: health care litigation as well as arbitration and commercial litigation involving international and domestic clients. She has represented hospitals, health care systems and physician groups in arbitration and litigation over contract and shareholder disputes and non-compete issues. She has also represented companies from Latin America, Europe and Asia, as well as the United States, in cases ranging from contract disputes to partnership dissolutions.
A few years ago, Silva was part of a team retained to represent a German multinational and its related companies in China in class actions consolidated into a multidistrict action, related state court claims, and government investigations arising out of the sale of allegedly defective drywall. After a series of hurricanes hit Florida a decade ago, consumers who used the product began suing and complaining of alleged odors and corrosive effects, according to an NPR report.
Silva handled the electronic discovery portion of the case, which was global in scope involving German, Chinese and U.S. laws with respect to data collection and processing. Baker & McKenzie was the lead firm during negotiations of the eventual global settlement.
"Among the hundreds of attorneys with whom I have practiced over the years, it is difficult to identify anyone more driven for her clients," says Jordan Dresnick, a colleague from their Baker & McKenzie days. "Effie Silva's extensive skills in e-discovery, arbitration, complex litigation and fluency in Spanish have catapulted her to be one of the most in-demand, bet-the-company litigators in town."
Another case that Silva worked on while at Baker & McKenzie—this one pro bono—involved the way law enforcement was dealing with data sharing in cases involving juveniles.
It started with a 13-year-old girl who was arrested in Miami Beach for shoplifting a can of Coke. Her arrest information—like that of arrested adults—was posted on the Florida Department of Law Enforcement website. Information on that site is available for sale to the public, including data-mining companies that sell it to clients such as employers conducting background checks on potential employees. During the case, Silva bought the girl's record herself for $23.
The girl's family approached the public defender's office, and because one state agency can't sue another, the public defender's office contacted Baker & McKenzie.
Juvenile arrests are supposed to be confidential unless the child has three misdemeanors or a felony—at least, that was Silva's interpretation of the statute. But the FDLE had another take on its meaning.
Silva says, "I got calls from mothers all over Florida"—complaining that their kids, too, had been identified on the FDLE site.
The FDLE maintained that it was within its rights to post the girl's name, says Thomas Findley, a partner at Messer Caparello in Tallahassee who worked with Silva on the case. Jurisdiction was moved to Tallahassee at the FDLE's request.
The first trial court found in the FDLE's favor. But Silva appealed, and the 1st District Court of Appeals reversed the decision.There's a reason why juvenile records should be private, according to Silva. With the current explosion of data mining, information from an arrest could imperil a young person's chance at a job, financial aid or credit in the future.
Silva says the girl, now an adult, has not been in trouble since.
"It's nice to know you can have an effect on the futures of young children," she says.
At the office, Silva, 40, is a magnet for the younger lawyers.
"There's no doubt, if they have a question, that they can ask Effie," Coleman says. She'll have lunch with them or even drinks after work. In return, they scramble to work on her cases and try to absorb some legal expertise.
"She's very gracious in sharing her knowledge with younger lawyers," says Stapleton. "She's gracious with everybody."
On the Orange Bowl Committee, Silva plans to work on a program to inspire girls, particularly from minority families, to play golf, a difficult sport to pick up because of the costs involved. It will combine golf lessons with life lessons in overcoming obstacles.
Professionally, she is a fellow in the Leadership Council on Legal Diversity and the Florida Bar Leadership Academy. "I have been identified as someone the state bar and other bars are willing to invest in," Silva says. "These opportunities can give me the skills I need to help others and also to advance higher in my career."
It's also important to reach down and help others—especially other women—succeed, she says.
"Unless you've seen it," she says, "it's not real. … You have to be able to see yourself as her."
Silva is always on the lookout for opportunities for women attorneys. Recently, she invited one young female associate to speak at a CLE and made sure another got to attend the Hispanic National Bar Association's corporate counsel meeting.
"I also am frequently approached by women in law school or at other firms looking for guidance," she says.  "I always make an effort to meet with these folks and stay in touch with them, because others did that for me."
Looking out over the view from her firm's 45th-story window, Silva thinks about the future. She says she hasn't thought much about going for a judgeship, though "you can never say never." And politics? She's not ruling that out, either.
"Ever since I was a little kid," she notes, "my mother always called me 'Senator Silva.'"
Search attorney feature articles
Helpful links
Other featured articles
Jill Smith is the hip, sardonic attorney making deals for Lego, Rube Goldberg and Godzilla
Six attorneys recount the then-and-now of women in the law
Joanna Adu connects with clients caring for loved ones with disabilities
View more articles featuring lawyers
Find top lawyers with confidence
The Super Lawyers patented selection process is peer influenced and research driven, selecting the top 5% of attorneys to the Super Lawyers lists each year. We know lawyers and make it easy to connect with them.
Find a lawyer near you