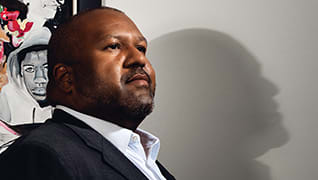 Photo by: Craig Ambrosio
Someone People Want to Follow
Jaret Davis believes in the power of technology and the ability of humans to work together
Published in 2021 Florida Super Lawyers magazine
By Harris Meyer on June 24, 2021
With his career about to start, Jaret L. Davis was urged by many friends and mentors to leave his hometown of Miami and come to a city they felt had greater prestige and opportunities.
Once, when he was visiting friends in New York City, they picked him up at the airport and drove through the Holland Tunnel to the New Jersey side of the Hudson River. Suddenly, his friend swerved his BMW into a parking area with a grand view of the Manhattan skyline, hit "play" on Sinatra singing "New York New York," and yelled at Davis, "We're sick of you wasting your time. This is where you belong."
He was not convinced. "I could see the energy," Davis says. "I said, 'Miami will do unbelievable things.' All the naysayers now are realizing what I saw in this town."
At age 46, Davis has been co-managing shareholder of Greenberg Traurig's 170-attorney Miami office for 11 years—one of the first Black lawyers to head a GT office. He has also become one of the top  transactional attorneys for Florida's booming technology business sector, recently spearheading a $100 million cybersecurity investment deal that will take the Appgate platform public through a merger. 
Other major deals he's guided include Verizon's $1.4 billion equity value purchase in 2011 of Miami-based Terremark, a provider of information technology services; in 2017, Medina Capital's $2.8 billion acquisition of 57 data centers worldwide plus cybersecurity and data analytics companies to create Cyxtera Technologies; and Gainesville medical device maker Exactech's $737 million merger with private equity firm TPG Capital. 
Those deals have helped turn Miami—and Florida—into an emerging technology hub, with many tech companies and entrepreneurs relocating here. Davis has led efforts to support tech entrepreneurs in South Florida—for instance, by promising to test startup firms' medical technology innovations at the Nicklaus Children's Health System, where he serves as board chairman.
"He's been a force in furthering the tech ecosystem in South Florida," says client Manny Medina, founder and managing partner of Medina Capital and founder of Terremark, a client in several big deals. "He's been extremely effective as the quarterback in structuring and executing the transactions."
"The reason he's such a great leader is people not only respect him but also like him," says Cesar Alvarez, GT's senior chairman. 
Davis' passion for technology, and his belief in its ability to solve societal problems—including climate change, which is casting a pall on South Florida's future—has been key to his success. "I'm constantly reading about new technology and boring friends with how it will change the world," he says with a laugh. "I believe technology is the silver bullet. With enough people and resources and political will, you can engineer anything."
Davis has a broader societal vision as well. Through public talks and in the media, he has championed justice and healing across divisions in race, ethnicity and sexual orientation. He stresses the value of listening and working with people of differing political views, as long as discussions remain respectful. 
"We can disagree, but that doesn't mean we have to make it personal and that I have to judge a person's soul," he says. "I like to build bridges."
Johann Ali, a friend from the University of Miami who still sees him as part of a small social group they came to call "the brotherhood," says Davis' politics have shifted somewhat leftward in reaction to an increase in public racism and xenophobia. 
"Jaret is always trying to get people back to the center," says Ali, founder and CEO of GAIA Consulting Partners, which focuses on environmental issues.  "He's more optimistic than most of us, but he could not live with that hateful rhetoric."
Davis cites his own multicultural background as a strong influence on his views. His grandparents had African American, Italian, Jewish, Creole and Native American roots. His father was a manufacturer's representative, and his mother, a teacher and a social worker. He spent the early part of his life in the mostly Black neighborhood of Allapattah/Liberty City; then in Kendall, a more affluent and more multicultural suburb. "There are very few parts of Miami where I don't feel comfortable," he says.
As an undergrad at UM, Davis was a computer geek who worked at the help desk and thought he would go into tech or finance. A Star Wars fan website he built on the business school's server—a kind of Facebook precursor that facilitated friendships—drew so much traffic that the dean had to shut it down.
Then a business law class prompted him to take the LSAT and apply to law schools with strong corporate law programs. UM's law school offered him a full tuition scholarship, and he grabbed it.
Meanwhile, he took on leadership roles in several student organizations, becoming the first Black president of UM's prestigious Iron Arrow Honor Society, where he managed the volunteer work of billionaire CEOs, judges and other powerful UM alumni. (More recently, he helped negotiate a memorandum of understanding with the Miccosukee Tribe to acknowledge its decades-long bond and provide guidance on the honor society's use of its tribal traditions.)
"As a 20-something-year-old kid, that experience taught me how to work with, inspire and lead people toward a common goal," he says.
A summer intern at Greenberg Traurig in 1998, Davis was offered an associate position upon graduation. The timing was serendipitous, because dot-com startups were proliferating, but few attorneys knew a lot about tech. Despite his junior status, he soon began working with senior tech executives because he knew the language, though he still had a lot to learn about the law.
"During the day I was interacting with clients, then I'd be up all night learning this [law] stuff," he says. "I suffered from major imposter syndrome, thinking I shouldn't be dealing with people this senior. I truly didn't sleep for five years."
But he gained a reputation as the lawyer who did tech deals, and that brought more clients, with larger deals. By his sixth year, as an associate, he turned part of his attention to law firm recruitment. When he became partner in 2007, he was also named co-hiring partner. Two years later, Rick Giusto, then-managing partner in Miami, asked if he was interested in a leadership role. 
"He laughed when I said I was already in leadership," Davis recalls. "He said there was an opening for co-managing partner, and they thought I was ready. I was 33 at the time."
"You can only be a leader if people are willing to follow you," Alvarez says. "He's a classic example of someone people want to follow, with his vision, work ethic and ability to take other people forward."
Davis' leadership approach was evident in a January virtual orientation meeting for first-year associates on how to best utilize assistants and paralegals. He let longtime legal assistant Esther Morejon, who coordinates the secretaries in their department, do most of the talking. She talked about what legal assistants do.
"I can go into Jaret's inbox and figure out what's an emergency and what's not, and I'll find him if it's important," she said. Davis told the associates: "I have one client who gets mad when I tell him Esther's on vacation. He'll say, 'Why did you let her go?'"
María José Dobles Madrigal, a senior counsel at Capital One in Virginia, was fresh out of law school when she worked as an associate at Greenberg Traurig in Miami from 2015 to 2018. Early on, she recalls being told to check with Davis for work. "I thought, I'm not going to knock on the door of the managing partner; he's too busy," she remembers. But she did it anyway. 
"He said, 'I'll find something for you to do,'" she remembers. "But he also said, 'I'm going to teach you about venture capital.' And he set aside three hours to give me a crash course on VC deals and documents. I've worked with some amazing partners, but I've never had another partner take three hours to really teach me how to do a deal."
Dobles still calls and texts him occasionally when she needs help. "He's still my mentor," she says. "That's the way he is with all his associates."
Davis is also collaborating with other senior African American attorneys in Miami to advise young Black lawyers around South Florida on maintaining strong communications with colleagues and clients while working remotely during the COVID-19 pandemic. 
Albert Dotson Jr., managing partner of Bilzin Sumberg in Miami, launched the effort, along with Davis and Holland & Knight's Kelly-Ann Cartwright, and conducts the advice sessions with Davis and other lawyers. He praises Davis' ability to connect with both young and seasoned lawyers. "He can cite relevant cultural examples that lawyers who are 24 will absolutely get, while the rest of us who are 60-plus are scratching our heads," he says. 
Davis says the key is active listening, which he sees as especially important in today's multicultural environment. He describes how he and GT Miami co-managing shareholder Yosbel Ibarra regularly check in with each other to make sure their management decisions are sound. They grew up in the 1980s, Davis in a community rife with homophobic attitudes; Ibarra, who is LBGTQ and Cuban American, in a community where prejudices toward Blacks were prevalent. 
"At Greenberg Traurig, we have many African American and LGBTQ lawyers," Davis says. "Both of us recognize that all people struggle with subconscious bias. We're all suffering from this. It would be a failure of leadership not to consider that." 
Between his management duties, his 24/7 work when he's in the middle of a big deal, and his heavy involvement with the Nicklaus health system, UM alum activities, economic development projects and community and arts organizations, Davis badly needs decompression time. He spends nearly every Sunday with his parents, his sister, her husband, and his 4-year-old niece, having resumed those visits after a four-month break due to the pandemic. 
"We love to make each other laugh," he says. "That's the way I stay sane."
Whatever lies ahead for Davis, he is certain to remain visible on social justice issues. During the Feb. 3 rededication of UM School of Law's Jaret L. Davis BLSA Racial Justice Collaborative Workspace, hosted by the Black Law Student Association, he reminded virtual attendees of the importance of speaking out.
When he first became co-managing shareholder, Davis says, some Black business and professional leaders in Miami urged him to "stay behind the scenes, don't make waves, don't be too public."
"I remember mulling that over," he continues. "And I told them, 'You are my elders and are more successful than I can dream to be. But when one of us makes it, we tend to go into the shadows. That leaves people feeling alone. Then they lose power and don't feel they can make change."
Many see Davis as a future political leader. His friend Ali says a group formed on Facebook, without Davis' knowledge, after the 2016 election to discuss getting him to run for elected office. "He's a true statesman who cares about the country and what's good for people," Ali says. "The single biggest question everyone has is, 'Will you run for office at some point?'"
Davis doesn't rule it out, though he likes the lack of bureaucracy in the private sector. "If the right position opened up, I'd consider it," he says. "But I'm not angling for it. If I'm still at Greenberg Traurig 20 years from now, I'd be very happy."
---
Speaking Out
After the police killing of George Floyd in Minneapolis last year, Jaret Davis wrote an op-ed in the Miami Herald describing his own experiences as a large Black man—he's 6-foot-8 and weighs more than 300 pounds. His writing inspired the Herald to publish similar pieces from other Black executives. 
Davis wrote that he often encounters "looks of fear that a stranger's eyes can't hide when I cross paths with someone on the sidewalk on a dark night or step into an elevator." Partly out of courtesy and partly just to survive, he has developed techniques to put others at ease, such as speaking calmly and using humor.
After Floyd's death, Coral Gables Police Chief Ed Hudak asked Davis to serve on a panel to review his department's use-of-force and bias training policies. Hudak was expected to present the panel's recommendations to the city commission this summer.
Hudak, who is white, set the example when a chaplain asked 22 Florida police chiefs to kneel in prayer during a Coral Gables protest last year over police accountability. He has known and admired Davis since they met in the early 1990s, when Hudak worked security at UM and Davis was a student leader there.
"When we speak together in public forums [on issues involving police], everyone's waiting for these two behemoth guys to go at it," Hudak, a former UM football player, says with a laugh. "But we are able to have a congenial dialogue from two different points of view. I value his opinion about so many things."
Davis says he felt compelled to use Floyd's death to teach a broader lesson about prejudice. "A lot of people tried to say that's only experienced by a tiny part of the community," he says. "I wanted people to know all of us experience this stuff, including people you know and care about."
Search attorney feature articles