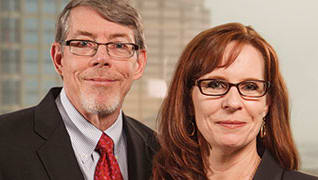 Photo by: Matt May
The A-Team
Tampa appellate duo Steve Brannock and Celene Humphries smoke Big Tobacco
Published in 2014 Florida Super Lawyers magazine
By Carlos Harrison on June 10, 2014
On March 14, 2013, the chuck wagon bell clanged loudly in the downtown Tampa law office of Brannock & Humphries. It didn't mean dinner was served; just justice.
That day, Florida's Supreme Court issued a pivotal opinion in the long-running battle between U.S. tobacco companies and thousands of smokers and their survivors. The 6-1 decision upheld the premise that Big Tobacco knew nicotine is dangerous and addictive, and hid those facts from the public. 
Most significantly, it meant the plaintiffs in each lawsuit didn't have to re-prove those issues. That yanked a linchpin from the legal strategy that the tobacco companies had relied on ever since an appellate court threw out a $145 billion class-action award against them.
This landmark moment in nearly two decades of tobacco suits had far-ranging repercussions, which were solidified when the U.S. Supreme Court refused last October to hear the tobacco companies' appeal. It was also a monumental milestone for the barely 4-year-old firm.
So, by the time Steve Brannock rang the cook's triangle that day, it had become a standard and—thanks to an impressive string of wins in a remarkably short time—frequent form of celebration at the young firm. While it might be an unconventional way for a law firm to mark a victory, it is perhaps fitting, given the unusual story of how the founding partners at Brannock & Humphries found their way there.
If Hollywood made a movie about Celene Humphries' legal career, it might be called The Accidental Appellate Attorney.
It would include scenes of the expressive, green-eyed St. Petersburg native "working in my PJs through the night," and making her way through one area of law after another, searching for the one that stirred her passion.
She tried litigator and appellate court staff attorney, prosecution and insurance defense. None offered the right mix of courtroom excitement and scholarly stimulation.
A movie about her law partner would be very different.
Brannock is a reserved former Midwesterner with steel-gray hair whose parents moved him from Michigan to an unairconditioned high school in Miami where the change in temperature made him feel like "I had died and gone to hell."
He found his passion for law through tournament bridge.
And, not counting high school and college jobs—including two years spent managing an Arby's in Sarasota—he had held only one position in nearly three decades. Until he teamed up with Humphries.
In fewer than five years since, their Tampa firm has won a string of stunningly noteworthy appellate and state Supreme Court victories that have helped reshape the law in ways that affect thousands upon thousands of people.
The "Engle progeny" tobacco case appeal they won last year was an offshoot of a 1994 class action lawsuit filed by Miami Beach pediatrician Howard Engle and others on behalf of 8,000 smokers. They contended the tobacco companies knew nicotine was addictive and dangerous but sold it without warning the public.
The $145 billion jury award came back in 2000. Three years later, the Florida 3rd District Court of Appeal threw out the award and decertified the class-action group. In 2006, the state Supreme Court agreed with the appeal court's findings, saying the original jury award was "excessive." But it did allow the group's members—the "Engle progeny"—to file individual suits. The court  said the plaintiffs could use the facts about the harmful effects of smoking without having to re-prove them—a concession to which tobacco companies strongly objected.
Seven years later, the state's high court heard one of the individual lawsuits, brought by James Douglas, whose wife, Charlotte, died of lung cancer in 2008. Douglas had won $2.5 million, but the tobacco companies appealed. The attorney representing Philip Morris USA Inc. was renowned litigator David Boies, who represented Democrat Al Gore in the 2000 presidential election recount.
Boies contended the tobacco companies' right to due process was violated by letting individual plaintiffs  use findings of fact from the original class-action lawsuit.
"If they had succeeded," says Brannock, "essentially, these cases would have all had to start back at square one."
Brannock argued that all the cigarettes had the same defect and that tobacco companies had received plenty of due process. The court overwhelmingly sided with Brannock on both counts.
"Cases don't get to our shop unless they are interesting and close," Brannock says. "There is not a right answer and a wrong answer. There are two right answers, because both sides have a solid set of values and principles that you can get behind that supports their point of view. The question is convincing the court that your right answer is just a little bit better than the other side's right answer."
The firm's success, insist Brannock and Humphries, is a tribute to their differences, which complement one another.
Her childhood nickname, which she says fits, was "motor-mouth."
He is best known as "unflappable."
"He is one of the most calm, rational, intelligent people I think I've ever met," says Tracy S. Carlin, of counsel at the firm. "Nothing ruffles him. And he always has the ability to take whatever the problem is and get to the nut of it."
As for Humphries, Brannock says she not only has "the appellate chops," but can "bob and weave with the best of them" as she argues extemporaneously.
Two other points of distinction about this firm: Its 11th-floor office overlooking downtown Tampa also has garnered repute as a place that puts a unique premium on work-life flexibility. And Brannock & Humphries takes the growing trend of trial support—in which appellate attorneys are on hand during the trial stage—up a notch.
St. Petersburg attorney Elizabeth A. Zwibel had Humphries at her side as she tried a pair of intricate cases that resulted in two of her largest jury awards in complex traumatic brain-injury cases—$28.5 million for a man she says was head-butted when he stopped to help at an accident scene; and $53 million against Ford Motor Co. for a 28-year-old mother whose seat belt and seat back Zwibel says failed in a crash.
"I bring her in on the complex cases where I want to make sure, from an appellate standpoint, I've covered all my bases," Zwibel says. That can include letting Humphries argue certain motions in limine and jury instructions. "If you bring her in at the last minute, she's stuck reading transcripts and potentially cleaning up messes. Well, I don't want to make a mess."
Humphries' own trial experience helps:
"I understand what my trial lawyers are doing. I understand that they're focusing on the people in the box. But every time trial lawyers go into a trial, they actually have two audiences, and it's very, very, very hard to watch and communicate with both of them at the same time, because they're very different. You've got the people in the box. And you've got the one person in the robe there—and three people later on—who are going to be reading the transcript. And to switch hats back and forth is remarkably difficult. So when someone like me shows up, they get to focus on those people [in the jury box], watching their eyes, watching their reaction and telling their story—the story that applies to them."
You might find her sitting quietly and assisting trial counsel with directed verdict motions and jury instructions. Or she could be going "full throttle," as she puts it, going up to the bench to help argue evidentiary issues and jumping in to join the discussion when the jury is out of the room.
Getting to where she's at now took Humphries on a meandering path. Her single mom, one of two women in her college accounting class, was a big influence. Humphries worked her way up at her mom's accounting firm, learning lessons of independence and teamwork, but had no attraction to accounting.
Instead, she was attracted to Crime and Punishment. The novel.
It was a middle school reading assignment. A girl who knew nothing but St. Petersburg, Fla., discovered another St. Petersburg on the other side of the globe.
"It just sort of opened my world; opened my eyes to a whole other kind of culture," says Humphries.
By college, she says, "everything was focused on Russian history, studying the language, Russian novels. I traveled to Russia. I majored in English, majored in poli-sci, and minored in Russian language."
It seemed natural that her focus at Tulane University Law School would be international and comparative law: "I traveled to law schools in the Soviet Union, and every course that was not your core curriculum, I took international or comparative law."
She won a spot on the school's prestigious Philip C. Jessup International Law Moot Court Competition appellate team in her first year. In her third year, they won the Southeast regional competition.
After graduation, though, "I found out I did not want to live out of a suitcase," she says. "I came running home to St. Pete." Florida.
She took a job right there, at the Pinellas County State Attorney's Office, although all that traveling in Russia caused a raised eyebrow or two during the interview process. At one point, two investigators at the office "leaned meaningfully across the table and asked, 'So why do you keep going to Russia anyway?'" she says. "Like I was a communist! In the Pinellas State Attorney's Office!"
Two years as a prosecutor showed her the thrill of the courtroom. Unfortunately, she says, it also showed her the "pettiness" that too often accompanied litigation.
She went to an insurance defense firm. It was no better. "I simply hated it," she says.
Two more years into her career, she went to work at the 2nd District Court of Appeal, where she served as senior staff attorney for Judge Carolyn Fulmer. The job allowed her to pursue her love of research and analysis of the law. The regular hours were pretty much perfect for a young mother with two children, but she missed practicing law. Five years in, her husband got a job opportunity in Alabama. She went with him and did appellate work at a large firm for a year before effectively giving up practicing law to stay home with their two kids.
When they came back to Florida a few years later, her phone started to ring. Attorneys began asking her to handle "just one appeal." Before too long, she was running a practice from home (that's where the PJs came in), sandwiched in while the kids were at school or asleep.
About four years and dozens of appeals later, the call came that got her back in the courtroom. The plaintiff's insurance and personal injury firm Swope, Rodante asked her to start its appellate department, which would include trial support.
Brannock, meanwhile, followed a direct path into appellate law. Except for the beginning—because it almost didn't happen. He almost became a teacher, like his father.
"When I went to college, I had the classic liberal arts education," he says. "Whatever class looked interesting, I took—from history to music to philosophy, political science."
While his wife-to-be finished college, he wound up in Sarasota running an Arby's, "which is what you do with a history degree in Sarasota," he says.
While there, he looked into getting a master's in elementary education at the University of Florida. But he also played tournament bridge with an older friend who had practiced law in his younger years.
"As we developed a friendship, he kept telling me, 'You would make a really good lawyer. I think you really would like to practice law,'" Brannock recalls. "Which is interesting, since he hated it. It makes me wonder what he saw in me."
Brannock did "an about-face" and applied to law school. As soon as he graduated, he went to work for Holland & Knight, which put new-hires through a rotation: six months in real estate, six in commercial, then six in litigation, where Brannock found himself working with Holland & Knight's star appeals attorney.
"I suddenly found myself in the appellate world," he says, "and liked it."
He stayed for 28 years, building a reputation for impeccable ethics, a dedication to fairness and an unparalleled ability to get to the core of a case.
"He unfailingly can get to what the key issue or issues are in a case," says Elizabeth Bevington, a former colleague at Holland & Knight. "He cuts right to the chase. He does not get distracted by details. He knows to emphasize what is really the meat of the case and what the important arguments are, and let some of this other stuff go."
Just shy of three decades with Holland & Knight, Brannock was ready for a change. "The last thing I ever thought I would do in the world is go out on my own and form my own firm," he says, "because I'm fairly risk-averse."
He and Humphries knew each other from the state Bar's Appellate Practice Section. She had gone out on her own in February 2009. Brannock asked her to lunch, and suggested they partner.
"I think that's the only time I've been quiet," she says.
By the summer, their firm opened. Almost immediately, they were racking up impressive wins—getting a reversal on rules that caused funding cuts affecting 30,000 developmentally disabled Floridians; helping win a $25.5 million judgment in an Alachua County tobacco case; getting an appellate court to agree that the state's medical malpractice damages cap in arbitration cases should be reconsidered. Although the client in the med-mal cap case ultimately agreed to a settlement, the case may have been a building block. The 2nd District Court of Appeal's analysis in that case was cited by the plaintiff's attorney (from another firm) in a March state Supreme Court ruling that threw out a law limiting noneconomic damages in med-mal cases to $1 million.
Along the way, the bell-ringing tradition was born:
With each major victory, one of the attorneys clangs the chuck wagon triangle hanging in the office hard and loud.
"There's no bigger rush," says Brannock, "than winning a big case."
Search attorney feature articles