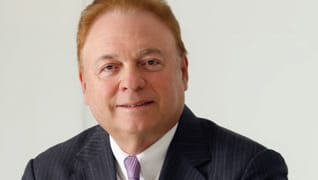 Photo by: Scott Wiseman
The Incredible Journey of Stephen Zack
From privileged boyhood to impoverished youth to a year as the ABA's first Hispanic president
Published in 2012 Florida Super Lawyers magazine
By Harris Meyer on May 23, 2012
At age 13, Stephen Zack was taken from his parents and locked up overnight. He didn't know if he would see them again. His family members, detained separately, were wealthy Cubans whose businesses had just been confiscated by Castro's government.
In the end, Zack and his family were released and sent to Miami. But the feeling of powerlessness he experienced in that locked room made him want to become a lawyer.
Four decades later, the Miami litigator played a notable role in the Bush v. Gore recount case. It was Zack, part of Al Gore's legal team, who got an expert witness to admit that the infamous hanging chads could keep an election machine from punching correctly.
And last year, Zack finished a term as the American Bar Association's first Hispanic-American president. Though he grew up in Cuba, he had been born in Michigan to an American father and a Cuban mother, both Jewish. Her parents had immigrated to Cuba from Ukraine a century ago. Zack's mother was attending college in Michigan; shortly after he was born, his parents moved to Cuba.
Zack embraces both identities. He didn't mind going from a privileged life in Cuba to growing up poor in Miami Beach's Cuban-Jewish community. He got a job at age 14 at the Snappy shoe store, where he learned social and sales skills that served him well. Young Zack was a natural politician, winning an upset election as high school senior class president by giving his campaign speech in both English and Spanish.
As an adult, Zack has fought to establish the rule of law in Cuba through his work with the ABA and the Cuban American Bar Association.
He was just named in March to chair the National Center for Access to Justice. Zack's dedication to the rule of law in the U.S. springs from his experience with the Castro government in 1961; and from something his maternal grandfather—who made a fortune manufacturing leather and shoes and lost everything when Castro booted his family out—told him on their last night in Cuba.
"He said he felt bad that he was going to be a refugee, but good that he was going to be in the United States, because he knew he'd never be a refugee again; that if the U.S. falls, there would be no other place to go," Zack recalls. "I never forgot that, and I never will."
At 64, Zack is the administrative partner at Boies Schiller & Flexner in Miami. He is widely known for winning over judges and public officials—and often turning opposing counsel into friends—through his wit, warmth and gregariousness. In Miami, it seems impossible for him to walk down the street or into an elevator without meeting old friends and exchanging hugs and small talk. But he combines that charm with directness.
"He lets you know what he wants and how he wants to go there, and I find that refreshing," says Carolyn Lamm, a partner at White & Case who served as ABA president immediately before Zack. "He loves life and enjoys people."
Calling himself a "nosy and noisy lawyer," he's relentless in addressing the issues he cares most about, including preserving access to the courts for lower-income Americans, fighting discrimination against women and minorities, expanding the involvement of Hispanics in U.S. law and society, and protecting the rule of law. He wants to, in Steve Jobs' words, "put a dent in the universe."
Throughout his travels to 22 foreign countries and many parts of the U.S. as leader of the ABA, Zack stressed the importance of funding the courts and maintaining the access to justice. And he urged that American schools teach students about their government.
"There's a generation of Americans who know nothing about the Constitution and the separation of powers," he laments over lunch at a Thai restaurant, regretting that he has—as usual, he says—splashed sauce on his tie. "We're spending billions of dollars bringing the rule of law around the world, but we're in danger of losing it here."
He relished his ABA presidency not just for his work on justice issues but also for his many meetings with fascinating people. He shared a memorable dinner with a Vietnamese bar association president—a former Viet Cong fighter—and agreed to have the ABA electronically transfer its library to the new law school in Ho Chi Minh City. He met with the Brazilian Federal Supreme Court justices and facilitated their meeting with the U.S. Supreme Court justices for advice on reforming their docket.
He enjoyed being grilled by Chinese law students in Beijing about Bush v. Gore. "I told them, 'In our country, when we have serious problems, we turn to lawyers, not generals,'" Zack says.
Back at Boies Schiller, Zack is eager to resume the civil practice he loves, with a focus on public-interest cases and complex litigation. An expert on election redistricting, he's representing the Democratic Party in a federal suit to require Florida to comply with a constitutional amendment approved by voters to establish a nonpartisan redistricting process and draw representative districts in time for this year's election.
In addition, as chair of the ABA Rule of Law Initiative, Zack is working on an official letter declaring Cuba in violation of the rule of law for its treatment of political dissidents.
Sitting in his corner office overlooking Biscayne Bay, surrounded by memorabilia from Bush v. Gore and other cases, Zack is frequently interrupted by phone calls ("What's going on in Zimbabwe?" he asks one caller) and by colleagues walking in unannounced. Zack's son Jason, who just joined the firm as an attorney, enters his father's office for the first time. "The only strange part," Jason says, "is that my secretary asked me, 'What do you want me to call him? Your dad?'"
Politics have always interested Zack. After getting his undergraduate and law degrees from University of Florida, he worked as a legislative assistant to legendary Democratic U.S. Congressman Claude Pepper. He was impressed that, though Pepper was an old-school Southerner, he didn't discriminate, earning the devotion of his highly diverse South Florida constituency. He was also impressed that Pepper, who lived to age 88, accomplished so much in the last 18 years of his life—which Zack hopes to emulate. He can puff out his cheeks and do a fond—and spot-on—impression of Pepper's Southern accent.
In the 1980s and '90s, Zack worked for the famed Frates Floyd & Pearson litigation firm in Miami, served as Democratic Gov. Bob Graham's general counsel, became the youngest-ever Florida Bar president at age 40, and went on to form two firms of his own. His last firm, Zack Kosnitzky, merged with Boies Schiller in 2002. Since then, that civil litigation firm has grown to 280 attorneys in 14 offices, handling both plaintiff and defense work.
The merger resulted from Zack spending many weeks working with David Boies on the Al Gore legal team, which the busy Zack initially had resisted joining because of other legal commitments. "My grandmother would say in Yiddish, 'Bashert'— whatever is meant to be will be," he says.
Boies and Zack reconnected a year later. "We were dining at Sparks steakhouse in New York and talking about how much we enjoyed working together on Bush v. Gore," recalls Boies, chairman of Armonk, N.Y.-based Boies Schiller. "Halfway through our first bottle of wine, we said we should merge our firms. By the end of the second bottle, we had shaken hands on the deal, and it was implemented 2 1/2 weeks later." That was after a vote by both partnerships.
Boies praises Zack's litigation skills, saying, "He has the discipline not to do or say something for short-term advantage."
Another Zack talent is digesting information rapidly. "Even when he steps in at the last minute," says partner Debra Weiss Goodstone, "he can wow an audience—judge or jury."
He's won a number of big cases over the years, including teaming up with Ken Starr to represent the National Geographic Society in a precedent-setting federal case involving digital republication rights. He also represented the Florida Senate in a major redistricting case, and defended Philip Morris USA Inc. in a long-running class action suit for smoking-related injuries and deaths.
Boies says Zack has the wide range of talents needed to successfully build and run a firm. According to his partners in Miami, he's got the heart, too.
"When a client is in town visiting, he always insists they stay at his house, and I've seen him do that with his co-counsel, too," says Mark Heise, a Boies Schiller partner in Miami. "He opens his home and his heart. I've never seen that before."
The Zack-Boies law firm merger isn't their only joint venture involving wine. Several years ago the two attorneys acquired a Napa Valley property where they planted a few acres of cabernet sauvignon grapes and now take vacations. They call it the Refuge. "I like putting on jeans and getting my hands dirty," Zack says.
Whenever Boies comes to Miami, Zack takes him to dinner at the Capital Grille and pulls a special bottle out of his personal wine locker next to the maitre d's desk, just below the locker belonging to Miami Heat president Pat Riley. It's a 1997 Chateau St Jean Cinq Cépages, the same wine they drank after their short-lived Bush v. Gore victory in Florida. He's only got a couple bottles left.
Zack enjoys revisiting the stately courtroom in the art deco Miami-Dade Courthouse, where nearly 40 years ago he tried his first case, a whiplash claim. Standing in a courtroom for the first time, nervous and sweating in his polyester suit, Zack asked the bailiff which side he should sit on. "Right of first briefcase," he was told. He looked confused. "It means whoever puts down their briefcase first gets to sit there," the annoyed bailiff barked.
Asked about presidential politics, he gives short answers. Will he work on President Barack Obama's re-election legal team? "As needed," he says. Who'll run in 2016? "It might be Jeb Bush versus Hillary, another Bush versus Clinton battle."
In the courthouse lobby he stops for a Cuban coffee, and gets a hug and a kiss from a judge ("She ruled against us on the Bush v. Gore recount"). Spotting another judge smoking a cigar outside ("He's always there, I knew I'd run into him"), he hands him one of his personally branded "Zack Attack" cigars. Then, a Cuban-American lawyer comes up and colorfully expresses his opposition to an ABA delegation visiting Cuba.
Zack good-naturedly lets it pass.
Over dinner and cabernet at the Capital Grille that night ("This wine will be so much better in a couple years," he comments), Zack reflects on how his immigrant background has affected his life and work. He's proud that, during his presidency, the ABA published a model immigration-law reform program to reduce the amount of time people spend in detention.
"I have a lot of understanding of people who are strangers in a strange land," he says. "That privileged life we had in Cuba disappeared, one minute to the next, and it's the best thing that ever happened to me."
Search attorney feature articles