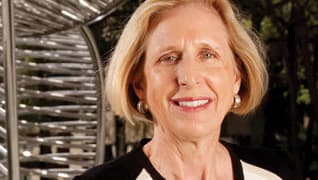 Photo by: Matt May
The Rescuer
Tampa bankruptcy lawyer Roberta Colton is always there for clients—even if they need an airplane moved in the dead of night
Published in 2012 Florida Super Lawyers magazine
By Stan Sinberg on May 23, 2012
During her first bankruptcy case, Roberta Colton discovered this area of the law might be kind of fun. 
It was 1984, and Air Florida had declared bankruptcy. Colton found this out when the small airline canceled the return portion of her Tampa-to-Jacksonville business trip, unceremoniously leaving her stranded. By coincidence, she was retained a few weeks later by Guinness Peat Aviation, which had leased three planes to Air Florida and wanted Colton to get them back. The problem, Colton relates, is that the Miami airport said it had a lien on Air Florida's fleet. She tracked down the airline's lawyer at home, got him to sign a stipulation, then got a judge to issue an order releasing the planes. That enabled her client to hire pilots, who marched onto the airfield in the dead of night and flew those planes right out of there.
When the feat was discovered, an attorney for the airport called Colton "a sneaky little vixen," and was so motivated that he subsequently got a state law passed making it illegal to fly off from an airport in a plane with a lien attached. With a laugh, Colton refers to it as the "sneaky little vixen statute."
Colton, at 54, is now a managing partner at Trenam Kemker, where her practice consists of about 80 percent bankruptcy cases, with some lender liability and work-outs thrown in for good measure.  She calls the past five years "incredible times" to be a bankruptcy lawyer. As everyone knows, Florida was particularly hard-hit when the real estate bubble burst. Colton had a ground-level view and saw the bankruptcies coming in waves. Home foreclosures were first, followed by related industries like plumbing, home contracting and commercial real estate. She predicts more bad news, since "there are a whole bunch of multimillion-dollar commercial development projects that are coming due that will either have to be refinanced or foreclosed." 
Colton has encountered a number of colorful characters, including Craig Berkman, a onetime gubernatorial candidate in Oregon. Colton says that Berkman, a former head of Oregon's Republican National Committee, was accused of persuading many big-money Republicans to invest with him, then keeping most of the money.  At the end of 2005, a civil case was brought against him in Oregon, and shortly before it was filed, Berkman purchased a mansion in Florida for $3.9 million. Under Florida's unlimited homestead exemption, it was protected from the $30 million judgment brought against him in Oregon. Some of the Oregon investors hired Colton, who managed to force Berkman into Chapter 7 bankruptcy. Her clients settled with him for $4.75 million, of which she says they've seen less than $2 million.
Because of its large population of elderly and vulnerable people, and because it's an easy place to protect one's assets, Colton says, Florida is a hotbed for scams. She traces the state's favorable conditions for debtors to the days before air-conditioning, when a homestead exemption was an enticement to get people to move to the hot Florida climate.
Colton also relates the tale of Daniel Prewett, who burst upon Sarasota in 1993, operating a Jackson Hewitt tax-preparation branch. He marched into banks with little more than bogus financial statements and tax returns, she says, and emerged with millions of dollars in loans. Doctors and lawyers invested money with Prewett, who allegedly used it to buy a little real estate and pocket the rest. After Prewett's company declared bankruptcy, Colton was retained by the investors to track down its assets, here and abroad, and she arranged an auction of his approximately 30 properties.
The real estate where Prewett is currently residing is in prison—on unrelated federal drug and money-laundering charges. 
But investors aren't always blameless. Citing one scam that promised a 22 percent return, she says, "I mean, really. Twenty-two percent?"
Nevertheless, Colton says she rarely encounters fraud in her bankruptcy practice. "Most of those who declare are good people who have medical problems or divorce. A lost job and no insurance are two of the biggest reasons people file."
Colton lays part of the blame for the rise in company liquidations to a law commonly known as the Bankruptcy Reform Act of 2005, which made it tougher for individuals and small businesses to file for bankruptcy. Colton says that idea backfired. "It made it so that a lot of companies can't reorganize now, so they just sell off their assets." It also had a major impact on retail establishments.
"That's why you see businesses like Filene's Basement and Robb and Stucky go out," she says. The furniture chain was a Florida mainstay for a half century.
"Bankruptcy is a fabulous tool for a capitalist society," she notes. This hasn't always been true in many countries. "Essentially, if you failed, your life was over. You couldn't start over.
"Here [in the U.S.] you could get a fresh start. You're not going to lose your house in Florida. It encourages entrepreneurship. If there's no safety net, you're less likely to take a risk. And you can either have a welfare safety net or bankruptcy as a safety net. Or else you have people on the street. That's why restricting bankruptcy the way they did in 2005 was a mistake." 
Ironically, Colton says, she sees some of the same high-worth individuals who pushed for the changes in 2005 filing for bankruptcy themselves now. "Hopefully it's made them a little more empathetic," she says. 
Not that she encourages filing for bankruptcy. 
"It's the remedy of last resort. I tell people, 'Save it for when you really need it,' because of the effect it has on you and your creditors."
Colton was raised in Colts Neck, N.J., with two brothers. A self-described nerd, she was crowned New Jersey Girls' Extemporaneous Speaking Champion two years running in high school. She spent her summers at the University of Massachusetts Amherst debate camp, even going to a national debate tournament for two years. It served her well, she says: "I bet there were a lot of future lawyers in that debate camp."
She majored in business at the University of Virginia, with a longtime goal of becoming a lawyer. "I like to speak, and I'm a ham," she says. "And I like problem-solving. When I get a case, it's like a puzzle."  Bankruptcy law fits that scenario. "It's not like [being] a trial lawyer. We're usually making deals. People have lost so much already, they're not ready to fight to the death. So you have to salvage what you can and move on."
At William & Mary Law School she received the Weber Diploma, given to the graduate who shows the greatest promise. "That usually went to the student ranked number one, and I don't think I was in the top ten. It was a little scandalous," she says with a laugh.
After graduation, Colton clerked for Judge James Hill at the 11th U.S. Circuit Court of Appeals in Atlanta. Hill is one of her heroes. "He taught me the jiujitsu theory of litigation: Give them everything you've got, get everything they've got, and use what they have against them."
Colton applied to Trenam Kemker in 1983 for two reasons: As a Northerner, she was "heat-seeking," and also, she aspired to do antitrust work. Harry Kemker was one of the premier antitrust lawyers. Unfortunately, he passed away a year after she joined. And because Ronald Reagan was president, "there wasn't that much antitrust going on," she says.
She's happy she switched to bankruptcy law: "I can't imagine working on the same case for 10 years and never going to trial."
Her first case for the firm, involving an F-16 plane crash with a Top Gun fighter pilot, was turned into the TV movie Afterburn. The six defense attorneys, Colton included, opined about who they hope would play them in the film. Colton would have liked Glenn Close, who went to her alma mater. In the end, however, they were all merged into a composite "old guy."
Over the past two decades, Harley Riedel, a highly respected bankruptcy lawyer with Stichter, Riedel, Blain & Prosser, has opposed Colton a number of times. "She's very well-prepared," he says. "She's very formidable, but I know that we'll be able to get to the bottom line faster than with most other attorneys."
Colton jokes that, despite her career successes, "I'm probably most well-known for a talent that I don't have." That would be singing. Every three years, she moderates "View From the Bench," a seminar with a panel of bankruptcy judges, attended by a couple hundred bankruptcy lawyers. After the U.S. Supreme Court ruled on a case involving a man who buried his student loan in his Chapter 13 filing and got away with it, Colton made up some lyrics to the tune of "Ain't No Mountain High Enough," and sang them to the judges from her moderator's perch. She's since performed several variations, passing out lyric sheets so the panel of judges could join in.
Asked about tough decisions she's had to make, Colton quips, "My big choice in life was [in] 1975: [whether] to participate in the Bicentennial Debate Tournament or play Dolly in 'Hello, Dolly,'" she says. She chose the tournament, possibly altering the worlds of bankruptcy law and musical theater.
Away from the office, Colton is an avid hiker. Last summer she climbed Mount Washington, and she has walked New Zealand's famed Milford Track. In 1998 she embarked on a 12-day trek around Mount Blanc, beginning in Chamonix, rambling through Italy, and ending back in France. She's also traversed the Canadian Rockies.
And in March, she'll be swinging a hammer to help her firm build a house for Habitat for Humanity.
Hal Mullis Jr., president of Trenam Kemker, calls Colton "a firm treasure," noting that she's known for her generosity. At her first meeting as part of the management committee four years ago, Mullis remembers that Colton "interrupted the usual hand-wringing about next year's budget with an inquiry as to what we could do to strengthen our pro bono policies and programs."
Says Mullis, "She is admired for her consistent fairness and unselfishness. She won't let you—or anyone else—down."
Search attorney feature articles
Helpful links
Other featured articles
David Bernstein, Noble McIntyre, and Hugh M. Robert donated meals to those in need in 2011, and haven't stopped since
Jack Schulz wants to litigate cases that make you put down your cup of coffee
Barbara Howard has held the reins at both her state and city Bar associations 
View more articles featuring lawyers
Find top lawyers with confidence
The Super Lawyers patented selection process is peer influenced and research driven, selecting the top 5% of attorneys to the Super Lawyers lists each year. We know lawyers and make it easy to connect with them.
Find a lawyer near you