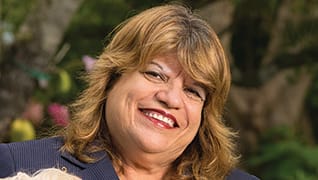 Photo by: Craig Ambrosio
'Women Don't Become Attorneys'
Happily for her clients and the lawyers she's mentored along the way, Roberta Mandel didn't take that advice 
Published in 2020 Florida Super Lawyers magazine
By Carlos Harrison on June 4, 2020
Madame X was an inspiration; Anna Nicole Smith, a revelation. Both changed Roberta Mandel's life. 
Mandel maintains a richly varied solo practice, but when she started off, her focus was on appellate work. She had already handled close to 700 appeals by the time she was called in to help with the sensational battle over the burial of Smith's body in 2007. The media melee thrust her front-and-center in the saga surrounding the former Playboy centerfold, ex-stripper, and octogenarian billionaire's widow. Mandel quickly became an unintentional media celebrity. 
But she wouldn't have taken her first case if not for the 1966 tearjerker featuring Lana Turner as a mystery woman charged with murder, defended by her lawyer-son who doesn't know she's his mom. 
"This silly little movie had such a profound effect on me," Mandel says. "I realized what good lawyers can do for people.'" 
Barely 9 at the time and growing up in Far Rockaway, Queens, Mandel had no real lawyers for role models. Her mother was an invalid who did some student teaching, her father a deaf printshop worker. Madame X made an outsize impression. Mandel looked past the movie's melodramatic improbabilities and decided she wanted to be an attorney.
But when she told her mother her newfound goal, her mom responded with a cold bucket of reality—or what was perceived as reality at that time:
"Oh, Roberta, women don't become attorneys," her mother said. "Maybe one day you can marry an attorney."
Instead of damping her dream, Mandel says, the advice sparked a fire that stayed lit. In fact, when her oldest daughter got a similar dose of discouragement in kindergarten, Mandel charged in. A teacher asked what the kids wanted to be when they grew up. Mandel's daughter said president of the United States, and the teacher responded, 'You have to have a realistic goal.'"
Mandel's daughter was devastated. Mandel was incensed. 
"It was all right for the boys to say they wanted to be Superman and they wanted to be firefighters, but not for her to want to be president," Mandel recalls. "I went up to the teacher and I said, 'How dare you! You know, the chances are she won't be president, but why couldn't she be?'
"So I paid it forward. There was no way that somebody was going to give my kid that same message."
Her daughter hasn't become president—at least not yet. But she and her sister are now lawyers.
"The tapes under the pillow helped," Mandel quips.
Mandel's own road to the law was anything but smooth. She stayed close to home for college, graduating with a degree in communications, with minors in marketing and Spanish. Three months later, she got married and put her education on hold.
"I wanted to get used to being married," she says.
She got her real estate license and went to work matching renters with apartments. Two years later, she quit to get back to the law. The University of Miami offered her a full scholarship. She and her then-husband said goodbye to New York and hello to Florida—he to pursue a master's in accounting; she, a J.D.
"We were both very busy," she says.
When she graduated, Mandel stepped into a two-year clerkship with the then-chief U.S.  magistrate for the Southern District of Florida, Peter Palermo. "A great experience," she says, "because I was in court all the time."
As the clerkship ended, Mandel started interviewing with some of South Florida's largest and most prestigious firms. Then she found out she was pregnant and canceled the interviews.
"I wasn't going to go through the process because I knew, for me, that's not the way I wanted to be a mother," she says. "I knew the commitment you'd have to make to be in big law."
She stayed home through the pregnancy and for eight months as a full-time mom, freelancing for several firms. "It was all writing," she says. "Motions and things like that."
Then a friend called. 
"He said, 'There's an opening in the criminal appellate division of the attorney general's office, and I think this is right up your alley,'" Mandel recalls. "I interviewed. And I was in heaven."
It was in many ways, she says, the best of both worlds—exciting work in the law, with plenty of time to be with her daughters. 
"I was able to do 'Mommy and Me' with both my kids," she says, "and go to all their plays."
She also got to argue complicated nuances of the law in hundreds of criminal cases—in writing and, often enough, in person—including writing the brief and sitting second chair at the Supreme Court.
"It was fascinating. I mean, when the marshal says, 'Oyez! Oyez!' and the justices march out and there's a red velvet curtain and it was like …" she trails off, focusing on a vivid memory. "I got teary. Because this is the pinnacle of everything, and so few lawyers are able to have that opportunity. I considered myself so blessed."
But for all the joys of the job, it had a major drawback. 
"No money," she says. "At that point, my children needed cars and we were looking at colleges. So I couldn't stay. I really was not making significantly more money after 15 years than when I started working for the state of Florida."
So she joined a maritime firm as a partner, heading up its appellate division. Less than two years later, she says, "the firm imploded." So she joined another large firm as a partner, overseeing its appellate department. 
And that's when Anna Nicole Smith came into her life.
Mandel remembers the moment clearly. It was early morning.
"I'm just reading about Anna Nicole Smith's death, and I get a phone call from Anna Nicole Smith's trial attorney. I've just read his name, and he said, 'We need an appellate attorney,'" Mandel recalls. "I initially thought it was a crank call from one of my friends. And he said, 'No, no, no. I'm serious.'"
A trial judge had ruled that Smith should be buried in the Bahamas, where she had lived with Howard K. Stern. Smith's estranged mother wanted her daughter's body returned to Texas, where Smith had grown up, and Stern opposed that request.
Mandel stepped in to represent Smith's mother and quickly entered a full-blown media circus.
She slipped quietly into the courthouse to file a petition in the case, she says. By the time she stepped out, she was swarmed by news crews. Someone had tipped them off. She wound up in front of a forest of microphones and delivered the sound bite heard 'round the tabloid-news world.
"I said, 'My client, Virgie Arthur, shouldn't have to get a passport to go visit her daughter in the cemetery.'"
Next thing she knew, that clip was playing on Good Morning America and she found herself doing talk/news shows on national TV, including talking to Greta Van Susteren. That turned into some appearances giving expert legal commentary on Nancy Grace's show.
"I didn't sleep for a week," she says. "And I definitely looked it."
Virgie Arthur's attorneys saw something else: an effective communicator who could make her points without coming across as contentious. Neil McCabe, the lead appellate counsel on the case for the Texas firm—currently at Roberts Markland in Houston—called his boss. 
"I said, 'Look, guys, we need to have Roberta be the one to stand up in there,'" he says. And, even though they lost, he is sure they made the right call.
"A lot of times you want somebody who is imposing, and she's not very tall. But she stood right up there and just gave it to them as hard as she could. She gave as good as she got. … The problem was, we had the losing end of that argument."
Smith was buried in the Bahamas. The media moved on. Mandel went back to her work in charge of her firm's appellate department. Not long after, she says, "lo and behold, that firm imploded." 
That lit another fire. 
"Here I am, a partner in a law firm: beautiful office, glass walls," Mandel says. "I was finally making a decent salary—and there was no security. None. I walked in one day and I didn't have a job. And I said, 'This is not going to happen to me a third time. I'm going to open my own practice. My fate will be in my own hands.'"
Launching Mandel Law Group in 2010 meant expanding the range of cases she handled beyond appellate work. Which has been good news for clients such as David Bouchard, whom she represented in an alimony dispute.
What struck him was that Mandel wasn't just thorough; she was also giving and took the time to talk him through a stressful and personal matter. 
"When you're going through something emotional, that can be important," he says. "The willingness to dialogue, consider options and exude some empathy. It made a tough situation a lot easier."
Miami-Dade Circuit Judge David Young knows her personally and professionally.
"As a lawyer," he says, "she's just brilliant. She is very detail-oriented, and that helps her in her private life and also as a lawyer, because she doesn't leave any i's undotted or t's not crossed. She's a wonderful oral and written advocate on behalf of her clients."
Despite her initial misgivings, Mandel's mother, who passed away in 2013, learned that outdated notions about what a woman could or could not do were no match for her daughter's determination. 
"She ended up in a nursing home," Mandel says. "And she would tell everybody that her daughter not only is a lawyer, but she sues doctors. So they'd better treat her nicely."
---
To the Rescue 
Roberta Mandel believes in fighting for the underdog. Or just the dog.
"My dream, when I retire, is actually to open a not-for-profit animal rescue for senior dogs that nobody wants," she says. "So they can live out their remaining years with somebody who loves them."
It's another lifelong passion. 
"I used to bring home animals as a child," she says. "The last one was a cross, it turned out, between a German shepherd and a Great Dane. I didn't know. It was a cute-looking puppy. But we took him to the vet and my father said, 'It's either you or the dog.'"
Now she has two much smaller rescues at her home in Pinecrest, which she shares with wife Joan Schaeffer, who is renowned in the local LGBTQ community. One of the fur babies, Mandel says, is "a cross between a Yorkie and a Maltese. So she, technically, is a designer dog that was a rescue."
Mandel's legal career is rewarding. But so is rescuing canines. 
"All you have to do is walk in the door and you've made their day," she says. "If I could make a living defending dogs, I would do that."
Search attorney feature articles