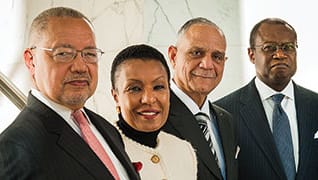 Photo by: Stan Kaady
Building on the Groundwork
The generation who came along five years after John Lewis and Diane Nash on the progress we've made ... and haven't
Published in 2017 Georgia Super Lawyers magazine
By Jerry Grillo on February 21, 2017
There's a reason Atlanta is called "The Cradle of the Civil Rights Movement." It was headquarters for the Southern Christian Leadership Conference (SCLC) and Student Nonviolent Coordinating Committee (SNCC). It had—and has—the largest system of historically black colleges and universities in the U.S. It is the birthplace of Dr. Martin Luther King Jr.
And for many young black professionals in the late 1960s and early '70s, it was the place to be. 
"We recognized the advantages of trying to work in Atlanta as opposed to some other cities across the South," says Thomas G. Sampson, managing partner of Thomas Kennedy Sampson & Tompkins, the oldest minority-owned law firm in Georgia, who moved to the city in 1971. "Even then, Atlanta was seen as a mecca for black folks."
Last fall, Super Lawyers interviewed seven top attorneys and judges, men and women now in their 60s and 70s, to discover where we've been and where we're going. 
"People of my era, we looked up to people who were five years or so older than us—like Julian Bond and John Lewis and Diane Nash—people that really changed the world," says Charles Johnson, a business litigator at Holland & Knight. "We knew we were beneficiaries, but we also knew we couldn't rest on their accomplishments. There was more progress to be made only if we helped make it."
They grew up in a time when segregation was the norm. You might see the charred remains of a burnt cross on your lawn. You might also see Thurgood Marshall in the family living room.  
Thelma Wyatt Cummings Moore, Emory University School of Law, 1971; Moore Law (retired judge): My father was the first black physician in our town, Amarillo, Texas. He had been an Army physician, but the hospitals would not let him practice there. As a result, he built his own hospital. Later, the white hospitals let him practice. 
One of my earliest memories is the time our new house burned down. The perpetrators were never named, but we have clear evidence that it was the Klan. My father took my mother away to have her relax—after losing her dream house—and she died while she was away. Later, in about 1955, right after the Brown v. Board of Education decision, my father ran for the school board in Amarillo and crosses were burned in our yard. My younger brother and I saw the charred grass where the cross was standing and had fallen over. We had to have bodyguards take us to school. 
Ray Persons, The Ohio State University Moritz College of Law, 1978; partner, King & Spalding: I grew up in Hinesville, Georgia. My father was in the Army, stationed at Fort Stewart, and we lived a half mile from the post. So I'd walk over there, and all of their facilities were integrated. That wasn't true when you got off post.
I didn't realize we were in the minority until I was probably 13 years old. That was segregation. People I went to church with looked like me. People I went to school with looked like me. My family looked like me. It was very protective in that sense. My parents did a masterful job of shielding my siblings and me from the insulting aspects of segregation. I didn't really know any better. 
Leah Ward Sears, Emory University School of Law, 1980; partner, Smith, Gambrell & Russell, former chief justice of Georgia Supreme Court: Much of it was a struggle. I didn't fit in; I never really wanted to. I have my little quirks, and they became less quirky as time has caught up. Now it's no longer quirky or weird to want to be the chief justice. It was quirky and weird when I was growing up, though. When I was growing up, no black was ever going to be president, and certainly no woman. If you had aspirations like that, you were crazy.
Charles S. Johnson III, Boston College Law School, 1973; partner, Holland & Knight: My father was a physician in Dayton, Ohio. In every hospital he worked at, he was always the first African-American member of the medical staff. He broke barriers. That's what people did. His father was an educator—a sociologist, and president of Fisk University, Charles S. Johnson. My father was the second, I'm the third. My grandfather's specialty was race. He started the Race Relations Institute at Fisk. It was a hotbed of excitement over the changes going on in the country. It was nothing to see Thurgood Marshall in my grandfather's living room.
Persons: We would drive home to south Georgia once or twice a year, and we would have to sleep in the car. There were no accommodations, no places to stop and eat. I remember my father always wore his uniform, and I suspect that was just to give him an added measure of protection, to distinguish him from other black travelers. I had a great-uncle, Richard Henry, who spent 44 consecutive months in combat in World War II. When he came home, he couldn't go to a restaurant. He couldn't go to the same restaurants that the German POWs in the United States could go to.
Johnson: After high school, I spent the summer in Europe and spent a week with my uncle who lived in Monte Carlo. He was 83 years old. He'd fought in World War I, had a career in civil service. He was living the life of an expatriate because he found acceptance in Europe that he couldn't get in the U.S. I told him, "There's all this stuff going on at home"—Selma had just happened—"you need to come back and be part of it." He said, "Young man, I've paid my dues."
Then it was their turn to get involved. 
Johnson: One summer I had an internship with the Metropolitan Applied Research Center, MARC, an institute focused on urban problems founded by Kenneth Clark, one of the leading social scientists of the movement. I was an intern, but there were fellows that summer, people like Julian Bond, Roy Innis, and John Lewis, who came into my office one day and said, "SCLC is having a convention in Atlanta. Would you like to go?" What am I going to say to that? So my introduction to Atlanta was accompanying John Lewis to a meeting of leaders in the civil rights movement. 
Persons: I remember the first time I ate in an integrated restaurant off base. It was on the way back from my grandmother's funeral in 1967. My father had just gotten back from his first of many tours in Vietnam and we stopped and had dinner in a restaurant with white tablecloths. 
Sears: I was actually the first black cheerleader at Savannah High School. The other girls put me through hell. Girls are mean to girls. My hair didn't shake. And they'd say, "Everyone put your hair in a ponytail." My hair doesn't go in a ponytail. It doesn't flop around.
Bernard Taylor, Vanderbilt University Law School, 1982; partner, Alston & Bird, former undercover police officer: Where I was raised, Detroit, we experienced the raw impacts of racism. Remember the difficulties of 1967? Some folks called it a riot or a rebellion, some called it a revolution. A lot of black people were killed by police. That period, the late '60s and '70s, there were a lot of problems between the Detroit police and the African-American community—very similar to what you're seeing now in this country. There were a number of shootings of African-Americans. The community was very upset.
A lot of the heroes of the movement were lawyers, so the law was a natural choice for people trying to make a difference. 
Moore: I first became interested in the law following my father's death when I was 11 years old. His estate was probated. I wanted to become a lawyer so I could sue the bank, the trustees. Thereafter, I became interested in the law based upon my work with the Urban League, where I was a job developer. Then I witnessed and participated in the civil rights movement, and I saw the law as a tool for social change. I heard Martin Luther King Jr. speak in California and in Chicago. My office with the Urban League was right down the street from the SCLC on Auburn Avenue. We were all involved in the movement. I marched. I served as a tester for housing discrimination cases. 
Thomas G. Sampson, University of North Carolina School of Law, 1971; managing partner, Thomas Sampson Kennedy & Tompkins: I grew up in a family of lawyers. My father was a law professor at North Carolina Central University School of Law—he later became the dean—and he spent many weekends moonlighting at the only African-American law firm in the city of Durham, North Carolina. He handled briefs, wrote motions—99 percent of which were connected to trouble related to the civil rights movement. I was impressed with the role he and other lawyers were playing, and I subconsciously gravitated toward the law. It felt natural. 
Sears: I wanted to be a lawyer to change things, for me and for the people that look like me. I got interested in politics very early, and I got interested in the Supreme Court. I could see early on, really early on, the court making so many changes. None of this was coming out of the Legislature. It was all coming out of the courts. It would go up through the state courts and all the wrong things would be done. The Legal Defense Fund and NAACP would take it to the federal courts and it would be set right. I was like, "Wow, that's power. I want to be part of that."
Persons: In 1968, a young lawyer named Bobby Lee Hill, who had just become the first black person elected to the Georgia House of Representatives, spoke at my school. He was dynamic and inspiring. I had never met any lawyers. I didn't know any. But he sparked an interest. 
Taylor: I actually wanted to be a lawyer before I became a policeman. I don't know if it was a collective effort, but a number of us younger guys thought that we could have an impact by joining the police department, with the purpose of changing it from within. It was lawyers like Ken Cockrel and Justin Ravitz, and the work they did addressing concerns in the community and corruption in the police department, that convinced us we could change things. This was a time when a lot of policemen in Detroit were getting shot. My family was very concerned about my safety, and questioned my decision. I was a police officer for 10 years, much of it undercover. It was a rough 10 years. I was 31 when I started law school in 1979. My family was relieved. They thought I'd come to my senses.
Clarence Cooper, Emory University School of Law, 1967; Senior U.S. District Judge, United States District Court for the Northern District of Georgia: My goal was to finish college, go to law school and become a civil rights lawyer. It didn't quite work out that way—I became a prosecutor [laughs]. The first black prosecutor in the state of Georgia, in fact. 
That was 1968, a few months after I got out of law school. Before that, I was hired as the first black attorney for the Atlanta Legal Aid Society. I was on my way to court to try my first case, and as I crossed the street in front of this car I could feel the driver's eyes on me. I turned around and saw that it was Dr. Martin Luther King. I was concerned that he was alone in that old Chevrolet, and said, "Dr. King, where are your bodyguards?" He just asked me who I was and what I was doing. I told him I was on my way to try my first case and he made the remark, "Well, you look just like a lawyer. I wish you the very best." 
At law school, many were "first"; some were "only." Experiences differed.
Cooper: I transferred to Emory to help integrate the law school with Marvin Arrington in 1965. We were warmly received. There were minor incidents. I recall one evening at the law school library, I was sitting at a table with other students. When I looked up, they had all moved to another table. And there were a couple of times when I sat down in a classroom and a white student on my right or left would move. Other than that, it was what you call a cakewalk. 
Sampson: Law school at the University of North Carolina was a very lonely experience for me—I was the only African-American in my class. In fact, because I lived in Durham, I didn't really study at the UNC law library on campus in Chapel Hill. I studied at the North Carolina Central law school library. That felt more like home. Folks were basically cordial at North Carolina, but being the only African-American in a class as large as ours … well, it left a certain impression, let's just leave it at that.
Moore: I was in the first class that allowed African-American females at Emory. The professors were extremely receptive. The students on the other hand—the white male students particularly—were not so receptive. They actually told me, "Why don't you go home and leave this seat for someone else?" When I was graduating, very high in my class, one law firm came and held interviews in the administration building. The guy interviewing me just laughed the whole time. He was not taking me seriously.
It is important to note that one major firm, Kilpatrick Cody, now Kilpatrick Stockton, through Louis Regenstein, Miles Alexander and R. Lawrence Ashe, did offer me an associate position when I graduated from Emory Law School in 1971. I was so grateful for that offer. I would have been the first African-American female in any major firm in Atlanta or even in Georgia. However, I chose to enter private practice. Alexander and Ashe have not let me live that down.  
On the heels of the civil rights movement, Atlanta was growing. Large firms were integrating and activists were transitioning to political office and other positions of influence.
Cooper: The black community was trying to get the district attorney to hire black attorneys. I had reservations about it. I never had envisioned myself prosecuting anyone. I wanted to be a defense attorney like Perry Mason. After I was offered the job, I spoke with the black leadership in Atlanta about whether or not to do it, and they all agreed that it should be done. Then I told everyone that I didn't have the prosecutorial mentality and couldn't take the job. They all understood. Everyone except Vernon Jordan. He told me that my number had been called, and sometimes you've got to do things you don't want to do if it will advance the cause. So I took the job.
Sampson: After law school I joined my cousin, R.E. Thomas Jr., and started a law firm. His name is the first name on our firm today. He truly was a legal pioneer. He was involved in the Alfred "Tup" Holmes case, which resulted in the desegregation of golf courses in the city. 
Persons: Atlanta was still very Southern—a strange environment for a black professional. I was the second black attorney at Troutman Sanders. We were about as rare as hen's teeth. There were certain clients who might not find you acceptable. It's an adjustment for some people. I remember one day I was on a different floor and somebody asked if I'd fix the copy machine—they assumed I was the Xerox guy. Xerox had a lot of black guys, and if you saw a black guy in a suit in an office building, chances are he was there to fix the copy machine.
Cooper: I was at the DA's office for about five years, and some friends were encouraging me to become a city judge. Maynard Jackson, the first African-American mayor of Atlanta, interviewed me and told me that if I took the position, one day I'd become a federal judge. Now I think Maynard may have been doing some puffing to convince me to take the job; but if I ever see him on the other side, I'll tell him he was right: I made it to the federal bench.
Moore: When I first became a judge, it was a time of significant change in Atlanta. Maynard Jackson was trying to transform the Atlanta Municipal Court system, and make it actually reflect justice. Our offices were former jail cells and latrines, and there were only two judges at the time, both white males, both with short judicial robes so they could get to the guns in their holsters quickly while on the bench.
Sears: My parents wanted me to be this nice young woman who could marry a nice young man and be a supportive wife and be acceptable. So after I became a superior court judge, my father was just floored. He wept. It was not on his radar—his daughter, black, only 32. It was just unbelievable for him.
But I'd never had a problem in this profession. I was always accepted. My parents worked very hard to prepare me. If you're black and female, you don't get the grace period. You basically have to run faster and jump higher, and I think that's still very much the case. 
Persons: On the other hand, one reason I've been successful is that I know for a fact I was hired at times because it was thought I'd play better in front of a black judge or a mostly black jury. Appealing to increasingly diverse judiciary and juries has had a lot to do with my success. That's opportunity, that's the business. I know how the world works. 
Moore: Donald Hollowell, the attorney for Martin Luther King Jr., and Horace Ward, who helped integrate the University of Georgia, were my mentors. I worked for Mr. Hollowell at the Equal Employment Opportunity Commission when he was the regional director. Mr. Hollowell and his wife were so supportive and so proud of the achievements that we built on from the groundwork they laid. I feel so honored to have been able to know them and touch them, and I try to convey that to younger lawyers. I always tell them, "You're not here because of your beauty and brains. You're here because somebody opened these doors for you."
For every two steps forward, the country seems to take one step back. In some years, more than one. 
Moore: At the time I was in law school, there were six black lawyers in Atlanta; now there are so many I can't keep count. But we still have a long way to go in the judiciary and the legal profession. White men comprise 26 percent of the population in Georgia, but 68 percent of the judges. Men of color are 22 percent of the population but 9 percent of the judges. Women of color are 24 percent of the population but only 6 percent of the judges. It's dismal.
Persons: I think the legal profession has lagged behind. I don't think the profession has lived up to the potential for successfully integrating minorities into its ranks. We have a lot of opportunity for growth in that area. We've made tremendous strides, but we're not nearly where we need to be.
Taylor: You hear some people saying things about Muslims or Mexicans or African-Americans, and it makes me wonder where we're going as a society, and whether or not we're going to achieve the dream that this country is all about. My children and grandchildren are going to have to live through that. It concerns me. It's troubling that we haven't come any further after all these years. I'm hearing some of the same things today that I heard as an 18-year-old. 
Cooper: When I was a young man, I remember thinking that, based on what I was seeing, the progress being made between black people and white people, we would have full racial equality by the time I reached 75. I'm 74 now.
Sampson: I'm reminded of Robert Frost's poem: the one that says we have promises to keep; and miles to go before we sleep.
Search attorney feature articles