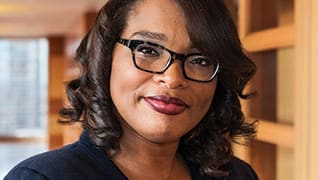 Photo by: Stan Kaady
Change Agent
Allegra Lawrence-Hardy was mentored by some of the biggest names in Georgia law; she's paying it forward with the Sutherland Scholars
Published in 2016 Georgia Super Lawyers magazine
By Kenna Simmons on February 19, 2016
Allegra Lawrence-Hardy talks about changing the world because that's the charge given to students at Spelman College, a historically black liberal arts college for women in Atlanta.
"In my family, all women go to Spelman," she says, citing her mother and grandmother, both of whom worked at Spelman in various capacities, too. "My niece is there now—she's fourth generation. My daughter, every night we sing the Spelman song: 'It's my choice and I choose to change the world.'" She smiles. "We start the brainwashing early."
At Spelman, she adds, "They are very clear that you are being educated to be a change agent. I'm aware of that every day."
Her niece, Alexandra Lawrence, now a sophomore at Spelman, says she often thinks of her aunt when she sees how Spelman tries to mold young women. "I see how resilient she's been and how much hard work and effort she's put into things. I know I can do that, too," Lawrence says. She calls her aunt "the ultimate Spelman woman."
As co-head of both the business/commercial litigation team and the labor/employment team at Sutherland Asbill & Brennan, Lawrence-Hardy works on complex cases for clients ranging from Fortune 100 companies to major utilities. She loves the fact that her job requires expertise in many areas; that it requires continued learning. "We represented a major auto manufacturer and for four years I spent most of my time in [auto] plants. I felt like I could build a truck!"
She loves the knotty problems, the ones that require assembling a multidisciplinary team. At stake is not only litigation but risk to a company's reputation, stock price and employee morale.
"I don't believe legal problems occur in a vacuum," she says. "They are one aspect of the bigger issue."
Lawrence-Hardy's love of reading began with her grandmother. "She was a big believer in the power of books to make you understand different perspectives," she says.
That power almost propelled Lawrence-Hardy into a career in journalism. While pursuing a degree in English from Spelman, she interned at Atlanta magazine and worked with attorneys who reviewed copy before it went to print. There, she says, "I learned the importance of putting together a story, of being well-researched, well-written and accurate, and the real beauty of the First Amendment." Not realizing this type of work was "probably about 10 percent of their practice," she decided to become a constitutional lawyer, and headed to Yale Law School.
Lawrence-Hardy has what she calls a "board of directors"—mentors she contacts regularly for advice—and it's a who's who of Georgia law: former state Supreme Court Chief Justice Leah Ward Sears; general counsel for The Home Depot Teresa Wynn Roseborough; King & Spalding partner John A. Chandler; Sutherland partner Peter Anderson; Robbins Ross Alloy Belinfante Littlefield's Richard Robbins; and Cathy Hampton, city attorney for Atlanta.
But she encountered one of her first mentors after law school, when she clerked for Judge Susan Black on the U.S. Court of Appeals for the 11th Circuit.
"I'm very close to my judge," she says. Whenever Black is in Atlanta, Lawrence-Hardy's staff knows she'll be out of pocket for the day.
It was Black who helped her when she began at Sutherland. She was the only associate who was a woman of color, and it worried her. "I was coming out of Yale, where everybody was so sensitive about race issues. It's not the real world—it's a bubble," she says. And she remembers Judge Black telling her, "If you are going to be the only one, you're going to have a spotlight shining on you. So you better use it." It taught her to think of it as an opportunity rather than something to be anxious about.
That spotlight, of course, was often skewed by whomever was shining it. Going to court in Mississippi one day, attired in her best pinstripes, she found herself answering questions like: "Are you the court reporter?" "When will the counsel for the defendant get here?"
"I remember sitting there thinking, 'Well, your pinstripes aren't fooling anybody,'" she says. "So I decided I might as well be me."
Which brings us to the resilience her niece spoke about.
"I could have left the courtroom that day feeling kind of weighed down," she says. "Instead I decided, 'No, I'll be back tomorrow.'
"I've sort of lived my life as 'the only one,'" she adds. "Right now I'm the only woman of color equity partner. For a while, I was the only woman of color associate. … Yes, there are times when people say something offensive to me, or someone will ask me to make copies, or all the guys go to a meeting and I'm not included. There are things that, when you're the only one, you get used to. And if you let any one of those things get you down, you won't keep going. You've got to continue going."
Her husband helps. A former college football player who now coaches their daughter's soccer team, he would listen to his wife talk about her day, about the difficulties of being "the only one," and say, "All right, bleed a little and go back in." At first she was shocked: "I was like, 'Your wife is bleeding!'" But she says it was important to hear. "That's what I try to do," she says. "Dust myself off and get up."
It's advice she's passing on to mentee Melissa Fox, an associate at the firm.
"I'm one of the few openly gay associates at the firm," says Fox. "When I started, knowing law is a conservative field in general, I was kind of worried about how that would go over. She encourages me every day to be my authentic self. That has been a huge deal for me, and lifted a burden I thought I might have to live with."
Fox remembers coming into work one day to find a pile of books on her chair—books on professional development that she'd wanted to read. "I was impressed that she took the time to actually order the books for me, instead of just telling me to read them."
Lawrence-Hardy also makes a point to invite Fox to networking events—like a recent one for the Atlanta Women's Foundation. At the break, Lawrence-Hardy turned to Fox and said, "All right, Melissa, are you ready? I'm going to show you how to work a room!" Fox says she met at least 20 people, including Mayor Kasim Reed. "I was thinking, 'Is this real life?'" says Fox. "People saw [Allegra] walk by and jumped out of their seats to give her a hug and say 'Hello.' She remembers all of their kids' names and how their mom is doing. The amount of information she stores in her head is just amazing."
At first, Lawrence-Hardy mentored informally, helping her mother's Spelman students when they called her, for example. Soon she found herself in such demand that she was booking mentoring appointments at breakfast, lunch and dinner. "I used to walk my dog on the Silver Comet Trail every Saturday, and [I would tell people], 'I'm booked this week, but you can come walk my dog with me.'"
Then one night she had a dream in which all the Spelman students she was helping were lined up in rows, with Lawrence-Hardy teaching them. It was a light-bulb moment that led to a talk with her managing partner; and in 2005 the firm launched Sutherland Scholars, a three-week summer "boot camp" for students from historically black colleges and universities. It's designed to give minority students who are headed to law school the tools they need to be successful in their first year.
"I now run into practicing lawyers who are Sutherland Scholars, all the time," she says. "I charge them all with doing their part as change agents, and they are out there doing it.
"For every one of us, there is somebody looking up to you. If you are a college freshman, there is a 12-year-old in your church or community who thinks you are the coolest thing ever. That notion that 'Each one, pull one'? At a time when so many people could focus on their own goals, our Sutherland Scholars are aware of the need to lift as they climb." 
Then there's the pro bono work.
Lawrence-Hardy remembers representing Mexican farm workers who had not received the wages they were entitled to under the Fair Labor Standards Act in a class action. "It wasn't about a dispute of law," she says. "It was about them not being empowered to do anything about their rights."
After she won the case, she got a call to come to the reception desk, where several of the workers she'd represented stood holding a peach pie they'd baked to say thank you. "That's when I got hooked" on pro bono work, she says. 
As for work-life balance? After reading Anne-Marie Slaughter's influential article "Why Women Still Can't Have It All," she realized that the description of women who compartmentalize their lives fit her. It concerned her—that young women don't hear powerful women saying that being a mother is important. "One time I gave a baby shower for an associate and she got a book that happened to be my daughter's favorite at the time. I quoted the last line of the book. The whole table turned around and looked at me, open-mouthed. I'm a Type A lawyer and a Type A mom—but I never talked about [the latter]. I didn't share it with the women associates."
It's a realization that recalls what happened when she asked Judge Black to be part of her wedding ceremony. "Judge, you sound happier now than when I called to tell you I made partner," Lawrence-Hardy said. "And she said, 'Allegra, I always knew you'd make partner. I never thought you'd get married.'"
Search attorney feature articles