Feet on the Ground
Teri Plummer McClure ensures that UPS runs smoothly
Published in Super Lawyers Business Edition 2012 magazine on August 15, 2012
Updated on August 27, 2012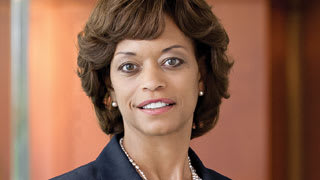 Teri Plummer McClure's love for the law might be in her DNA.
"My grandfather was a lawyer, but he didn't go to law school. He sat for the bar the old-fashioned way [reading for the bar, apprenticing under an attorney and then taking the bar exam] and was a great advocate for the people in his community," says McClure, general counsel, corporate secretary and senior vice president of legal, compliance, audit and public affairs for UPS Inc., the Fortune 500 package delivery company based in Sandy Springs, a suburb north of Atlanta.
"Coming up as an African-American in Kansas, there wasn't really an opportunity for my grandfather to make a living practicing law," she says. "But when he retired from the post office after more than 30 years, he hung out his shingle."
Louis Plummer Sr. practiced law for many years, including 10 years as a solo practitioner, working a lot of court-appointed cases and making a lasting impression on his granddaughter, who spent many evenings with him debating sports, politics, entertainment, local affairs—"pretty much every issue under the sun," says McClure. "We could debate anything in my family."
The little girl who once thought it would be cool to be an oceanographer ("I was big into Flipper," she says) is today one of the top executives—a member of the 10-person management committee—for a $53 billion company that delivers more than 15.8 million packages to more than 8.8 million customers each day in 220 countries and territories. She recently returned from a trip to one of those countries, the Netherlands, as UPS is in the process of negotiating its acquisition of Dutch shipping company TNT Express. If that $6.8 billion deal closes in the third quarter as expected, it will be the largest acquisition in UPS's 105-year history. 
McClure's home base is the expansive UPS campus, in what could pass for a nature sanctuary: set in a forest with a creek running through the land, dotted with just a few concrete and glass buildings—a place where the modern and the rustic merge seamlessly.
Though she's miles and decades from her Midwestern youth, McClure has kept close the lessons she learned in her grandfather's sitting room in Kansas City, Kan. When she was honored as one of 2009's Women Worth Watching by Profiles in Diversity Journal, McClure wrote of her grandfather: "He taught me the value of being able to articulate a well-reasoned opinion and to never back down when my position is challenged. I learned to speak up for the things that are important to me."
McClure honed her arguing skills as a young teen when she took a speech class in school, with a teacher who emphasized the art and science of debate. Soon after, she was imagining for herself a future as a great trial attorney.
Then she had her Hallmark moment.
McClure's dad, Louis Plummer Jr., worked for Hallmark Cards, based in Kansas City, Mo., just across the state line from the family's home in Kansas City, Kan. Through a program called INROADS, which creates internship opportunities for minority youth, she worked there for five summers, including one in the corporate legal department.
"That was my introduction to labor-employment and corporate law," McClure says. "They allowed me to see some [Equal Employment Opportunity Commission] cases, let me go to an EEOC hearing, gave me a glimpse of what it was like to work in a legal department at a large corporation."
The experience gave her an appreciation of what it was like to practice the law in a boardroom instead of a courtroom.
"I know it's corny," she says, "but in my law school application, I really did write that I was interested in using the law to help companies operate in a profitable manner while complying with all the laws and rules that govern them."
She earned a bachelor's degree in marketing and economics from Washington University in St. Louis, Mo., then decided on Emory University School of Law.
"In the 1980s, being an African-American woman, Atlanta's environment seemed interesting to me," she says. "Kansas is something like 2 percent African-American, but I'd been to Atlanta before. After my grandmother died, I drove my grandfather there for a bridge tournament.
"It was my first exposure to the mecca, you know—I'd never seen so many black people before. So I thought, 'This is OK. I'm going to Atlanta for law school.'"
Atlanta billed itself as a racially harmonious capital of the New South—"the city too busy to hate" was its motto. It had a history of strong African-American civic, political and business leadership, and was the home of Martin Luther King Jr. and powerful political leaders like mayors Maynard Jackson and Andrew Young.
"Atlanta is an interesting place. There's a big difference in how Atlanta handled the civil rights movement and how other cities handled it, and it's largely a result of the corporate community working to move through a turbulent time in a manner that allowed the city to thrive and grow," she says. "Business and civic leaders came together to help Atlanta move proactively through those times.
"You still have very strong civic- and social-minded leaders in the business community here, executives who have become community-minded leaders."
McClure has found herself among those leaders. She received the Emory Law Distinguished Alumni Award in 2008, and the Scales of Justice Award in 2010, a national honor given by the Washington, D.C.-based nonprofit Equal Justice Works to attorneys who promote justice, equality and diversity through public service and pro bono work. But she sees it all as part of the UPS team philosophy.
"[UPS has] a company culture that encourages a commitment to community," she says. "For example, they put us in a position—95 percent of our entire legal department—to do pro bono work. It's really a blessing to work for a company with that level of commitment."
The UPS legal department is pretty small for a corporation of some 400,000 employees. It has about 60 attorneys worldwide, and 110 people when including others like paralegals and administrators. And under McClure's leadership, it's become an active participant in providing pro bono legal assistance to the needy.
McClure serves on the board of the Atlanta Legal Aid Society and is former co-chair of the Georgia Supreme Court's Committee on Civil Justice. "That kind of pro bono work is so important," she says. "In the legal profession, you typically have resources available for criminal defense. But lately, more than ever, there's a great need for civil representation. You've seen that play out in the economy, the challenges of the last few years—people dealing with credit-related issues, housing issues, health-related issues, evictions. There's a critical need for legal advice or guidance in addressing those things."
It remains an uphill battle, especially in Georgia, which, she says, "does not rise to the level of most states in providing legal representation," making pro bono assistance all the more critical.
"To have the general counsel of a Fortune 500 firm affirming that access to justice for all Americans is vital just can't be overstated," says Leah Ward Sears, who was chief justice of the Georgia Supreme Court when McClure co-chaired the Committee on Civil Justice. "Teri is one of the most committed lawyers I know, one of the business types that really gets it."
In addition to serving on the board of the Annie E. Casey Foundation (an organization started by UPS founder Jim Casey that aids vulnerable children and families), McClure is a founding member of the Leadership Council on Legal Diversity (LCLD), and serves on its board. So, it was no great surprise that UPS' legal department received a 2011 Employer of Choice Award from the Minority Corporate Counsel Association. It was an affirmation.
"We always want our workforce to be representative of the community that we serve," she says. But there's still plenty of work to do in the legal profession as a whole, she adds. Her advocacy work with groups like LCLD addresses, she says, "the reduced numbers of minorities that are getting into law school, and ultimately, in legal departments. The numbers aren't increasing the way they should, within law firms or in-house departments, certainly not to the level you'd expect to find, given the maturity of the profession."
McClure had similar expectations after earning her J.D. from Emory about 25 years ago.
"I just assumed the legal community would be much more representative, because Atlanta was so progressive," she says. "I was surprised to find out that really wasn't the case.
"There were not large numbers of African-Americans, or any minorities, quite frankly, working in the predominant law firms. There certainly weren't many partners who were black at the time. It was a rude awakening."
McClure says she learned to be comfortable in offices where she was one of the few women or minorities practicing law. Her first gig out of law school was at Ford & Harrison, a firm specializing in labor and employment law, where she made a lifelong friend in managing partner Lash Harrison. "He was very welcoming and was trying to open the firm up at the time in terms of diversity—there might have been one other African-American in the firm at the time," says McClure. "I won't say it was lonely, but you definitely felt isolated in some respects. Still, there were people who were very supportive and encouraging."
She focused on labor and employment-related civil litigation during her time in private practice, which later took her to Smith, Currie & Hancock, then Troutman Sanders. She enjoyed the work, for the most part, but it wasn't quite what she was looking for.
"I remember dealing with a case, a dispute over what couldn't have been more than $35,000 or $40,000, going back and forth on stupid procedural processes and thought, 'This is no fun,'" she says.
The fun came later, in 1995, when at 32 she joined the UPS legal department as a labor-employment attorney. The company had moved its world headquarters from Greenwich, Conn., to Atlanta in 1991 and started expanding its legal department.
"I got a call from a partner I used to work for who said, 'UPS is looking for someone with your kind of background, and if I were 10 years younger, I'd take the job and buy a lot of stock.' You know, I hadn't even thought about stock before then," she says.
The company's culture reminded her of her days at Hallmark. She recognized what she saw as similar egalitarian standards, a commitment to community and a culture of promoting from within. She took the gig and hasn't looked back.
There was some excitement early on with a nationwide Teamsters strike in 1997 that cost the company millions of dollars and temporarily lost customers over a couple of weeks. "It was interesting and challenging, to say the least, to see how the company worked internally to address the issues," she says. "I learned that what you hear on the news and what you see from the outside doesn't necessarily reflect the issues that were truly at the heart of the negotiations.
"It was also kind of frustrating because while the company was trying to bridge the gap and address union demands, you saw how competitors tried to use the situation against you. But you also saw how everybody pitched in. We had people from the legal department and throughout the company going out and delivering packages, whatever it took to satisfy the needs of the customers."
What McClure wanted was a place where she could grow, and do work she actually enjoyed, and felt invested in. "I enjoyed private practice, but working in-house is not just a matter of resolving a controversy, which is typically what your outside counsel does," she says. About 80 percent of her department's budget is spent on external legal services, the rest on internal administrative costs.
For example, UPS engaged the firm of Freshfields Bruckhaus Deringer in the TNT Express deal, an acquisition that would increase the Atlanta-based firm's international footprint, a reflection of how the company has changed during McClure's career.
"When I began in the legal department, we were, for the most part, a domestic small package business with our employee base largely in the U.S.," McClure says. "As the company has grown and diversified, we face a broader range of legal issues."
In Europe, she notes, privacy laws are "much more stringent."
"In this country, we don't have some of the same laws that the European Commission has enacted, so we have to be concerned with how we move data in Europe," she says. "We have to be concerned about the technology we use to track our drivers and vehicles, and sometimes you need government approval for how that technology is going to be used, to ensure it's not violating the privacy rights of customers, employees, vendors and suppliers."
Though the global package delivery company crosses state and international borders every day, McClure points out a very low accident rate—less than one per million miles traveled. Still, it is another area that employs the use of the company's risk management team.
"Our in-house lawyers are managers of the legal process, the conduits between the outside counsel who are typically involved in litigation, and our business teams. Our department lawyers can identify potential land mines, evaluate risk, act as the eyes and ears of the organization.
"I feel like I'm serving a much more productive role now than I ever did in private practice, just resolving conflicts."
McClure calls herself "an issue-spotter for the larger strategies of the organization—for example, if we're looking to go into a new line of business."
"Several years ago we rolled out a priority and focus on the health care market, a new area for the company. [The department/business] began by recognizing that there are layers and layers of regulations and rules we have to comply with if we're going into the distribution and supply chain support for health care entities," she says. "It's a costly process, complying [with] state licensing procedures and DEA [Drug Enforcement Administration] procedures, and we're governed by a number of different regulatory agencies. And it's a legal process, making sure we are not violating regulations with respect to the distribution and storage of controlled substances. There was no UPS rulebook for this at the time, so we basically had to create this new, huge checklist."
McClure's 17 years with the company have had twists and turns, including total departures from the legal department—in 2003, for example, she became vice president of operations for the Central Florida District.
"With UPS, you just never know," she says. "You go where you're directed. But this was a developmental opportunity. If you want to advance in the organization, it's a good idea to have some real business experience, so I was grateful for the opportunity."
As an operations leader, she had 4,000 people working under her, several thousand brown package cars she was in charge of, and she developed a different point of view.
"You go from the legal department, looking at long-term, big-dollar issues, into operations, where you are concerned about delivering packages today, measuring pennies, and measuring hours and seconds," McClure says. "It's a very different way of thinking out there on the front line, that focus on the seconds, on the minute and the hour, getting all those packages delivered. You develop an appreciation, a sensitivity that helps inform how we go about rolling out wide-ranging corporate decisions, products and service offerings."
Following special assignments in UPS logistics and distribution, and a stint as UPS compliance manager, McClure returned to the legal department and was ultimately promoted to her current post as general counsel. She believes those special assignments, and especially her time in operations, prepared her for the role. But an old friend believes it might add up to something bigger.
"My early impressions were, here is a very bright, very capable, super person," says Lash Harrison, now of Ford & Harrison, who first hired McClure out of law school. "Teri is someone who can absorb a lot in a short period of time. Maybe that's how she can devote so much of herself to the community.
"She's wrapped her arms around everything she's done at UPS, and it's made her an excellent adviser," says Harrison. "But in my judgment, she's capable of being much more than general counsel. She can certainly be CEO of a large organization, because she understands people, she understands organizations, and she's got her feet firmly on the ground."
Other Featured Articles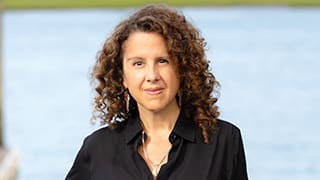 The Complete and Total Badass
Nina Pirrotti on fighting the good fight Featuring Nina T. Pirrotti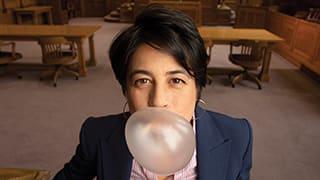 'The Legacy We Leave'
IP attorney Julia Markley on Portland creativity and the two affinity Bars she helped found Featuring Julia E. Markley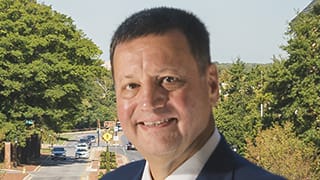 On the Wall for Justice
For Bruce Plaxen, it's about the law, his clients, and what's right Featuring Bruce M. Plaxen