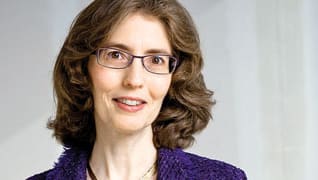 Photo by: Stan Kaady
First and No Longer Counting
Linda Klein is exemplary; back in the day, she knew she had to be
Published in 2012 Georgia Super Lawyers magazine
By Tom Barry on February 17, 2012
In 1994, Linda A. Klein, a construction attorney with Gambrell & Stolz, became the first woman elected to serve as secretary of the State Bar of Georgia. Newspapers across the state carried the story.
But what followed was unexpected.
"I started getting calls from all over the state," says Klein, "from women who were the victims of domestic violence. They'd say things like, 'My husband hits me, and in front of the children.'
"Those calls changed my life. I had to do something."
Klein knew nothing about family law but tapped into the network of lawyers who helped her win office, asking each attorney to take a pro bono case and assist a victim.
Then came another surprise.
While willing to handle multiple pro bono cases, the lawyers were reluctant to touch those involving domestic violence. "The last time they'd had one, the husband had come to the office with a gun or [approached the lawyer's] wife at the grocery store," says Klein, relaying their stories. "We couldn't find help for those who needed it most."
Meanwhile, Georgia Legal Services Program and the Atlanta Legal Aid Society faced huge cutbacks in federal funding. "They had to turn so many people away," says Klein. "It was heartbreaking. They told me 85 percent of those who sought help had domestic violence in their background."
Other factors compounded the heartbreak. "Studies show that when children witness domestic violence, the boys become violent and the girls wind up in the same kind of relationship," she says. "You have to break that cycle of violence."
So when she became state bar president in 1997, her top legislative priority was funding to assist domestic-violence victims. Battling long odds, she organized 66 community groups to push the cause, rallied local bar associations and public officials, and rebuffed efforts to cut the $2 million request—designed to help 4,000 families—in half.
"We got the $2 million," says Klein, now with Baker, Donelson, Bearman, Caldwell & Berkowitz. "A small amount of money made a huge difference. The program returns more in benefits than it costs, and it's still going."
"Linda's brilliant, and she's tenacious," says Carol Hunstein, chief justice of the Supreme Court of Georgia. "If you give her a job to do, you can count on it getting done. When Linda campaigned for me, she'd be up at 3 in the morning, worrying about what to do next."
Over her 28-year career, Klein has also pursued causes such as the advancement of women in the corporate arena and the promotion of green energy and sustainable development; and she's done it while breaking gender barriers herself.
She is the first woman to serve as president of the State Bar of Georgia—the second will take office this year. Hired out of law school in 1983, she was the only female lawyer at Nall & Miller. She was the first female attorney at Martin Cavan & Andersen and the first female managing partner at Gambrell & Stolz, at a time (2001) when few women held comparable positions in Atlanta legal circles.
"I became a lawyer when we were still counting firsts," says Klein, 52, a past recipient of the Margaret Brent Women Lawyers of Achievement Award, the American Bar Association's highest honor for women lawyers. "I look forward to when we're not counting anymore."
She was always on a fast track. Klein graduated from high school at 16, Union College in Schenectady, N.Y., at 20, and Washington and Lee University School of Law at 23. She credits her parents—her father was in construction, her mother a homemaker—with instilling the need to bring a sharp focus to attaining her goals.
"Unlike the other little girls, I didn't see myself becoming a ballerina or a nurse," she says with a laugh. "I was more interested in business."
She credits her grandparents with instilling other life lessons.
The wisdom her maternal grandfather dispensed is vivid in her memory. On the eve of the Great Depression, he opened a grocery store in Queens, N.Y. As a girl, Klein would listen to his stories about how the store survived because it was located near a factory that remained open. He'd also describe how food for the poor would be distributed.
"The rich ladies, wearing their gloves, would come into the store, sit on a stool and decide what the poor would eat that week," Klein says. "If you were Italian, you wanted pasta, but if the ladies decided you'd eat potatoes, that's what your family got."
After the rich ladies left, her grandfather would sometimes change the plan. "He said you should never treat people that way. Let them have their dignity. Just because you're poor doesn't mean you can't make good choices for yourself. It was a life lesson I learned at a very young age. … My grandparents were a big influence on my life. They were charitable and very much interested in community, which may explain a lot of my activities."
Klein is a longtime member of the Board of Directors Network (BDN), a nonprofit focused on increasing the number of women in the executive suites and on the boards of Georgia's public companies. As network president in 2001, Klein launched an effort to put more women of color on corporate boards.
"Linda brings her influence, passion and compassion to anything she does," says BDN Executive Director Rona Wells.
Southface Energy Institute—an Atlanta nonprofit that promotes sustainable development—is another cause. "It's about making the environment healthy as well as saving energy," says Klein, the immediate past board chair. "It's also about the economy. Georgia doesn't produce or refine oil, so we send money out of state whenever we import energy."
Then there's her day job.
Klein's legal portfolio includes most types of business dispute resolution, from construction to contract to employment to liability law. Entrepreneurs, colleges, construction companies and pharmaceutical firms are listed among her clients.
"Solving people's problems is what motivates me to be a lawyer, whether as an advocate, counselor or mediator," says Klein, whose 16th-floor Monarch Plaza office overlooks Lenox Square Mall in Buckhead. "What's nice is that I don't have to do the same thing every day."
Klein arrived in Atlanta in 1983, in an era when some law firms would take potential hires to strip clubs as part of the recruiting process. One silk-stocking firm got a black eye in the media for planning a wet T-shirt contest involving summer associates.
"I avoided those people and those law firms that recruited in such a manner," Klein says. "I was often the first woman, and I knew I had to be the exemplary professional. If I wasn't, it could harm things for other women in the future."
Chief Justice Hunstein adds: "Even when I took the bench in DeKalb County in 1984, women lawyers weren't supposed to be in court, and judges would tell you that. Everyone thought you were the reporter or the clerk. You were referred to as 'honey' or 'little lady,' and it was rare for a woman to be hired by a large law firm."
Fresh out of law school and anxious to acquire trial experience, Klein joined Nall & Miller, where she represented doctors, attorneys and architects in malpractice litigation. Three years later, she moved to Martin Cavan & Andersen, a firm largely integrated into Gambrell & Stolz in 1993. There she served as managing partner from 2001 to 2007, when the firm merged with Baker Donelson.
"Linda really helped break those barriers," Hunstein says. "She's been a partner and a managing partner for a long time. She knows how to get along and how not to play the gender card. Linda presents herself with confidence and self-assurance. She's just herself."
"She's probably one of the most powerful women lawyers in the country," says Steven Lesser, a Fort Lauderdale attorney who has opposed Klein in court. "Linda's a great strategic thinker who's dogged in representing clients. She can take a complicated situation and break it down quickly, then relate it so a layperson can understand. She has an uncanny ability to process information."
Lesser also has seen Klein in action at sometimes contentious ABA forums involving bright minds and large egos. "Linda leads with a cool head and knows how not to offend people."
"She has all the skills you'd want in a managing partner," adds David Gambrell, a former U.S. senator. "That's supported by the fact that she's remained managing [shareholder] of the merged firm."
Construction law is her area of concentration. Klein received an intensive tutorial in the practice area in the late 1980s while representing the owner of a $300 million resort in a dispute with the general contractor. "I was amazed at the law's complexity and at all the pieces that have to come together on a large project," she says.
Though she shies away from discussing cases and clients—per firm policy—she does mention that one client is Andrew College in Cuthbert. The relationship began years ago and evolved to where Klein now serves as general counsel, says President David Seyle. In recent years, Klein has worked on the litigation to enforce the gifts the college has received, including a pitched battle over a New York City brownstone donated by an alumnus. The gift was later contested, and the case went all the way to the 2nd U.S. Circuit U.S. Court of Appeals, which ruled in Andrew's favor. The brownstone sold for $4.5 million, making it the second-largest gift in the college's history.
"She helped us with all sorts of issues that got tangled up on that property," Seyle says.
"Lawyers talk about legal issues," Klein says, "but I want to solve problems rather than work on the novelty of an issue."
Klein now chairs the American Bar Association's 560-member House of Delegates, its policy-making body. "I get to work with brilliant lawyers and learn about areas of the law I don't know much about."
One ongoing project is Ethics 20/20, aimed at adapting conduct rules to reflect technological change as well as the effects of globalization on the profession. "One thing we're looking at is cloud computing and how to ensure that client data is safe. Another is medicine, which is prolonging life and affecting things like powers of attorney."
Despite winning prominent races within the legal profession, Klein has no ambition for public office.
"There was a time years ago when I was contacted by both parties," she says. "But I don't see myself as a politician. My focus is on my clients. I love being a lawyer. … Every day a door opens and I try to walk through it."
Search attorney feature articles