On the Road
Why travel makes Alfred Chang a better lawyer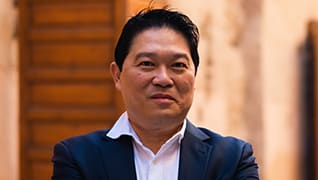 Published in 2023 Georgia Super Lawyers magazine
By Kenna Simmons on February 6, 2023
Some people do crosswords puzzles to exercise their brains. Alfred Chang travels—as often as he can. When the family law practitioner isn't at home in Cumming, he's on the road to China, Vietnam, Spain, Morocco … name a spot. Wherever Hope and Crosby went, he's either been or has it on his list.
Born in Hong Kong, Chang has practiced in North Georgia since 1999 and likes to joke about being an "Appalachian Asian lawyer." His travel habit started about 10 years ago when a friend died unexpectedly. "He wanted to travel after he retired, and I just thought, 'I'm not going to have that happen to me,'" Chang says.
Travel isn't just fun; Chang believes it can help rewire the brain. "You get used to things that happen on a daily basis," he says. "So when you show up in a place where people speak a different language or view things differently—or just where things are arranged differently—the brain has to work extra hard to organize your thoughts. Above all, it tells you there's more than one way to solve a problem."
And that, he contends, helps make him a better lawyer. It's like exercise, he says, only instead of a runner's high, it's a traveler's high.
A fan of the late Anthony Bourdain, Chang is usually curious to sample the local cuisine. He says he's never had a bad pasta dish in Italy, and happily eats octopus and goat but draws the line at reptiles or centipedes. One item he won't be ordering again is balut, a fertilized duck egg that's popular in the Philippines and Southeast Asia. "It is, in effect, an embryo," Chang says. "It's really chewy. You feel like you're eating a gummy little bird. It's pretty gross."
He likes to go off the beaten path. His first stop in London wasn't Parliament or the Tower, but the Prime Meridian in Greenwich. "That's where time starts rolling every day," he says.
A good travel companion helps, too. "It's as much about the people you go with as where you go," he says, recalling a trip to Iceland with his father and a jaunt to Istanbul with family in 2020—a destination chosen because it was one of the few places they could travel during the COVID shutdown. "There's nothing like sharing an adventure. You can't really go wrong. Do you want to go to Istanbul, or Paris, or Rome? It's going to be a great trip, you're going to have a great time and it's going to be fun."
Chang travels regularly with a group of friends. "We call ourselves the UN crew," he says. "I'm Asian, another friend is African American, one is Hispanic and then we joke there's a token white guy." He thinks they may have been one of the last groups leaving the UK before it shut down in February 2020. But instead of letting it slow him down, Chang turned COVID travel restrictions into an opportunity to start visiting U.S. national parks, including Zion, Arches and Bryce Canyon in Utah, and Yosemite in California. National parks, he says, "is one of the best things about America. And we came up with the idea!"
Last fall, Chang was excited to fly to Morocco with his family for his first trip to Africa. His family isn't quite as adventurous when it comes to local cuisine, so he's hoping they'll enjoy tajines (various stews named for the earthenware pot they're cooked in). He also hopes his daughter isn't getting spoiled. "I joke that she's the best-traveled kid in her school, probably more than her teachers," he says. "But I've made this bad mistake—I recently started flying business class. So now I have this almost-11-year-old saying, 'Are we going to be flying business class?'"
More seriously, travel helps him see what people all over the world have in common. "When you see a mother in Cambodia standing in line since 4 o'clock in the morning to make sure her child can see a doctor," he says, "you understand that mothers in Cambodia love their kids just as much as mothers in America."
Search attorney feature articles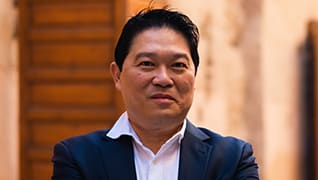 Featured lawyers
Helpful links
Other featured articles
Ty Cobb, a distant relative of the famous ballplayer, is a big gun on whom powerful people rely
To this Columbus lawyer, it's all about listening before jumping in
How Sharonda Williams helped save the mayor and overhaul the NOLA police department
View more articles featuring lawyers
Find top lawyers with confidence
The Super Lawyers patented selection process is peer influenced and research driven, selecting the top 5% of attorneys to the Super Lawyers lists each year. We know lawyers and make it easy to connect with them.
Find a lawyer near you