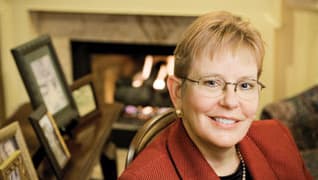 Photo by: Stan Kaady
Putting the Puzzle Together
Elder law attorney Ruthann Lacey blends professionalism with compassion
Published in 2011 Georgia Super Lawyers magazine
By Tom Barry on February 17, 2011
Visit Ruthann P. Lacey's law firm in Tucker, Ga., and you'll find a waiting area stocked with family photographs that trace her ancestry to the Nebraska plains. Her grandfather's old desk, from the farm on which she spent long hours as a child, anchors one wall.
"People are drawn to those pictures, and they're a good match for our [law firm] culture," Lacey says. "We're all about helping families work together to solve problems and provide the best quality of life."
Lacey has forged an impressive reputation in elder and special needs law, a complex legal field demanding a nuanced grasp of Social Security, Medicaid, disability, estate and trust law—plus the ability to bring together sometimes contentious relatives in common cause. Or at least minimize their friction.
"It's like putting the pieces of a big puzzle together," Lacey says. "People may come in thinking the sky is falling but leave believing they can have a higher quality of life than they thought they were going to have. I can go home at night knowing I've made a positive difference in someone's life."
While many lawyers practice elder law, there are only 419 certified elder law attorneys (CELAs) in the U.S., according to the National Elder Law Foundation, which puts lawyers through numerous hoops to attain certification. Georgia has a mere seven CELAs, including Lacey, among its 42,000-plus attorneys, despite an aging population. (The U.S. Census Bureau projects that 15.9 percent of Georgians will be 65 or older by 2030, versus 10.2 percent today.)
 "I'm surprised there aren't more attorneys in Georgia who are concentrating in this area," Lacey says. "I don't know why, except there's a high barrier to entry. … Lots of individuals dabble in elder law, but in my opinion you really can't do it if you're also working in other areas."
For years, Atlanta attorney William Overman was Georgia's lone CELA, before Lacey joined the ranks in 2000.
"You have to understand all these family dynamics to achieve the most success for your client," says Overman, a former president of the National Academy of Elder Law Attorneys. "You almost have to be a frustrated social worker at heart."
Lacey's practice is not marked by big lawsuits or fiery courtroom summations but by small yet life-changing measures. It's about structuring ways to care for an aged parent in a time of sky-high nursing home costs; meet the dizzying needs of a disabled child; or enable a paralyzed accident victim to live an independent life.
"Life is important regardless of circumstance," says the 49-year-old Lacey, whose work reflects her Christian beliefs. "Just because you're old or have a disability doesn't make you less valuable or less worthy of our making sure that you're comfortable and have what you need."
Nancy Browne can attest to that. Her husband, Coleman, was only 57 when he was diagnosed with Alzheimer's disease, and for nearly a decade—up to his death in 2005—she watched him slowly slip away.
Caring for Coleman, a longtime Delta Air Lines employee before going on Social Security disability, was a physical and emotional struggle. For several years, Browne also cared for her aged mother. Eventually both were placed in assisted living facilities.
"I had to do it," she says. "I was exhausted."
Lacey helped Browne set up a trust to provide for her husband's needs. She also executed wills and other legal documents.
"Ruthann has a beautiful way of blending professionalism with a compassionate heart," says Browne. "She exemplifies her faith, and that was very important to me. Ruthann knows what she's talking about, and she gave me appropriate feedback. It wasn't always what I wanted to hear, but it was what I needed to hear."
The hardest moment came when Coleman signed his rights over to his wife. Disease-induced mistrust on his part blended with guilt feelings on hers.
"It was very hard for him to put the pen on that piece of paper," Browne says. "Suddenly I'm making all the decisions he used to make. I was his loving wife of many years, but Alzheimer's causes all sorts of [trust] issues. Ruthann was right there, reassuring him that this was for his protection and mine. We worked through everything, and she was a huge help.
"Her whole staff, in fact, is so attentive and sincere," Browne adds. "I don't ever remember going to her office and not feeling cared about, respected and listened to. When I walked into that office, I felt like I was coming home."
Ruthann Pramberg grew up in Gothenburg, Neb., a rural town settled by Swedish immigrants, including her great-grandparents, in the late 19th century. Her father was the local postmaster, her mother a nurse.
"My family took a summer vacation every year," Lacey says, "and by the time I graduated from high school, I'd been coast to coast. My parents encouraged me to see what else was out there and [to pursue] my passion."
An accomplished pianist, Lacey turned down a scholarship to the University of Nebraska—"too big for a small-town girl"—to attend Trinity College outside Chicago, where she majored in music. She considered getting advanced degrees to teach in college but decided "that wasn't the life for me."
Instead, Lacey worked as a paralegal for a Chicago law firm before moving with her husband, Craig, to Atlanta in 1987. "I'd always had an interest in the law, but never believed I could be a lawyer," she says. "Working as a paralegal helped me realize I really could do what they do."
After another paralegal stint—at King & Spalding—she entered Emory University School of Law.
"I'd worked on large real estate transactions, where you spend weeks getting all your t's crossed and i's dotted," she says. "Then the big closing takes three or four days. It was all very exhilarating. And I thought I'd eventually go back to King & Spalding or some other large firm and continue that kind of work."
A radio program opened a new path. It was the summer after her first year at Emory, and she was listening to a call-in show on the law. "The attorney [told a caller], 'You need an elder law attorney.' That was the first time I'd heard the phrase, and it piqued my interest. The more I learned, the more I realized elder law pulls together a lot of the substance areas of the law that I enjoy."
Family was a factor as well. Her son, Kevin—now a Georgia Tech student—was born while she was at Emory. "All of a sudden, I didn't care about working [long hours] for a large law firm, getting big transactions done for some big corporate entity. I wanted to control my own destiny, have a schedule that accommodated my son, and get the satisfaction of helping families."
After graduating in 1992, Lacey was an associate under Overman, then launched her own practice from home in 1995.
"She was on the cutting edge of all this, when elder care was just starting to become a recognized area," says Atlanta attorney Tom Gould. "Ruthann put herself out there when others wouldn't, and that took courage. … I sometimes refer clients to her, and the reports I get back are always very positive."
Today, Lacey heads a two-attorney firm—including fellow CELA Heather Durham Nadler and practice manager William McCormick—from an idyllic office setting near Northlake Mall. The cases aren't always idyllic.
"If siblings had conflicts as children, those issues are likely to come out now that they're 60, the parents are gone and the will is being probated," Lacey says. "So much of this job is navigating emotions and figuring out what's important to different people. It's about keeping the peace and helping family members have good relationships.
"I had one case several years ago where everything was divided equally among the five children," Lacey says. "What it came down to was fighting over things like greeting cards. It was, 'I sent Mama this birthday card when I was 9, and I want it back. But my brother is out to get me, and he wants the same card.' Silly stuff like that."
Overman recalls a case on which he worked with Lacey that "was like World War III." Two elderly aunts with no children needed special care, yet all the nieces and nephews could think about was who would eventually get what. "They almost came to blows," he says. "It's unbelievable the stuff that comes out in elder law. You find out things about families you really wish you hadn't."
A major victory for Lacey came last July, when the Supreme Court of Georgia denied a challenge to a will involving a $1 million-plus estate. The woman signed the will—drafted by Lacey's firm—in the ICU of a hospital two days before her death. The challenge contended the woman was not of sound mind at the time, but the high court unanimously ruled otherwise. "I'm proud of that decision," Lacey says.
It didn't take Lacey long to add special needs cases to her portfolio, prompted by 1993 federal legislation allowing for the creation of trusts to benefit younger people with disabilities. Her current practice is roughly three-fifths special needs and two-fifths elder law.
"The legal issues are similar between a younger person with a disability who is eligible for things like Social Security and Medicaid and elder clients who also are looking at public benefits eligibility," Lacey says. "You also have capacity issues: 'Can this person sign a power of attorney? Does someone need a guardian or conservator?'"
Moorestown, N.J., attorney Thomas D. Begley Jr. says Lacey has a national reputation in special needs law.
"Trusts are very restrictive," says Begley, "and she's very good at figuring out the options."
Like Lacey, Begley is a member of the Special Needs Alliance, a national nonprofit for attorneys practicing disability law. Lacey chairs the membership committee.
"Ruthann's customer service is very good, and she seems to have good relationships with her referral sources, who are often personal injury attorneys," Begley says. "You might have a medical malpractice case involving a child that's settled for millions of dollars, but if he takes the money, he'll lose his Medicaid and SSI [Supplemental Security Income] eligibility, unless the money is put in the right kind of trust."
Mary Raulerson, who lives near Augusta, knows how critical such trusts can be. Three of her five children have special needs: 8-year-old Cole; 6-year-old Alex, who's severely disabled; and 2-year-old Marc, whom she and her husband, Brent, adopted.
Cole was born with a chromosome abnormality, and the Raulersons feared Alex would be impaired as well.
"We had an amniocentesis done, and the results came back that Alex was going to be a healthy child," Mary says. "But the lab said it performed a test that was never done. The test would have shown Alex had the abnormality, and we would have terminated the pregnancy. When he was born, it was really, really bad. He wasn't expected to live a day."
Guided by Lacey, the Raulersons had a special needs trust established for Alex, funded by a settlement with the California laboratory that had failed to perform the critical test.           
The trust money has allowed the Raulersons to buy a van; move into a one-story house with wide hallways and a special-needs bathroom; and get a swingset that lets Alex play outside. They even take the occasional night off, with teenage daughter Destiny paid to babysit.
In short, they have some semblance of a normal life.
"Ruthann really listens to us," Raulerson says. "If we need something, she makes it easy to ask. But she also has the ability to say no because she's adamant that the money will be there if needed. If something happened to me and my husband, we know Alex will be taken care of.
"Without the trust," she adds, "we'd still be living in a house where we couldn't even give Alex a bath. Alex has a short time to live—13 years is the expected life span. He loves his Mommy. We spend all our time together."
Search attorney feature articles