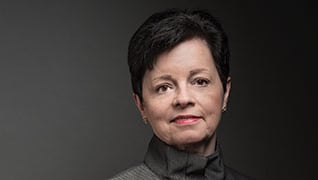 Photo by: Stan Kaady
The Professor
Chilton Davis Varner lives for teachable moments
Published in 2018 Georgia Super Lawyers magazine
By Jerry Grillo on February 22, 2018
April 1992, Rita Meenach was driving her sister's 1990 Cadillac Seville, heading west on I-64 near Owingsville, Kentucky, when she had a seizure and lost consciousness. Her mother, in the front passenger seat, steered the car off the road. It rolled over a ditch, up a bumpy embankment, and plowed through a thicket of young pines before knocking over a fence, where it finally stopped. 
Meenach was still unconscious minutes later when the fire started—smoke and flames surging from under the hood. Her mother, her sister and motorists who pulled off the highway couldn't release Rita's seat belt. It took a rescue squad, which arrived about 30 minutes later, to put out the fire and pull the badly burned driver from the wreckage. Rita died from her injuries four weeks later. 
"There's just no way that you couldn't feel for the family," says Chilton Davis Varner, a civil litigator at King & Spalding in Atlanta. "I felt deeply for them. And yet I was convinced that neither the fuel system nor the seat belt had been defective."
In the products liability lawsuit brought by Rita's family, alleging that the fuel and restraint systems were defective, Varner represented General Motors, maker of the Cadillac.
"We tried that case for three weeks," she says. "The plaintiff had a whistleblower witness, which is always difficult. But we did all kinds of testing, had great engineering testimony, and the jury found for my client. It was a lesson to me that, if you're a good enough teacher, you can persuade a jury that sympathy should not compel a verdict."
For Varner, every trial is a teachable moment. Those moments are why she got into the law, why she's been such a big success defending an army of corporate goliaths against a procession of Davids, and why, after 40 years—all of them at King & Spalding—she still enjoys going to the office every day.
"I've always enjoyed learning about new things and teaching other people about them," says Varner, 74, whose clients include pharmaceutical kingpins Merck and GlaxoSmithKline. "There's this old adage about trial lawyers. You work on a case and it's like filling up a bathtub. Then you try the case and get the outcome and you empty the bathtub. Then you fill it up with something entirely different."
"Chilton is one of the best in the business because she can master any subject that is put in front of her," says Halli Cohn, a former King & Spalding colleague who moved to Troutman Sanders in 2017. "It's because she has a work ethic beyond compare. She works harder than almost everyone else to master whatever she needs to, then distills the material and makes it understandable for a jury."
Paul Pennock, who co-chairs the drug and medical device litigation group at Weitz & Luxenberg in New York, calls her "the professor."
Pennock opposed Varner in a 2013 bellwether case in New Jersey over femur fractures allegedly caused by the bone drug Fosamax, made by her client, Merck & Co. "As lawyers, we're often portrayed as fighting each other for the sake of fighting, and that does happen. Not with her, though," says Pennock, whose client's case was the first of 3,000 cases against Merck claiming Fosamax caused femur injuries. "She's smooth, like she's the same temperature at all times, same volume, but not monotone—just a very even-tempered presence in the well."
Varner allows for what she calls the "intuitive sympathy" a jury has for the plaintiff, but counters it with calm logic and well-prepared facts. Her cross-examinations are more conversation than confrontation.
"By simplifying both the science and a somewhat complex medical history of the plaintiff, we were able to persuade the jury that the plaintiff did not even have an atypical femur fracture. Instead her fracture was caused by her osteoporosis and a fall on the concrete floor of her garage," Varner says. 
The case had been hand-picked by plaintiffs to be the first trial, and the jury returned a defendant's verdict in less than an hour.
"She's formidable, but not in a knife-fighting way, in a wise and studious way," Pennock says. "When you've got someone like Chilton Varner projecting genuine reasonableness and genuine belief that her client, this massive corporate entity, did nothing wrong—when she can project that easily and effortlessly, you know you're in trouble." 
Anyone who was in the courtroom saw some skillful slicing and dicing by Pennock in cross-examination, heard his powerful opening and summation on behalf of a likable client. They also saw Varner.
"The jury loved her—loved her," Pennock emphasizes. "That accent. We're in the middle of New Jersey, and she has that accent. It reminds you of Gregory Peck in To Kill a Mockingbird. There was no attack going on. There was a conversation, and the professor came out on top."
The Mockingbird reference is apt. For one, it's Varner's favorite book and movie. "The story is set in a small Alabama town, not all that different from the one where I grew up," she says. "And it teaches us that lawyers can and should make a difference."
For a long time, Opelika, once known as the trading center of eastern Alabama, was a textile town—the 1979 movie Norma Rae, about a union organizer at a textile mill, was filmed there. It's also, as Varner says, "cheek to jowl" with Auburn. 
But Varner's father, William Cole Davis, a farmer who also managed farmland for others, wanted his daughter to have a Northeastern education. That's how she wound up at Smith, the private women's liberal arts college in Northampton, Massachusetts. "I couldn't imagine a place like Smith taking somebody from Opelika," says Varner, whose first name was her maternal grandmother's maiden name.
It's also how (not where) she met her future husband, Morgan Varner, who was attending Princeton University.
"Two weeks before I left for Smith, we were introduced by a family friend who thought that any Alabama boy with the gumption to go to Princeton should meet an Opelika girl with the gumption to go to Smith," Varner says. "She was quite the matchmaker, because it worked."
Chilton and Morgan got married in 1965, after she graduated from Smith and as he was beginning his third year of law school at Duke. Unsure what to do with her degree in religion, Chilton considered grad school, but settled into life at Duke, where she took a job in the placement office. "We needed somebody to make enough money to pay the rent," she notes.
Their daughter Ashley was born in Germany, where the family was based while Morgan fulfilled an Army ROTC obligation following law school. They moved to Atlanta in 1969, where Morgan worked several years for the firm now known as Kilpatrick Townsend & Stockton before leaving to start his own firm, which later merged with Stites & Harbison, where he still works. Early on, Chilton was his only employee.
"I was his receptionist, bookkeeper and typist in the mornings while our daughter was at day care," she says. "Then I'd pick her up at lunchtime and Morgan had to answer his own phone. But I liked what he did. I liked the law. I'd been exposed to it at Duke, because I typed his papers and read them and had to understand enough to proof them."
She enjoyed the linear thinking, and, of course, she loved learning and teaching. She was organized and competitive, all essential parts of a trial lawyer's skill set. In 1973, when Ashley started grade school, Varner, then 30, enrolled at Emory University's School of Law. She scheduled all of her classes between 9 a.m. and 3 p.m., so she could drop off Ashley in the morning and be home in time for the afternoon school bus.
Varner started at King & Spalding in the summer following her second year at Emory. She became its second female partner in 1983. She hasn't worked anywhere else since.
"This is a collegial place, and my best friends are the people I work with," she says. "It's hard to think why I would leave."
She rattles off the names of heavy-hitter trial lawyers who were her mentors: Griffin Bell (U.S. attorney general in the Carter administration), Frank Jones (whose legal advice was sought by state leaders like former governor Sonny Perdue) and Byron Attridge (who led King & Spalding's litigation practice). "I worked with all three of those great trial lawyers as a fourth-year associate," she says. "I could not have asked for better teachers."
When she joined the firm, litigation was a single practice group—there were no specialties beyond it—so her caseload had a lot of variety. 
"I worked a number of warranty cases for General Motors, worked contract cases, constitutional law, environmental cases," Varner adds. "Quite frankly, I was happy to steer myself into product liability because it seemed to me—and this was a correct assumption—that it was easier to get into a courtroom as a product liability lawyer than as a general business litigation lawyer. Getting courtroom experience was important to me. That's what I wanted to do."
She's done just that, on some pretty big stages. Varner was lead attorney for GlaxoSmithKline in lawsuits over the company's antidepressant Paxil ("The outcomes in most of those cases were successful for the company," she says). She represented Purdue Pharma in litigation over OxyContin ("We managed to resolve hundreds of cases without trial—either by grants of summary judgment or motions practice"). She led a successful class action defense on behalf of a breast implant manufacturer. 
At first there were butterflies. Actually, there still are.
"You get better at managing them and preparing, so that they're not disabling," she says. "But I don't know if they ever go away entirely. You're representing a client whose fortunes are in your hands. I think there ought to be some butterflies."
Along the way, Varner has been invited by peers and legal giants to serve on, and hold leadership positions for, a host of boards and committees. Among them: She was appointed to the Federal Civil Rules Advisory Committee by U.S. Supreme Court Chief Justice William Rehnquist in 2004, then reappointed by Chief Justice John Roberts in 2007. She was president of the American College of Trial Lawyers (2012-2013). She is currently president of the Supreme Court Historical Society, which was founded at the suggestion of former Chief Justice Warren Burger. 
"It exists to educate the general public about the role and importance of the Supreme Court and the Constitution," she says. "One way in which we fulfill that is by procuring valuable artifacts that reflect the history of the court."
A few years ago, Varner toyed with the idea of becoming a judge herself but decided she was enjoying a career that challenges her every day: defending corporations.
"We don't have the luxury of representing someone that the jury is going to inevitably want to help," she says. "The corporation is never the favored party. So it's my job to learn the science, engineering, history and design that brought the product to market, and to learn it well enough to be able to teach it to a previously uninformed jury."
Apparently she does. "I'm hopeful that I won't have to try a case against her again," Pennock says. 
Search attorney feature articles