'What It Means to Be a Lawyer in the 21st Century'
Four 20-something attorneys on the challenges and the future of law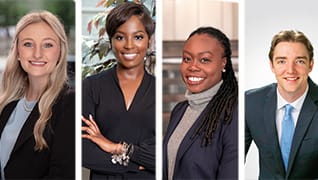 Published in 2023 Georgia Super Lawyers magazine
By Nancy Henderson on February 6, 2023
One wanted to be a biologist, another an anesthesiologist, and a third hoped to play in the WNBA. But there was something that pointed each of them to the law.
For Andrienne McKay, the would-be basketball player, it was a penchant for debate and a weekly ritual of watching Matlock with her father. Medically inclined Alexandria "Allie" Jones became intrigued while binding transcripts and discussing depositions with her mother, a court reporter. "I'd always joke that doctors get sued a lot," Jones says. "And at a certain point I realized I wanted to be the person doing the suing."
Campbell Walker grew up on his family's 10-acre farm in coastal Alabama, in love with animals and insects, and initially leaned toward biology. "I knew I wanted to do something that was really intellectually engaging and dynamic, something that would always offer a different problem and wouldn't be routine," he says. "Law seemed to fit that bill."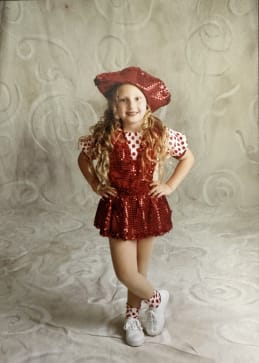 Brittany Barto knew early—by elementary school—that she was headed toward the law, but it was the personal connection she felt with her great-grandmother while watching daytime court TV like The People's Court and Judge Judy that sealed the deal. "We enjoyed talking about the show: 'He was right, he was wrong, what are they doing?'" says Barto. "It was fun for me to hang out and talk about those things with her."
They were all just 9 and 10 years old when Georgia Super Lawyers made its debut in 2004. Millennial tail-enders, they are now using tech skills and a passion for making a difference to pave inroads into the legal profession.
Finding Your Groove
The newest to the profession, Walker and Jones both started practicing within the last two years. A stint at a Mobile, Alabama, firm before law school showed Walker "how rewarding it is to be able to advocate for people who would otherwise be bullied around by the insurance companies. … All my clients are going through really tough times when they come to see me, so I feel
a lot of empathy for them all."
Jones says her practice area chose her. Several internships revealed that personal injury came more naturally than others, perhaps because of her medical knowledge. "There are many ways to practice, and you can kind of find your niche and find your groove and figure out what you're good at. That keeps me on my toes and keeps me excited."
Early on, McKay was interested in public service and cut her teeth at two U.S. federal agencies: Education, and Health and Human Services. But she found herself drawn to trial work and in 2019 began practicing law with a focus on personal injury and wrongful death cases. "There's always something to learn," she says. "Every human story is different."
Barto, who passed the bar that same year, likes the frequent client interaction in labor and employment law. "Whether it's being injured or having surgeries or they've been working and they're not getting paid or they're being harassed at work, these are situations where the people are going through a hard time," she says. "And I like to be able to talk with them and explain the law and help them."
Walker's strong point, he says, is his own upbringing. "I have more context and understanding of where a lot of [my clients] are coming from [who don't have] a lot of means. So I find it easy to connect with them."
Communication is also key for McKay. "I've had a lot of clients say, 'Thank you for your patience,'" she notes. "They're like, 'OK, if she's willing to explain everything she's doing, she must know what she's doing.'"
Getting Down to Cases
They may not have won any multimillion-dollar verdicts—yet—but their early cases mean a lot.
McKay's most memorable case involved a woman who sustained minor physical injuries when a younger driver ran a stop sign, T-boned her car, and slammed it into a third vehicle. The insurance company offered $1,000 to cover her minimal bills, but McKay took the time to understand the extent of the client's lingering anxiety. A magistrate court judge awarded her $11,000. "That's a case that's near and dear to my heart because it was a mini-trial I prepared for all on my own, in the very beginning of my practice," McKay says. "I'm forever connected to that client now."
Barto once represented a nonverbal client with a developmental disability who sustained a severe leg injury in a fall. "It was fighting for someone that can't do it for themselves," says Barto. The case settled for a confidential sum.
In late 2022, Walker was still handling a lawsuit for the family of a young mother killed when the operator of an 18-wheeler jack-knifed the truck across several interstate lanes while using FaceTime. "We've seen [the client's] daughters grow up from the time of the wreck and they've become friends of the firm," Walker says. "That type of connection with your clients is pretty deep."
Not all personal injury cases are quite so heart-wrenching. Jones recently wrangled with an insurance company over the payout for an older client hurt in a car accident who was more worried about losing his damaged golf clubs than his own strains and sprains. "At the end," she says, "I was just proud that I was able to replace his golf clubs and get him back in a happy and healthy spot."

Overcoming Misconceptions
The greatest challenge in her job, says Barto, is overcoming the misconception that young means inexperienced.
"I'm fortunate that the firm I work for has allowed me to experience every part of a case," she says. "I came in as a law clerk. I requested medical records. I sent letters. I've done intake calls. And I've also been a lawyer and taken depositions. I even tried a case recently."
Young attorneys wield an advantage, she adds. "I think our generation has an ability to bridge the gap between technology and human interaction. My age group—we were attempting to code MySpace pages when we were in grade school. … But we also remember that we can pick up the phone and talk to someone."
Occasionally, an older attorney will try to pull rank because they've been practicing longer, McKay says. But her comfort level with technology makes up for what she lacks in job experience. "Doing depositions via Zoom was such a smooth transition for me," she says. "We're kind of back to normal, but I'm still doing exhibits and showing videos via Zoom. That's something that I embrace as a younger lawyer."
"Many of my clients are older than I am," says Walker, "so it's important for me to show them that I have the expertise required to help them through a really tough time." He points out, for example, that he can often identify issues important to younger jurors that older attorneys might not think of. "I think my generation of lawyers is a little less rigid than previous generations. And perhaps that inspires a bit more creativity, not only in the practice of law but what it means to be a lawyer in the 21st century."
"The older generation and the younger generation both have strong suits," says Jones. "They can learn from one another."
Search attorney feature articles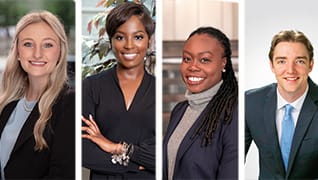 Featured lawyers
Helpful links
Other featured articles
How Ryan O'Connor and a team of attorneys changed Oregon law
Jany Martinez-Ward's personal tribulations inspired her to help the immigrant community
David Bernstein, Noble McIntyre, and Hugh M. Robert donated meals to those in need in 2011, and haven't stopped since
View more articles featuring lawyers
Find top lawyers with confidence
The Super Lawyers patented selection process is peer influenced and research driven, selecting the top 5% of attorneys to the Super Lawyers lists each year. We know lawyers and make it easy to connect with them.
Find a lawyer near you