Why Wait?
How a rare disease gave Musa Eubanks perspective
Published in 2010 Georgia Rising Stars magazine

on February 25, 2010
Underneath his graduation cap and gown, Musa Eubanks wore a hospital gown; and instead of walking to the podium with fellow students to receive his law degree, he sat in a hospital bed barely able to walk across the room.
It was late spring 1996. For months Eubanks had endured unexplained health problems that eventually became too much to bear. "Around January or February I started getting headaches and fevers," he says. The illness caused cramping and made walking difficult, but doctors couldn't pin down a diagnosis. After his last exam at George Washington University Law School, Eubanks checked himself into the hospital.
That hospital room became the setting for two important moments in Eubanks' life. First: graduation. "The associate dean came by with a cap and gown to give me my diploma," Eubanks says. "It was a surreal experience. They took a picture of me sitting there with my hospital gown underneath and IVs coming out of me, getting my diploma. But it was hard because friends would come to the hospital and they were going to grad parties and that's hard for a young person [to miss]."
It was also where he proposed to his girlfriend Barbara. "I got out of bed, wheeled around the room and got down on one knee," he says. "I told her she had to hurry up and give me an answer so I could lie down again."
After a month, Eubanks returned home with his illness still undiagnosed. But the drama wasn't over. As Eubanks was studying for the bar, Barbara began complaining of heartburn. This one didn't go undiagnosed: liver cancer. "In August of '96 they did liver surgery but she never needed chemo or a follow-up," Eubanks says.
Both illnesses, rather than delaying their wedding, sped it up, to November. "We thought, 'Why are we waiting? We know we want to be together,'" Eubanks says. "We didn't think we would die but we love each other so why wait?"
In late '96, Eubanks was finally diagnosed with Adult Still's disease, a form of rheumatoid arthritis. While there is no cure, Eubanks hasn't felt pain from it since the morning of his wedding. Today, both his and his wife's illnesses are in remission, and they are raising four boys.
Eubanks is currently of counsel at Insley & Race in Atlanta. He and his family moved to Atlanta from the Washington, D.C., area in June 2006 for his wife's work as a lieutenant commander in the Navy. Eubanks works mostly in primary employment, government liability and commercial liability, and travels frequently for depositions and trials and to review cases in other parts of the country. He is particularly proud of some of the employment cases he won for Howard University, including an age discrimination and retaliation case that went all the way to the D.C. Court of Appeals, where, he says, "We were ultimately successful. We helped carve out some new law that was employer-friendly."
Eubanks' "why wait" attitude continues to permeate both his personal and professional life. "I think it helps me be a little more focused at work," he says. "You want to do your work effectively and efficiently for your client but then at the end of the day you want to get home to your family."
Other Featured Articles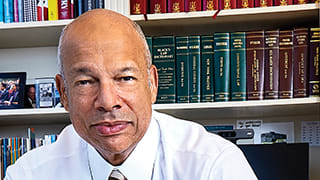 The Public Service Call
Jeh Johnson keeps giving back to his country Featuring Jeh C. Johnson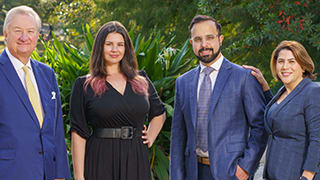 New Frontier
Four immigrant attorneys talk about their paths to law Featuring Erzsebet Pifko, George J. Fowler, III, , Pablo Isaza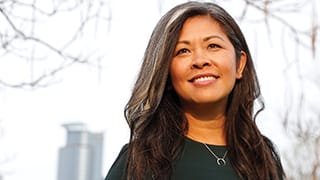 'You're Not Gonna Wear Us Down'
Employment litigator Rachhana Srey rises to every challenge Featuring Rachhana T. Srey