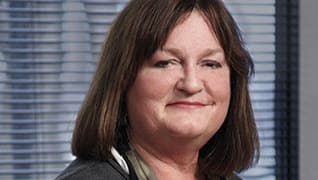 Photo by: Harold Lee Miller
Calm in the Storm
Family law attorney Nancy Cross keeps her cool when others don't
Published in 2014 Indiana Super Lawyers magazine
By Nancy Henderson on February 12, 2014
Some attorneys would have considered the client a lost cause. The woman—who had been married for 30 years, raised four children and worked alongside her husband—had been left with "virtually nothing" from a large marital estate after her divorce. That nagged at Nancy Cross, herself a divorced mother of two.
"I said to her, 'What the heck. We've got nothing to lose. Let's do an appeal on this,'" says the fast-speaking managing partner of Cross, Pennamped, Woolsey & Glazier in Carmel. The outcome surprised even Cross—she not only won a fair settlement for the woman, but it was a leading case in developing state divorce laws for others who had been heavily invested in their spouses' lives and careers.
"There have been women that I've represented that are defeated, emotionally abused within their relationship, and they're used to being told that they're stupid, they can't do anything," says Cross, reflecting on her 35-year career. "I think that I've helped many women see that [their lives are not over], go on to school when they otherwise wouldn't have, pursue occupations that they felt they had no place in, stand up and ultimately become powerful and respect themselves and no longer feel inadequate. … Nothing makes me happier than to see a woman who feels she can accomplish nothing, that she's hopeless and helpless, pull herself up, get a job, and see for the first time that, 'Oh my gosh, there is this giant world out there and I can develop friendships and resources that I didn't think existed.'"
Witty and outspoken with a warm sense of humor, Cross, 59, is considered one of the state's best practitioners in divorce litigation, asset division, appellate work and mediation. Her aptitude for finding creative solutions, considering both sides of an issue and tempering her own frustration, even when her legal adversaries get "all wound up and crazy," make her a formidable opponent, says James Reed, partner at Bingham Greenebaum Doll in Indianapolis.
"Nancy is unique in that she presents a very reasonable position in spite of the evidence," says Reed, who has gone up against Cross in numerous relationship transition cases since 1983. "When you have a case against Nancy, you have to be very careful about what kind of position you take. If you try to take an extreme position, with Nancy that will backfire because she'll come up with a way that's very advantageous to her client but yet still sounds very reasonable. In what we do, being reasonable almost sounds counterintuitive."
Born in Rochester, N.Y., Cross spent much of her childhood in Fort Smith, Ark., during the civil rights movement before her dad, a Gerber Products Company executive, relocated the family to Fremont, Mich. Moving around in her formative years, Cross says, was disruptive. "But I think it made me probably more sensitive to those issues as they come up in family law cases."
As a young girl, she often hunted and fished with her father, an avid outdoorsman who took the family on yearly camping vacations. "I was raised sort of as his boy, if you will. To this day, my 92-year-old dad still hunts squirrel and  … we fry them up and eat them," she says, bursting into laughter. "It is one of my favorite foods, believe it or not."
Cross's appetite for law was whetted by a casual remark about attorneys from a seventh-grade classmate. "They're very powerful and they get to make their own decisions and they don't have to work for anybody," the friend told her.
"I think I'll be a lawyer too," Cross replied.
"I never wavered from that," she says of the snap decision. "I was totally ignorant. I knew nothing about it. I'd never met a lawyer. But it sounded independent and free and that's what I was gonna do. I'm the kind of person that once they make their mind up, they just move toward the goal."
In 1980, after graduating from the University of Nebraska College of Law in Lincoln—she went there because of her boyfriend, a coach at the school, and because she was a Cornhuskers fan—Cross spread out a map, and decided to practice in Indianapolis. She'd visited before—it was near family—and liked the city and its strong legal services program.
Her longtime focus, however, found her. Cross never considered practicing family law and hadn't taken a single course related to the field in law school. But after landing a job at the non-profit Legal Services Organization of Indiana in Indianapolis, she was assigned to its children's rights unit, where she defended low-income parents facing termination of parental rights and worked on child-in-need-of-services cases. In her first court case, she successfully represented a young woman charged with being an unfit mother and persuaded the judge to let the client keep her child. 
"It was extremely influential in terms of how I appreciated how absolutely serious this predicament is for individuals, how powerless they are and how the stakes are as high as they can get. You lose your child—there's nothing more significant than that," Cross says.
In 1981, when federal funding cuts triggered massive layoffs at the Legal Services Organization, she joined the Indianapolis firm Ancel, Miroff & Frank, where she focused primarily on family law. She soon discovered that her paying clients also faced heart-wrenching issues.
At times, Cross questioned her career focus. "My strongest memory of family law back in the first six, 10 years," she says, "was, 'Holy cow, why on earth did I do this?' This is emotionally draining. It is more being a psychiatrist than it is being a lawyer, or at least equal parts, and you become jaded at the state of humanity, and certainly of relationships. … But as with any profession, it grabs hold of you, you move in a direction and it defines you."
Over the years, the firm evolved and Cross's longtime mentor, Franklin Miroff, retired. In 2009, she became managing partner at what is now Cross, Pennamped, Woolsey & Glazier.
In court and mediations, she relies on her ability to quickly grasp the facts of a case, detach from the emotional turmoil and "read the room" to defuse high-conflict situations. "One of my strongest criticisms of young lawyers is that they all think their client has a halo floating over their head," says Cross, who often advises rookie attorneys. "I learned early on that that's seldom the case. I don't think advocacy means that you leave scorched earth behind. I think that you've done a good job when your client gets a result that is within or [at] the high end of what reasonable expectations would be, and still has a civility and working relationship with their spouse."
Her empathy for divorcees, especially those who have escaped abusive relationships or lacked power in their marriages, often drives her to keep championing their cause long after they can no longer pay. "I suppose my liberal roots at Legal Services have forever kept my heart probably a little bit over my head when it comes to the practice of law," she says.
Cross shies away from discussing particular cases because, she says, "This is an area [of law] that will eat you up. It will weigh on your shoulders. It's not something you want to sit and ruminate about."
In addition to litigating divorce matters, she is a sought-after mediator adept at building consensus among hostile parties.
"As a mediator, she is just absolutely one of the best," says Reed. "She isn't judgmental and she doesn't start off liking one person over another. Nancy has done dozens and dozens and dozens of mediations where I've been advocating for one party, but even with difficult personalities involved, difficult attorneys involved, she handles it. She allows the parties to say things that they would never get to say in court, yet she doesn't allow emotion to drive the mediation."
In 2011, Cross was appointed to the Disciplinary Commission of the Indiana Supreme Court, where she listens to complaints filed against her peers. She calls the experience eye-opening and difficult. "We as attorneys don't really want to think about all the myriad ways we could get ourselves into trouble," she says. "It's hard not to be empathetic and feel compassion, but also be disturbed—incredibly disturbed. I've seen a part of the legal profession and practice that I didn't realize existed to the extent that it does."
To unwind, Cross loves to quilt, travel and prepare international dishes—as well as the occasional pan-fried squirrel dredged in flour, salt and pepper and served with biscuits and gravy. She grows many of her own vegetables, and plans to raise horses on a farm she recently purchased on the outskirts of Indianapolis. "I'm the original Renaissance woman," she says, chuckling. "I know how to sew myself a dress and go to court and cook myself dinner. I even have some carpentry skills, and I just laid tile for a friend. You name it—I can do it."
A role model for divorce clients, Cross urges them to cooperate with their spouses to do what's right for the kids. "I am very devoted to trying to educate parents as to the ramifications that divorce can have on their children," she says. "That's a big challenge to get people to set aside their anger with one another and [say], 'Now let's talk about our kids.' Your kids aren't weapons. They're not to be used as a way to punish your spouse."
Search attorney feature articles