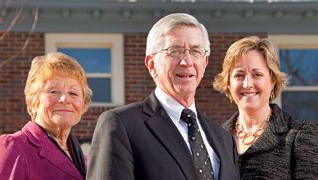 Photo by: Dario Impini
Family Law
After following in the footsteps of her parents, Ann and Ed, Kathleen DeLaney now leads the way
Published in 2011 Indiana Super Lawyers magazine
By Nancy Henderson on February 10, 2011
Kathleen DeLaney's responsible nature was evident when, as a preschooler, she accompanied her father to class at Harvard Law School. Even when the female students fussed over her, she sat quietly in the back row of the stadium-style seats and colored with her crayons.
"She would make absolutely no disturbance and act in a very orderly manner, which has continued to this day," recalls Edward DeLaney, 67.
Kathleen's parents rank among the most high-profile attorneys in Indianapolis. A 30-year legal veteran, Ed has monitored elections in Russia, arbitrated for the Federation of Bosnia and Herzegovina under the Dayton Peace Accords, and is serving his second term in the Indiana House of Representatives. Her political powerhouse mom, Ann, is a former deputy prosecutor and Indiana State Democratic Chair, administers Chapter 13 bankruptcy cases for the state's Southern District, and appears as a panelist on the weekly WFYI television show Indiana Week in Review.
But it is Kathleen who skillfully manages DeLaney & DeLaney, the thriving civil litigation firm she and Ann founded in 2002. (Ed joined three years later.)
"I think it's wrong to use the plural," Ann, 64, says. "This was all Kathleen's idea and all Kathleen's momentum."
Despite their differences in personality—Kathleen likens herself and her mom to German shepherds ready to bite, her dad to a poodle who wants to get along with everyone—the DeLaneys share a common goal. "Because we're all advocates, we're all litigators at heart," says Kathleen, 42. "We are not the kind of lawyers who are going to sit there and draft a 75-page contract. We would pull our hair out collectively."
Both native New Yorkers—Ed hails from Elmira, Ann from Brooklyn—the couple met in 1964 at what is now called Binghamton University, State University of New York. Ed had recently dropped out of the seminary and was earning his degree in international relations. "I had given up on the priesthood. I had quit pre-med because it was too much science. I didn't like the life of a professor after I got exposed to it," he says. "So [it was] pretty much down to law."
Intrigued by the attractive young woman he would marry three years later, Ed wooed Ann into his fledgling, left-leaning "Liberty" political party in college. His interest in Ann, he admits, was "the normal interest of a 23-year-old male." His pursuit of politics, however, began years earlier.
"My first childhood memory was going to the voting booth with my mother, who worked at a very low level in the precinct where I lived," he recalls. "I would spend three, four, five days a year in this little tiny booth with my mother, meeting Republicans and Democrats and watching politics. I just got the hook and it has never really gone away."
After a stint in the Navy at the time of the Vietnam War—he trained as a Russian linguist with the intent of becoming a spy, a role that never materialized—Ed started law school under the GI Bill, with Ann working two jobs to help support their young daughters, Kathleen and Jennifer. A few years later, Ann began her studies at Indiana University School of Law-Bloomington.
In 1973, Ed joined Barnes, Hickam, Pantzer & Boyd, now known as Barnes & Thornburg. Intrigued by media law, he defended a number of newspapers accused of libel; one jury trial lasted five and a half months. In 1975 he was the founding counsel for Investigative Reporters and Editors (IRE) after an Arizona reporter was murdered while researching corruption in that state. The highly regarded organization now boasts 4,000 members worldwide.
Over the years, Ed went to bat for clients ranging from The Indianapolis Star to General Motors Corp. and Stokely-Van Camp, the manufacturer of Gatorade. In one of his most memorable pro bono cases, he sued the Riviera Club, the largest private club in Indianapolis, for discrimination against minorities. "We got a very good settlement and we integrated the club," he says. "That was one of my causes at the time."
The Russian language skills Ed learned in the Navy also made him a valuable negotiator for his American clients in that part of the world. He represented the Federation of Bosnia and Herzegovina in an arbitration hearing under the Dayton Peace Accords of 1995. Then the State Department asked him to help rebuild the legal system in war-torn Kosovo. "They didn't have a bar association, didn't have a bar exam," Ed says. "The legal system was in collapse, so I worked on that for seven months."
Ann's career took a different track. In her first trial as a prosecutor in the Marion County felony sex offense and child abuse unit, she won a conviction against the parents of a child who had died after being forced by the grandmother to eat salt as a punishment. After that, she says, "I could pretty much pick my case. The second one I got was equally notorious. It [involved] a child that was beaten to death because he couldn't spell the word 'butterfly.' So those two victories put me in charge of the unit."
After losing her bid for state lieutenant governor in 1984, Ann went into private practice before being hired as then-Gov. Evan Bayh's legislative director in 1989. After serving as chair of the Indiana Democratic Party—she was the first woman to head either major political party in the state—she authored the down-to-earth guide Politics for Dummies.
In 1995, the same year Kathleen graduated summa cum laude from her mother's law school, Ann became executive director at The Julian Center, which supports victims of domestic violence and sexual assault. She quickly stabilized its troubled finances. "Then I realized they were turning away more people than they were serving," says Ann, who raised $7.5 million and built the state's largest domestic violence shelter, now a model for other family justice centers across the U.S. "We were able to work with the police department, perhaps, in a way most shelters don't." With Ann's prodding, the Indianapolis Police Department opened a special intervention unit at The Julian Center and the department's domestic violence murder rate dropped by half the first year.
Ann now spends most of her time as Standing Trustee in Chapter 13 Bankruptcy Court. "It's still people in trouble," she says. "The vast majority of the time they have had life crises. Either they've got a child with special needs or they've lost their job or they developed a terminal illness. … It's people just trying to do the right thing and hang on."
Kathleen inherited her mother's crusading attitude and her dad's penchant for foreign affairs. Between her first and second year of law school, she adjudicated nonimmigrant visa applications as a commissioned Foreign Service officer in London. "I learned how to question people and I do a lot of that in deposition work," she says. "I had to make decisions quickly and implement them, and I think that helps as well, and the interpersonal skills because I was dealing with people of all different cultures."
The experience solidified Kathleen's decision to live close to her parents once she had her own children. After clerking at Ice Miller for two summers, she was hired as an associate in 1997.
Kathleen and Michael Blickman, a partner at Ice Miller, have been opposing counsel on several matters since she struck out on her own in 2001. "She cares a great deal for her clients and is a strong advocate for them," he says. "She takes the time to understand the facts and law, and this allows us to work together cooperatively to achieve a resolution that makes sense."
Kathleen opened the new firm on Jan. 2, 2002. That morning she was struggling to unlock the door of her office, arms full of files and supplies, when the phone rang. It was her first client call. "Within six weeks we were in the black," she says.
Ed, who recently won re-election in the Indiana Legislature, came out of retirement in 2005 to join his wife and daughter. Kathleen uses a baseball analogy to describe their current roles. "I'm the pitcher and Dad is the utility infielder and Mom's the pinch hitter. She steps in when we really need her and she always delivers when she gets into the lineup. Dad has so much breadth of experience that we can call on him for all different types of things. But day to day, keeping the place going—that's primarily on my shoulders."
Her greatest challenge to date was going head to head with local law enforcement on behalf of the family of John Leaf, a 35-year-old stockbroker who broke into his own apartment after coming home drunk without his keys and was fatally shot by a Marion County sheriff's deputy in 2001. "The legal standards that you have to meet when you're alleging a civil rights violation against the police are very tough, and the case was very hard-fought," Kathleen says. After wrangling an unprecedented $74,000 penalty against the sheriff's department for withholding discovery evidence, she arrived in court on the first day of trial with 20 boxes of exhibits and documents. That morning the case settled for $950,000.
Ed's most difficult trial was a personal one. On Halloween 2009, an attorney seeking revenge for his father, who had lost a civil lawsuit filed by Ed 25 years earlier, lured Ed into a meeting and pointed a gun to his head. "Thank God the gun jammed, and a friend came along," Ed recalls. "It was a series of miracles that kept me alive." He suffered five broken ribs and three fractured bones near his eye. The assailant was convicted on five counts.
Since the incident, Ed says, "I value life even more than I did beforehand. I think I laugh more."
He and Ann are now avid runners who compete in marathons and half marathons. When Ann first took it up, Ed feigned indifference while sneaking out of his office to run. The day of the 500 Mini-Marathon, he dropped her off, drove around the block, changed his clothes and ran the half-marathon. At the finish line, he met his startled wife with a medal around his neck. "I just wanted to trick her," he says. "It's the only time I think I've deceived the woman in 43 years."
These days, the DeLaney family, including Kathleen's brother Tim and husband Jim Strenski, also attorneys, spend a lot of time together at sporting events and the dinner table. Each year Ed organizes the weeklong Camp Poppy for his seven grandchildren, including three of Kathleen's children: Emma, 15; Kevin, 12; and John, 10. "He teaches them to sing goofy songs, feeds them junk food and brings them home tired," Kathleen says.
Dr. Lauren Dungy-Poythress, a perinatologist at Maternal-Fetal Medicine in Indianapolis, retained Kathleen six years ago. "I have young children and being a mother is extremely important to me," she says. "It's not just all work with her. I'm looking for a well-rounded person to represent me, that can understand my issues. … She's just awesome. I couldn't say enough good things about her and her family and that practice."
For Kathleen, the secret to running a successful family business comes down to "being direct in your communication. [Issues] need to be aired and discussed rather than allow them to fester."
Case in point: the number of names on the door. When Ed joined, the firm remained just DeLaney & DeLaney. "For goodness sake, [Ed] was one of the premier litigators for 30 years," Ann says. "It's not like his ego needs the stroking. Everybody knows who he is."
Search attorney feature articles