For the Love of Bloomington
Betsy K. Greene of Greene & Schultz on representing plaintiffs, doing victory dances and pushing those damned boulders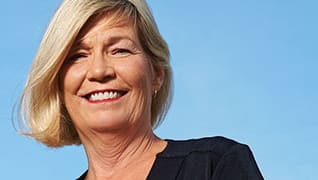 Published in 2016 Indiana Super Lawyers magazine
By Ross Pfund on February 12, 2016
Q: I hear you've tried over 85 jury trials.
A: I've actually tried 102—I hit triple digits last summer.
Q: Was it tough to hit that mark, considering trials happen less often these days?
A: That's very much my experience. I really love trying cases, I really do. It's a lot of work; you've got to be willing to put yourself out there, but it's what I do and I enjoy it. However, my clients, not so much. Although I regret not perhaps trying as many cases, if it's going to be best for the client to resolve it, then that's what we do—because it's not really about my hubris.
Now, I started out as a deputy prosecutor, so I was in court all the time. [During] my first 5 ½ years, my first 22 trials were criminal trials. I probably had more than that, but I didn't have to start counting trials until I got my first certification, so I only counted those that I could absolutely document.
Q: So you might have a few more than 102.
A: I don't need to claim credit for them, but I was in court all the time, and that's when I learned that I really enjoy trying cases. So I also think that there's a balance. It takes a lot of time and effort to get prepared for them, and if you've got too busy a caseload, it's hard to be properly prepared.
Q: Do you do anything special to prepare?
A: Yes. I graduated in 2005 from the Trial Lawyers College, founded by Gerry Spence. I've been on the faculty since 2010. So I have traveled around the country and taught and had weeks and weeks of training, and some very special trial preparation methods.
What the college does is use psychodramatic techniques to discover the truth of a story in action. It is basically an action method to find the truth and to explore the emotional content of a story. So, in essence, we use these tools to act things out. It's much more effective to have your client show you what happened.
Q: Show, don't tell.
A: That's exactly it. I think of a direct examination as being 3-D instead of 2-D. We want to engage the five senses; we want to try to bring the fact-finder to the situation so that they can understand the story of the witness and the story of the case.
Q: You graduated from law school in 1982. By that time, were there plenty of women in your class?
A: My dad went part-time to law school when I was a kid. He went at night to IUPY in Indianapolis, and when he graduated from law school in '67 or '68, there were two women in his class. By the time I got out of law school, we made up roughly one-third of the class.
However, you did not see a lot of women litigators. That was still very unusual. So there was one time when I was a deputy prosecutor, I worked in Morgan County, which was the next county north of Monroe, and my boss, Jane Craney—who's now the Honorable Jane Spencer Craney—was the elected prosecutor. And for one period of time, there were no other women practicing law in the whole county.
Q: What did you learn from her?
A: Jane was a fierce trial lawyer. I learned that anyone can walk in a courtroom and try a case, no matter their gender— although truthfully, I don't think I ever really felt limited by that. I learned that in order to be a trial lawyer, you've got to find your own voice. When I first started trying cases, I tried to be the "Iron Lady"; that's what they called Jane in the local paper. Her style was a lot different from mine, so it took me a while to figure out how to talk to people in a persuasive way.
And that it's OK to have some personality and to be myself.
The best thing about working for Jane is that she gave me discretion. I learned to make decisions on my own, to be able to defend them. To be in the prosecutor's office, your duty is more than just to convict people. Your duty is to do the right thing.
Q: Did you experience any sexism in the profession as a young attorney?
A: Some of my female colleagues' perceptions were that they were treated differently, that they lost a motion because they were female. I just didn't look at it that way. I never wanted to be a female lawyer; I didn't want to belong to anything that had "women's" in front of it. I just wanted to be a lawyer, and I wanted to be the best damn lawyer I could be.
It's my second week of being a deputy prosecutor and Judge Gray used to call all the criminal pre-trials for 1 o'clock on Monday. So every lawyer in the county is there, plus all the lawyers in the venue counties, and you'd just wait your turn. Over the years I came to really appreciate that call, because that's when I got to catch up on gossip.
I'm standing there in the superior court office and some guy walks up to me and hands me a stack of papers and says, "Here hon, will you make me some copies?" And I just looked at him, I blinked my eyes a bunch of times, handed them back and said, "You know, I'm just a deputy prosecutor. I don't know how to run this copy machine."
Another time, I worked my way up to chief deputy, [and got a call]. This guy says, "Oh, I'm sorry. I asked for the lawyer on the case." I said, "Well, I'll tell you what. I'm chief deputy of this county and here's what we're going to do. We're both going to hang up. You're going to call back. We're going to start all over."
Q: Do you remember your first day?
A: My very first day was hilarious. I showed up like an hour and a half early. The courthouse was locked, and so was the prosecutor's office. Somehow I talked a custodian into letting me into the prosecutor's office. Nowadays, of course, custodians would never [let a person in]. But I was pretty persuasive even then, huh? [Laughs]
So there I stand in the prosecutor's office and in comes one of the other deputy prosecutors. I'm just standing there. I don't even know where my office is. And he says, "Have you pulled the files for the pre-trials this afternoon?" I looked at him like, "Pre-trials? Files?" I didn't even know where the filing cabinet was.
Q: What inspired you to eventually make the switch to private practice?
A: I actually thought I was going to be a prosecutor forever. I really enjoyed helping people. I really enjoyed crawling around looking for bullets in the middle of the night. It was a small enough county that if we had something serious happen, they'd call me up in the middle of the night and I'd go interview witnesses and all that.
But it was in Martinsville, which, although it's only 20 minutes from the love of my life, Bloomington, Indiana, it wasn't Bloomington, Indiana. So out of the blue one day, I got a phone call from a lawyer here in Bloomington trying to build a personal injury practice. That person was Ken Nunn. I went to Bloomington and stopped by and saw him, and he offered me a job on the spot. That was in 1988.
Q: And you've been doing it ever since.
A: I was there for 16 years, then in January 2005 I started my practice. Fred [Schultz] came and joined me about six months later.
Q: What have you brought from being a prosecutor into private practice?
A: First of all, an incredible work ethic and trial experience—case management experience.
The other thing that I brought: I have never defended a case. Isn't that interesting? I have always had the burden of going forward. I mean, if you're the state or if you're the plaintiff, you bear the burden of proof, always.
That's a lot different than defending. You have to craft. I'm fond of saying that you're limited only by your imagination and the rules of evidence. So you have more freedom to create a truthful story that you want to tell. There are lots and lots of stories, and there are lots of ways to tell them.
I liken it a little bit to shoving a boulder up a hill. That's what I do. The insurance companies, they're not interested in paying my clients, and they're not interested in moving things along. So my clients don't get compensated until the case is done. So I'm rolling all kinds of boulders up hills all the time.
Q: What does it take to get those boulders to the top?
A: So many things. You have to be flexible. If you're in the middle of a case, no matter how hard you prep, people are people, right? So they'll come out with crazy stuff on the witness stand or evidence will take a turn south you didn't see. You have to be able to ride with that and react to that.
You have to have lots of perseverance. You have to be willing to push those rocks, or run up those walls or tilt at that windmill no matter what. And you have to be willing to put your heart and soul into something and lose. That's a hard thing for most people. You have to be able to recover from some bumps and bruises. I'll say this: Most people who tell me they've never lost a case, I'm thinking to myself they've never tried a tough one.
Q: When you do lose, how do you recover?
A: You suffer, that's what you do. You suffer horribly in the beginning, and then you put one foot in front of the other and try to figure it out. It's your fault even though it isn't—you're the lawyer. I mean it sort of jokingly, but sort of not. So you look back and say, "Did I give it my all? What could I do better?"
So yeah, if it comes back the wrong way, you just have to kind of feel terrible and awful for a while until you get past it. And if I ever didn't suffer, then it's probably time to stop.
Q: So when you win a case, do you have an equally powerful positive feeling?
A: Absolutely. I have this goofy little dance I do from this one big, big case I won a long time ago. I would not try to be rude and arrogant, so I do my little dance on the courthouse lawn when there's no defense people around. It's just kind of a tradition. I always do it, and it's exhilarating.
There may be some trial lawyers out there who say, "Oh, I don't get invested in my clients. I'm a technician." Maybe that works for them. That's not how I do it. I give my heart and soul. I spend hours and hours in groups with these people, reenacting things, listening to them, asking them how they feel, spending time with them. How am I supposed to tell their story if I don't know it, right?
This interview was edited and condensed.
Search attorney feature articles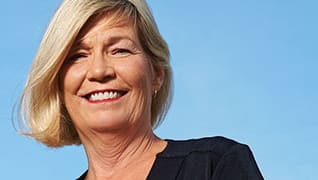 Featured lawyers
Helpful links
Other featured articles
Jeh Johnson keeps giving back to his country
Two attorneys reflect on their Warriors and Kings fandoms
Judy Simmons Henry has battled cults and Ponzi schemes, and now reps NCAA players and coaches, too
View more articles featuring lawyers
Find top lawyers with confidence
The Super Lawyers patented selection process is peer influenced and research driven, selecting the top 5% of attorneys to the Super Lawyers lists each year. We know lawyers and make it easy to connect with them.
Find a lawyer near you