Known Unknowns
Andy Hull of Hoover Hull Turner on finding antique radios, empathizing with professional liability clients and overcoming early-career jitters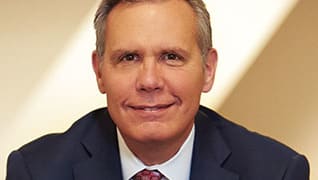 Published in 2015 Indiana Super Lawyers magazine
By Ross Pfund on February 12, 2015
Q: How did you develop your motor sports law niche?
A: We started by litigating matters both for a racing series and an IndyCar team. And over time we've developed a knowledge and expertise of the racing industry that led to our representing a number of drivers, including Dario Franchitti and Dan Wheldon. We represent open-wheel series race promoters and track owners. It's an area that remains very much a niche for us but it's one that we enjoy very much.
Q: Is there anything that differentiates these clients from your other clients?
A: Many of the issues are similar, but there are frequently publicity and sponsorship considerations. This is the entertainment business and all parties in the racing industry are looking for value, and conflict is something to be avoided or resolved whenever you can, effectively and confidentially.
Q: Do you go out to the track yourself?
A: I am a motorcycle sport bike enthusiast and have done some Walter Mitty track days on the sport bike, but there is no racing career in my future. [Laughs]
Q: What was your first move out of law school?
A: I practiced as a younger lawyer in two larger firms in the Indianapolis market, and I enjoyed those experiences very much. It was in 2001 that a large firm where I was practicing came apart. Our friends and colleagues from that firm scattered throughout the city of Indianapolis and surrounding counties, and at that point John Hoover, Ron Heath and I decided to form this litigation boutique. A couple of colleagues who were associates at the time, Alice Morical and Sean White, joined us and are now partners with the firm. That's a source of pride.
Q: What was the biggest surprise for you in the process of founding Hoover Hull?
A: As we were getting started, a number of our friends and colleagues and other members of the bar were very supportive of us with ideas, referrals and [work] with their firms. In some ways, the platform we have as a litigation boutique makes us a service provider and not a competitor to many of our fellow lawyers and firms in the state.
Q: Were there unexpected challenges?
A: One thing that is amusing about being in a small firm is that if things are not the way you would like them to be, you don't have a committee or anyone else to blame. We're small enough to gather, talk things through and work on consensus. As younger lawyers, we very much appreciate the perspectives and enthusiasm of our younger colleagues as they develop in our firm, and frequently they've got wonderful ideas. They're learning that as they have those wonderful ideas and want to see them implemented, we're excited to have them go to work on them.
Q: Who were your mentors and what did you learn from them?
A: Let me give you three names of the many great mentors I've had: John Joyce, Mark Ford and my current partner, John Hoover.
In the case of John Joyce, who has passed away far too young, he was a fine lawyer, a West Point graduate who took me under his wing when I was just starting the practice. [He] taught me how to approach the litigation process in a comprehensive way; how to consider what the trial would look like but then to work backwards from that. He demonstrated how to be excellent at keeping the client fully informed on the status and strategies of the case.
Q: Do you remember your first case?
A: I remember the first case, although there was a more remarkable early case in my career. I was asked to take the lead in a very large and somewhat complicated reinsurance arbitration. My client was the insurance company that had suffered a very large loss on a claim that it believed was fully reinsured. The reinsurer had denied reinsurance for the loss, and through the arbitration process we were seeking recovery. I was a fourth-year lawyer and had never done a reinsurance dispute before. The lawyer on the other side was with a large Chicago firm. He was a 20-year lawyer and all he did was reinsurance arbitration. The case settled very well for our client on the eve of the arbitration but I lived in fear for many months before resolving that case that there was something that I didn't know and that I didn̕t know I didn't know.
Q: Which is the worst feeling. But now you know that there wasn't anything in that case that you didn̕t know you didn't know?
A: That appears to be correct. The favorable settlement, I think, was reflective of that. It was the first case I had with depositions of many parties and nonparties all over the country and was great exposure to the complex litigation process.
Q: How long did it take before those early-career jitters were worked out?
A: There's always an unease that you don't know what a judge or jury or adversary may do. I think if you take it for granted that you have an issue or a case figured out, you may be failing to fully appreciate your adversary's skills or the complexity of the case. But probably eight or 10 years out, I began to feel that I had accumulated enough experiences that I could represent clients well in a wide range of circumstances.
Q: What else does it take to represent clients well?
A: I hesitate to answer that question. I do think that for me, what has been helpful is listening carefully to a client's needs and concerns, understanding a client's business and circumstances, and then carefully—while communicating with the client—developing a strategy for resolving that matter whether it's through an early resolution or the trial of the case. It's being thoughtful. It's being empathetic and it's communicating well.
Q: Are there any other cases that you've handled that are particularly memorable?
A: I've got a photograph that I can send you of a 1939 Stromberg Carlson. It's this beautiful piece of furniture that was a radio with an acoustic labyrinth speaker that was advanced for its time. We had a law firm client who was sued in a significant professional liability matter alleging that it had failed to secure for a client a broadly defined patent application for a speaker system. We achieved a very successful result for that client by locating and securing this 1939 Stromberg Carlson radio, which had this speaker design, defeating the adversary's claims. The patent phrase would be that the Stromberg Carlson was "invalidating prior art" to the plaintiff's claimed broader patent.
Q: The Stromberg Carlson already existed.
A: At the end of that case, we had the Stromberg Carlson fully refurbished and made operational and delivered to the client and had a wonderful celebratory dinner.
Q: How did you go about finding it?
A: I cannot claim credit for that. My wonderful paralegal, Fortuna Gipson, searched eBay and every other source that we could find for over six months before we were able to locate one. It was a happy day when we found it and had it in our offices. They are so old, and we needed to have one that was in unaltered condition to demonstrate the acoustic labyrinth speaker system.
Q: I've never heard the term labyrinth used in that context.
A: It's another way to bounce these sound waves through this maze-like thing to achieve the phase shift that you are looking for. I learned more about acoustic science with a Purdue professor there than I ever thought I would.
Q: Another interesting case on your resume is Bandak v. Eli Lilly and Company Retirement Plan.
A: That case brings a smile to my face even today. The Bandak case was an interesting one-off for us. We are typically representing planned sponsors or plans or plan fiduciaries in litigation, but in this instance, Dr. Bandak came to us with a frustration over the way he was being treated in the Lilly plan and we were pleased to represent him. And it prevailed both at the district court level and the 7th Circuit.
Dr. Bandak was a wonderful client. Lilly had very talented appellate counsel as well: Jon Laramore from Faegre Baker Daniels. It was enjoyable to appear before the 7th Circuit with Jon.
Q: Do you get any more excited than usual when you know that you're going to be across the courtroom from someone with his pedigree?
A: I would say no. I think that the primary motivator is the client's cause, and that doesn't change. Whether it's a new, young lawyer or someone with Jon's abilities and credentials and experiences, the client deserves your very best.
Q: How do you deal with losing a case?
A: The losses hurt more than the wins feel good. You get over a win, it seems like, in a few hours; the losses linger for days, if not weeks.
Q: Tell me about your professional liability work.
A: We [represent] many of the large firms in the state. It is a lot of fun and when you are representing large firms and lawyers, you are getting sophisticated clients who understand the process and are extremely good to work with.
Working in this area does give us a better sense of risk control and best practices for lawyers, which is a nice byproduct. Occasionally we have the reaction of "there but for the grace of God go we."
Q: What do you mean, specifically?
A: You will occasionally see a circumstance where a claim has been asserted against a lawyer for something that would have been difficult to perceive at the time that the lawyer was having to make his or her decisions—a hindsight sort of approach to litigation against lawyers. When you find a colleague in that situation, you feel empathy and can think back to when you were the one in the chair having to make tough decisions where the facts or the law are unclear.
This interview has been edited and condensed.
Search attorney feature articles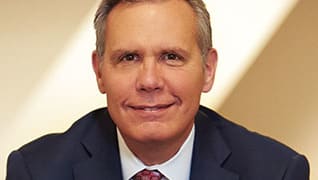 Featured lawyers
Helpful links
Other featured articles
When democracy came under attack, Doug Poland heard the call
How Ryan O'Connor and a team of attorneys changed Oregon law
Five real estate, land use and construction attorneys on the Bay Area's past two decades
View more articles featuring lawyers
Find top lawyers with confidence
The Super Lawyers patented selection process is peer influenced and research driven, selecting the top 5% of attorneys to the Super Lawyers lists each year. We know lawyers and make it easy to connect with them.
Find a lawyer near you