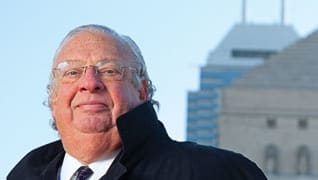 Preparation, the High Road and Elliott Levin
The Rubin & Levin partner speaks on bankruptcy law and why he never underprepares for a case
Published in 2011 Indiana Super Lawyers magazine
By Ross Pfund on February 10, 2011
What first got you interested in the law?
I thought that I needed a profession to be able to enjoy my life, make a good living and try to help people. I had a choice between being a lawyer and being a physician, and I chose being a lawyer. I'm the first member of my family to be a lawyer, but since that time, both of my daughters have gone through law school and practiced law.
I enjoyed being able to use my mind, and, for example, negotiation is an art, not a science. Knowing how to negotiate and being presented with due problems are very enjoyable.
Tell me about your time in the Army.
I graduated from undergraduate school in ROTC as a second lieutenant. When I went to law school, I was promoted to first lieutenant. I went into active duty in 1967 in an armor unit—being a lawyer—and was promoted to captain. I served for two years and came back and began practicing law. And I actually practiced for about six months before I went into the Army.
Were you the only lawyer in your unit, then?
That's correct.
Did any of the skills you learned in the Army translate to your legal career?
Being mindful of a chain of command, being respectful, taking the high road, things of that nature—civility.
Where did you go after active duty?
When I graduated from law school I went with a firm by the name of Bamberger & Feibleman, one of the oldest law firms in the state. When I came back from active duty, they'd kept a place for me. I became a partner there in 1974. On Jan. 1 of 1977, I left that firm with another partner, George Rubin, and we started the firm of Rubin & Levin.
Was Mr. Rubin a mentor of yours?
Yes, he was. He's been one of the most important influences in my life in the areas of practicing law, civility, negotiations, and how to think through issues and solve problems. I've spent a lot of time with him.
How did you decide to work in the area of bankruptcy and creditor-debtor law?
When we started the firm, I did both the trial work and the bankruptcy work because somebody needed to do it. So I taught myself how to do bankruptcy work. George did most of the commercial collection work, and I did litigation and bankruptcy. And that's how we moved forward in the practice together.
What is it about that practice area that you enjoy?
In bankruptcy, you get a little bit of all the areas of law. I've dealt with problems involving securities, problems involving labor law, problems involving contracts, the bankruptcy code, tax issues. … Commercial law encompasses so many practice areas that you get a broad background in a lot of them. I also serve as a panel trustee with the trustee program of the U.S. Trustee's Office. So I hear bankruptcy cases also as a trustee.
Do you mainly represent creditors?
Our major focus is in representing the interests of both secured and unsecured creditors, including creditors' committees.
Have you ever represented debtors?
Yes, we have. Sometimes we have longstanding clients and we will represent them in a debtor case. Or we'll represent a debtor in an area where we don't have a lot client representation already.
Being on the other side so much must help you when the rare debtor case comes along.
Well, I understand what both sides are trying to accomplish—the thought process that goes into gearing for a bankruptcy on either side. I can get a good feel for what's going on and what can be accomplished.
Are these cases emotionally charged?
I take the clients' interests at heart in a very strong manner, and I do become emotionally involved. Hearing these trustee cases, where you sit as a panel trustee and hear Chapter 7 bankruptcies that have been filed by young people who have lost their jobs or don't have medical insurance and have to live with their parents, or older individuals who have lost everything, it can be depressing. I take much of this to heart and I try to help in any way I can.
You mentioned the negotiation aspect of your job. What have you learned that's made you a more effective negotiator?
What I've learned is to prepare your case, and be prepared to take it to trial. You should have done all your discovery and be prepared to go forward. Those who are prepared to go forward will usually get a better settlement. Understanding what the debtor can afford to pay is very helpful.
How often do you actually go to court?
I go to court often on nonadversarial matters. The adversarial matters are few and far between. Most cases get settled, especially in bankruptcy because both parties are already losing money and it's very costly to litigate. If you can save money and if both parties can walk away happy, then you've made a good settlement.
Do you prefer to reach settlements, then?
You do what's in the client's best interest. If the client is looking for a certain number and you can get there, then it should be settled. And if you can't get there, you're prepared to try your case.
What do you do to prepare?
You have to know the elements you're trying to prove, you have to know the law that supports your case, and you have to know what the plusses and minuses of your case are. You learn that through discovery, and you get prepared. And those people who are prepared will get a better result for their client.
You've tried cases before the U.S. 7th Circuit Court of Appeals. What is that experience like?
You're up there because you've either won or lost. You're there because you're supporting a judgment in your favor or you're trying to get one overturned. And I think every good lawyer looks for a challenge. It's very challenging to go before the 7th Circuit—it's an excellent panel of judges and they're very knowledgeable in bankruptcy. It's why people climb Mount Kilimanjaro; they want to be the best.
Of all your cases, does one stand out as particularly memorable?
They all have been. The one I have now, I'm trustee in bankruptcy for Irwin Financial Corp., which was the parent corporation of Irwin Bank & Trust. It's been very challenging. We're still in the stage of reviewing whether or not causes of action exist and we're trying to establish a recovery for the unsecured creditors of the estate; there are no secured creditors in the case. We've had pension issues with the Pension Benefit Guaranty Corp., we've had issues with the FDIC, and these are all matters that have now come to a head over the last couple of years because of the many bank failures.
How has the legal world changed over the course of your career?
I think the practice used to be more civil. I always say that you take the high road because it's less traveled. I think that there are many more attorneys that are trying to practice in areas that they don't have a great deal of background in. It seems like everybody who graduates from law school thinks they can handle a personal injury case and I'm not sure that's true. But the way that lawyers treat each other has changed a great deal from where it used to be when I first started practicing. And the respect that lawyers give each other, the agreements that used be made on handshakes—you've got to document everything now.
What advice would you give to young lawyers just beginning their careers?
Do your homework, prepare, return your phone calls, respond to your mail the same day and take the high road.
Search attorney feature articles
Helpful links
Other featured articles
Ashley Pack's devotion to her son informs her legal practice, and vice-versa
Dallas litigator Victor Vital makes it his business to parachute into cases and stick the landing with juries
Beth Terrell takes on cases and causes for those without a voice
View more articles featuring lawyers
Find top lawyers with confidence
The Super Lawyers patented selection process is peer influenced and research driven, selecting the top 5% of attorneys to the Super Lawyers lists each year. We know lawyers and make it easy to connect with them.
Find a lawyer near you