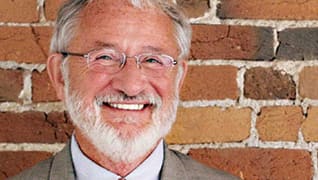 Photo by: Aglow Marketing LLC
The Cases That Matter
Henry J. Price talks about his highest-profile case—and the one that changed his career forever
Published in 2014 Indiana Super Lawyers magazine
By Karin Beuerlein on February 12, 2014
Last year, Henry J. Price celebrated 50 years practicing the law that he loves. His is the definition of a well-balanced career. The first half was spent counseling the defense as a lawyer for Indianapolis firm Barnes & Thornburg; the second half has been devoted to arguing for the plaintiff as a principal member of Price Waicukauski & Riley.
Nearly 900 miles away, another milestone happened in 2013 in Springfield, Mass.: former hoops star Roger Brown, forgotten by all but the most serious basketball fans, was inducted posthumously into the Naismith Memorial Basketball Hall of Fame. No one is happier for him than his former attorney—Price.
"I thought it was a well-deserved honor that would have come much sooner had Roger played in the NBA," Price says. "And I saw it as the final step in his vindication."
Brown, star of the American Basketball Association's Indiana Pacers from 1967 to 1975, was an epic talent, a Brooklyn high school legend. He was destined to be one of the all-time greats in basketball history, according to those who knew him. But after only one year playing for the University of Dayton, Brown was effectively banned from basketball because he knew gamblers on the playgrounds of Brooklyn.
Almost every kid in Brown's rough neighborhood knew criminals—it just happened that some of the ones Roger knew fixed games and got caught in a 1961 points-shaving scandal. The 18-year-old was interrogated for five days in a New York hotel without access to counsel—Miranda rights did not become law until 1966—and the newspapers caught his name and printed rumors about his involvement after the prosecutor named him as an unindicted conspirator. That was all it took. Despite the fact that he was never charged with a crime, Brown was stripped of his NCAA eligibility, denied the chance to play in the 1964 Olympics and blackballed by the NBA, which was afraid of tarnishing its image. "It was a boycott without justification," Price says.
Brown went on to a career in the newly formed ABA—a league that prized entertaining play and signed Brown partly due to a recommendation from NBA star Oscar Robertson—and led the Indiana Pacers to three championships. But Brown was still devastated by the damage to his reputation and yearned to clear his name. In 1969, he filed a lawsuit against the NBA, and Price was tapped to represent him. Price vividly remembers putting then-NBA commissioner Walter Kennedy on the stand.
"This was the greatest challenge I'd had since I had begun practicing law," Price says. "It was a chance for me to pit my skills against some fairly high-powered national opposition. The courtroom is a great equalizer, where rules govern and people are sworn to tell the truth. If you are sufficiently persistent and prepared, you can force them to admit wrongdoing—or, as Walter Kennedy did, admit that he had no knowledge whatsoever that Roger Brown had anything to do with fixing basketball games."
In fact, Price pressed Kennedy until he admitted that the only factor leading him to ban Brown from the NBA was negative coverage in the press, and he couldn't even produce copies of the newspaper articles that had given him the impression that Brown was in any way involved.
"Kennedy was not a very nice guy," Price says with a laugh. "He tried to evade the question any way he could. He tried to drum up some justification for the NBA's behavior, but he finally had to admit he had none."
The NBA, its back against the wall, settled with Brown for a large sum of money. And in a gesture that Price views as the most telling admission of guilt, it offered Brown a long-deferred, and icy, invitation to join the league as part of the settlement.
"Roger said thanks but no thanks," Price says. "I thought that showed tremendous character. He said, 'The Pacers took me when I was still under this cloud, and I'm gonna stay with them,' and he did. He handled this whole situation with great equanimity." Because Brown had never actually been charged with a crime, he never truly had his day in court, but Price thinks he did find some peace as a result of the lawsuit. (Brown died of liver cancer in 1997.)
"I felt a great deal of personal satisfaction in the outcome of this case," Price says, "and I was happy to be part of it. It made me believe that the legal machinery, while it ground slowly, could achieve just results if you stuck with it and exercised some degree of skill in operating the processes of the law."
While the Roger Brown case might be Price's most famous, it's not the one that defined his career. As the years went by, Price realized that although he had good relationships with his clients and colleagues at Barnes & Thornburg, his usual defense work wasn't fully satisfying him. "I don't mean to be immodest, but I won virtually all the cases I tried for the defendants, and it became more or less routine," he says. "And those cases didn't really matter, not from an economic point of view. If General Motors gets hit for a million dollars, they don't even notice it."
Then came the case that permanently changed his outlook. "I was representing General Motors," he says. "This sounds like an apocryphal story, but it isn't; it's true." Price was defending GM against a lawsuit filed by a worker at a local Amtrak facility that repaired train cars. On Christmas Eve, the worker drove home from a factory holiday party in his GM pickup truck.
"I get choked up whenever I think about it," Price says. "He went around a corner in his truck, the door flew open, he landed in the ditch, and he became a quadriplegic."
The court was faced with two choices: either the latch was defective, or the plaintiff hadn't shut the door. "I was up against a very good plaintiff's lawyer in Indianapolis," Price says, "and the plaintiff made the best witness I'd ever seen. He talked about how he tried to make his life some semblance of normal—he liked to hunt, so he'd have people wheel him outside in his wheelchair and he'd use a stick to pull the trigger. He had a similar story about fishing. And, of course, his family was in dire straits as a result of his incapacity."
Price had to present a plausible case for GM against formidable odds. "I had the door taken off the courtroom and I had half a pickup truck brought in," Price says. "I demonstrated to the jury how, if the door had been properly closed, the safety lock would have engaged even if the main latch had failed, and it could not have come open. That was my theory—the only explanation was that he didn't close the door.
"So the jury was out for less than a week. They came back in and the verdict was for General Motors. And the foreman was a postman—I talked to him afterward. He had tears in his eyes, he said it was the hardest thing he ever did."
"I honestly don't know whether the plaintiff closed the door or whether he didn't," Price says. "It was really a matter of … using what skills I had to persuade the jury of the accuracy of the factual side I was presenting. I decided I'd rather use those same skills to represent those people who were injured rather than use it to defend corporations."
So in 1985, what's now Price Waicukauski & Riley was born. "It's an opportunity to represent someone where the result really matters," he says. "From the plaintiff's point of view, cases do matter—if they're not a matter of life and death, at least they're about making the quality of life substantially different."
Price and his team can boast a string of large settlements and judgments involving products liability, sexual harassment, personal injury and legal malpractice. Ron Waicukauski first worked with Price in the 1970s at Barnes & Thornburg, then joined him again in 2001. "Both of us like righting wrongs," he says. "Henry's greatest strength as a lawyer is  his resourcefulness. He isn't satisfied by taking small preordained steps in a case—he always identifies better ways to accomplish good results for his clients."
For partner Will Riley, the key to Price's success is his tenacity. "When Henry represents a client, he gives his all," Riley says. "He's like a bulldog—he gets a grip on the other side and he hangs on until they give in. He takes problem cases where most lawyers think the possibility of success is remote and still turns it around."
The firm just won $17.5 million from State Farm for a client who lost his roofing business after the insurance giant falsely defamed him. Price is now working on an antitrust case against Simon Property Group—the largest owner of shopping centers in the United States—and a class action suit against a pair of electric co-ops in Missouri. Married to his wife, Jeri, for 25 years, and with a blended family of three grown sons, he's still excited to roll up his sleeves and get going on new cases.
"I love the courtroom and I love the process," Price says. "Participating in a trial and bringing about justice makes me feel more alive than any other endeavor I can think of."
Search attorney feature articles
Helpful links
Other featured articles
Carrie Goldberg is still fighting psychos, stalkers, pervs and trolls—and Amazon
To this Columbus lawyer, it's all about listening before jumping in
"Lifetime Detroiter" Saul Green fights every day for his city and its people
View more articles featuring lawyers
Find top lawyers with confidence
The Super Lawyers patented selection process is peer influenced and research driven, selecting the top 5% of attorneys to the Super Lawyers lists each year. We know lawyers and make it easy to connect with them.
Find a lawyer near you