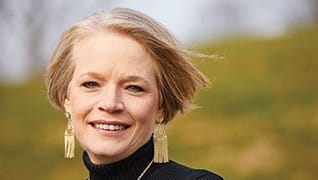 Photo by: John Bragg
The Comeback
Business litigator Tammy Meyer rebuilds her career after a devastating illness
Published in 2018 Indiana Super Lawyers magazine
By Nancy Henderson on February 20, 2018
Less than a year after launching her firm with husband Gary Miller in 2009, "we had more business than we knew what to do with," says litigation attorney Tammy Meyer. "We had a great staff. We had just hired a law clerk and were thinking about hiring associates because we had so much business. Things were the best that they could have ever been for the both of us."
Then Meyer discovered a pea-sized lump in her breast. She was 44.
"Immediately, my doctor who I'd been with for 20-some years—she delivered my daughter—looked at me and said, 'This is not something small,'" Meyer remembers. "What you're feeling is like the tip of a Hershey's Kiss. It's tiny at the top and it's huge at the bottom."
Meyer is no stranger to a fight. She's spent nearly three decades defending companies, primarily in insurance trials; handling complicated cases ranging from products liability to trucking to environmental; and standing her ground in what was once considered a man's profession. "I love thinking on my feet," she says. "I love cross-examination. It's probably my favorite part of any trial. I just love challenging people and being able to, as a defense lawyer, show the weaknesses in their case."
But breast cancer has been the toughest battle of her life. 
"To call her a fighter would be an understatement," says Mark Metzger, who has known Meyer since law school and now works with her at Metzger Rosta. "She persevered through the ordeal. The Tammy that I knew is back." 
Born in Arkansas, Meyer lived for a time in North Carolina before her father's nursing home business took the family to Indiana. Influenced by her mom's attention to detail—"If she ironed a shirt, it was pressed like it came from a professional," Meyer recalls—and her dad's compassionate strength and willingness to work hard, she entertained the notion of becoming a forest ranger, then a fashion designer, before finding her calling in a high school business law class.
Eager to get into law school, she earned dual undergraduate degrees in political science and criminal justice from Indiana Wesleyan, and graduated summa cum laude in three years. At Indiana University School of Law, she says, "I did not go out. I didn't socialize. I just worked my tail off all the way through law school."
Metzger concurs. "At the end of classes, you put together an outline to study from," he says. "She completed and updated her outline daily, where the rest of us did it at the end of the semester."
At grade-posting time, Meyer stood in the hallway, scanning the bulletin board and disbelieving the positive results. "I thought, 'There has got to be a mistake. I couldn't have done this well,'" she says. "By my last year in law school, I ended up being second in my class, which I never in my wildest dreams thought I could do."
After clerking, Meyer decided to focus on business law. "It was something different and challenging every time," she says. "I might have a products liability case in which I've got to learn the product. And then I have to learn the medical [side] if someone has been injured."
In her first jury trial with Bingham McHale after graduating in 1989, Meyer's team represented county commissioners against a plaintiff who claimed that a defective roadway had caused his auto accident. "It was like boot camp—two weeks solid of training that was invaluable for me going forward," she says. "And we won."
Not every early career experience was so enjoyable. After working all weekend on a legal matter, she was dismissed from a meeting by a client, who said emphatically, "I am not having a woman argue my case." To pacify the client, the senior partner backed down and agreed to do it himself. Another time, an attorney threw a handful of photographs across the table during a deposition and ordered her to mark them as exhibits. When she reminded him she was a lawyer, not a court reporter, he replied, "Well, you're a woman, aren't you?"
"And then," she says, "he walked around behind me and put his hand on my shoulder and said, 'Well, maybe I should just check and see if you are.' I was so taken aback, but I looked at the court reporter and I said, 'Please make sure all of that is on the record.'"
The next day, the attorney called, expressing remorse. Unflinching, she accepted his apology but added, "If I ever find out that you have done anything remotely similar to another woman, anywhere, I will have you in front of the disciplinary commission so quick you won't know what hit you." The two later became friends. Says Meyer, "He just made a really, really bad mistake, and he wasn't used to dealing with women lawyers. I've never heard of anything else ever happening from him."
Meyer had been working at Lewis Wagner for 14 years when her husband, a longtime Indianapolis judge, lost his bid for re-election in 2009. Frustrated with an "absolutely crazy" schedule and trying to juggle multiple clients while taking on more and more management duties, she jumped at the chance to start a new firm with him. Miller managed the practice and focused on criminal, family and business law, and wills and estates; Meyer handled civil litigation. "I absolutely loved practicing with him because I could do more of practicing law," she says. "It was the best of all worlds. This was the person I chose to spend the rest of my life with, who was now my law partner. What better situation? We had more fun and probably never worked harder, but it was great because we were doing it together."
Then everything changed. The same day Meyer saw her doctor about the suspicious lump, several mammograms and an ultrasound revealed Stage 3 breast cancer requiring immediate removal. During the double mastectomy, the surgeon discovered the disease had spread to at least one of her lymph nodes. 
At first, Meyer was reticent about telling all but her closest friends. "I thought, 'Oh, I'll just be in and out and bounce back and everything will be fine,'" she says. But the chemotherapy made her gravely ill—each treatment attacked her joints and bones, landing her in the hospital—and so did the Tamoxifen routinely prescribed to prevent a recurrence. The pain never subsided. "That was a 10 out of 10," she says. "I could not function. I couldn't get out of the house. I was struggling just to keep up with some emails and do a little paperwork because the pain was so horrific. … I could maybe work for half an hour and then I'd be back in bed."
Her hearty appetite, which friends had teased her about since college, was gone, and her weight plummeted to 95 pounds. Doctors implanted a pain pump to inject continuous medication into her spine and give her some relief. By late 2012, she couldn't work at all. Unable to run the firm by himself and needing the steady income and medical benefits his wife's ongoing care required, Miller returned to the bench. 
"When we had to close the firm, that was probably as hard as my diagnosis," Meyer says. "I was very, very sick, and now I had lost the thing that I had worked so hard for all these years. I think that really set me back."
Gradually, she began to feel better and the surgeon removed her pain pump. In 2014, the security division of the Indiana Secretary of State contracted with her to serve as an administrative law judge. The following year, she was hired part-time at Rocap Law Firm and she slowly reclaimed her stamina and momentum. 
In the fall of 2016, Meyer joined Metzger Rosta. "She can handle complex legal matters, and not everybody can do that," says Metzger, who was one of the first people Meyer called after her diagnosis. "She can do the complicated construction [legal work] and litigation for traumatic brain injury or severe injury or death. She can do environment work. She adds a lot of areas of expertise to our firm that we were limited in or [didn't do] at all."
A year ago, Meyer, now 53, delivered an oral argument in front of the state Supreme Court, a crowd of judges and politicians, and several hundred students at a retiring judge's high school in Lake County. Representing a client who had allegedly been drinking when his car struck the plaintiff, and for whom her firm had gotten a multimillion-dollar verdict overturned on appeal, she emphasized errors made by the trial court, but lost. "So the case lost at trial, we won at the Court of Appeals and we lost at the Supreme Court," she says. "It was a ping-pong [game] going back and forth all the way up and all the way back down. The verdict ended up standing, but it was a great experience—not only writing the briefs and researching, but then being able to argue it in front of the Supreme Court. That was pretty neat."
These days, Meyer's schedule is once again packed with a full caseload, speaking engagements on topics ranging from trial skills to insurance coverage issues, and volunteerism with local, state and national bar associations. She is also heavily involved in several community organizations, including the Humane Society of Indianapolis. She and her husband have fostered numerous cats and now have two elderly felines, Lucy and Ariel. Meyer and Miller socialize nearly every night at restaurants, concerts and parties. She also has a new grandchild, Charlotte, by her only daughter, Tiffany, who works at the Tippecanoe County Health Department in Lafayette.
Acquaintances often ask her why—and how—she does so much. "I live life to the fullest," she says. "My husband tells me I'm making up for lost time, and I think I probably am. I'm going to make every moment count because you never know when one thing can change your life so drastically."
As for her practice, she says, "Give me a challenge. Give me something to argue over. Give me a client to fight for. I guess that's what got me through the challenging years. I am a fighter. Don't tell me I can't do something, because it'll just make me more determined."
---
The Never-Ending (Pro Bono) Case 
On an August morning in 1995, as soon as Meyer entered the office, the firm's receptionist handed her a pink slip of paper with a phone number and the words "Daughter is missing."
"I had just dropped my daughter off at school," Meyer says, "and I freaked."
It was someone else's daughter. Police had discovered the car of Peggy Margaret Sherman, a nursing student and bank teller in her 20s, still running, with her purse and glasses inside. She was nowhere to be found. 
The family was looking for a reference for a private investigator. Meyer gave them one. Then they asked her to set up a guardianship so they could pay their daughter's bills and take care of her house. Meyer had never handled one, but she couldn't bear to turn them down. "Look how I felt when I thought for a second it was my daughter," she says. "I couldn't imagine how these poor folks were feeling."
The evidence was stark but confusing. Money was allegedly missing from the bank, a search of the girl's home turned up a number of firearms, and DNA experts hired by Meyer found enough blood in her bedroom to confirm that no one could have lived through whatever happened. And there was a suspect. But the case was never solved and a body was never found. More than a decade later, the young woman was legally declared dead. 
Nonetheless, "This family—they've never given up. I have never given up," Meyer says. "It's my longest-running case, and my longest pro bono case. I never charged this family a dime. I just refused."
Search attorney feature articles