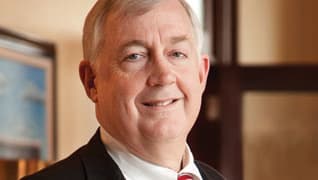 Photo by: Dario Impini
The Language of Law
George "Corky" Plews has forged much of the state's environmental and insurance coverage law
Published in 2013 Indiana Super Lawyers magazine
By Nancy Henderson on February 14, 2013
George "Corky" Plews was still a junior associate at Baker & Daniels in the early 1980s when he became embroiled in a case that would not only mold his career but also set a precedent for the future of environmental law in Indiana.
Litigating on behalf of the Indiana Audubon Society to halt the expansion of gravel mining into Eagle Creek Park, the young attorney worked to help show the impact of such activity on the waterfowl and other birds nesting in the park. With the help of the state's leading avian expert—the man's last name was Starling, fittingly—the team was able to prove that the native cormorants, vireos and other species would suffer significant habitat destruction if the mining company bulldozed its way into the reserve. Thanks to Plews and his colleagues, the court stopped the excavation and protected Eagle Creek.
"That was my first real large environmental case … and one of the first major environmental cases in the state," says Plews, 60. "What I love about that kind of litigation is that there's this intersection between public policy, science and law. Environmental law is really an extended expression of our public policy choices."
Since then, Plews, who in 1988 co-founded what is now Plews Shadley Racher & Braun, has made a name for himself as one of the state's leading environmental, appellate and trial advocates. As chief counsel in American States Insurance Co. v. Kiger, Hartford Accident & Indemnity Co. v. Dana Corp. and other key cases, he has shaped Indiana's insurance coverage law and forced carriers to pay hundreds of millions of dollars for mandated cleanups.
"George has, with the support of other attorneys in our firm … made Indiana the best state to bring a case to get insurance coverage for an environmental cleanup," says firm partner Sue Shadley. "I think it is his oral advocacy and briefs that have made him a winner."
Growing up in the rural community of Crystal Lake, Ill., about 50 miles northwest of Chicago, Plews devoured every legal biography he could find—from Abraham Lincoln to Clarence Darrow. "It seemed that [lawyers] were at the center of solving a lot of the culture's most important problems," he says, "and that really interested me."
His father's occupation as publisher of the World Book Encyclopedia Dictionary and other nonfiction tomes wasn't the only catalyst for Plews' love of language, writing and literature. As a baby, the strong medications he was given to counteract the potentially fatal effects of his mother's Rh factor incompatibility are probably what caused his significant hearing loss, which wasn't detected until Plews began spelling the wrong words in oral exams in sixth grade. "[The hearing impairment] turned me to the written word as a way of understanding and expressing what I saw in the world," he says. "It gave me a voice that I could use especially well."
After toying with the idea of becoming a professional writer, Plews chose law instead. "I'm attracted to the problem-solving nature [of law]," he says. "I knew I wanted to be in a helping profession of some kind, and law was my best option for doing that kind of work."
Throughout his undergraduate studies at Princeton University and getting an honors degree from Oxford University, his legal education at Harvard Law School, and even his early courtroom appearances, Plews minimized the high-pitched feedback that plagued hearing aids back then by wearing eyeglasses with a receiver on one side and an amplifier on the other. Careless with the devices, one day he sat at the counsel table in the 7th U.S. Court of Appeals wearing glasses with one lens missing. "I can only imagine what the judges thought," says Plews, who has learned how to turn the impediment into an asset. "From time to time, I've had to come out from behind a podium and approach the judges, which is really an advantage because I can eyeball them much more closely. … It makes it a much more personal conversation."
It was at Princeton that Plews met his future wife, Christine, who was also bound for Oxford and Harvard Law School. Luckily, they both chose to practice in Indianapolis after graduating in 1979—he went to Baker & Daniels, she to Eli Lilly and Company. The Chicago firm he'd considered collapsed shortly after, and so did the Houston economy.
At first, Plews handled all types of litigation. But by 1986, the firm needed someone to serve as liaison between its burgeoning environmental practice and the litigation group, and Plews—whose appetite had been whetted in the Eagle Creek Park mining case—was a natural. He was assigned to work with a prolific environmental lawyer named George Pendygraft. In 1988, the two struck out on their own and established Pendygraft Plews & Shadley with Sue Shadley, the first general counsel for the Indiana Department of Environmental Management. Rather than mimic the business model of some law offices, with associates generating income under the direction of the partners, the trio launched a boutique firm with a collection of focused practices in a cluster of revived historic buildings in Indianapolis.
Plews' savvy representation of clients with environmental remediation problems quickly prompted groundbreaking legislation in the field. One of his most daunting cases was Hartford Accident & Indemnity Co. v. Dana Corp., in which Dana Corp., a worldwide automotive component manufacturer based in Toledo, Ohio, sued its liability insurers when they denied coverage for contamination cleanup. The case, which began in 1991, lasted more than a decade, encompassed 63 sites in 19 states, sought coverage from 56 insurers, and ended up in the Indiana Supreme Court once and the Indiana Court of Appeals twice. "We had opposing counsel relationships that went on for years and years and years," Plews says. "In dollar terms, we're talking upwards of $50 million of claims and issues, different courts, different judges. The case went on so long that I think we had three different judges at various points along the way." Using mostly mediation—a novel approach at the time—Plews' team helped resolve Dana's claims with all 56 defendants.
In a detour from his environmental and insurance work, in the early 1990s Plews brought some of the nation's first class action suits against banks for overcharging on adjustable rate mortgages and escrow accounts. "They weren't the huge, huge mega-cases where … it ends up being kind of like a John Grisham novel," he says. "They weren't quite big enough for that, but we litigated a bunch of them. We litigated enough of them that the industry really got going on cleaning it up, paying a lot more attention about how carefully they adjusted those mortgages and how carefully they measured what monies they would require you to deposit in escrow accounts and how they used them."
On the heels of that litigation, Plews' firm, among several, successfully represented the state of Indiana, on a reduced-fee basis, as part of the multibillion-dollar suit that forced cigarette makers to reimburse the state for Medicare and Medicaid costs to treat smokers who developed lung cancer and related illnesses. "We had actually been approached by tobacco companies to represent them in some of these cases, and we turned them down," Plews says. "We didn't want to use our legal talents on their behalf. It's cost us some legal work, by the way, over the years. … But I'm still very happy we did what we did."
It was perhaps American States Insurance Co. v. Kiger that secured Plews' place in the annals of environmental law. He was already working to help policyholders secure coverage from insurance companies for environmental remediation when, in late 1990, complaints of petroleum vapors leaking into the sewers in Danville were traced to a leak in an underground storage tank at a small Sunoco gas station owned by Vincent and Maria Kiger. The couple's insurer cited a pollution exclusions clause in the policy and denied their claim for coverage. "Our client was responsible for about $600,000 worth of cleanup," Plews remembers. "They were salt-of-the-earth, fine people. They didn't have $6,000, much less $600,000. So it was going to be a disaster, wipe them out."
Finally, in 1995, Plews stood before a packed audience, addressed the vague wording of the Kigers' general liability policy and persuaded the Indiana Supreme Court to declare the pollution exclusions in the policy ambiguous and hold insurance companies responsible for environmental cleanups as sudden and accidental occurrences. The ruling is now a state standard to which others are upheld.
"The message of all these cases to insurance companies is to be clear in the language you're using," Plews says. "I'm very proud of that because I think, for one thing, it's literally helped clean up our environment. It's freed up about half a billion dollars or maybe more that have been spent on cleanups and provided by insurance that wouldn't have been provided otherwise. That's done a lot for policyholders—little folks like the Kigers—to big companies to the government."
Plews also supports nonprofit causes by volunteering at a homeless shelter and serving on numerous boards, including the Indiana chapter of the American Civil Liberties Union and the foundation for his local National Public Radio station, WFYI Indianapolis. For the past 25 years, he has overseen legal affairs as chancellor for the Episcopal Diocese of Indianapolis. Despite his pleasant personality and hearty sense of humor, he admits to a competitive streak that surges when he plays an occasional basketball game or coaches the seventh- and eighth-grade team at St. Richard's School, which he's done for 15 years. "That really surprises people," he says. "They don't expect this kind of quiet guy who cracks jokes to all of a sudden come flying into you."
In court, however, Plews is known for his calm, nonconfrontational demeanor. "What lawyers do is help the culture resolve conflict without bloodshed," he says. "We do it in a way that allows people to have their day in court, as the expression very aptly puts it, to say what their position is, and at the same time resolve that with attention to principles and justice. Our role as lawyers, I think, is very fundamentally to honor that process."
Search attorney feature articles