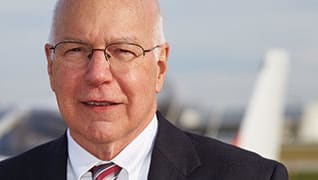 Photo by: John Bragg
The Steady Hand
Rick Norris calmly guides his clients—and his aircraft—amidst turbulence
Published in 2016 Indiana Super Lawyers magazine
By Nancy Henderson on February 12, 2016
More than 40 years have passed since the day law student Richard L. Norris spotted a storm ahead of the Meyers Aero Commander 200D single-engine plane he was flying on the way back to Utah. He was with an Army Reserve buddy, James Curtis, and, rather than fly into the danger, Norris heeded the radar warning and made an unplanned night landing at a small airport in Iowa.
"When you're approaching the front, many times you're able to watch the lightning activity from a very safe distance, but you can see things a long way off," says Norris, 70, a founding partner at Norris Choplin Schroeder in Indianapolis. "So we were able to watch that line and we decided that we were absolutely not going to challenge it. The next morning, we did learn that not only was there a line of thunderstorms—there were tornadoes in it."
Curtis, who practices probate and tax law at his eponymous firm in Indianapolis, describes the close call: "It was obvious that we weren't in the best situation, but [Norris] kept his cool. … Rick can keep his cool as much as anyone I know, and keep focused on whatever he's trying to accomplish."
The even-keeled Norris is a calming presence in both the legal and aviation communities. Litigating on behalf of both plaintiffs and defendants for 45 years, he handles everything from construction and environmental law to wrongful death and, unsurprisingly, aviation, including plane crashes and toxic torts involving errant pesticide spraying. One of the top mediators in Indiana, he has chaired the medical review panel numerous times, and in 2008 was honored with a Civility Award from the state bar's litigation section. In the 50 years since he became a licensed pilot, he's logged more than 3,300 hours in the air—an accomplishment that earned him an FAA Wright Brothers Master Pilot Award in 2015.
Robert A. Duncan, of counsel at Norris Choplin Schroeder, met Norris in 1970 at the airport where Duncan was working. The two friends have worked on personal injury cases together and jointly own a four-place, single-engine Piper. "He is always very humble about his successes and doesn't gloat, or pout when things don't go the way he had hoped. He very much exhibits the trait that I tend to call 'confidence with quiet competence,'" Duncan says. "His character is such that I trust him with my life."
The oldest of three brothers (the other two are twins), Norris hails from South Whitley, a small Indiana town of about 1,500, where he often baled hay and cleaned barns on his uncle's dairy farm. At 10, he started a paper route and a lawn-mowing business, and in high school worked for the weekly community newspaper, writing sports stories, setting type and sweeping floors. His dad sold insurance, first from the family's home and, later, at an office. "The work ethic was one of the things that was strong in that area in that time," Norris recalls. "When people would have a conversation about someone, many times they would say, 'Charlie's a good worker.'"
An early photograph shows 2-year-old Norris staring skyward, spellbound by a plane. His first taste of flying came when an older cousin took Norris up in a World War II Taylorcraft spotter at a family potluck. "We played rollercoaster, and I thought that was the greatest thing," Norris says. "We'd pitch up to the nearest stall and then shove the nose over and pick up speed. Boy, it was exciting for an 11-year-old who didn't appreciate that anything could ever go wrong."
In 1958, two years and many rides with his cousin later, Norris offered to pay a junior high coach, who was also a flight instructor, for his first real lesson. "I had saved my money from the paper route," Norris says. "Back then, you could rent a Champ or a Chief, which are kind of akin to a Piper J-3 Cub, for $6 an hour, including the fuel."
Climbing into the tandem aircraft and stuffing one cushion under his backside and another behind his back, Norris turned to the instructor and matter-of-factly announced, "I want to do some spins."
"Have you ever done spins?" the coach asked.
"Sure, lots of 'em," Norris said.
"What else have you done?" the man asked, incredulous.
"Loops."
Norris spent the next hour looping and spinning and living his dream. At the end of the session, the instructor refused to take the teenager's money, saying, "If you ever get your license, you can send me the fee." Several years later, Norris did just that. He adds, "I still have the receipt for that hour of time."
The first in his family to attend college, Norris won an academic scholarship that helped him study business administration at Butler University. During that time, in the late '60s, Norris worked various jobs: setting type, taking photos and driving a semi-trailer. He even purchased an old 1941 Luscombe 8A with no lights and no radio that could only be started by swinging the propeller, and became a part-time flight instructor. But a job sorting mail in the basement of Indiana Insurance Company—which later promoted him to underwriter—is what led him to law. There Norris became so intrigued by the lawyers who helped keep the business on track that he made up his mind to continue working full-time during the day while taking on law school at night.
Norris considered making a living as a commercial pilot, but ultimately chose to pursue a legal career, preferably one that combined his vocation and hobby. In 1970, a year before he passed the bar, he approached Indianapolis attorney Harry A. Wilson Jr., who hired him as an investigator and law clerk. Wilson assigned him to work on a case involving the crash of a four-seat N Model Beechcraft Bonanza aircraft in the volcanic Wrangell Mountains of eastern Alaska. Two passengers were killed in the accident, along with the pilot, and their family filed suit against Executive Aircraft, the maintenance company that had worked on the plane.
Wilson warned Norris that he had no intention of bringing him on board as a staff member. "I'll pay you $100 a week and your expenses every time you turn them in," Wilson told him. "I don't know if I can pay you the $100 every week, but I'll catch up."
Norris took witness depositions in Alaska, helped secure experts to testify and ultimately helped try the case. The plaintiffs "made some fundamental errors in their assessment of what happened," says Norris, and the jury returned a defense verdict. He was never nervous about the outcome, he says. "We had a course plotted and followed it. I don't remember weeks of fear and trepidation. I remember weeks of hard work and little sleep."
When Norris graduated the following year, Wilson changed his mind and hired him. Norris remained at the firm until 1980, when he and two other attorneys left to start their own. The men planned to supplement their income by teaching, surveying and, in Norris' case, instructing flight students. "Indiana is not a hotbed of aviation litigation," Norris says. "We don't have a lot of mountains to fly into. We really don't have, thankfully, a lot of airplane accidents. So we were never able to stay fully occupied with aviation work."
Still, thanks to their former boss, who magnanimously gave them 32 cases to get started, the work poured in. "So we never had an opportunity," Norris says, "to do those things that we were going to do part time. We were too busy, and I'm thankful for that."
One of Norris' most memorable cases came in 1992, when a Mitsubishi aircraft collided with a Piper Saratoga near the local Greenwood Airport, resulting in six fatalities and serious injuries to the two survivors. Norris' firm, one of seven suing the air traffic control system and other defendants, represented the estate of a passenger aboard the Mitsubishi. "The plaintiffs were able to get the raw data for the radar track," he says, "and literally watch the radar, which was eerie beyond description … to the point of collision."
Ultimately, Norris helped arrange a settlement among one of the insurance companies, the U.S. government and the plaintiffs. "We were able to get the case to closure for the benefit of the families without a very involved trial," Norris says. "For the defendants and their insurance companies and the government, it kept the lid on damages because it was a known resolution even though it was significant. For the plaintiffs, it brought closure and they could go on about their lives."
Those same negotiation skills have served Norris particularly well in recent years. Although he still handles a broad array of legal matters, from complex litigation and insurance defense to probate and medical malpractice, he currently spends about 40 percent of his time on alternative dispute resolution, a method that has come a long way since the pre-mediation days when, he says, "talking about settlement was perceived as a sign of weakness."
In the 1980s, when the Indiana Bar Association conducted a trial run to see if there was any merit to such structured discussion, Norris was one of the lawyers selected to take mediator training on a volunteer basis. He and his colleagues were given handfuls of old, pending cases to discuss with the parties. "By golly, those cases got done, almost all of them," Norris says. Again, the bar association experimented with "settlement week" and, again, it worked. "Well, the next thing you know, we started getting calls from the people that we had worked with as volunteers, saying, 'We'll pay you your hourly rate if you'll act as a mediator for Bill and Sam, or Mary and Sue.'"
When serving as a mediator, Norris challenges both sides to see the big picture. "I like to ask the plaintiff side, 'What do you want to accomplish by this lawsuit that you've caused to be filed?' Sometimes that just catches them flat-footed. I have a follow-up question: 'What are you willing to do to have this over with and out of your life when you leave today?' It's really a powerful question, because that puts in focus not just what they wish, but what they want to do, and what their needs are."
It's a perfect fit for two of Norris' defining traits: a natural curiosity about how things work, and a love for people.
"I have a connection to most people where they live and work," he says. "Growing up in our little town, I used to ride my bicycle to a manufacturing plant in the evening and the summer. They'd have the big overhead door open where semis would deliver. I'd walk back through the machine shop, talk to the guys running the lathes and the grinders. … They enjoyed telling some kid about what they were doing, and I sure enjoyed learning about it. If you enjoy people and you enjoy the mechanics of things, you can explain to [clients] things that they don't know about the legal system, and help them to assess the risk and reward."
A longtime friend of the late Tuskegee Airman Jimmy Walker, Norris is president of the board of the Mary Thornton Walker and Charles D. Walker Charitable Foundation, which provides college scholarships to inner-city students in the Indianapolis area. His wife, Elise, often involves him with families she meets in her role as a longtime teacher in an ESL program that helps refugees find jobs and acclimate to life in the United States.
"At the end of the day," he says, "if you can just manage to keep truth and justice in mind, it's very satisfying."
Search attorney feature articles