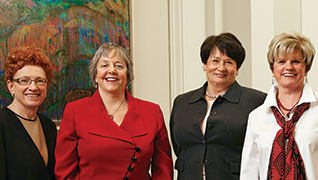 Photo by: John Bragg
"Why Are You Competing With Me?"
An oral history of the first wave of female attorneys
Published in 2015 Indiana Super Lawyers magazine
By Steve Knopper on February 12, 2015
The women who graduated from Indiana University's law school in Indianapolis in 1970 found themselves in the minority. A distinct minority. "In our original class, there were three [women], and two of us graduated," recalls Aline F. Anderson, solo practitioner in Indianapolis. By the end of the '70s, those numbers had started to grow.
More importantly, as the years wore on, the U.S. became more progressive and fair when it came to equal rights and family leave; discrimination became less blatant in Indiana courts and law firms.
"Initially, I felt disadvantaged as a woman. Peers and some judges perhaps treated me differently. Sometimes I was referred to in ways that were not respectful," says Nancy L. Cross, managing partner with Cross, Pennamped, Woolsey & Glazier in Carmel. "But there's less of that now."
Here are the stories of nine prominent women currently practicing in Indiana.
"Lawyer" wasn't a common career choice for women through the late '60s, but Sandra Day O'Connor and others had spent decades lighting a new path.
MARY KATHERINE LISHER, Indiana University School of Law, Bloomington, 1975, partner at Faegre Baker Daniels: I always had the benefit of parents that said, "Whatever you want to do, if you put your mind to it, you can do it, and we'll back you up." Nobody ever said to me, "You can't do that because you're a girl."
NANCY L. CROSS, University of Nebraska College of Law, 1979: My father is an engineer. I said, "I might want to be an engineer." He said, "No, you're not going to find a lot of opportunities there; maybe you should go into teaching, Nancy." "Screw that. I'm going to be a lawyer." Those were the days, you know! It was hard to see yourself in another image than a nurse or a teacher or a cheerleader or whatever.
DANUTA PANICH, Indiana University School of Law, Bloomington, 1978, shareholder at Ogletree Deakins: My parents emigrated from Europe after World War II, and they didn't have the benefits of higher education and the American school system. They came to this country with nothing, and they were great proponents of education. I have one brother, and they treated both of us exactly the same.
Law schools were very different places in the early '70s compared to the late '70s.
ALINE F. ANDERSON, Indiana University School of Law, Indianapolis, 1970: The professors would call on you constantly. If they called on one or two people, and they hadn't briefed the cases, it would be: "Well, I'm sure Miss Anderson did her homework last night." So you always did your homework and tried to be prepared for class because you were going to be called on. It was that simple.
LINDA PENCE, Indiana University School of Law, Indianapolis, 1974, partner at Pence Hensel: When I first started law school, practicing male attorneys told me … women who became lawyers couldn't be feminine. When I was taking the bar, another [male] student said to me, "I can't believe you're in here. You're just going to get married and have a family. Why are you competing with me?"
NORA MACEY, Indiana University School of Law, Bloomington, 1975, of counsel at Macey Swanson and Allman: Several women had been in '60s movement-type things like anti-war or civil rights or women's rights. We had a core group of women who had a more activist mindset. We had a very active women's caucus. I remember one professor who was extremely popular and kind of funny, but his jokes were basically sexist. They made us uncomfortable. We would talk: "The next time he says something, we're going to walk out." But you never know. "Is it enough?" "Are we going to look like we lack humor, or is this really insensitive?" We'd be looking at each other, "Well, was that bad enough?" It was annoying.
PENCE: There were no lines in the bathroom. There were two toilets and there was never a line.
In interview situations, young law school graduates in the '70s could find themselves across from a raging chauvinist or a supportive mentor.
JULIA BLACKWELL GELINAS, Indiana University School of Law, Indianapolis, 1978, equity member at Frost Brown Todd: Some of the largest firms in the state told me they had no women. Some told me they already had one woman and had no interest in hiring a second. … Some of the questions—I look back and they were so humorous or so ridiculous that I can't even believe I answered. "Who did I plan to eat lunch with?"
KENDRA GOWDY GJERDINGEN, William Mitchell College of Law, 1978, partner at Mallor Grodner: I'm coming out of Minnesota and happened to be married to another attorney [who was] getting his LL.M. at Yale and going into teaching. [At the] end of the '70s, we ended up in Oklahoma. I'm looking at getting a job. Every time I inquired about things, the response was, "Well, we're not looking at attorneys, but we really need a good legal secretary, and I think your skills could be advantageous to us."
LISHER: Most of the firms that I interviewed with had no women lawyers at all, or they had women lawyers who had gotten to the practice of law [in] a very different way than I'd gotten there. They were second-career women, or women who'd been legal secretaries and had gone back to law school. I wasn't interviewing with people who looked a lot like I looked.
CROSS: They did interviews at the school. I'm in a room with two or three stodgy men and they asked me point-blank about my plans to get married and have a child. I'm suspecting they didn't ask that of my male counterparts.
As late as the mid-'70s, women still had to contend with firms that were deeply suspicious of women, or tolerated "men's clubs" and other exclusionary social outlets. But progress was being made.
ANDERSON: Most of the women, back when I went to law school, probably worked twice as hard—and probably twice as hard in the job force, too, because we had to prove ourselves. A bank had made me a nice offer [to be a] vice president. I used to call myself the token vice president. We could put out there, "We have a woman vice president." They put you on every board and every committee and every whatever.
CLAUDIA V. SWHIER, Harvard Law School, 1975, partner at Barnes & Thornburg: The two other women that were in my class, we all made partner at the same time. There were two females who were also partners who preceded us. One was a secretary who worked for the firm for some time and went to law school at night and graduated and ultimately was made a partner. We had a couple trailblazers before we arrived on the scene, so that was helpful.
CROSS: When I went into private practice, a senior partner would transfer me to a case, and the client would say, "I wanted a bulldog. I didn't want a French poodle."
GELINAS: Despite the fact that the judiciary then was very male-dominated, clerking for the Supreme Court opened up a lot of opportunities for me and for women. There were not a lot of opportunities afforded to women in private practice, necessarily. I think the judges were probably much more open to women in the profession than private practice was at the time.
GJERDINGEN: When I first started working as a paralegal for a law firm, in St. Paul, Minnesota, they had a firm membership at the Saint Paul Athletic Club—which was restricted to men. Women could only go on certain floors. The elevator opened up right on the lockers. After the elevators stopped, you often saw a bunch of naked men. We couldn't go to that floor, but we certainly could open the door on it. When we were taking clients to dinner or lunch, the women attorneys or paralegals couldn't attend because it was not on a floor they could go to. At one point, another woman and I felt we'd had enough—we went through to the men's grill, went through the line, charged it to the firm membership and sat down. They served us and we ate. In the afternoon, one of the partners called us in: "We got a call from the St. Paul Men's Athletic Club. We thought it had to be you. They said they're going to open it up." Integrating that grill was my statement, I guess.
PANICH: I was in a meeting with another, more senior, male partner, and we were meeting on behalf of a client with a representative of the federal agency called the Office of Federal Contract Compliance Programs, which was responsible for affirmative action. The male agency representative was sort of pontificating, and when he finished with his speech, I said to him rather directly that I disagreed and thought he was wrong and proceeded to explain my position, and he became incensed. He turned to my male colleague and said, "Would you control her?" I was so astonished by that. OFCCP is supposed to be the advocate for women's equality and it was just a really embarrassing situation. I met with him privately and complained to him. He did apologize to me.
PENCE: I learned when I started that the male law clerks were receiving $100 [per week] and I was given $95. And I walked into the office of the partner who "got it," and was a good person. He kind of had a sheepish smile and said, "We'll fix that."
PANICH: In the labor arena, when I started practicing in 1978, the union representatives were almost all men. So here prances in this woman to represent them. Everyone was on their Ps and Qs: if they said a bad word, they'd blush and say, "Excuse me, ma'am." They just weren't comfortable interacting with me. I dropped a few cuss words into the conversation, an f-bomb here or there. I actually developed a bad habit of using bad language. I mean, I smoked. I used bad language. I drank hard liquor. It was all part of playing that role. I was one of the boys and we got along fine. I don't smoke anymore and I try not to use bad language. But, I confess, I continue to drink hard liquor from time to time.
In the '70s and '80s, attorneys who were new mothers often had to fend for themselves, hiring babysitters, nannies and balancing work and childcare in creative ways. Some did both things at once, which amounted to working two jobs simultaneously. The Family and Medical Leave Act of 1993 helped improve the situation for many lawyers.
SWHIER: I have two children. I was fortunate the firm had, and still has, a very generous maternity-leave policy, which was three months off with pay. I had an in-home nanny to care for my child.
MACEY: I put an ad in the North Side Topics, a little consumer paper you pick up at the grocery store, saying, "Need somebody two to three days a week to watch my baby." And a lady comes over, nice as could be. I hired her and started going to work. Once they started going to school, I would try to go in [to work] while they were in school. I'd be racing back to catch their bus when they were coming. It's almost 4 o'clock; I'm driving out of my mind; the kids get off the bus in 15 minutes. I was like, "Ah, this is just crazy, I'm going to get in an accident."
PANICH: On one occasion, I went in for my annual evaluation, and the head of my practice group at this firm in Chicago, a wonderful gentleman, asked me if I was serious about continuing in the law practice now that I had a child. I did assure him, yes, I was still serious about it. I tried to hide the fact that I was pregnant for as long as I could because I wasn't sure how to tell anybody. It turned out fine. It delayed my partnership for a year, but I thought that was fair.
Today, the obvious, rampant discrimination has mostly dissipated. Law schools and firms are more integrated than ever, and family-leave policies are humane for both men and women. But issues involving pay equity and gender parity in law firm partnerships persist.
GELINAS: By the time the '80s rolled around, and then the '90s, discrimination was not as blatant. Today you don't always see it, but you walk away wondering if you just encountered it. In some respects, that's harder to address and deal with because when something's obvious it's easier to understand the situation.
GJERDINGEN: The obvious discrimination is not there any more at all.
SWHIER: They're mainly equal. There are more women than men in law schools now, and of course we have a lot of women now at the law firm. I never feel that anybody is mistreating a female attorney at the firm simply because she's female. At one point, they were relegated to family law and estate planning, but I do mergers and acquisitions for financial institutions, and there are a lot of women in that area as well as other traditionally male-dominated areas. Women have become accepted and don't face much discrimination.
ANDERSON: If there is some discrimination in my area, it may be against men, because they are not quite as compassionate or good hand-holders. I've had a lot of clients come to me because they say, "I want a woman. I don't think a man understands what it means when you lose your husband."
PENCE: The issues haven't gone away. Until I don't have a young woman in my office crying because she was passed over for partner or thought that someone wanted sexual favors from her—until I see the absence of those things, it's there.
CROSS: I suspect those prejudices and barriers remain. You look at any large firm … you're not going to see that many women. God help them if they have children; they're going to be on the mommy track and considered to be part-time and working 40 to 50 hours a week. "What do you mean, you have to take off early to take your child to the dentist?" It's still a pretty unforgiving profession.
SWHIER: When I first joined the firm, occasionally I would work for a male client who would make comments like, "You're not planning to do this forever," or "Shouldn't you be in the kitchen making dinner for your husband?" which I usually kind of brushed off. Now women are succeeding, are fairly respected as attorneys and have done very well. We're here to stay.
Search attorney feature articles