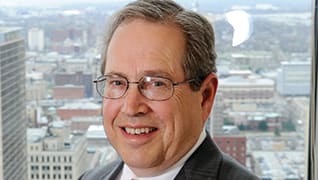 Photo by: Tim Webb
Answering the Call
How R. James Straus stepped forward in a dark hour
Published in 2008 Kentucky Super Lawyers magazine
By Karin Beuerlein on August 1, 2008
When he was growing up as the oldest of four children in Lexington, R. James Straus never considered becoming a United States Marine. Then a war came calling.
In 1968, Straus was a senior at Yale, where anti-war sentiment swelled to a thunderous roar as the Vietnam draft wore on (the university famously kicked its ROTC units off campus the following year). Straus was planning not for a military engagement but a career in law when the Tet Offensive was launched that January. Straus was drafted in June.
"I was very much opposed to the war," he says, "but I also thought it was a fundamental element of citizenship that if it was your generation's time to be called into harm's way, it wasn't appropriate to step aside."
Straus chose the U.S. Marine Corps to fulfill that obligation. After attending Officer Candidate School and receiving basic training in Quantico, Va., he was transferred to the Defense Language Institute in Monterey, Calif., to learn Vietnamese. He was deployed first to Okinawa, Japan, and then joined a battalion landing team in the South China Sea. He was sent ashore in Vietnam in January 1971.
Straus served as a civil affairs officer in northern Quang Tri province, working directly with Vietnamese citizens and soldiers. He quietly demurs when asked to elaborate on the things he saw there, offering instead a simple assessment of his time in service. "It reinforced my view that our policies in Vietnam were ill-advised," he says.  
After returning home in 1971, Straus completed his law degree at the University of Chicago; he's now a member of Louisville's Frost Brown Todd, focusing on business consulting and transactions.  
Straus believes that his Marine Corps training and wartime service benefit his career. "They're not two completely different worlds," he says. "In the military I learned a deep appreciation for people from all walks of life, and I think I acquired a confidence that no matter what life's challenges are, they can be handled." 
Search attorney feature articles