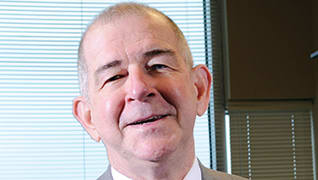 Photo by: Tim Webb
The Coal Miner's Son
Low-key energy lawyer Bruce Cryder is a giant in his field
Published in 2008 Kentucky Super Lawyers magazine
By Nancy Henderson on July 25, 2008
For most people, an eight-day sojourn in a cramped scientific outpost in the middle of the desert would not be the ideal vacation. But for Lexington attorney and avid birdwatcher Bruce Cryder, last year's trip to the Chiricahua Mountains in southeast Arizona offered a chance to spot the red-faced warbler and the elegant trogon, a striking bird with a metallic green head and scarlet belly. "We did bird watching every day from before dawn till late at night in all types of climates, from the desert to the top of the mountain," says Cryder, 62, of Greenebaum Doll & McDonald. "I found about 40 species I'd never seen before, and those were two I was really excited to find."
Cryder's intellectual curiosity and in-depth knowledge of topics that intrigue him—from ornithology to the literary works of Henry James to coal mining—have served him well in his career in natural resources and energy law. One of the region's most prominent coal law practitioners, the calm, down-to-earth attorney knows the industry from every side: regulatory, corporate and, for the past 20 years, private practice. Like the elegant trogon, though, he often goes unnoticed outside his field.
"When Bruce speaks, you want to listen to him," says partner Phillip Scott, who hired Cryder in 1988. "But his personality is reserved. He is even-keeled, low-key and not inclined to toot his own horn." In fact, says Scott, "Bruce would not be known very well at the general bar association here in town because as a mineral lawyer, he is in a niche. Other lawyers who don't practice in that area would say, 'Bruce who?' because they never run into him. They wouldn't know Bruce Cryder from the man in the moon. … In the community he's a hidden asset, but in the industry he's a jewel."
Warren Hoffmann of Frost Brown Todd in Lexington has negotiated mining transactions with Cryder for 15 years. "He truly is a Renaissance lawyer, the person who can document a transaction but also argue a case very effectively, win huge judgments in court and handle the appeal. Very few lawyers, particularly in large firms today, have the skill set that Bruce Cryder does."
Cryder grew up in a tiny house with no indoor plumbing in Rose Farm, a coal community of about 100 in southeastern Ohio. His uncle, and for a short time his dad, labored in the mines. So did his grandfather, an organizer for the United Mine Workers. "He used to tell the story—this happened in Tennessee somewhere—about when he was off doing organizing work, and when he came back, his car had been blown up," Cryder recalls.
A gifted writer who subscribed to The New York Times at age 14, Cryder originally wanted to be a reporter. But he disliked the journalism classes he attended while earning his English degree and took the law school admission test "just to see how I might do on it." He aced it and, with a full scholarship, enrolled in law school at Ohio State University in 1968. But, he says, "I came home from the very first day of classes and found a draft notice in my mailbox. That was quite an interruption to my life plan."
In the Army, Cryder attended courts martial as a legal clerk and was later stationed at a NATO post near Heidelberg, Germany, where, for the first time, he "rubbed shoulders with lots of people from lots of different countries" before resuming his studies in the U.S. in 1970. Two years later, one of the law school senior's cases made it to the U.S. Supreme Court.
His legal-aid client, a man arrested in a bar by an off-duty police officer who took offense to his raucous behavior, was charged with violating a Columbus, Ohio, city ordinance that made it a misdemeanor to "engage in conduct that was annoying to passersby." Cryder appealed the defendant's conviction to the Ohio Court of Appeals and the Supreme Court of Ohio, and lost both times. In the end, the U.S. Supreme Court sided with Cryder and declared the ordinance unconstitutional. "It's unusual for any lawyer to be involved in a case in the Supreme Court," he says. "But to do it as a law student was very, very unusual."
Environmental law was in its infancy when Cryder graduated in 1973. He took a job as Ohio's assistant attorney general and was assigned to represent the state's Environmental Protection Agency and Department of Natural Resources, which oversaw the coal mine regulatory program. During a five-year stint in which he enforced the 1977 U.S. Surface Mining Reclamation Control Act, he had another case reach the U.S. Supreme Court. On behalf of the Ohio EPA, he sued the city of Cincinnati, which challenged the constitutionality of a state ordinance mandating that cities fluoridate their water supplies. "People thought it was adding poison to the water, and there were some people who thought it was a Communist plot to poison America," Cryder says. The U.S. Supreme Court upheld the ordinance and, he says with a laugh, "Ultimately the attorney general had to send the Ohio National Guard to Cincinnati to fluoridate the water."
In 1981, Cryder became legal counsel for Utah International, a mining company with a new headquarters in Lexington. "It was a steep learning curve because it was a whole different way of looking at the world," he says of his corporate experience. He had to move to California and traveled for weeks at a time to Saudi Arabia, Turkey and Switzerland. Eventually, the foreign travel became tough on his family, so he called some friends at Greenebaum and asked if they knew of any openings. "Well, why don't you just come here?" they replied.
Once again, Cryder made a life-altering switch, this time to private practice. Although he brought no clients with him, he joined Greenebaum as a partner. "The fit was just remarkably fortunate for us," says Scott. "He is a wealth of knowledge for the younger attorneys but, more importantly, for clients to rely upon. He became remarkably successful because he's a magnet to the clients that require that kind of expertise and advice. He's just that good."
Over the years, Cryder's ability to simplify complex issues in the courtroom, draft concise documents and stay calm during contentious negotiations has earned him a reputation as a trusted source on matters related to coal mining and natural resources law. He has closed many high-dollar deals and won the loyalty of longtime clients; his first, Consol Energy, is still with him after two decades.
In his most challenging case, Cryder represented Cheyenne Resources in a breach of contract suit against the Elk Horn Coal Corporation. After leasing a coal property from Elk Horn, Cheyenne spent millions of dollars securing permits, surface rights, equipment and staff. "And just as Cheyenne started going onto the property and building roads and ponds that were required for water control, Elk Horn terminated the lease," on the grounds that the fixed term for mining had expired. After a multiweek trial in 1998, the jury awarded $9.5 million in damages to Cryder's client.
These days, Cryder concentrates more on transaction work and less on litigation. About three years ago David Wiley, CEO and president of Phoenix Coal Corporation in Madisonville, Ky., hired Cryder to handle a coal deal; since then, Cryder has helped Phoenix acquire six companies. "We hired him, pure and simple, because he had the best reputation by far in the coal industry in the eastern states. He was the man," Wiley says. "It has proven time and time again to be one of the best decisions we've ever made because he knows everybody. Everybody knows him. He's worked with everybody. And he's universally respected."
Nevertheless, Cryder remains grounded. "Having come from very modest beginnings," he says, "I marvel every day at how things have turned out."
Nancy Henderson, author of Able! How One Company's Disabled Workforce Became the Key to Extraordinary Success (BenBella Books), has written for Parade, Smithsonian and The New York Times.
Search attorney feature articles