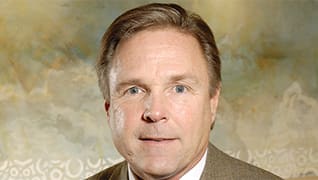 Photo by: Tim Webb
The Underdog's Best Friend
William McMurry takes the cases no one else will—and wins
Published in 2007 Kentucky Super Lawyers magazine
By Karin Beuerlein on May 25, 2007
William F. McMurry is glad his father never pressured him to consider a career in law. "Had he encouraged it," the Louisville attorney says, laughing, "I'm sure I would have done just about anything else." McMurry's father, a prominent Paducah lawyer, kept any career advice he had for his son to himself. More than a few Louisville residents are glad he did.
After earning his law degree from the University of Louisville, "I initially started in civil practice as a defense lawyer," McMurry says, "and found that it didn't really satisfy my desire to get justice." After a couple years of getting his feet wet on the plaintiffs' side of the courtroom with a Florida firm, McMurry returned to Louisville.
"I began taking cases that other lawyers found too risky," he says. "That's been my [style] all along." His proudest moment came in 1997 when he represented a young HIV-positive woman whose medical condition had been unlawfully disclosed to the public.
"I saw her story on the front page of the Courier the day she was going to trial, taking on Jewish Hospital by herself without an attorney, because her attorneys had abandoned her case," McMurry says. "By that time, I was a nationally certified specialist in medical malpractice, so I went down there and volunteered my services for free. I had about 30 minutes to prepare for a case I knew nothing about but that had been going on for more than two years. We got started, picked the jury, put the case on, and a week later, we got her a [favorable] verdict."
It was satisfying to help David beat Goliath, but McMurry, now of William McMurry and Associates, believes the case had an even greater impact. "It did a great deal to improve the image of lawyers in this area," he says. "So often, lawyers carry that age-old reputation of being out for themselves. I think this demonstrated that there are some of us who put clients' interests ahead of our own, who want to see right things done in this world."
The case raised McMurry's profile in the community. In 2002, his famously sympathetic ear and desire to try difficult cases led him to his first lawsuit involving sexual abuse and the Catholic Church. The Church's abuse scandal had just erupted in Boston, prompting the Louisville Courier-Journal to run a story about a local priest, Rev. Louis E. Miller, who had been named twice in the 1990s in sex-abuse lawsuits. "A fellow named Mike Turner, a successful businessman in his 40s, read that article," McMurry says. "He had been a student at a Catholic school where Louis Miller had served, and he came to my office, referred to me by another attorney who was confident I would take on a case that perhaps no one else would."
McMurry was concerned that should such a case go to trial, he would have to prove that the Archdiocese of Louisville knew about Miller's abusive tendencies before Turner was abused. Still, he suspected other stories would surface to corroborate Turner's timeline. "In all probability, Louis Miller had been abusing children uncontrollably throughout his adult life," McMurry says. "On the strength of that, we filed the lawsuit."
His suspicions were correct. When stories about the new lawsuit broke in the media, it was as if a dam had burst. "People started calling me to tell their stories," he says. "Out of the nearly 250 I wound up representing, probably 95 percent had never told a living soul about their abuse. It was quite an experience for me to hear these very painful stories."
The sheer number of these individual tragedies, their burden made heavier by years of secrecy, convinced McMurry that catharsis would be the best way to heal the community. "I thought it was best to get as many people as possible to come forward, to reveal as much as possible about the depth and breadth of the situation in Louisville," he says.
McMurry encouraged his clients—now lawyers, doctors, engineers, accountants—to publicly recount the abuse they had suffered. "I got them in front of the cameras and news reporters and encouraged them to speak out and begin the healing process, to make it a safe place for other victims to come out. That strategy had never been used anywhere in the country at that time to build a case." Over the next year, McMurry and his clients exposed abuse committed by 38 different priests and one sitting U.S. bishop over a 50-year period. Ultimately, the Archdiocese of Louisville settled the case for $25.7 million, apologizing for its role in perpetuating a climate of abuse.
Since that victory, the stakes have risen. McMurry is now pursuing a civil suit against the Vatican itself, the first lawsuit of its kind. "The Vatican has been named as an aside in suits before," he says, "but the problem with other cases, as I see it, is that the Vatican was not the sole object of the litigation. Priests have been sued, dioceses have been sued, bishops have been sued, but not the Vatican alone."
McMurry has moved to file the suit as a class action. "The suit's sole purpose is to hold the Vatican accountable for the childhood sexual abuse committed by Catholic clerics throughout the United States," he says. "In 2004, we discovered a document that's really a smoking gun—a 1962 directive written to the bishops of the world to keep quiet on the subject. It called sexual abuse a 'pontifical secret' and effectively made criminals out of bishops. Every state has laws requiring the reporting of known or suspected child abuse."
The suit, which encompasses abuse cases of living victims dating back to 1928, had its first major victory in January of this year when the Vatican's motion to dismiss was denied. Certification as a class action suit is McMurry's next goal. "That paves the way for every abused individual in this country to come forward," he says.
For now, McMurry is not taking any new sex abuse cases. "Hearing these stories is the most difficult thing I've ever been through," he says. "Childhood abuse victims lose all their trust in authority. They carry all this guilt forward in their lives—it's like running from a monster." McMurry believes it's best for all involved to have time to heal.
He's doing that by spending more time with his family, retreating occasionally to his second home in the mountains of North Carolina, and focusing on the work that brought him such success in the first place. "Fortunately, I'm back to doing normal casework, getting back to my medical malpractice specialty," he says. And, he adds, "winning cases others aren't winning."
Search attorney feature articles