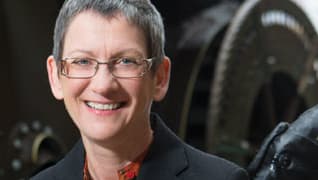 Photo by: Mark Weeks
A Willingness to Fight
After potter, nurse and secretary, Jenny Kennedy tried solicitor
Published in 2013 London Super Lawyers magazine
By Tina Walsh on March 14, 2013
In 2009, a man who had been drinking heavily got on a London Routemaster bus and insisted on hanging out of the platform at the back instead of sitting inside. He stayed that way for four stops. Then the bus swung round a corner, he fell off, hit his head and died.
His widow went to see two or three solicitors but kept getting turned down. Finally, her case was taken by Jenny Kennedy, a partner in the personal injury and clinical negligence department at south London law firm Anthony Gold; and her colleague Augustus Ullstein QC at London barrister chambers 39 Essex Street.
"Jenny and I took the view that even though it was a very difficult case," says Ullstein, "the fact that the bus had gone more than four stops without the conductor saying to him, 'Either you go inside or you get off the bus … '" He pauses for effect. "And we got 25 per cent."
"She has a willingness to fight," Ullstein says of Kennedy. "Very occasionally I am asked for a recommendation on a case, and I would unhesitatingly recommend Jenny."
Kennedy has recovered more than £19 million in compensation for her clients in the last three years alone.
"It's a stressful job. It's a challenging job," she says. "People who say, 'Oh my god, you're an ambulance chaser.' Suppose that was their grandma or their mother. I mean, I did good. And other people like me, we do good. What we do is important for people."
It all could have turned out so differently. Kennedy, 56, had a peripatetic start to her career.
Born in Leicestershire, she grew up in a small village called Markfield, the second youngest of four girls. Her father, an Irish immigrant, had been in the medical corps of the Irish Army and took a job as a nurse in the local tuberculosis sanatorium. Her mother came from Germany and worked as a nursing assistant and in a hosiery factory. They lived in a house belonging to the hospital. "A perk of the job for living in the middle of nowhere," says Kennedy.
At 19 she went on to London to study ceramics at Central School of Art and Design (now called Central Saint Martins College of Art and Design) but dropped out after a year. She's still not sure why. "When you're young," she says, "things don't always go the way you expect them to go. … I've always had an artistic bias and always found the need to do creative things. … But I'm not sure that I would have made a very good potter."
After that, she went to study psychiatric nursing at the now defunct Runwell Hospital in Essex and stayed there long enough to qualify, in 1979, before deciding her heart wasn't in it.
"I was in a relationship that was going pear-shaped, and I suppose I was a bit of a wild child and a free-thinker in my early twenties," Kennedy says. "I liked [nursing] and actually missed it when I left, but ultimately I had some thoughts about the way things were going. It was around the time when [the Thatcher government] was closing the large asylums down and discharging patients into the general community."
Because she didn't want to be part of that trend, she moved back to London and started doing agency nursing work; then she took a secretarial course and started temping in a law centre. It was only after she bought a house that she realised she needed to earn more money, so, she says, "as a matter of expediency," she went to work for clinical negligence lawyer Sarah Leigh OBE, who is now retired but was then in the process of setting up her own business, Leigh Day & Co.
"This was in the mid-1980s, a time when nobody sued doctors. Well, they did sue, but the practice was embryonic, so it was hard," says Kennedy. "[Sarah] thought, 'Oh gosh, is this woman applying to come and work as a secretary for me? She's got a nursing qualification and she'll be able to read the notes!' I suppose she could have brought a lot of other people in but I was there and convenient. Right place, right time."
Within 10 years and without having set foot in law school, Kennedy was made a partner, on the same day in 1996 that she was admitted as a solicitor. 
"Somebody told me that it was possible to train as a solicitor without actually going to college full time and that you did it through becoming a legal executive," she says. "So I snuck off to night school and, for the first year, didn't tell anybody, as I wasn't sure I'd be able to do it. They thought, 'Oh great, Jenny can do this work now. She's got her first-year ILEX [Institute of Legal Executives] exams.' And so I did, and I never really looked back. I looked at the way other people did things but I really taught myself. I used to turn over the page of the books to see what one did next."
She stayed with the company until 2000 when she went to work for medical-negligence practice Alexander Harris to head up its London office. At the same time, she was running the firm's Manchester personal injury team. The workload got too much.
"Managing people and bringing young people on is lovely but if you're running a caseload as well it becomes time consuming. I mean, I spent many, many years studying and working 18 hour days and writing," she says. "You can't do everything."
She ended up in personal injury law and clinical negligence after making a decision to work in a people-related area of the law. "I discovered that there was a world of, not opportunity, but there was a world of satisfaction in meeting people who'd got a physical or mental grievance, and helping them sort it out," she says. "The more I did of it, the more I realised that this was something I liked doing and the clients seemed to like me and people sent me work and asked me to look after their friends. Defendants would ring me up and say, 'Hey Jenny, I've heard about you,' and I'd think, 'Well, you know, maybe I'm good at this.' And I've been lucky. I've always been busy."
She's not kidding. Her childhood dream was to be a pianist and most days she still plays: "technical stuff first thing in the morning before work," she says, "classical pieces in the evening."
She also runs between 10 and 20 miles once a week, and two or three times a week she'll go riding on her horse, which she keeps in Epping Forest near her house. "Sometimes if things are a little overwhelming, it helps just to go home and ride the horse," she says. Her home in north Chingford is shared with a couple of dogs, a cat and her husband of 30 years, a former stone restorer, who retrained as a London black-cab driver and recently gained his Green Badge Knowledge licence.
Up until five years ago she sang regularly with the London Symphony Chorus but vocal chord paralysis, which also made her lose her voice for three months, forced her to stop.
Then there's the writing. She's co-author of Litigating Psychiatric Injury Claims, Personal Injury Practice and is a joint editor on Kemp & Kemp: Personal Injury Law, Practice and Procedure, which she is currently updating in line with the proposed changes—often referred to as the Jackson reforms—to civil litigation costs and funding. On top of which, she lectures several times a year.
"Even talking to her exhausts me," says Grainne Barton, senior associate at Hugh James, with a laugh. She specialises in clinical negligence and worked with Kennedy at Alexander Harris. "What she manages to achieve in a day, a lot of solicitors achieve in a week. I can't really put it higher than that. I don't think I've met anybody as driven as her. She's inspirational to work alongside."
Kennedy, says Barton, is hugely committed to her clients. "And she's very innovative, willing to push boundaries, really come up with ideas to help them that, in my view, very few other solicitors of her standing would think about. She just won't accept no for an answer. She will press as far as she possibly can to work for the best deal for her clients. Always."
One of those clients is a 23-year-old Brazilian woman who was riding pillion on a motorbike on the Embankment in central London three years ago when a car turned across her path and took her off. The woman sustained a catastrophic head injury and Kennedy was hired by the woman's family. She decided that the woman needed to go back home. As Kennedy couldn't "get any sense out of the Brazilian authorities because nobody would take me seriously," she got on a plane to Sao Paulo, looked around for hospitals, came back to the UK, hired a Learjet and flew the client home to a hospital in Sao Paulo. She also got the insurers to cough up for a specially adapted extension at the back of the woman's house and two nurses round the clock. Recently Kennedy went back to Brazil to take final statements.
"I think it's fair to say that a lot of what I do is takeover work from other lawyers who have either found the clients a little challenging or the work a little challenging," Kennedy says. "You know, when you get to the top of your field, you do quite a lot of sorting out for things that are not necessarily going right for other people."
Few of her claims get to trial. "If I'm not going to win something or something's not achievable, I would tell the client," she says. "Sometimes you have to give them bad news and it's important that they understand [that] you have a case you just can't run with. Sometimes the evidence is overwhelmingly against and you just have to talk to them about it, so they understand and feel they are part of the process."
Caroline Bourke trained with Kennedy at Anthony Gold and has worked as her assistant solicitor for the past two years.
"She is incredibly empathetic," says Bourke. "She understands what clients are going through and what they need from her. She's tenacious and an excellent mentor to me. Friends and family [of defendant solicitors and insurers] are often referred to her, which is the biggest approval you could have."
Search attorney feature articles
Helpful links
Other featured articles
Kevin Napper finds folk art irresistible
Why Natalie Weatherford only takes sex abuse cases
Jack Swerling is less fearsome than his courtroom moniker 'Mr. Murder'
View more articles featuring lawyers
Find top lawyers with confidence
The Super Lawyers patented selection process is peer influenced and research driven, selecting the top 5% of attorneys to the Super Lawyers lists each year. We know lawyers and make it easy to connect with them.
Find a lawyer near you