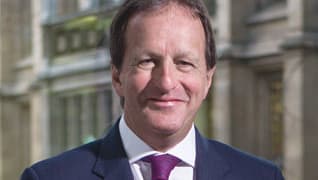 Photo by: Mark Weeks
Team Player
Keith Oliver enjoys Manchester United, fast cars and the law
Published in 2013 London Super Lawyers magazine
By Richard Willsher on March 14, 2013
Asked if he is a religious man, Keith Oliver replies, "Only to the extent of the religion that is practised at the Theatre of Dreams."
A leading London litigator in the areas of fraud, asset tracing and recovery, Oliver is a man of passions that fall roughly into the following order of priority: 1) commitment to achieving the best possible outcome for his clients; 2) football in general and Manchester United in particular, whose Old Trafford ground is nicknamed the Theatre of Dreams; 3) collecting, driving and cherishing classic cars; and 4) skiing.
These obsessions, energetically pursued, provide clues to the nature and character of the man who is senior partner at Peters & Peters, a city of London civil fraud, business crime, commercial litigation and compliance firm.
Above all, he is a lawyer who is in the business, he says, "to make a difference." Starting in November 1991, he was part of the team that defended Kevin Maxwell, son of the deceased newspaper owner and publisher. Maxwell faced fraud charges in what was, at that time, the highest-profile business crime case the country had ever seen. "This was a case that occupied five years of my life," Oliver says. "We worked with a team of really great lawyers … but many believed that it was inevitable that Kevin Maxwell would be convicted and face incarceration for many, many years.
"Due to a combination of hard work … by a whole series of people—with me as the driving force on the ground, with two very well-known QCs, Alun Jones and Clare Montgomery, and my colleague Monty Raphael QC in support, a whole range of the great and the good, including members of the judiciary now, who were barristers at the time—we were able to achieve something that nobody, when the case was started, would have thought was possible: namely, that the jury acquitted him. … Five years of work was worth it."
The Maxwell case also highlights three hallmarks of Oliver's 30-year career: teamwork; devotion to clients' interests; and respect for professional colleagues.
Bill Waite, CEO, a founder and general counsel to The Risk Advisory Group, was on the other side in the Maxwell case. "Our professional and personal relationship was born in G14 at the SFO in Elm Street [an interview room at the Serious Fraud Office] when I was using coercive statutory powers to try and understand the reasons behind the fall of the House of Maxwell," he says, "and Keith was there, absolutely determined to protect his client's legitimate rights. … It's right to say our discussions became rather heated. However, his personality and professional integrity are reflected in the fact that, 20 years later, we work together and are very good friends."
Oliver's support for his clients extends to being available to them at all times.
"It was in 2010 when the Icelandic volcanic ash cloud had grounded every flight into and out of the UK," his daughter, Charlotte, explains. "I got a very early morning call from my father who had managed to get a flight back to Spain from the BVI [British Virgin Islands], where he had been working. There were no connections to London and he wanted me to explain to a Spanish taxi driver that he wanted to be driven to Paris, from where he would take the train to Calais in northern France so that he could take a ferry across the Channel to get back to London.
"The taxi driver was shocked that he was being asked to drive hundreds of miles across Europe, and I had to negotiate the price of the fare. Typically, my father was rallying people around him to join the team and share the ride, which ended up with the taxi driver being put up in a hotel for the night in Paris and [the taxi driver's] daughter being recruited to help navigate the route. It was an all-hands-on-deck approach. … Needless to say, my father made the client meeting despite these complicated travel arrangements that had involved a plane, a taxi, a ferry, a train and a good deal of uncertainty along the way."
Oliver's take: "I live on my BlackBerry. When I'm travelling or I go on holiday and it doesn't buzz regularly, I think something's gone wrong. If you are lucky enough to do something you enjoy … it's the height of arrogance to say to a client who's instructed you in a crisis that they face, 'I'm sorry, I'm on holiday' or 'It's outside office hours' or 'I don't work at the weekends.' I would find that grotesque, really.
"I also think it is poor leadership to say to your team, the young lawyers and so forth in your group, when you're away—and I travel a lot for work, for football and other related reasons—'I'm away, make the decision yourself.' You have to be available 24/7. Happily, we have technology available to do that."
Oliver's colleague and preeminent fraud lawyer Monty Raphael adds, "Keith is so committed to his clients that he negotiates with a single-mindedness which surprises and intimidates his opponents. … Keith always goes the extra mile with his clients."
Such service has its rewards. Oliver's fleet of classic sports cars is an ever-changing collection of cherished boys' toys. Gone now are the 1994 Porsche 993 ("fed up with taking it to the garage") and the red-and-white Ford Mustang (sold). Among a large number of others he still possesses is a 2005 Aston Martin; and he revels in his latest purchase, the left-hand drive 1988, 180-horsepower Lancia Integrale, four-wheel drive, the car that in its heyday won the world rally championship five years on the trot. This is destined, however, to reside at his ski apartment in the French Alps, where it will handle the tight bends and slippery roads for which it was designed. A picture of the Integrale lovingly adorns his office wall, though through the winter he may see that picture rarely.
He tends to spend alternate winter weekends skiing and at Old Trafford watching Manchester United. The connection between his professional career and football is not an immediately obvious one.
His passion for the game started at Highgate School in north London, fostered and inspired by his father who was a devoted West Ham supporter. At age 56, Oliver still plays, and the game has made him many friends in the legal field and aided and abetted his professional successes.
Between 1995 and 1997 Banco Noroeste, a bank operating from Sao Paulo, Brazil, was defrauded of US$242 million. Those responsible included a corrupt former senior employee of the bank and a number of Nigerian nationals. Peters & Peters was retained to help trace and recover what could be salvaged. The case did not look hopeful, as recovery would involve enforcement proceedings in Nigeria, where, at the time, the legal system was, as Oliver says, "not without its difficulties."
Oliver, however, had a footballing card up his sleeve. At an Association Internationale des Jeunes Avocats (AIJA) conference some years earlier, he had met prominent Nigerian lawyer Babajide Ogundipe, and as the two men became friends, they discovered that they had played against each other as schoolboys. Oliver found that Ogundipe was not only a very good colleague but had significant influence in Nigeria. The result was that Ogundipe joined the team, which was able to trace the whereabouts of the funds and recover more than US$150 million for Banco Noroeste.
Raphael notes: "Keith has built up a remarkable network over the years, partly down to his enthusiasm of football, which has seen him organising 'internationals' for lawyers to coincide with the annual meetings of the International Bar Association (IBA). This, together with his generosity and thoughtfulness, has won him many a friend all over the world." 
Recruiting teams of lawyers to play football at the annual IBA meeting was itself an achievement. "The IBA were initially reluctant to have any association with this," says Oliver, "as they assumed that aging lawyers wouldn't necessarily want to play football, and it might give rise to horrific liability issues if any of them were injured. … At this year's meeting we had about 45 players … including the governor of the State of Lagos, who turned up with a camera crew and 100 Nigerian supporters. In fact, with many professional opponents we will start off with a scrap in the context of a case and then move on to references to my team and whether they are playing well or badly; I am well-known for having that obsession."
Devotion is key to Oliver's professional success and that of his firm. With nearly 90 full-time staff, Peters & Peters is a small firm but one that punches well above its weight, especially in fraud and asset tracing and recovery. Oliver was originally brought to the firm as a trainee in 1978. Very few lawyers in London stay so long at one firm.
Yet in Fetter Lane, cheek by jowl with the Royal Courts of Justice, the firm has prospered. Entering its offices is to discover a reassuring calm and relaxed efficiency. "We moved here in 2007 from the West End," says Oliver. "It was an important strategic move in terms of the practice, the clients, the type of work we wanted to do; and it allowed to us the chance to build an environment where people want to come to work.
"The office is very collegiate and we have an open-door policy. The atmosphere is one of friendliness and relative informality, of support, humour, integrity, and where there is no them-and-us type barriers between the partners and others. Every member of the firm calls the partners and other senior members by their Christian names. It's a small point, but it is about having no lines of demarcation. We are all in it together. The first important person in the firm for the new client is the person who meets them at reception."
Oliver's gregariousness sometimes embarrasses daughters Charlotte and Alex. "When we're on holiday, for example," says Charlotte, "he'll walk up and down the beach to find anyone who wants to join his team in a football match; he will obviously be the captain. He doesn't seem to notice any distinction between the teenagers he is enlisting and himself. He insists on instructing them in playing properly, even if they don't speak English. It's the way he is."
His teamwork skills may be part of the reason Oliver has earned a reputation as an extremely effective negotiator. And the word "effective" is key. The object of the exercise, he says, is to obtain the best possible outcome for his clients, whether seeking redress or defending them.
"You should always try and get on with your opposite number," he says. "That's a starting point, although you will try professionally to get the very best outcome for your client. I try at the end of a case—win, lose or draw—to take my opponent out for lunch or dinner. It's something I've always done because you should always get on well with other professionals."
He adds that the best outcome is not always purely about winning.
"If you're acting for a claimant who needs to recover an asset or recover the proceeds of a fraud of some kind or in a commercial dispute where he wishes to secure damages for breach of contract, sure, from that narrow perspective it's about winning. … If you are on the end of litigation, getting your client out of it with the least possible damage is equally a 'win' as for your opponent, who thinks that they have secured a great victory over you."
He pays tribute to Raphael, whom he regards as his mentor. "He taught me the greatest legal lesson of all, which is that, in terms of dealing with clients and the crises that they may be in, they have many questions which you can't always answer. So the lesson is: 'Let's deal with today's problem today.' You should try to deal with the issue that confronts you at that moment and do the very best that you can for your client. Act in every supportive way that you can, and use your professional skills to support them and deal with other problems as they arise."
Search attorney feature articles
Helpful links
Other featured articles
A talk with rising stars who will take the legal profession into the 2050s
Eugene Pettis' plan to lift others up the ladder
How Matt Menzer found his 'ohana'
View more articles featuring lawyers
Find top lawyers with confidence
The Super Lawyers patented selection process is peer influenced and research driven, selecting the top 5% of attorneys to the Super Lawyers lists each year. We know lawyers and make it easy to connect with them.
Find a lawyer near you