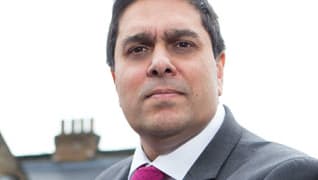 Photo by: Mark Weeks
Vitruvian Man
Immigration lawyer Jawaid Luqmani would rather you didn't think well of his work
Published in 2013 London Super Lawyers magazine
By Helene Dancer on March 14, 2013
When he was 7 or 8 years old, Jawaid Luqmani cycled home on his yellow Chopper to find a policeman at the front door who wanted to search the house for illegal immigrants. This being north London's Finchley in the early 1970s, his Indian family was most certainly a minority.
Then he watched as his brother, 18 at the time, answered the door and laughed at the policeman. "Where's your warrant, sonny?" his brother asked.
"It seemed just extraordinary," recalls Luqmani, now 48 and an immigration and human rights lawyer at Luqmani Thompson & Partners, "especially at a time when deference to the police was very significant, and deference to the police among the migrant community was enormous." Luqmani has never forgotten his brother's bravery—nor the feeling of having the police come knocking at the door just because he and his family were immigrants. "It's a memory that's stayed with me for 40-odd years, understanding that there is an element of the fear of the unknown and suspicion of people who are different in some way. A lot has changed in 40 years but sometimes the underlying elements of suspicion and fear remain."
Luqmani pauses, and casts his gaze to the Leonardo da Vinci print of the Vitruvian Man on the wall behind his desk, his eyes twinkling. "That's not the reason I got into this type of law. That would have been a much nicer story."
He eventually admits the experience was indeed a mitigating factor in his career choice, but, being a master of self-effacement, takes great pleasure in challenging preconceptions, just as he claims the Vitruvian Man is only there to hide a damp patch. The wall is, in fact, in perfect shape and he concedes that he likes that the man is depicted in two superimposed positions, representing "everything and nothing"—a universality he applies throughout his work.
In his career, Luqmani has represented all manner of individuals, from Zimbabwean asylum seekers to Moldovan prostitutes to terrorists. This last is something his mother has yet to forgive him for. "She rang up to say how proud she was of me as she'd read in the paper that the government was trying to allow certain terrorists to remain in the country and that I was doing my best to keep them out," he recalls with a half smile. "I told her it was the other way round, and that was the end of the conversation."
So not even his mother could force him to reconsider? The smile disappears. "It's about agreeing as a starting point that all individuals deserve representation," he counters. "Yesterday's terrorist might be today's statesman. Yesterday's allies might be tomorrow's enemy. So the law has to continue. It has to set tests about what is right, what is just."
And what if the law itself isn't just? He pauses to compose his response. "I don't possess the intelligence to think about the law," he says. "I simply have to work out what it means. Some people may think all immigration law is racist and exclusionary; I'm not smart enough to think that. I'm just trying to work out what it says."
Luqmani co-founded Luqmani Thompson & Partners in 1998 with fellow immigration lawyer Sally Thompson. "She has the intelligence," he says, "and I have the mouth." The firm is based in north London's Wood Green, renowned for a potent cultural mix immediately evident when walking toward Luqmani's office up the High Road, where Turkish ocakbasi restaurants jostle with halal butchers and Indian-run convenience stores sell plastic bowls of fruit on trestle tables out front for a pound each.
It seems an obvious place to situate an immigration law practice, but Luqmani suggests a far more practical reason for the geography: he lives close enough to walk to work. Although, knowing Luqmani, there's probably more to it. Indeed, it turns out that for six years, at his son and daughter's nearby local school, he was also the governor—one of the first Muslims so appointed by the Church of England, he says—so the location gave him the flexibility to attend meetings in the day.
Luqmani is the youngest of five sons born to parents originally from India's Hyderabad and Gujerat regions, who settled in Finchley in the 1960s. His father was a trained accountant who had to requalify twice—once in Pakistan and again in the UK—when he left India post-Partition, taking on menial jobs to look after his family. After he retired from accountancy, he worked as a lay preacher, instigating interfaith activities with a particular interest in trying to find similarities and common ground in attitudes and beliefs—"building bridges rather than barricades in terms of religious differences," as Luqmani puts it. "My father always had an extraordinary sense of justice in a much wider context."
Luqmani calls his formative years "a nice suburban upbringing." As an Asian family, any potential alienation was ameliorated by the allure of the exotic food served in the Luqmani kitchen.
"Friendships grew mainly because of my mother's cooking," he says. "It was intriguing to lots of friends."
The kitchen was also the place where Luqmani learned his first craft: cooking. He enjoyed it so much he seriously considered opening a restaurant. When this idea fell by the wayside, his parents suggested the law. "They thought I'd do quite well in that field," he says. "My mother thought I'd just talk and talk and talk and talk until the judge would say, 'Just shut up, you win.'"
Luqmani completed a law degree at Anglia Law School in Chelmsford and went on to take his solicitor exams at London's Lancaster Gate. From there, he completed a two-year training apprenticeship with a firm in south London, which focused primarily on crime and property conveyancing.
Luqmani qualified as a lawyer in December 1988 and within months was offered partnership. "If you're 22 and someone says partnership, it's very difficult to resist," he says. Some years later he began to explore the intricacies of immigration law by picking up cases from the Medical Foundation for the Care of Victims of Torture (now Freedom from Torture). "They were fascinating stories of individuals' lives and the difficulties they'd faced. I was spending a lot of my time doing commercial leases for small business, but there's a greater human interest in tales of woe than there is in easements and restrictive covenants."
It was in the midst of this world that Luqmani met influential human rights lawyer David Burgess, whom he credits with having a colossal influence on him and many lawyers in the field, both personally and professionally. Burgess, a tenacious defender of asylum-seekers' rights, died in October 2010 when a companion—later convicted of manslaughter—pushed him beneath a tube train.
Luqmani would meet with many lawyers, including Burgess and Jane Coker, now an Upper Tribunal judge, once at month at the Winstanley Burgess offices to discuss policy and strategy for asylum cases. It was an area of law, Luqmani says, crying out for more committed individuals. "[Burgess] was extraordinarily generous with his time and very graceful about sharing thoughts and ideas, and I stored them immediately and used them."
Luqmani joined Jane Coker & Co in 1995. In 1998, three months before his son was born, he set up Luqmani Thompson & Partners. Since then, he, too, has been generous with his time, training other lawyers in immigration law, compliance and managing  outgoing issues with amongst others, the legal aid authorities. One of his most recent appointments is with the Law Society, as chief assessor of the immigration and asylum accreditation scheme. "The relationship between immigration law practitioners and the law society has not always been a happy one, and the requirement of compulsory accreditation has been very unpopular," he says. "As the patron saint of lost causes, I thought, 'Hey, I'll put myself up for a really popular job.'"
Luqmani calls himself "rent a chapter" as he's often the expert wheeled in by other lawyers to provide evidence and comment on immigration law. In 2011, he wrote a chapter in the Human Trafficking Handbook, wherein he recounted the story of representing four Moldovans who'd been trafficked to the UK and escaped. He led the charge to sue the traffickers for compensation for the distress caused.
"No one had done this before," he says. "The idea was that, at the time the traffickers were arrested, cash was seized, and so what we were trying to do was to say, 'We'd like to sue you, and we'd like the money that's been seized to set off against the judgement debt that we've got.'" But as the money came from criminal acts, the government would have to theoretically launder proceeds in order to give it back for compensation. Another obstacle: when the traffickers' lawyer left the case, they ended up representing themselves, and Luqmani didn't want his clients to endure cross-examination by their perpetrators. This was resolved through secure arrangements and permitting the witnesses to give evidence behind a screen to avoid being seen in court, other than by the judge.
"In the end, the traffickers didn't go to court and the hearing was about setting what the money should be for such a serious human-rights violation. I think it worked out to be about £600,000 for the four of them. The question is now about recovering that from the state, and that goes on."
Luqmani is modest about being involved in such a benchmark case. "I think trying to be a competent lawyer is about as high as my aspiration goes," he says, but admits there is always the danger of losing perspective. "It does take a remarkable view of the world to not sometimes want to shut it out. I need private time; otherwise I have no sense of internal monologue.
"It's also good to constantly surround yourself with people who show you that 'thou art mortal,'" he says. "My daughter is fantastic at that. In Earth years she's 16, so at the right age to be able to tell me what a total ass I am all the time about most things."
He sits back in his swivel chair, surrounded by piles of papers spilling out of coloured folders and box files stacked floor to ceiling. "Most lawyers are pretty boring people—really quite tedious. We're just doing a job."
Search attorney feature articles
Helpful links
Other featured articles
Jay and Leah Edelstein carry on the tradition of Nathan and Edward
His clients — from Big Tobacco to nuclear weapons plants — aren't always popular, but no matter: David Bernick knows how to win over a jury
Organizations like The Trevor Project are confronting legislation that prevents trans students from joining teams that align with their gender identity
View more articles featuring lawyers
Find top lawyers with confidence
The Super Lawyers patented selection process is peer influenced and research driven, selecting the top 5% of attorneys to the Super Lawyers lists each year. We know lawyers and make it easy to connect with them.
Find a lawyer near you